Roots Amasses Further US Cannabis Sector Sales
PUBLISHED: 21-06-2019 10:10 a.m.
The US$12 billion north American cannabis market, which is set to be worth more than $47 billion by 2027, is offering up some major opportunities to innovation businesses as well as switched on investors.
As competition amongst North American growers intensifies and new markets legalise cannabis, up and coming ASX ag-tech junior, Roots Sustainable Agricultural Technologies (ASX:ROO) is delivering technology that brings measurable yield improvements for cannabis crops.
As announced just this morning, the company has penned a new US sales agreement with a Californian cannabis producer.
The sale involves the installation of ROO's proprietary Root Zone Temperature Optimisation (RZTO) cooling and heating technology in hoop houses in Southern California. It also includes Roots' monitoring and control system, with costs for this service charged on a monthly basis.
Now with four sales to the North American cannabis sector, ROO's proprietary RZTO technology continues to generate interest from leading players in the sector and highlights ROO's focus on sales in this space, capitalising on the trend for outdoor and hoop house crop cultivation.
There's every reason to believe that these first sales to cannabis growers of ROO's RZTO heating and cooling systems are likely to be just the start of many more to come.
Since our last report on ROO in early April, and in addition to its headway into the US cannabis space, the company's RZTO technology has successfully minimised the impact of external weather conditions on a range of high-value crops and growing conditions. For growers this has increased yield, improved crop quality and facilitated year-round growing.
Specifically, it led to a significant yield increase on Spanish tomato crops, and has increased the yield of Yardlong Beans by 40% more than unheated control crops.
ROO also has a solid footprint in China — the world's largest agricultural market — via its exclusive distribution agreement with Dagan Agricultural Automation, and it continues working with its distribution partners in Israel, South Korea and Spain on a variety of crops.
A point to note is that two of the ROO's board members also sit on the board of ASX cannabis group, Creso Pharma (ASX:CPH), and were involved in seeing through the recently announced $122 million acquisition of CPH — a big win for the company shareholders.
With ROO trading at just $0.05 per share, for a $4.3 million market capitalisation, it will be interesting to see what value they can deliver to shareholders here.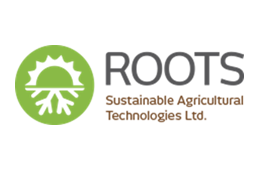 Roots Sustainable Agricultural Technologies
ASX:ROO
Market Capitalisation: $4.25 million
Share price: 5.0 cents
Why I like Roots: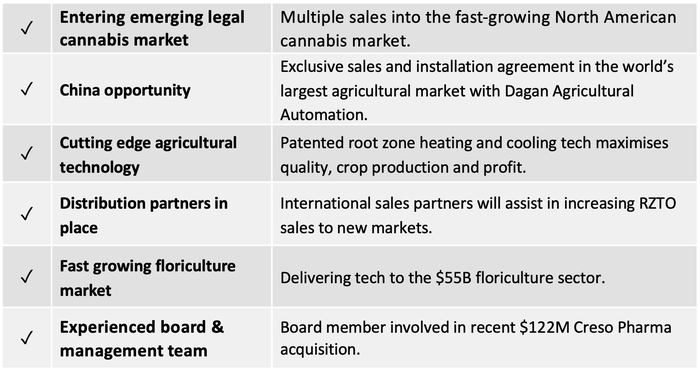 Israeli-based, Roots Sustainable Agricultural Technologies Ltd. (ASX:ROO), is developing and commercialising disruptive, modular, cutting-edge technologies to address critical problems faced by agriculture. Specifically, it's helping with issues including plant climate management and the shortage of water for irrigation.
The company, which is a graduate of the Office of the Israeli Chief Scientist Technological Incubator program, has developed proprietary know-how and patents to optimise performance, lower installation costs, and reduce energy consumption to bring maximum benefit to farmers.
Roots' products include its off the grid irrigation by condensation (IBC) technology and its two-in-one root zone heating and cooling technology, Root Zone Temperature Optimisation (RZTO).
The patented IBC system off-grid technology was designed to enable farmers to grow food crops irrigated from humidity in the air alone. The technology works in remote semi-arid areas suffering water scarcity and quality issues that have no access to grid electricity or irrigated water. It's capable of growing and sustaining entire growth cycles of food independent of the electricity grid or a normal water supply.
But it's the company's Root Zone Temperature Optimisation (RZTO) that is gaining the most attention. This technology optimises plant physiology for increased growth, productivity and quality by stabilising the plant's root zone temperature.
Leveraging the principle of Ground Source Heat Exchange (GSHE), Roots installs a closed-loop system of pipes. The lower part is installed at a depth where soil temperature is stable and not affected by weather extremes, and the upper part in the target crop's root zone just below the soil surface. Water flowing through the lower pipes is charged by the soil's stable temperature. This heated (or cooled) water is pumped through the pipes installed in the root zone, where the heat (or cold) is discharged.
The result is significantly increased yields, increased growing cycle planting options, improved quality, mitigation of extreme heat and cold stress, while energy consumption is significantly reduced by stabilising and optimising the root's zone temperature.
This video explains more:
So far, the RZTO cooling system has been effective in stabilising the roots of plants grown in the ground and in hydroponic greenhouses, including chives, cucumbers, lettuce, tomatoes, beans and cannabis.
The company has particular interest in the increasingly lucrative North American legal cannabis sector...
Another RZTO sale to North America's cannabis sector
Already with three sales to US cannabis growers this year, Roots' strategic focus on North America's cannabis sector has today delivered another Root Zone Temperature Optimisation (RZTO) heating and cooling sale.
Valued at US$30,000 (A$43,450), the sale is an initial paid commercial demonstration, which has the potential to lead to a much larger installation in the future.
The sale was made to large organic cannabis producer, Private Reserve Originals (PRO), and will involve the installation of Roots' proprietary RZTO cooling and heating technology in growbags and pots within hoop houses of varying sizes.
The sale also includes ROO's monitoring and control system, with costs for this service charged on a monthly basis.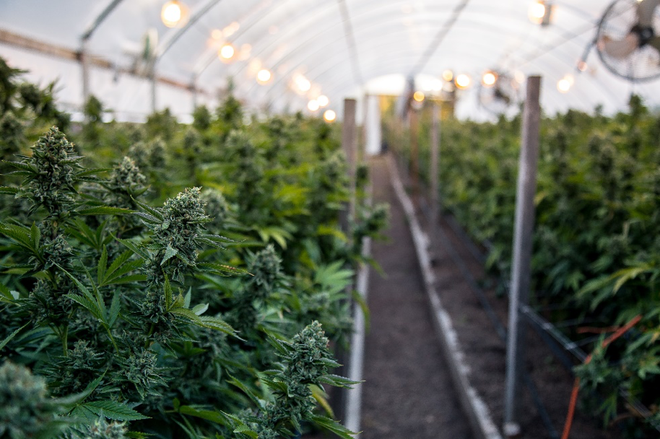 PRO is an established player in California's cannabis sector, boasting more than 100 cultivation licenses and the maximum amount of acreage permitted under state regulations. Its certified organic farm in Santa Barbara County in southern California has more than 300 acres of cannabis grown in open-fields, greenhouses and hoop houses. Its cannabis products include oil, pre-rolls and bulk flowers.
PRO will initially use Roots' patented root zone technology to cool the roots of cannabis plants during the North American summer, minimising the impact of external weather conditions and overnight temperature drops to increase crop quality and yield. During autumn and winter, Roots' RZTO heating technology and heat pump will be used to stabilise cannabis crops at optimal temperatures.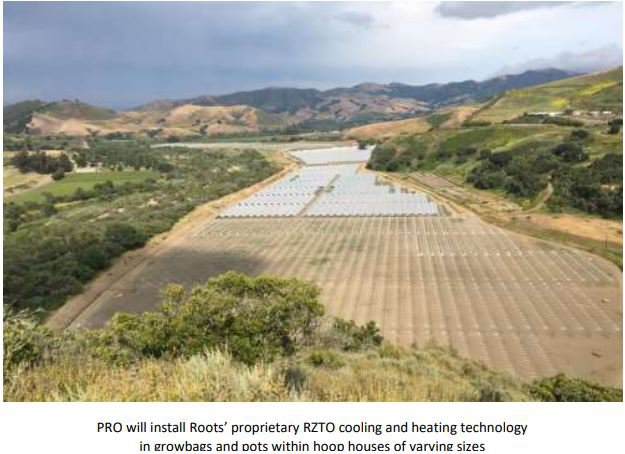 This latest sale represents Roots' fourth in North America's cannabis sector since March, further validating the company's strategic focus on this industry.
The sale announced today is Roots' fourth sale since March to North America's cannabis industry. Going forward, this focus remains, as confirmed by Roots CEO, Dr Sharon Devir, "Roots continues to focus on increasing sales activity in North America's cannabis sector, capitalising on the trend for outdoor and hoop house crop cultivation."
While Roots' technology is being installed across multiple continents, the opportunity in the North American cannabis space can't be ignored.
Here are past and projected medicinal and recreational cannabis sales (US$ million) in North America. Note the sharp rate of growth which will continue on this projector for some time yet.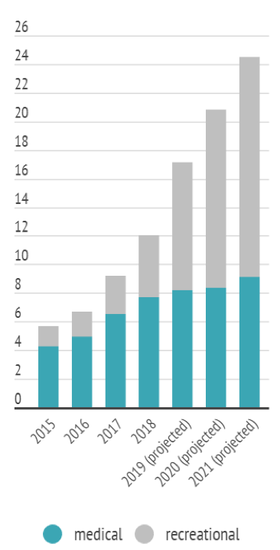 Prior North American cannabis sector sales
Prior to today's announcement, on 1 May, Roots announced that it had made a US$20,000 (A$28,000) sale to premium recreational and medicinal cannabis producer, Canndescent.
The sale will see Roots' proprietary RZTO cooling and heating technology installed in an indoor facility with growbags at Canndescent's growing facilities in Southern California, making this the first RZTO sale in the US to be used primarily for cannabis cooling.
Canndescent produces a range of cannabis products and was voted California's number one selling flower brand in 2017 and number one selling luxury flower brand in 2018. The luxury cannabis producer customises the plant growing environment by stage and strain with flowers picked and trimmed by hand.
This sale to this luxury cannabis brand, which is known for its unique growing techniques and attention to detail, is a further endorsement of our proprietary RZTO technology from another industry leader. It is also the first time ROO's cooling technology will be installed in greenhouse growbags in the US.
The following video summarises Canndescent's cultivation manager and partner, Brad Wilson, and his fight for cannabis legalisation.
The latest sale was Roots' third order from North America's cannabis sector in about a month and builds on previous RZTO cannabis orders from industry leader Tim Blake and independent grower Mendocino Natural Farms in late March and early April.
Roots North American Cannabis Entry
The first sale was to cannabis industry leader Tim Blake and was the result of Roots' Technology Showcase in North America in February and a successful open field RZTO heating pilot cannabis in Washington State during challenging autumn growing conditions of heavy frosts and temperatures below zero degrees.
ROO's second sale of its Root Zone Temperature Optimisation (RZTO) heating and cooling system in America was to independent cannabis producer Mendocino Natural Farms in Northern California.
The US$30,000 (A$42,300) sale involves Roots installing its proprietary RZTO cooling and heating technology in a 10,000 square foot hoop house at Mendocino Natural Farms' property in Round Valley, California.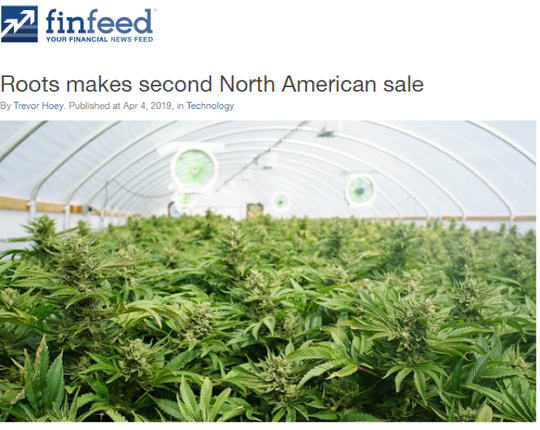 These sales followed a RZTO heating pilot on cannabis in which the technology was used to heat the roots of multiple cannabis strains in a world first open field pilot in Washington State in heavy frost conditions during October and November last year.
Use of ROO's RTZO technology resulted in average dry un-trimmed bud and leaf weight of heated cannabis plants being more than 200% higher than un-heated control crop.
Results showed a 60 to 283% increase in average cannabis dried un-trimmed bud weight, while the heated plants also increased the average dried weight of cannabis leaves. This increased yield can generate substantial additional revenues for cannabis producers.
The details of both of those first two sales are available in our last report of ROO, Ag-Tech Provider Roots Extends its US Footprint with Another Sale to a Cannabis Producer.
Since that last report, ROO has also made progress on a number of other fronts outside of the cannabis space...
RZTO boosts bean yields too
Back on April 24, ROO reported that its RZTO heating technology had boosted yield of Yardlong Beans by 40% more than unheated control crops. Yardlong beans are a staple crop in most Asian cuisines as well as equatorial Africa and South America.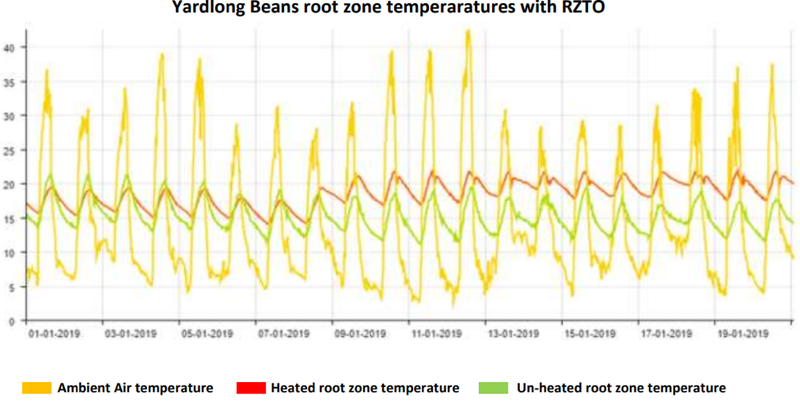 The farmer who grew the crops in Southern Israel, Sharon Cheri, said ,"Roots' heating technology has lengthened our growing cycle, increased crop yield and reduced incidences of plant disease. In addition, root zone heating uses significantly less energy than air heating systems."
Here he is discussing the results:
Tomato plant yields are up too
On 7 May, ROO reported that its RZTO heating technology has increased total plant yield of tomatoes by 19%, compared to unheated control crops.
The commercial demonstration was conducted in greenhouses in Almeria, Spain during the Spanish winter from December 2018 to March 2019.
Being a warm-climate crop, tomatoes are sensitive to frost and cold stress throughout the growing cycle. ROO's RZTO heating technology was used to maintain the crop root temperature at a relatively stable range.

While Spain is a leading producer of fresh tomatoes within Europe, cold stress has a significant impact on the growth and development of tomatoes during cooler months. In addition to lost revenue from damaged plants, cold stress can injure both the above and below ground plant tissues, reducing crop quality and delaying the maturation of plants.
By using RZTO to heat the roots of tomato plants during autumn and winter, the farmer was able to mitigate the impact of cold stress and injury. Root zone heating ensures the crop remains at optimal temperatures throughout the growing season, resulting in healthier crops and increased produce during the off-season.
Where to from here?
The US Cannabis sector continues to gain momentum as legalisation expands across the continent and new producers enter the market looking to get a slice of the action.
Despite the growing market, it is becoming increasingly competitive, highlighting the importance of growing quality high yielding crops. This delivers some serious opportunity for Roots as it brings its existing root heating and cooling technology system to this up and coming market.
Additionally, the company will continue to work alongside distribution partners to increase RZTO sales activity in China, Israel, South Korea and Spain.
And with the company trading at just $0.051 per share, for a $4.3 million market cap, there is plenty of scope for investors that recognise the opportunity on offer at this early stage.
---