The Future is Now: Flamingo Delivering AI solutions in $2.9T Market
PUBLISHED: 12-06-2019 10:15 a.m.
It's time to flip the script.
Artificial Intelligence, otherwise known as AI, is not a job killer. It is not an industry killer.
AI isn't evil. Robots aren't taking over the world. Good machine learning (ML) technology won't make you want to throw your computer out of a 20-storey building or your phone at a wall.
While some may be alarmed by a Gartner prediction that AI will eliminate 1.8 million jobs, it is only half the story.
The back half of the AI story, the real page turner, concludes with the revelation that it will create 2.3 million jobs.
However, like any integration into a workforce, job creation and efficiency comes down to successful implementation.
Gartner contributor, Katie Costello writes, "AI initiatives have a high probability of failure due to misalignment with business requirements and lack of agility".
So, the challenges with AI don't come from a fear of what it is, rather from the lack of understanding of what AI should be used for, the identification of suitable Use Cases, the complexity of integration and the requirement for extremely high levels of security.
Despite the general lack of understanding about AI, especially in Australia where the uptake is about half of what it is in the US, businesses are becoming more comfortable with AI implementation.
According to Gartner 70% of organisations will integrate AI to assist employees' productivity by 2021.
In terms of dollars, AI will generate $2.9 trillion in business value and recover 6.2 billion hours of worker productivity just two years from now.
Businesses driven by AI will take $1.2 trillion from competitors in under a year's time.
That's AI generated music to stakeholders' ears.
One Australian AI stock that first grabbed my attention a couple of years ago, is now front of mind once again.
This machine learning based company provides Cognitive Virtual Assistants to enterprise.
The company is focused on Virtual Assistants for employees – helping those who want a piece of that $1.2 trillion competitive advantage, including its most recent client wins, HSBC Bank Australia and Nationwide Mutual Insurance Company.
After a successful trial of the company's technology, HSBC recently signed a Master Services Agreement with this company, whilst negotiating its first Statement of Works to deploy the technology into a production environment.
Revenue will come from monthly subscription fees.
Meanwhile, major US insurance provider Nationwide signed a six-month retained engagement contract for the provision of AI services with a focus on Virtual Assistants for employees
Another revenue generating deal.
The company, I am talking about today is Flamingo Ai (ASX:FGO) and part of FGO's job is to eliminate fear, to bring companies into the new, the now and the future; to help them embrace AI technology that increases employee productivity, improves compliance and accuracy, eliminates poor customer experience, reduces business risk and lowers costs.
FGO's AI solutions offer the support that almost every company needs to solve the above problems – particularly those related to employees needing fast access to accurate information and knowledge.
With that in mind, let's see what FGO has been up to:

Flamingo AI Limited
ASX:FGO
Market Capitalisation: A$8.96 million
Share Price: $0.0080
Here's why I think FGO is worth a look: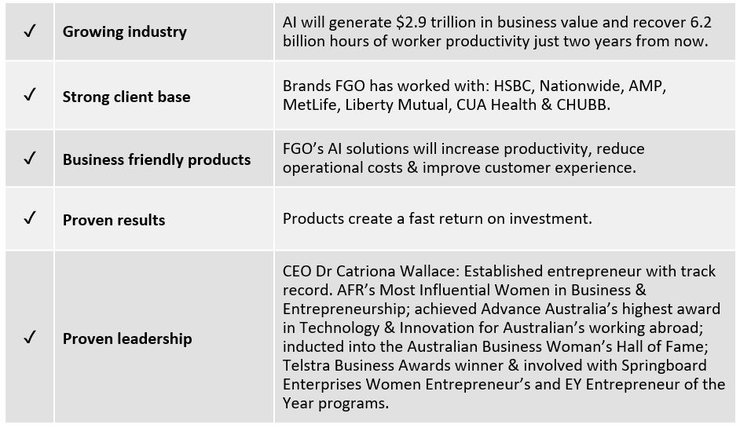 The times they are a changin'
"The time is now for organisations to plan and learn about how employees and machines work together. It really has to be top of mind for all enterprises as digital and Ai-driven labour starts to become commonplace," says Flamingo Ai (ASX:FGO) CEO Dr Catriona Wallace.
Dr Wallace, or Cat as she is known in the market, founded the company in Sydney in 2014, with the view to improve human experience through using AI and machine learning.
While the company originally focused on AI for customer experience, which is still an important facet of the business, Flamingo Ai has now transitioned to focus on delivering AI solutions to employees.
"We have focused previously on providing customer assistants, but more recently we have had success in deploying the Cognitive Virtual Assistants (CVA) technology for employees. There is a significant area of interest in the market and a huge problem that large organisations have in being able to enable employees to access knowledge or automate workflows," Dr Wallace says.
As the need for AI in businesses grows, it should be used to identify "burning business and commercial problems that have previously been resistant to other technology solutions".
These problems include the high cost of business from having only human subject matter experts, the high volume of repetitive questions that require the same answer every time, which wastes employee time and causes slow response times for customers.
There are other issues to contend with such as compliance, or non-compliance as the case may be, as well as the provision of inconsistent information. Throw in the fallout from poor customer experience due to slow response times or wrong information due to an employee's inability to access correct information, and you have the beginning of a failing business, or one that is far from reaching its full potential.
These are major issues that can be addressed by better aligning the problem with the correct AI solution.
On the point of compliance, this is an interesting problem that too often takes a back seat to revenue generation but has had the spotlight put on it by industry events such as the Royal Commission into financial services companies.
As AI specialist and FGO head of business development Eamon Williams says, "Businesses now are really having to be compliant with the answers they are giving. If you have a call centre with a thousand people, how do you know for sure they are giving the most compliant answer? If a business does go back and audit the answers, how many different answers will they find? Is the right information being given to the customer?"
FGO wants businesses to ask themselves: can a Cognitive Virtual Assistant (CVA) help with making sure that the operator is giving the correct answer?
For an in-depth analysis of that question, watch the following video in which Wallace and Williams explore how CVA can be effectively deployed within organisations.
In essence, business is rapidly evolving causing many operational issues.
The reason I like FGO so much, is its real world approach to these problems and the way its AI can be tailored to meet the needs of any company.
As you'd expect, given the power of its technology, I am not the only one who sees merit in FGO.
Another deal goes down
"We are present in the US and Australia and provide solutions predominantly to the financial services industry, but the technology is agnostic and can be tailored to any business," Dr Wallace says.
As such, FGO has an array of clients in financial services, but the client base is now starting to expand.
Some of the brands FGO has worked with: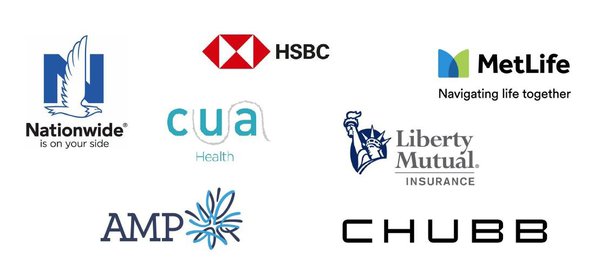 You will notice HSBC and Nationwide on the list.
HSBC is a British multi-national bank, with international branches in 67 countries including its Australian operations. It is the seventh largest bank in the world and the largest in Europe with total assets nearing $3 trillion.
Any deal with the bank is, well, a big deal.
So, news in the last two weeks that HSBC Bank Australia had entered into a tech agreement with FGO, following a successful proof of concept in the last quarter should pique shareholder interest.
FGO signed a three-year (may be extended to five years) Master Services Agreement (MSA) with HSBC Bank Australia Ltd and negotiated the first Statement of Work (SOW) to deploy the technology into a production environment.
Under the SOW, FGO will license software and provide related system and professional services to HSBC, with revenue delivered from monthly subscription licence fees which are paid upfront annually and reviewed each year.
You can read more about it in this Finfeed article: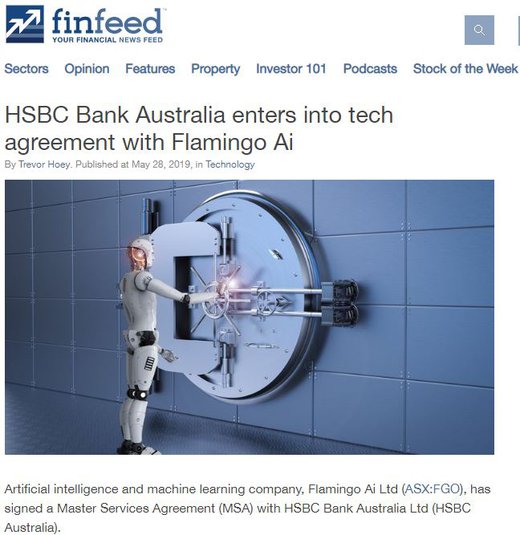 As you can see in the HSBC-themed Finfeed article above, FGO is also pretty tight with US insurer Nationwide.
The 80-year-old insurance provider extended its relationship with FGO in late April in a six-month, large contract engagement that will see FGO deploy additional machine learning products to directly solve Nationwide's challenges which include a need to:
Improve customer experience
Increase efficiencies
Improve sales and service journeys
Improve the knowledge of Nationwide employees; and
Increase Nationwide's knowledge and experience with Unsupervised Machine Learning and AI road mapping.
This extension fits nicely with FGO's pivot to an employee focus.
Nationwide has been a client of FGO's since 2015, which speaks volumes for FGO's AI solutions.
In 2017, FGO successfully completed Nationwide's highly rigorous security and data privacy audits and technology architecture reviews resulting in FGO also achieving SOC2 Type 1 & 2 Certification.
For those who are unfamiliar with this certification, it is an auditing procedure that ensures service providers securely manage your data to protect the interests of your organisation and the privacy of clients. It is a minimal requirement when considering a SaaS provider.
As part of the new Nationwide engagement, FGO successfully passed a new security review process. The engagement will also include a Data Science as a Service (previously known as LIBBY) analysis of large volumes of unstructured data (the second LIBBY project in Nationwide, in addition to the one announced in December 2018), and the deployment of a Cognitive Virtual Assistant for FAQ & Knowledge Retrieval (previously known as MAGGIE).
This engagement may then extend into other applications and divisions within Nationwide, and beyond the six-month period.
For more information about LIBBY and MAGGIE, check out our pervious articles:
READ: Can ASX Ai Solution Transform Multi-Trillion Dollar Financial Services Industry?
FGO Rolls Out Ai Virtual Assistants with Big Name Partners
Of course, if the technology wasn't up to scratch there would be no engagement, so let's have a brief look at what drives FGO's AI solutions.
And on the 8th day there were Cognitive Virtual Assistants
Many organisations don't understand AI, don't know what products would suit their needs, have no idea how to separate vendors and have overly optimistic expectations for swift success.
To quote a Gartner report from April 2018, "AI has massive potential, but CIOs struggle to identify where and how to realise its business value. Maximise business value by pairing business priorities with near-term opportunities, especially those that leverage AI's power to augment human work, decisions and interactions..."
Which is exactly what FGO is helping businesses to do.
It is applying AI, in particular machine learning via Cognitive Virtual Assistants, to improve employee experience and an organisation's understanding of AI implementation.
A recent FGO presentation offers insight into what is holding companies back from implementing an AI strategy: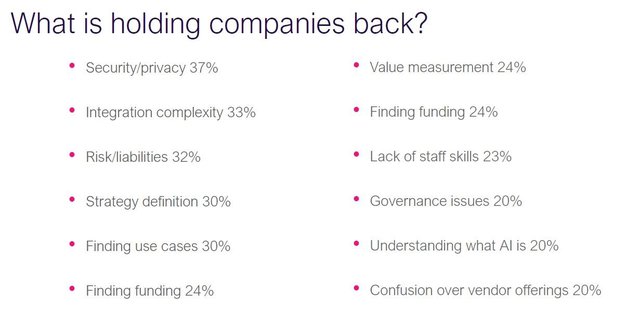 Whilst FGO is focused currently on Cognitive Virtual Assistants for knowledge retrieval for employees and customers, there are overall benefits for AI being used for both front office and back office as can be seen below (Gartner, 2019):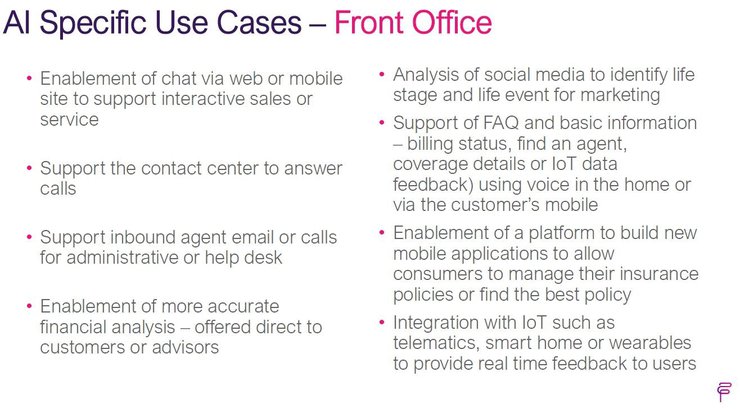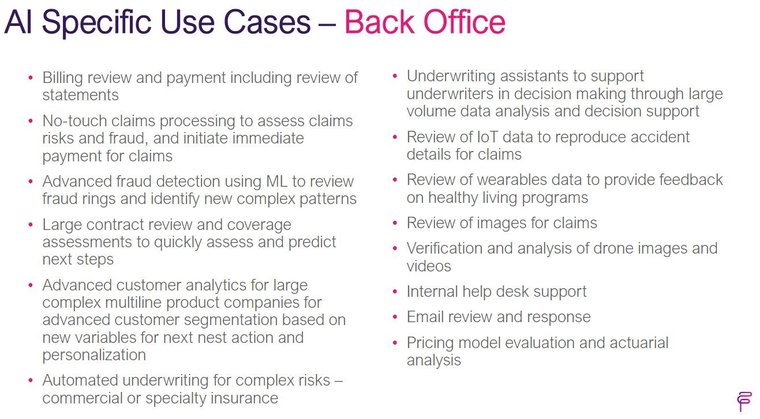 As demonstrated in the screen shots below FGO's CVA can be used by employees to retrieve FAQ information and other knowledge, fast. The CVA for employees can increase response times and first contact resolution. Employees can use the CVA to increase process efficiency, compliance and accuracy of information. CVAs don't need to be integrated and can work with existing incumbent knowledge management systems or intranets an organisation may already have.
As Williams says, "The CVA for knowledge can help employees by giving them the right and correct information, every time, but also get the information back to [employees] faster."
On the product and service side, the CVA has been used by employees as a Subject Matter Expert tool to store and retrieve product knowledge across an organisation ensuring that information remains consistent.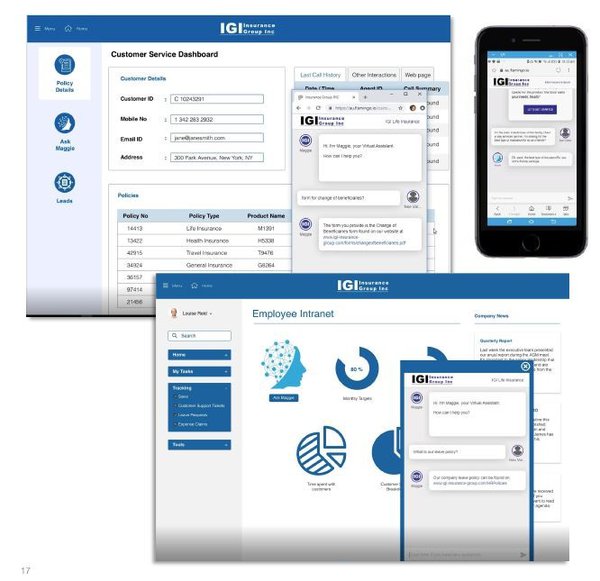 FGO's Cognitive Virtual FAQ Assistant can also be used by organisation on websites, forms or social channels to answer customer queries about products and services and to help customers ask questions as they go, thus avoiding frustrated hang-ups.
The CVA will always provide the customer with compliant and accurate information, instantly – no need for the customer to phone the call centre or send an email.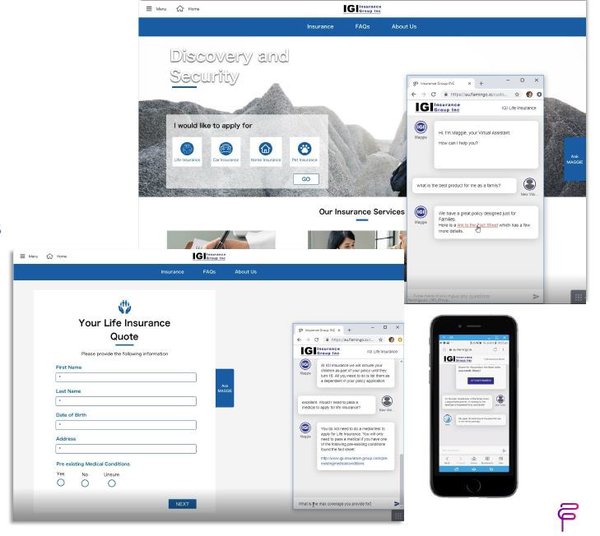 To make this work to the best of its capabilities, Williams says that companies should put an executive in place who understands the change that is coming and can champion the proof of concept from start to finish, before integrating it into the business.
Success in AI is all about buy-in and helping the intelligence grow. If you succeed at that, you could be one of those companies taking $1.2 trillion from competitors.
One more time with feeling
I started this article by looking at the growth of the AI sector and why it should be embraced, rather than feared.
Here's a rather passionate plea for the use of AI:
It's like AliBaba CEO Jack Ma says, "In the past 30 years we have made people like machines, in the next 30 years we will make machines like people. But the difference is machines will be machine like and people will still be people like."
The bottom line is that yes, jobs will change and some jobs will be lost, but new jobs will be created and humans will still be programming machines. Not the other way around.
FGO's AI won't take your jobs, but it will make them easier at a time when, according to Accenture, AI has the potential to double annual economic growth rates (by 2035).
Analyses by AlphaBeta consultancy shows that automation represents a $2 trillion opportunity in Australia alone, with the potential to add $2.2 trillion to cumulative Australian GDP between 2017 and 2030.
Sure there will be teething problems during the coming growth period, but the more AI is embraced, the quicker the fear will dissipate and the easier it will be for businesses to get on with the job of running the business, lowering costs and increasing productivity.
Why do I like FGO?
Simple, really. It is placing itself at the forefront of the international AI movement and is already having an impact with major institutions and organisations.
FGO is flipping the script and writing its own AI story.
---