ROO Plants Seeds for Rapid Growth with Pot Proof-of-Concept
PUBLISHED: 28-08-2018 09:59 a.m.
Since we last checked in with rapidly blossoming ag-tech play, Roots Sustainable Agricultural Technologies (ASX:ROO), it has been flush with good news.
ROO recently took its patented Root Zone Temperature Optimisation (RZTO) technology to the buzzing medicinal cannabis space — a market that's expected to be worth up to $31 billion globally over the next four years.
For those of you just tuning into the ROO story, the ASX junior is developing and commercialising disruptive, modular, cutting-edge technologies to address critical agricultural problems, including plant climate management and the shortage of water for irrigation.
Its unique RZTO technology optimises plant physiology for increased growth, productivity and quality by stabilising the plant's root zone temperature.
As we reported in our last update, ROO kicked off its foray into the medicinal cannabis market by inking a strategic agreement with American Farms Consulting LLC (AFC) to conduct an open field pilot in Washington state using RZTO technology.
Only a week after that, ROO clinched a second pot partnership with Canndoc Limited, one of Israel's leading medical cannabis growers, to launch a world-first proof-of-concept to cool medical cannabis roots grown in a greenhouse in northern Israel.
ROO's sustainable technology is being used to cool the root systems of cannabis seedlings and stabilise temperature between scorching hot summer days and cooler nights.
And it's already producing impressive results. Just this morning, ROO revealed interim results for this proof-of-concept.
These show a more than 25% vegetative growth increase on cooled root zone cannabis plants compared with uncooled control plants.
Current pot prices in the Californian medicinal cannabis market sit at US$2-3 per gram. Given that, the Canndoc control crops have typically produced 600 grams of flowers per plant each growing cycle, making them worth US$1200-$1800. ­
These encouraging interim results look to offer considerable value to farmers in the medicinal cannabis space.
Although the complete advantage and value is yet to be determined so investors should seek professional financial advice if considering this stock for their portfolio.
As with other high-value crops, where quality is of paramount importance (and where ROO has completed other successful proofs-of-concept), the company is able to greatly increase yields and shorten growing cycles by using its RZTO technology to keep root zones at optimum temperatures.
In its summer pilot so far, ROO has been able to keep the root zone of cannabis plants at more than seven degrees below the root zones of the control crops, providing increased protection against heat and stabilising the temperature range between night and day.
The pilot will continue until November, at which point ROO and Canndoc will examine the effects of root zone cooling on cannabinoid profile, content and composition, crop yield and weight, quality, uniformity, stem diameter and growing cycle duration. And that's only a couple of short months away...
All in all, this gives hefty weight to ROO's strategic decision to move into the specialised ag-tech corner that services medicinal cannabis growers. More broadly, it also makes for a big green thumbs-up of approval for ROO's razor-sharp technology and its diverse applications.
This nimble ag-tech stock is currently valued by the market at just $16.3 million, with plenty of room to grow.
And there's much to look forward to in the months ahead as ROO continues to ramp up commercialisation of its core technologies, and further expands its global footprint, which now includes operations in China, Israel, Spain, Australia and Korea.
All the pieces of the puzzle seem to be coming together at lightning-fast speed for this rapidly maturing ASX small-cap. So in keeping with ROO's no-nonsense approach, let's cut straight to the chase.
Keeping up the pace with: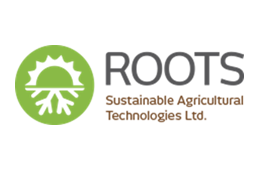 Roots Sustainable Agricultural Technologies
ASX:ROO
We last caught you up with ag-tech growth story, Roots Sustainable Agricultural Technologies (ASX:ROO), in July with the article, ROO Signs Second Deal to Cement its Place in Medical Cannabis Industry. As that title suggests, ROO has wasted no time in firming up its medicinal cannabis arsenal, sealing two deftly engineered cannabis-related deals in a short space of time.
Since then, news has been flowing thick and fast for ROO as it's continues to deliver shareholder value in spades through its two core technologies, RZTO and Irrigation by Condensation (IBC)... and its latest piece of news is no exception.
For a more in-depth look at how the technology works, see our previous articles. The following video also offers insight into how the system works along with additional cooling results thus far:
For this update, we'll be focusing primarily on the latest news on ROO's radar.
Speaking of which...
Israeli proof-of-concept flourishes — interim results show 25% yield increase
As we've mentioned, ROO made its entry into the medicinal cannabis space following an agreement inked with Canndoc, a leading Israeli medical cannabis grower.
Canndoc is renowned for its expertise in quality production and collaboration with leading edge companies and laboratories. It produces premium weed-based products under license from the Israel Ministry of Health, following strict protocols and standards.
Canndoc has expertise in breeding, genetics, tissue culturing R&D, production and harvesting methods and protocols for dehydration and curing of cannabis plants including the extraction of specific active ingredients.
This has resulted in the development of a comprehensive method for cultivation and production of medical-grade cannabis across all facets of the value chain, which are being supplied to thousands of patients in Israel since its inception.
Canndoc's R&D, meanwhile, aptly complements ROO's technology, which is being used to cool the root zone of cannabis plants throughout the vegetation stage and examine its multiple effects on crop yield, uniformity, quality and duration of the growing cycle, as well as cannabinoid content and composition.
This is all happening during the 2018 Israeli summer, and should be completed in November — a couple of months from now.
This cannabis proof-of-concept is the second time ROO's RZTO system has been used on cannabis, given its open field pilot in Washington state. ROO is hoping that this latest proof-of-concept will demonstrate the universality of its finely honed technology, illustrating how it can be applied to a diverse range of crops.
The purpose of installing the system is to optimise the root zone temperatures — to cool or warm when necessary — until the optimum temperature of the cannabis plant is reached and maintained.
And given the interim results ROO released this morning, it's well and truly fulfilling this brief so far...
These results show a more than 25% increase in vegetative growth and enlarged stem diameters on cooled root zone cannabis plants compared to control crops.
So far in this summer pilot, ROO has been able to keep the root zone of cannabis plants at more than seven degrees below the root zones of the control crops. Here, RZTO is providing increased protection against heat and stabilising the temperature range between night and day.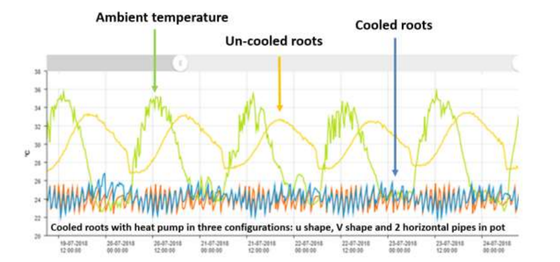 The short video below was shot in the testing greenhouse, comparing the RZTO and control crop growth: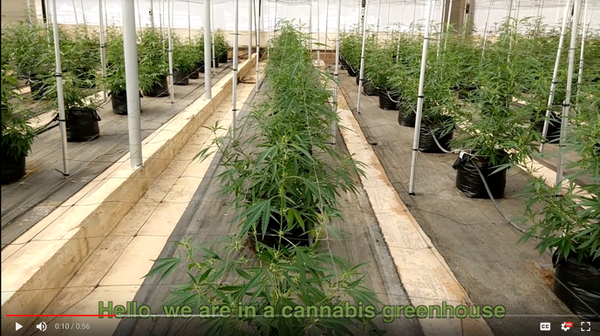 When you consider that most commercial cannabis greenhouses contain thousands of plants, the increased yields and shortened growing cycles that ROO is seeing here will add up to considerable financial benefits for farmers.
As we mentioned earlier, pot is currently priced in the Californian medicinal cannabis market (where recreational pot use is also legal) at US$2-3 a gram which are the lowest in the western world. Given that the Canndoc control crops have typically produced 600 grams of flowers per plant each growing cycle, the cannabis here amounts to around US$1200 - $1800.
Interestingly, Canadian medical cannabis is sold at twice the price than in California, so the payback for ROO's RZTO can occur twice as fast as compared with that in California.
However, it does remain a speculative stock, so investors should continue to take a cautious approach to any investment decision made with regard to this stock.
Overall, this makes for some promising news for ROO, with these interim results already looking to show sizeable value for farmers operating in the multi-billion-dollar pot space — something that could well also pique the interest of green-focused investors...
Roots thrives on successful commercial Israeli greenhouse pilot
In further positive news, ROO has completed its world-first pilot in a commercial operation combining its RZTO system with Nutrient Film Technique (NFT) technologies to cool the nutrient temperature of hydroponic lettuce.
Finfeed.com reported on this development earlier this month: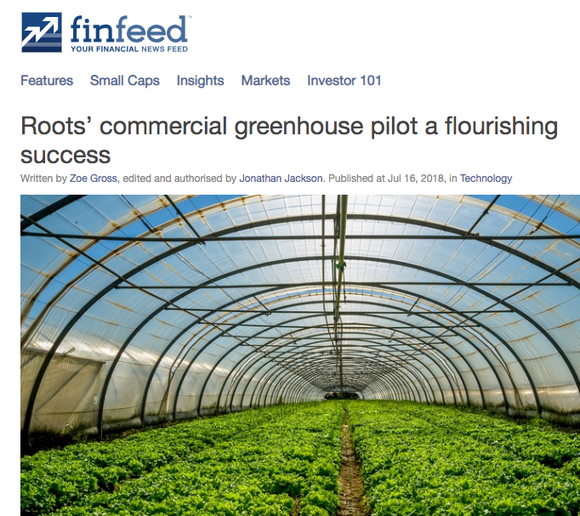 Taking place in central Israel's Bnei Atarot, this pilot was a collaboration between ROO and greenhouse leader, Teshuva Agricultural Products (TAP), which has developed NFT greenhouse technology.
ROO first unveiled this tech duet at the International AgriTech Israel Exhibition conference in early May.
When combined, the two technologies saw robust lettuce growth, ensuring the water that delivered dissolved nutrients to hydroponic bare plant roots remained within favourable growing ranges more than 11 degrees lower than the ambient air temperatures in the greenhouse of nearly 40 degrees.
This increased production quality and reduced the growing cycle by about 20% compared to traditional plantings, where no nutrient temperature control is used.
Cooling, moreover, was achieved using only ground source heat exchange (GSHE), consuming minimal energy.
Again demonstrating crystal-clear benefits to the agriculture community, the successful RZTO and NFT operation enables farmers to stabilise nutrient temperatures to dramatically increase yields and profits, as well as more efficient crop management — even in extreme summer weather conditions.
This gives ROO a razor-edge over its ag-tech peers — no other commercial company in the world is offering RZTO and NFT cooling systems for hydroponics.
Until now, the only option farmers had to reduce heat load in greenhouses was to use large evaporative cooling systems with several fans. These, however, are expensive to buy and operate, use abundant energy, and increase humidity levels within the greenhouse, which in turn increase disease levels on plants.
RZTO cooling systems, on the other hand, focus on retaining core temperatures at the root zone — not in the ambient air. Cooling the NFT nutrient solution was made by ground source heat exchange only, using a circulating pump which consumed only 1.5kw/h of energy.
The RZTO and NFT cooling system, meanwhile, was effective in stabilising the crop temperatures despite extreme external weather conditions where the fragile crops were completely open to the heatwave and windstorm conditions.
ROO's monitoring and control system:

In short, this pilot signifies a major breakthrough in greenhouse crop control — giving ROO a pivotal point of differentiation.
Roots takes on sixth key global market with South Korean deal
In non-cannabis-related news, ROO has also expanded its reach into South Korea, clinching a non-exclusive reseller agreement with Ezfarm. This deal will see Ezfarm importing and selling RZTO and associated products in South Korea for an initial one-year term, with the option for annual extensions.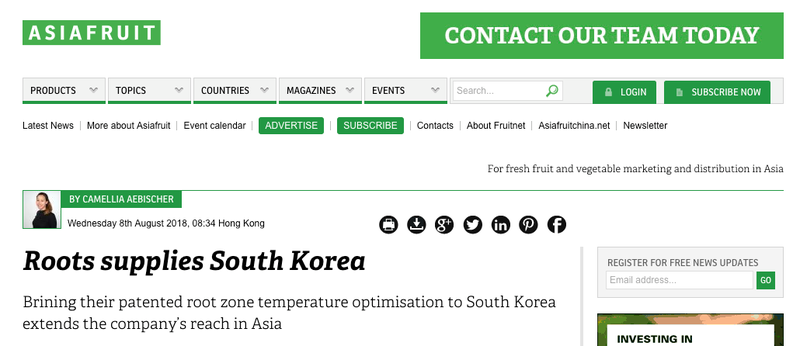 Ezfarm sells field solutions to farmers across South Korea's agricultural scene, where issues like limited arable land and extreme summer and winter temperatures are driving the need for advanced greenhouse technologies and specialist farming techniques.
RZTO will enable Korean farmers to increase their crop yields, reduce growing cycles and therefore gain improved market prices. ROO's system comes in three configurations utilising ground source heat exchange, as well as heat (or cooling) pumps — perfect to help farmers manage Korea's extreme temperature ranges.
This deal is an expansion of ROO's budding presence in north-east Asia, following the commercial order of $323,000 with Dagan in China back in February.
Of course, how much of this market ROO is able to break into remains to be seen, so investors should seek professional financial advice if considering this stock for their portfolio.
With a growing global footprint which includes operations in China, Israel, Spain, Australia, and now Korea, ROO is rapidly demonstrating its ability to solve a multitude of agricultural and climate management challenges facing farmers around the world with its disruptive tech arsenal.
This hinges on something else that give ROO a distinctive edge in the ag-tech ecosystem — its ability to provide sustainable solutions to critical, real-world agricultural issues.
Moreover, given that the 'smart' agriculture market is estimated to be worth US$7.53 billion in 2018 and is expected to reach US$13.50 billion by 2023, it would seem that ROO's ag-tech innovations have benefits for investors as well as farmers...
Providing a rich harvest
Clearly, ROO is a company that likes to move fast. This rapidly maturing ASX junior is now well into the commercial phase with its RZTO technology, and is continuing to perform proof-of-concept and pilot demonstrations with new and potential customers on cooling and heating greenhouse crops, hydroponics and open field trees across Israel, Spain, USA and Australia.
In the months to come, ROO will continue to launch its tech with commercial contracts in new market segments, supplying to cannabis and hydroponics growers, and additional territories around the world.
On top of that, it also expects to launch a semi-commercial version of its IBC standalone alternative energy system later this year.
And that's just really a taste of what ROO has going in its pipeline...
In recent months, this ag-tech innovator has demonstrated how its tech can be used in everything from hydroponic lettuce growth and winter basil to the budding $31 billion medical cannabis market — and we can't wait to see what it turns to next.
ROO is currently valued by the market at a mere $16.3 million. Yet considering its clear penchant for sealing strategic deals and taking on new markets, it could well be that this rapidly maturing ag-tech stock is ripe for a rally.
---