The $100BN+ Data Security Market is Ripe for this Cyber Duo: ASX Shell Days Away From Acquisition
PUBLISHED: 25-11-2015 09:33 a.m.
Online data security is serious business.
Just ask Ashley Madison – a site that connects people who want to cheat on their partners.
You may remember Ashley Madison from such screw ups earlier this year as having the intimate personal details of 32 million users stolen and hung out to dry online, leaving its embattled parent company, Avid Life Media open to class actions, and on the brink.
Ouch.
These problems occur because interconnectivity, digitisation, and insecure cloud structures open data to unwanted users, whilst raising security and privacy issues.
'Cloud computing' allows data and programs to be stored and accessed over the internet – instead of it data sitting on your computer's hard drive.
Simply put, this allows file sharing over the internet – and there are plenty of file sharing services out there, including Google Drive and Dropbox, that are aimed at individual users that are very successful.
However with fragmented solutions and different technical agendas, security is often an afterthought...
That's a big reason why corporations have not leapt on the cloud computing bandwagon as much as individuals.
As more sensitive information and ideas are synced to the cloud, and with cloud-computing taking up a larger share of corporate operations, the inevitable issue of securing data is suddenly problematic.
But there is one innovative North American company leading the way in helping businesses secure sensitive information.
This company is on the verge of a reverse takeover (RTO) into an ASX-listed shell, with an expected market cap of $25M after completion of the deal.
Simply put, the company's aim is to:
Provide a ubiquitous secure file sharing solution that can be deployed quickly and easily on any mobile device.
Before we delve too far about this company's business plan, it is recommend you keep yourself as secure as possible, and apply caution and seek professional advice when considering this stock as an investment.
Collectively, corporations spend billions each year to combat cyber-attacks, data leaks and security breaches but despite their best efforts, all that's required to undermine the hard work is an absent-minded or disgruntled employee.
Really all it takes to start a breach is a lost phone or an employee who forgets to install the latest security update.
When you consider the average cost of a single, successful cyberattack is US$300,000 and companies are attacked an average of 2 million times per week, that lost phone can have serious ramifications.
So, is it possible to make data security 'foolproof' ?
It is.
And this company, started by a former Bank of America cryptographer, looks like it may be succeeding in doing so.
This company has come up with a way to safeguard all data and real-time communication between a company's employees regardless of their negligence.
Not only that, but it has also enabled users to share confidential information across devices without compromising security.
Privacy-related criticism levelled at cloud computing flaws could potentially be a thing of the past as this company attempts to merge retail user functionality with military-grade reliability and deliver a dependable data security solution.
Four years in the making, and after A$5M has been invested in this technology to date, this company is set to list on the ASX via a reverse takeover that is now just a few weeks away.
Introducing:

Dourado Resources (ASX:DUO) is undergoing a reverse takeover (RTO) of Zyber Secure Mobile Solutions Inc. (Zyber), a Canadian technology firm with a breakthrough idea to solve today's online security problems.
Due Diligence between Zyber and DUO is now complete , and DUO is seeking funding of up to $6M to complete the transaction.
As part of the Zyber listing process, DUO will be undergoing a 5 to 1 share consolidation. The last day of trading for DUO is 30 th November. After that, the stock will go into suspension, and once the capital raising is complete, is expected to re-list as Zyber on 22 nd December, 2015.
Key dates are here: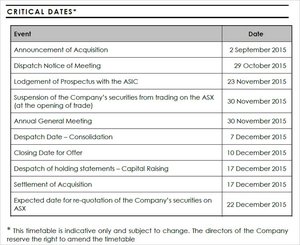 Our Track Record
This isn't the first time we have covered an ASX listed shell set to acquire a promising tech company. Regular readers may have seen our first article $191BN Cloud Software Industry: ASX Shell to Re-list as Tech Company back in June 2015 on Velpic (ASX:VPC) – back then it was International Coal (ASX:ICX), gearing itself up for the tech acquisition.
Since that article was released, we have followed the stock every step of the way, and it has been as high as 400% since transforming into VPC: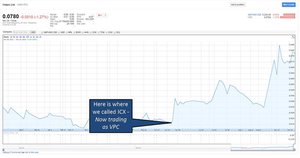 The past performance of this product is not and should not be taken as an indication of future performance. Caution should be exercised in assessing past performance. This product, like all other financial products, is subject to market forces and unpredictable events that may adversely affect future performance.
We are hoping the DUO / Zyber transaction can follow a similar path...
Zyber (DUO) offers companies a rapidly-deployed solution that secures files and data from outside intrusion whilst making that data more accessible for its owners.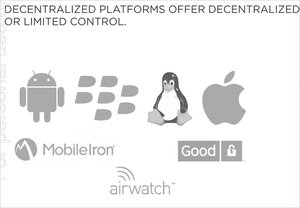 Whether you're a private corporation, government agency or dating site – there will always be unscrupulous sorts out there that want access to your client lists, financial information, private medical history or highly valuable intellectual property.
In data security the fundamental problem is that the bigger the enterprise/corporation, the more difficult its data is to secure.
Therefore, large companies tend to have the biggest data security headaches and are more willing to spend their cash to address the problem – good news for DUO investors, who should soon be shareholders in Zyber...
Some of the worst offenders and also those with the most sensitive information of all, are government officials. Despite having their national security apparatus behind them, they still manage to embroil themselves in horrific security lapses on a regular basis .
These breaches are usually due to vulnerabilities created by negligent end users.
Zyber's solution is focused on eliminating the negligent mobile end user as a threat to loss of confidential information.

What Zyber provide is a centralised way of protecting sensitive information in real-time across any device, whilst simultaneously providing seamless functionality expected by end users.
In other words Zyber provides a marriage of secure-usability and secure-dependability.
Zyber is now looking to commercialise its solution via the imminent deal with DUO.
Here is Zyber's cyber pitch in a nutshell
Provide 'military grade' 256bit symmetric encryption as a baseline for protecting confidential data;
Patented-pending technology allows users to view, edit and share data even using devices that are 'unsecure' but still manage to preserve security and privacy;
Even computers that are riddled with viruses, key loggers and malware are able to access sensitive data without compromising it (the same as going for a swim and not getting wet);
Users can use fully featured PC software from their mobile phones including Windows and MacOS operating systems (the same as being able to watch Blu-ray discs on your DVD player).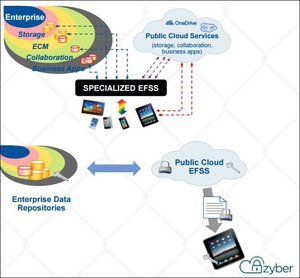 The ramifications of Zyber's (DUO) solution and therefore DUO's future potential has certainly piqued our interest.
For one thing, companies of all sizes will now be able to secure their intellectual property and maintain security as they grow, even as they make the shift to cloud computing.
The larger and more data intensive a company is, the more compelling Zyber (DUO)'s solution becomes.
Zyber (DUO) claims to be able to simplify the burdensome problem of data privacy and security in a world where hacking and data theft is more and more rife.
So, can this upstart deliver on its promise?
The answer should start to be answered once Zyber lists on the ASX via DUO...
At the same time, caution is advised – Zyber is still a small player in this sector and professional advice should be sought when considering this company for your portfolio.
Let's take a deeper look at Zyber's product
Developed in-house by an experienced development team sourced from a variety of market sectors, Zyber (DUO)'s platform is built on four distinct 'pillars' which are cornerstones of its cybersecurity push.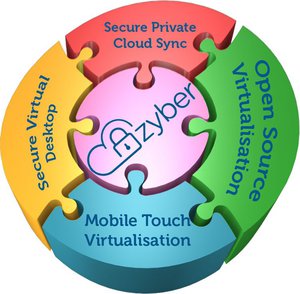 Produced internally
Pillar 1: Secure Virtual Desktop via USB
By creating a secure computing 'loop', users can access their sensitive data from public PCs at airports and internet cafés whilst preserving data security by ensuring data is only transferred between the USB stick and the company's secure server.
Pillar 2: Private Cloud Secure File Synchronisation
Allows private cloud, hybrid or cloud storage and synchronisation of files between all devices. All data is encrypted automatically with 256bit military grade encryption.
Pillar 2 encrypts files at creation and tags them for audit tracking capability, meaning a greater level of control that other cloud storage solutions do not offer at present. The common cloud storage system Dropbox, for instance, does not have private cloud or hybrid options.
Pillar 3: Open Source Virtualisation Appliance
A virtual server streams data to users which is encrypted on the fly at the pixel level.
In other words, as a user is making changes to a file, the projection of that data going back and forth is encrypted/decrypted, thereby creating a secure 'tunnel' between the user and the company's secure server.
The actual file never moves and any changes made are always saved back onto the company's server.
Pillar 4: Mobile Touch Virtualisation
This provides an enhanced end-user experience by allowing full virtualisation of operating systems such as Windows and MacOS onto mobile phones.
Users receive full PC operating system functionality on their mobile phone or tablet device. So, powerful applications usually reserved for PC use can now be liberated and used on the move – securely.
All functionality is seamless and doesn't require third party updates.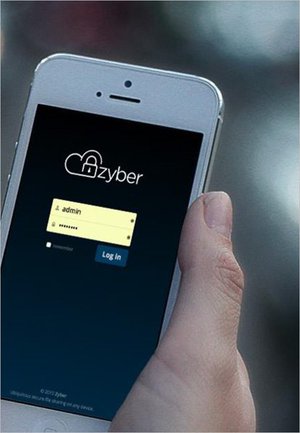 Zyber's 4 pillars function as a secure solution that allows you to seamlessly transact, share data and collaborate across any device and operating system.
When comparing Zyber (DUO) to its peers, it appears the company comes up trumps across a number of features: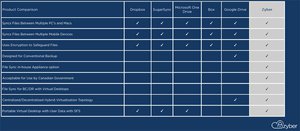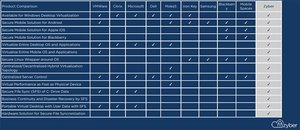 There are some pretty big names above: Microsoft, Citrix, and Dell – and Zyber's service stacks up very well against these much bigger companies.
In a quickly evolving landscape, retail cloud-providers such as Dropbox, OneDrive and Google Drive lag behind more security focused competitors because security is not a priority feature for its users.
Or not yet anyway.
But what do the experts think?
An industry-leading organisation, Open Data Center Alliance (ODCA) which has more than 280 members, including BMW, JP Morgan Chase, UPS, Disney and AT&T, published a checklist of security requirements cloud-providers should ideally aspire to.
They are listed below:

Furthermore, in a recent survey, the ODCA found that around 40% of respondents cited security as the primary inhibitor to utilising cloud-services .
This is where Zyber (DUO) stands out.
By delivering cloud like experiences in a secure company owned datacentre for high-end corporate users, the company can carve out a compelling business model.
DUO is conducting an RTO of Zyber
After the completion of DUO's RTO expected in the coming weeks, Zyber (DUO) is expected to have a market cap of around $25M.
A positive aspect for DUO investors is that the Zyber personnel joining DUO's board will all have performance-based milestones put in place. Additionally all vend stock is escrowed for a min of 1 year, in some cases two years.
270 million additional performance shares will be issued in 3 tranches when the following milestones are met:
90 million shares issued if Zyber (DUO) commences 'proof of concept' trials with 5 or more different enterprises, capped at $100M each. Two of those trials must also convert to paying clients.
90 million shares issued if Zyber (DUO) generates gross revenue sales of $5M or more within 3 years.
90 million shares issued if Zyber (DUO) gross revenue sales of $10M within 5 years.
These performance related milestones are likely to incentivise the company's key stakeholders – something we like to see here at The Next Tech Stock whenever we look closely at a stock.

Cybersecurity is becoming more important for all businesses with spending forecast to triple by 2020
Here's what CSO's Steve Morgan had to say about the global cybersecurity market :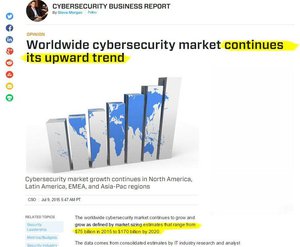 Companies are forecast to spend around $170BN on securing their IT infrastructures within the next 5 years according to estimates.
A large portion of that will be directed towards 'Shadow IT' – a concept whereby existing employees accidentally compromise the security of corporate networks by using unsecured cloud services alongside their company duties.
We've all been there – opening a work file at home and then forgetting to remove it.
According to industry experts, this is an effective 'Trojan-horse' bringing in significant risks for companies, and has the adverse effect of making IT support staff target their own colleagues as part of the clean-up.
This costs money, wastes time and forces companies to beef up their IT functions just to cope.
All of that angst and expense can be avoided courtesy of Zyber's platform.
Convergence of factors creating a commercial market for Zyber
The consensus amongst IT market analysts is that cloud computing is one of the quickest growth markets in IT... and will continue to be so.
A recent Forbes article suggests 42% of IT decision makers are planning to increase spending on cloud computing in 2015, with the greatest growth expected at enterprises with over 1000 employees (52%).
Meanwhile, here's what Goldman Sachs forecasts with respect to future cloud computing spend amongst enterprises: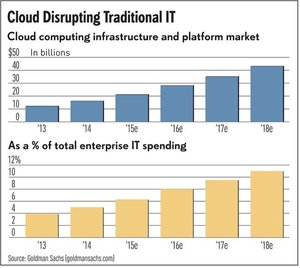 So on one hand cloud-computing is likely to be embraced en masse by small and large corporations alike...
On the other, around half of those corporations have severe reservations about using cloud-based storage for their sensitive files and emails.
What's likely to happen is firms will embrace cloud-computing but limit the amount of information they make available in the cloud.
This presents a perfect storm for DUO's Zyber play because its solution will allow companies to keep their operations undisturbed but still benefit from the advantages cloud-computing brings.
Assuming DUO can successfully execute the transaction, Zyber's innovation will be a breath of fresh air for corporations currently gasping for a solution to their IT security problems.
It will enable them to slash their IT budgets, not to mention deflate legal expenses from data privacy and security breaches.
Zyber DUO has a Game Plan
DUO's past was in gold exploration. But its future is firmly in cybersecurity.
Here at The Next Tech Stock , we think DUO has a strong chance of success given Zyber (DUO)'s compelling business model that's focused on online security – a market niche that's primed for future growth.
DUO plans to raise up to $6M as part of its relisting as Zyber on the ASX.
The next checkpoint is DUO's Shareholders General Meeting scheduled for 30 November, and on this day, the company's securities will be suspended from trading.
Once DUO's Board approves the RTO, and raises the minimum amount it needs to relist, Zyber (DUO) will be a publicly listed ASX Company.
Of course this assumes the company can raise the required capital and the transaction goes off without a hitch – this is speculative and there is no guarantee.
Zyber (DUO) will use a direct sales model to drive its revenue in 2016 by initiating partnered service offerings with the potential for a SaaS-based (software as a service) fee structure later in 2016.

From Cybersecurity to Zyberpotential
Zyber (DUO) are still developing their offering with full completion expected next year.
It's early days, but there is significant potential for Zyber (DUO), not only with how its technology can be commercialised in a growing market but also with future applications.
With technology costs falling each and every year, it's quite feasible to expect individuals or households to be on the lookout for enterprise-grade servers that ensure privacy and security of their photos, financial records, medical records and so on.
For now, it's corporations that are the most keen to adopt tight security measures because they have the most to lose.
However in the future will we see Mums and Dads adopt security protocols as the cost of a secure, private cloud server drops to less than the cost of a mobile phone?
This presents a possible expansion opportunity further down the track for Zyber (DUO).
And with such a compelling digital play now in our arsenal, we'll be keeping a close eye on this intriguing cyber duo as they prepare to relist as potentially one of the most ground-breaking cybersecurity companies in the world.
---