YPB to Supply Technology to the Chinese Government
PUBLISHED: 06-03-2015 20:23 p.m.
YPB Group (ASX:YPB) were always planning for 2015 to be their revenue year...
It seems to be working, with a steady stream of sales deals coming through in the past few weeks, and likely more to come on the horizon.
YPB sells anti-counterfeiting technology to businesses across the world who need to protect their products from fakes.
If the first months of 2015 are anything to go by, YPB might have a revenue year to remember!
In the last few weeks alone, YPB has confirmed deals that will see:
A major international supplier of high end bottle closures implement YPB technology with $10M in projected revenue to YPB;
A Chinese tax bureau apply YPB's anti-counterfeiting technology to approximately 14 million Chinese tax receipts;
The Chinese government integrate YPB technology into security passes for a high security government building.
Confirming a first milestone deal for the Chinese government may lead to many more and the widespread uptake of YPB technology in China.
They have also signed a Letter of Intent with Guohe Haidaldi, a major international supplier of RFID and NFC technology – based on the "tap and go" payment technology used by Visa and Mastercard.
Both YPB and Haidaldi will now work together to develop product authentication solutions for high-end products.
In parallel with these deals, YPB raised $3.1M to help expand its scope and has thrown open a Share Purchase Plan for eligible shareholders to consider.
Plus YPB has just lodged three patent applications for its anti-counterfeit scanner technology in China to protect its inventions from the very industry it's designed to take down.
And it's just received stocks of its next generation T2 proprietary scanners – read on for some of the first glimpses of this product...
There's lots afoot for YPB and at The Next Tech Stock we're keen to take you through it:

YPB Group Ltd (ASX:YPB), currently capped at around $40M, first appeared on the Next Tech Stock in January with the article $1.7 Trillion is Lost Globally to Fake Products: Does this ASX Tech Company Have the Solution?
Since the article was released, shares in YPB have climbed as high as 60%: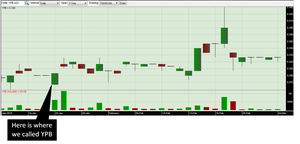 Source: Etrade Australia
The past performance of this product is not and should not be taken as an indication of future performance. Caution should be exercised in assessing past performance. This product, like all other financial products, is subject to market forces and unpredictable events that may adversely affect future performance.
Our original article explains just how YPB is protecting products from fakes right now. But let's have a quick refresher...
Fakes, counterfeits, knock offs, whatever you want to call them, the illegal global industry making them is worth over $1.7 trillion.
It's so powerful that massive retailers like China's online market Alibaba are spending millions of dollars to put black markets out of business – and law enforcement agencies across the world are struggling to stamp it out.
YPB is positioning itself as the company they will turn to, especially in China where its main customers are right now, including the Chinese government.
YPB's name in Chinese means "You Pin Bao" or in English "Excellent Brand Protection."
Counterfeit goods are a global problem, and YPB has developed a global solution – all the while selling its technology. There's two parts to YPB's products – the invisible tracker and its scanner, and the mobile integrated Brand Reporter app.
The tracker can be integrated into any product or packet at any stage of the manufacturing process.
It's tamper proof, impossible to copy and gives everyone involved in the production, sale and use of the product peace of mind that it's the real deal.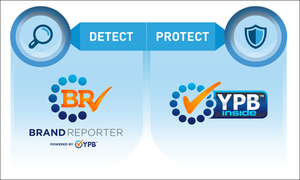 The tracker can then be checked for with the scanner – no invisible marker, no sale!
Brand Reporter, acquired by YPB in 2014, could take YPB into the consumer sphere. It integrates the YPB scanner into a mobile app, allowing absolutely anyone to check the veracity of the goods they buy.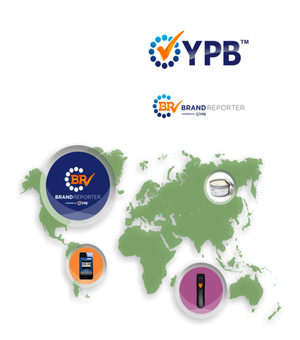 YPB's plan – now and in the future – is to sign deals with companies that need protection from counterfeiters (just about all of them) and that's exactly what it's doing right now.
In this article, The Next Tech Stock will run you through all the latest news from YPB.
YPB teams with major international tech supplier
YPB have signed a Letter of Intent with Beijing Guohe Haidaldi Electronics Technlogy Co. Ltd (Haidaldi) to work together on product authentication solutions for high end products using Near Field Communication (NFC) technology.
This is the technology used to enable the "tap and go" payment that is becoming increasingly prevalent for credit cards. Major phone manufacturers are also adopting reading capability into new generation handsets.
Haidaldi currently supply around 30 million RFID tags every year to customers across the world – which are also a type of NFC technology.
RFID tags are like smart labels – intelligent bar codes that can talk to a networked system to track products – perhaps you have seen them on DVDs: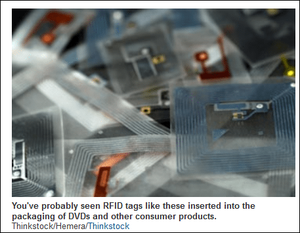 This is the kind of technology that may eliminate the need to queue up at the supermarket – just put a product with an RFID tag into your shopping trolley and walk out the door...
Haidaldi, YPB's new partner, currently specialise in RFID tags for security documents, pharmaceutical, medical, food and transportation industries. They are building a new factory right now to expand to 500 million unit capacity – and are obviously growing fast.
Judging from the Letter of Intent signed with YPB, its clear Haidaldi are impressed with YPB's technology. This is a major win for YPB as it grants the company access to Haidalidi's strong tech development capabilities...
We are looking forward to seeing the fruits of this partnership soon!
Swipe and go – China's government picks up YPB tech
Just about every modern building in the world uses a pass card system for letting people in or out – we all know the procedure – swipe in and swipe out: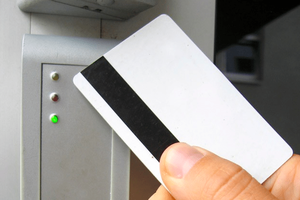 The Physical Security market – of which pass cards are a major part – is predicted to grow by over 15% up to 2019 and is estimated to be worth over $87BN.
But pass cards can be faked, presenting a major security challenge for governments and private companies across the globe.
The British government tried to introduce national ID cards but the scheme was withdrawn in 2011 in part because the technology was not secure enough .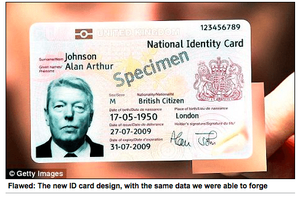 Those British cards used a microchip to hold the relevant information that was then scanned – something that could be copied and even forged.
But YPB's anti-counterfeiting technology is very different.
Instead of a microchip, it's an invisible tracer, a unique product whose presence is the guarantor of authenticity. Unlike a microchip, these individually tailored or the covert markers cannot be copied, altered or removed.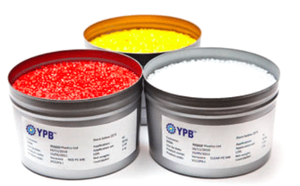 YPB's covert marker has a unique signature that proves the validity of the product it's attached to. No tracer, no entry – and YPB even supply the scanner system needed to detect the tracer.
It is this complete security system that marks YPB's anti-counterfeiting technology out from the pack – and the Chinese government has taken notice: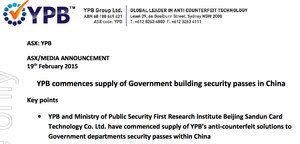 For the first time, YPB will supply its anti-counterfeiting invisible tracer technology to the security pass market with China's government as its first customer.
The YPB invisible tracers will be used in security cards at a high security government building, so it's a strictly confidential deal with no dollar figures released as yet, but here's what we know so far...
YPB has entered into a supply agreement with a Chinese R&D entity known as Ministry of Public Security First Research Institute Beijing Sandun Card Technology Co. Ltd. (Sandun Card).
YPB's invisible tracer products and scanners will be delivered to Sandun Card and then incorporated into the security passes for the Chinese government.
The deal came about after Sandun Card trialled YPB's anti-counterfeiting technology in 2014 and was used at the highest levels of government security.
YPB says the trial showed that its technology 'significantly enhanced' the effectiveness of the security passes. YPB is now working with Sandun Card to expand its products to every other security card product including drivers' licenses, government passes and smart card applications.
Now that the Chinese government will be using YPB technology, where else might we see it being implemented?
After all, just about every government of every country in the world uses security passes, and so do businesses.
Speaking of which...
Ink and bottlecap deals to bring YPB up to AUD$26M revenue
Imagine this...
You're in Beijing entertaining some clients and to impress them you've just dropped a few thousand yuan on a bottle of top wine...
The wine is opened and poured and everyone's downs the first sip – but it just doesn't taste right. How can you be sure this is the real thing? Especially in China where up to 50% of wines are probably fakes.
Well, worry no more if YPB are involved. YPB has signed a deal to supply its anti-counterfeiting tracers and scanners to Hicap Closures Company Ltd, a Chinese group that makes up to two billion bottle closures every year.
It will also take delivery of YPB's T2 scanners, which can be used to detect the tracers within the closures.
The deal is projected to generate gross revenue of AUD $10M (RMB 48.5M) over the term of the contract for YPB.
Meanwhile, in another deal announced back in January, Shenzen Shensaier will incorporate YPB's invisible tracers into the high-end inks it supplies to tobacco and wine manufacturers in China for packaging.
This deal is potentially worth AUD$16M (RMB80M) to YPB based on projected revenues over term of the contract.
But the YPB deals don't stop here...
YPB to help China's taxman
YPB has also won a tender process and inked a deal to supply its anti-counterfeiting tracers and scanners to a Chinese entity called Guangzhou Renmin Printing Printing Co. Ltd.
This group will then supply these tracers to the state of Guangdong's national Tax Bureau, which will use them to create tax invoices known as "Fapiaos" which are too often faked...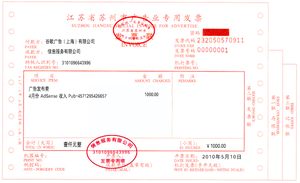 YPB's anti-counterfeiting technology will be incorporated over a three-year contract period in which 14 million fapiaos will be printed in the first year alone.
Guangdong has over 100 million people living inside its boundaries and the local authorities need hundreds of millions of fapiaos printed every year – this deal positions YPB very favourably to pick up more business in the state and across China.
And who knows who else may see the work YPB is doing – governments and business across the world need to protect their documents. This could be the beginning of a lucrative trade for YPB...
$3.1M hits YPB's bank account – there's more coming...
In a vote of confidence from the market YPB has just raised $3.1M in a placement of shares to strategic and institutional investors.

Ten million fully paid ordinary shares were issued at a price of 30 cents each, a 6.25% discount to YPB's 30-day volume weighted average closing price. Each share had one attaching option at a price of 1 cent and exercisable at a price of 20 cents on or before the 31 st of October 2017.
The placement brought YPB its first institutional investor and the backing of a high net worth individual, though no naming of names at this stage!
And existing YPB shareholders have the chance to get in on the action – another SPP is now open for applications of up to $15,000 worth of shares at the same price and conditions – 30 cents each with an option attached at 1 cent each for every four shares bought.
The record date or eligibility is the 19 th of February and the SPP closes on the 17 th of April 2015.
Now, what will YPB do with the money?
Basically expand everything it's doing in order to grow the company. The sales and market presence of its invisible tracers and scanner units will be pushed hard as well as Brand Reporter and new sales zones like the USA and South-East Asia.
And if YPB's busy ledger of deals is any measure, 2015 could prove to be a very busy time...
Patent protection for YPB's anti-counterfeiting tech
The counterfeit industry is insidious.
Even YPB could be the victim of counterfeiters – so to protect its inventions, YPB has applied for patent protection in China, a nation where lots of the world's fakes originate.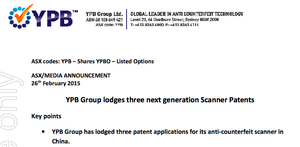 YPB has submitted three patent applications to China's authorities to protect its proprietary scanner technology:

Once granted, YPB's scanner tech will be protected for 20 years, and the process takes up to three years to complete.
This is a smart move for YPB, especially now that its sales of the invisible tracer and scanner are accelerating and people are starting to see that the technology works.
At The Next Tech Stock we see this is yet another thing that YPB is doing to give its customers and investors peace of mind.
Next generation scanners now in stock
There was so much demand for YPB's first generation of proprietary scanners – called T1 – that stocks ran out in 2014!
But rather than make more T1 scanners, YPB pressed ahead with a new model -called T2 – and it's just taken delivery of a full inventory of this next generation scanner.
Here we can reveal some of the first photos on the T2 scanners, which may revolutionise how businesses protect their products: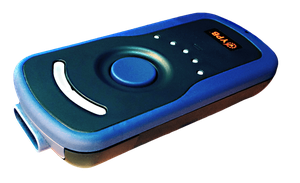 Source: YPB Group
The next generation scanner features enhanced software and design upgrades – with the ability to read tear tapes, like those used on tobacco products, and invisible tracers on small surfaces.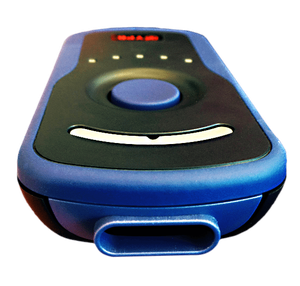 Source: YPB Group
YPB's T2 scanners are available for sale now and the company anticipates they'll start hitting the market in China soon now that the Chinese New Year break is done.
And YPB isn't stopping there... it says it's already working on a T3 scanner.... It's clear their technology is evolving rapidly!
The way ahead for YPB
2015 is really turning into the revenue year for YPB.
Not only will YPB make cash from a clutch of deals by applying its anti-counterfeiting technology to levels of government and industry in China, it's also proving to the rest of the world that its kit works, is easily scalable and can solve real business problems.
The patent applications to protect its scanner send a strong message to the markets and customers that YPB is serious about stamping out fakes and protecting itself as it goes about that mission.
Its $3.1M placement to strategic and institutional investors will go directly to expanding the market presence of its tracer and scanner anti-counterfeiting technology, its Brand Reporter network, and securing new business in the USA and South-East Asia.
And the replenishment of its stocks of scanners – all of them next generation T2 scanners – means YPB can service the deals they are making.
Now eligible shareholders can also participate in a Share Purchase Plan in March at the same price as the issue price for the institutional investors, including 1 attaching option for every 4 SPP shares subscribed.
After all the new deals just inked in China, we can't wait to see what other revenue generating deals YPB can reveal...
---