UTR Charges Up With More Strategic Partnerships and a Fortune 500 Connection
PUBLISHED: 01-02-2018 10:00 a.m.
Ultracharge (ASX:UTR) is one ASX junior that's looking Ultra attractive.
Since we last wrote about the battery-technology company in August last year , UTR has signed multiple new deals, acquired complementary intellectual property, advanced a pilot project, and raised A$2.5 million.
If you've been following this charged up small cap, you'll know how it fits into the circuitry of the lithium-ion and electric vehicle movement.
Lithium-ion batteries are helping to solve a big problem in society, namely CO 2 emissions, but for them to be used on a scale large enough to make a true impact on sustainability the technology still needs to be fine-tuned.
There are a number of distinct issues that limit the reach of rechargeable batteries — slow charging times, high cost, limited battery lifetime, and safety issues. You may remember incidents of Samsung devices exploding and their subsequent banning from commercial flights.
UTR's technology has the potential to improve on all of the above. It's in the right place at the right time, developing much needed technology to capitalise on the rapidly growing battery manufacturers' market...
In the last few months, this ultra-zippy tech play has:
Entered an MOU with China's leading fluorine chemical manufacturer, Sinochem Lantian Co. Ltd.

Signed an agreement with Dotz Nano (ASX:DTZ) to integrate the use of graphene quantum dots (GQDs) in its anode technology for manufacturing lithium-ion batteries.

Partnered with Chemours to develop titanium dioxide anode material for lithium-ion batteries.

Acquired new cathode IP from Israeli company ETV Energy Limited, as well as new lithium-ion battery IP from the US-based Coorstek Specialty Chemicals.

Progressed its pilot project JV with Leclanché SA.

Raised A$2.5 million to accelerate current research programmes and pursue new opportunities.

It's all amounting to one big electric dream for UTR, particularly as we see several market factors drive demand for lithium-ion batteries.
Of course it is early stage of these partnerships and interested investors should seek professional financial advice if considering this stock for their portfolio.
There are several drivers of lithium-ion battery demand that require technological solutions, such as those being developed by UTR. These are growth in electric vehicles, portable consumer electronics, and grid power storage systems.
Time for a (green) power review of:

Ultracharge Limited

When we last updated you on UTR, the company had just struck an exclusive license agreement with Epsilor — a subsidiary of $93 million capped Arotech Corporation's (NASDAQ:ARTX) power sources division, which consists of the Epsilor-electric fuel facilities in Israel and UEC in South Carolina.
The agreement was for new battery IP, as well as the lease of its research facilities and the hire of specialised equipment. Since then, the good news has kept on coming for UTR.
New lithium-ion battery IP from the US-based Coorstek
In November, UTR acquired new lithium-ion battery intellectual property (IP) from the US-based Coorstek Specialty Chemicals.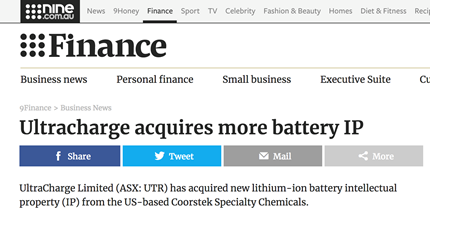 The IP includes a high-performing, low-cost electrolyte solution for lithium-ion batteries which are rechargeable and require an anode, cathode and electrolyte solution to work.
High-purity electrolytes are a core element of lithium-ion batteries, transporting ions between the cathode and anode. In the majority of lithium-ion batteries, electrolyte salt LiPF 6 is used. The problem is that LiPF 6 causes battery degradation, so a battery without it could be far more competitive.
The electrolyte solution from Coorstek provides UTR with a superior electrolyte salt (LiFSI) to use in production, thereby increasing the lifespan of the battery and the performance at both high and low temperatures. The patented production technique could halve the cost compared to using standard commercial electrolytes.
Another plus is the process for producing the electrolyte is highly automated and has the potential to reduce production time by up to 100 times.
This strategic acquisition will add to the company's growing IP portfolio and could deliver considerable commercial benefits.
This means UTR can offer the market a unique full battery solution. It already provides a safe, fast-charging and long-lasting anode and a revolutionary high-voltage cathode. But add in a new electrolyte solution and UTR will be able to offer a bespoke lithium-ion battery.
MOU with Sinochem to bolster UTR's Coorstek IP acquisition
This month UTR dropped another major piece of news on the market, announcing an MOU with China's leading fluorine chemical manufacturer, Sinochem Lantian Co. Ltd .
Sinochem Lantian is a subsidiary of Sinochem Group, which is a Chinese state-owned Fortune Global 500 company. It is one of only a few companies that produce LiFSI salt, making this a crucial part of UTR's path to success.
This agreement makes the most of the IP that UTR acquired from Coorstek a few months prior — enabling the production of a superior electrolyte salt (LiFSI salt) which can increase battery lifespan and performance.
What's more, it offers UTR exposure to China and its burgeoning electric vehicle market —the country is now the world's leading electric vehicle consumer.
Deal with Dotz Nano to explore graphene-enabled enhancements
In November, UTR announced a cornerstone Joint Collaboration Agreement with Dotz Nano (ASX:DTZ) to integrate the use of graphene quantum dots (GQDs) in its anode technology for manufacturing lithium-ion batteries.
GQDs are semiconductor nanoparticles or nanocrystals, usually in the range of 2-10 nanometers (10-50 atoms) in size that can help improve the production of lithium-ion batteries and the performance of the final product.
The deal involves a three-month pilot cooperation programme to develop longer-lasting, faster-charging and more dependable technology utilising GQDs.
This new partnership could prove very synergistic, considering Dotz Nano is increasing its involvement in the lithium-ion battery anode market — a market UTR are keen to secure exposure to.
Together, the companies intend to develop the next generation of nanoparticles to create inexpensive, non-toxic graphene quantum dots. The end result could be up to ten times the production yield compared to conventional alternatives.
But going way beyond just the production yield, there are many other benefits that UTR's advanced lithium-ion battery technology can boast over its competition, such as:
According to early testing, Dotz Nano's GQDs can improve UTR's anode capabilities and provide technical enhancements such as rapid charging, extended longevity, better safety, cost efficiency and a hugely reduced environmental footprint.
However, the stock does remain speculative and investors should take a cautious approach to any investment decision with regard to this stock.
UTR has agreed to place an initial order of a minimum of US$150,000 worth of GQDs for use in battery anodes, subject to UTR receiving purchase orders of at least $1 million for its GQD-enriched anodes.
$2.5 million raised for research and new opportunities
None of these wins would take this small cap anywhere without some money in the bank to see it through to the next stage of growth.
Good thing then that in early November UTR announced it had completed an oversubscribed capital raising to the tune of A$2.5 million , providing plenty of capacity to accelerate its business strategy. The placement was heavily oversubscribed, indicating the robust level of support UTR has from existing and new high net worth investors.
UTR will use the funds to accelerate current research programs and pursue new opportunities
Compared to peers operating in the same space, UTR — with its $25 million market cap — has considerable upside potential, particularly given the increasing popularity of lithium-ion batteries to solve a range of power and energy demands.
A quick comparison with StoreDot: a similar, but private, Israeli company which is approximately two years ahead of UTR in terms of development, scaling facilities and pilot production. StoreDot is worth US$500 million and at the end of last year raised US$60 million in one go.
Partnership with Chemours to develop titanium dioxide anode material
Following UTR's major announcement relating to Epilsor, in October, the company entered into an agreement with the $9.5 billion capped Chemours (NYSE:CC) — a global leader in titanium dioxide technology — to jointly develop a superior anode material.
Chemours and UTR will work together to develop a cost-effective process to manufacture anode material that can replace graphite in lithium-ion batteries to make them faster charging, with longer lifespans, and better safety profiles.
As part of the agreement, Chemours and UTR will also collaborate on scaling up production of titanium dioxide anode material to provide samples to current and new customers. It also secures an option for a commercial manufacturing capacity for the production of the anode material.
Again, this is another piece of the puzzle towards UTR offering a full lithium-battery solution, particularly when combined with all the news we've already covered.
An update on the Leclanché pilot
The company released an update around its Leclanché SA partnership and pilot program at around the same time it announced its partnership with Chemours. The news was covered by Finfeed.com (a related entity of S3 Consortium Pty Ltd as defined in Section 9 of the Corporations Act 2001) :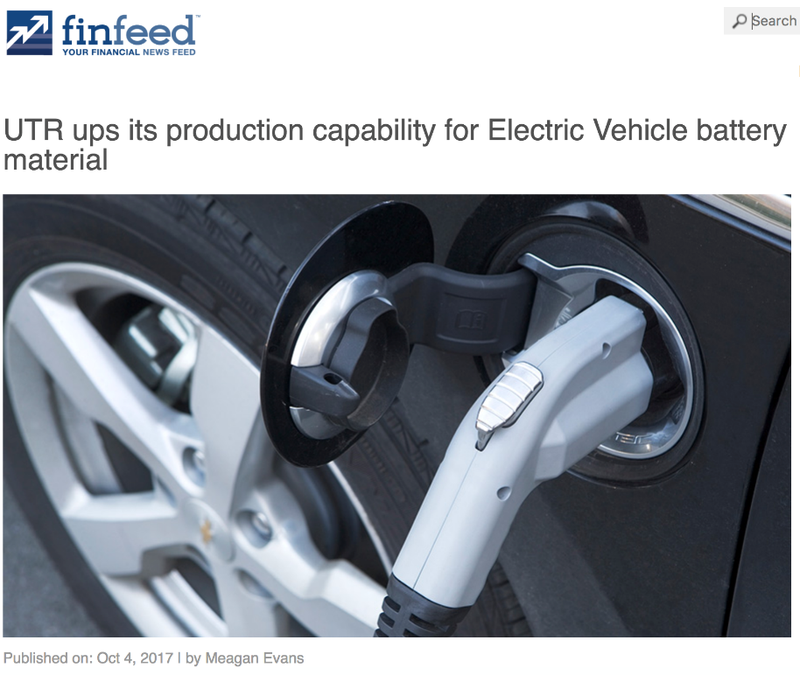 Specifically, UTR will upscale its nanotube material production at the pilot project. The existing MOU with Leclanché stipulates that, together, the two companies will seek cost competitive and large-scale manufacturing of high-cycling, fast-charging and high energy density batteries designed with electric vehicles in mind.
The technology will replace graphite in anodes (negative pole) with a nanotube gel material made from titanium dioxide, in lithium batteries.
In layman's terms, this tech has the potential to revolutionise lithium battery market by producing a much better battery that solves many of the current problems.
UTR has already demonstrated significant progress in the successful synthesis of its nanofiber anode material using its pilot reactor, producing 50 grams per day of anode material. To meet the requirements for the second phase of the pilot project, UTR ordered a larger reactor to increase the rate and capacity for production by 25 times.
A few concluding remarks as UTR gets set to soar
The company's key focus remains bringing its lithium-ion technology to market, specifically for use in electric vehicles along with other applications such as...
All of UTR's news flow in recent months are steps to position itself as a major player in the global battery technology market and it is in discussions with several potential clients.
It has some excellent IP, cash in the bank, the support of a solid shareholder base. And it's ticking the boxes across several fronts as outlined below: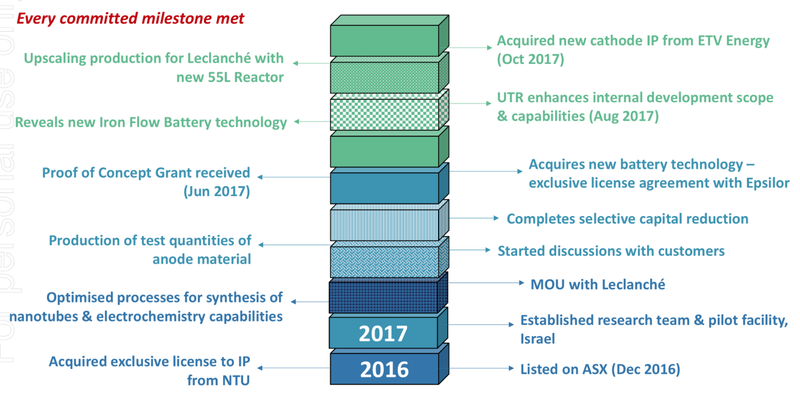 This will be well supported by growth in the renewable energy sector, which is expected to reach US$777 billion by 2019. That's after demand for new energy storage technology rises by a predicted 47% in 2017 alone.
This expected growth in energy storage technologies bode very well for UTR and should support its ascension and growth.
Yet, how much of the market UTR can attract remains to be seen and investors should take all publicly available information into account before making an investment decision.
The potential in the lithium-ion battery space has been compared to that of solar energy with a market that could expand well beyond electric vehicles to a far broader range of future applications. In this space, and with the rate at which technology is moving, even the sky is not the limit. Either way you look at it, it's hard not to see Ultra-potential in this new-age green tech play; and the real possibility of some serious upside in the not-too-distant future.
---