Silicon Valley: ASX Tech Play Backed by Microsoft
PUBLISHED: 25-02-2015 10:01 a.m.
In the 90's people laughed when certain tech entrepreneurs said that one day every company would have a website.
And no one believed that in the late 2000's, tiny powerful smart phones would be in everyone's pockets – allowing business to be done from anywhere at any time.
Now global mega-corporations are just catching on to a new trend that may revolutionise the way they deliver and support their services AND run their organisations.
A small ASX tech company we have recently added to our portfolio has created and is now selling a software platform that can fulfil the wishes of corporate giants who want to easily communicate with customers or their thousands of employees.
Microsoft, the world's largest supplier of software to big business, was so impressed by this company that it has made an investment.
The technology platform provides corporations with a fully customisable, controlled corporate owned online video platform that can be targeted at consumers of their services, or internal employees.
This could be the next wave of disruption hitting mega business – the applications are very big and very broad...
Straight from its home base of Silicon Valley, introducing our latest Next Tech Stock portfolio addition: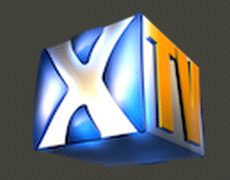 XTV Networks Ltd

Here are just three of the many scenarios where xTV Networks (ASX:XTV) product can be used:
Scenario 1: A major hospital saves tens of thousands of expensive doctor hours by providing after patient care via a pre-recorded, personalised private video channel – supplied by XTV.
Scenario 2: a 120,000 employee mega corporation can save tens of millions in travel costs and executive's and management time by explaining key corporate information, processes and job functions via pre-recorded videos, and each employee has a customised channel showing videos that are relevant to their role – supplied by XTV.
Scenario 3: A hotel chain can show a tailored video channel in each hotel room across the globe, advertising hotel features and local services – supplied by XTV.
This technology really has broad applications to any enterprise – and XTV's clients are prepared to pay up to $250k/month for the service...
The company is transforming some of the above scenarios into dollars – in the past few weeks XTV signed two deals totalling $3.6M:
Deal 1: XTV has just signed a US$1.8M contract with Innovatv Health, to roll out its online video platforms across the multi-billion US health care industry, allowing discharged patients to receive their very own TV channel, tailored to their specific needs...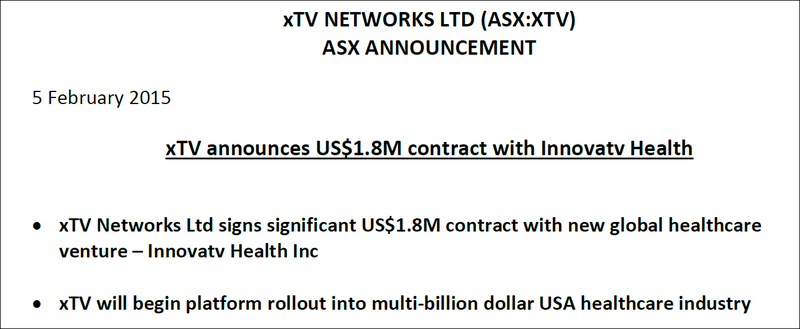 Deal 2: XTV has also signed a $1.8M contract with IT giant UST Global. UST Global is a leading provider of end to end IT services and solutions for Global 1000 companies. XTV will now create an online TV network targeting the 15,000 strong international workforce of UST Global.

These first deals are likely just the start – we are expecting many more similar deals to come in 2015 from XTV.
Currently capped at around $22M, XTV received overwhelming support in a recent heavily oversubscribed $6M capital raising – giving it the financial security it needs to significantly grow the business.
Now, for the rest of 2015 and beyond, XTV plans to ramp up its sales and target every single one of the Fortune 1000 companies in the USA.
Popular websites like YouTube show videos of cats and other viral stuff – great for entertainment and some DIY learning, but big business can't always use public platforms like these for reasons of security, Intellectual Property and most importantly – control.
What YouTube can't do, XTV can – and that's deliver a fully controllable video identity to global corporations.
The company is also working with large corporations like Intel and AT&T to push its services further into the global market.
To execute its strategy, XTV has attracted big names to its advisory board – including Michael Montgomery , former CEO of Sega Gameworks and partner at DreamWorks SKG, and Internet entrepreneur Michael Jones who was the CEO of Myspace.
As well as targeting the USA, XTV also recently entered into the lucrative Chinese market, via a strategic equity partner Inno Valley – who invested $500k in XTV and will work with the company to ensure the widespread uptake of its products across Asia.
XTV and Microsoft – working together
To accelerate sales of XTV's services, XTV has struck a partnership with UST Global and Microsoft to accelerate the uptake of online TV networks across the USA and then the world: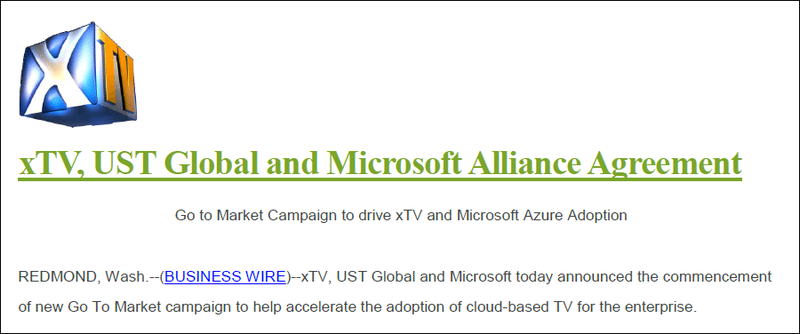 All three companies are working together to help online TV become their number one online marketing resource. All of it is going to be powered and optimised by Microsoft Azure , a cloud-based platform that's targeted at businesses.

This could open up significant opportunities for XTV – Microsoft's software products are standard issue for global businesses...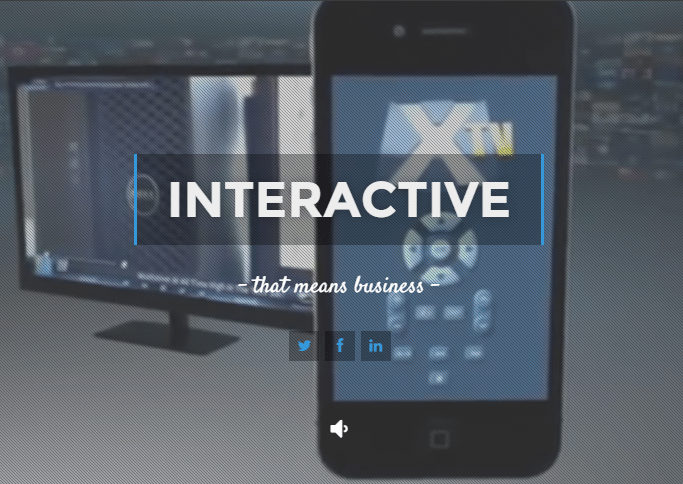 XTV was founded by Silicon Valley based Australian serial entrepreneur Joe Ward who is XTV's Chief Executive and Managing Director. This quote from an article in The Australian Financial Review perfectly sums up his and XTV's strategy:

Joe Ward has worked in the tech scene for over two decades, founded five companies, and worked in tech development for companies like Ozemail. He moved to Silicon Valley because that's where the big tech ideas – and the money to fund them – are to be found, and XTV is his result.
Our Track Record
Regular readers of our sites will be familiar with our long-standing interest in high potential tech stocks.
Did you see our Next Tech Stock article on Ziptel (ASX:ZIP) ? ZIP has been up as high as 160% since we first released our article.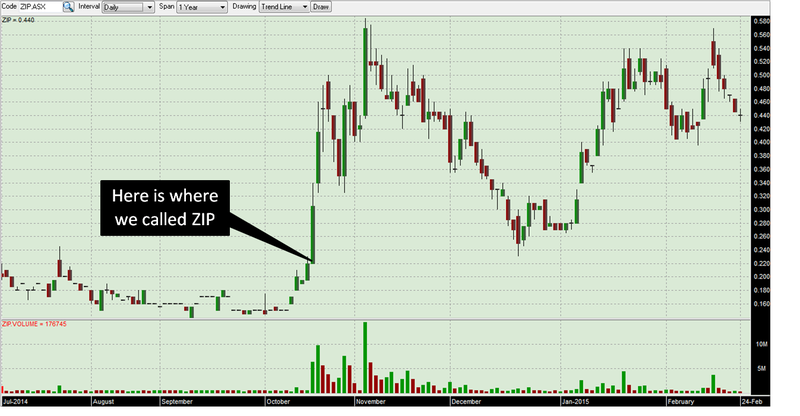 The past performance of this product is not and should not be taken as an indication of future performance. Caution should be exercised in assessing past performance. This product, like all other financial products, is subject to market forces and unpredictable events that may adversely affect future performance.
XTV in the director's chair
In one instantaneous feed, an XTV network can show whatever their client likes – from especially crafted segments, to selections from YouTube, Twitter, news services, weather accounts and much more, all of it revolved around the clients' needs.
XTV's Connected TV platform allows every stream of information a company creates to be seamlessly put together and displayed as an online TV network – content ready to be consumed by the billions of people connected to the internet.
It's already delivered TV networks for these big names :

In fact, XTV has already created 95 online TV networks and 1,425 channels with 12,825 videos and 665 feeds.
The company's goal now is to monetise its product by signing on new clients.
The basic idea is that a company's traditional text based website is replaced or augmented with an interactive online TV channel. This has moving pictures and text just like a regular TV channel, only it's online – so the user drives the experience.
The online TV channel can be displayed at corporate HQ or at a function on a regular TV – or on a smart phone, tablet, laptop, wherever.
Take the New York Times channel XTV has developed: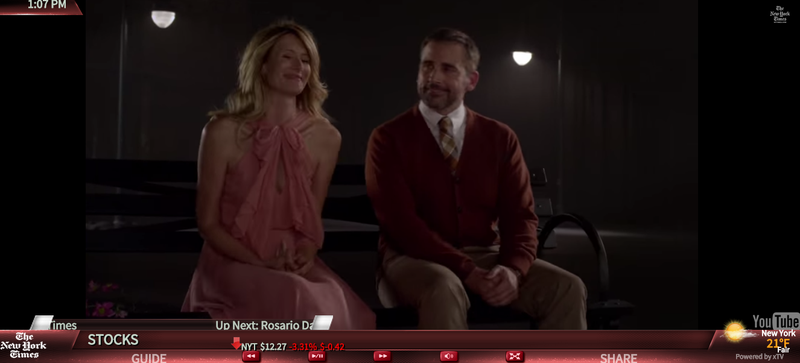 The picture is from a video preview of a new Hollywood movie embedded from YouTube, the bottom of the screen has a stocks ticker showing real time information and at the bottom right you can monitor the weather.
This is just one page of XTV's New York Times offering. The newspaper's full range of content is available, as well as audio and video media to enhance the text articles.
This is a complete media experience, provided by XTV.

So that's the pointy end – what it looks like. But what's behind the scenes?
There are several layers to XTV's business model and the way it goes about creating these networks, so let's break them down.
First up, creating the TV channels. A company that signs up to XTV can tailor the content to its needs – marketing goals, sales etc.
Big companies like Microsoft have loads of in-house content like adverts, presentations and graphics ready to go and coming down the pipeline, so XTV helps them assemble it all into an attractive, easy to navigate online experience that fits in with the company's marketing goals.

But for smaller and medium sized companies, XTV can step in and deliver additional services to make the TV channels tip top:

XTV can supply a newsreader to deliver a news service, telling of the latest developments and achievements of the company as well as presenting industry news.
Premium branded content can be assembled from national news, sports, entertainment, and politics – and combined with in house material from a company to make a 24×7 news network.
Both services can transform a company's communication platform from a text based website and some press releases to slick, online video that looks great and delivers a strong message.
The next step is for XTV to get the channel out there, and it has three ways to do that:

The Set Top Box sold by XTV can connect to any local network via Ethernet cable or wireless signal and display the online TV channel on a laptop, smart phone smart TV – all of it cloud based and interactive.
This bit of kit can be used to display the online TV channel at a corporate function, in the lobby of the office or at sales meeting.
The Video Inbox developed by XTV is a marketing tool that allows companies with an online TV channel to push new content to their subscribers. It can send push notifications of new content to Android and iOS smart phones and presents a company's online content in a single, online, interactive TV destination.
Finally, the Auto Start TV service displays the online TV network without sound as well as a QR code that can be read by a smart phone. When that's picked up, the channel's sound turns on and interaction can begin – a method of pulling in interested users.
From this infrastructure base, XTV gives its clients many options: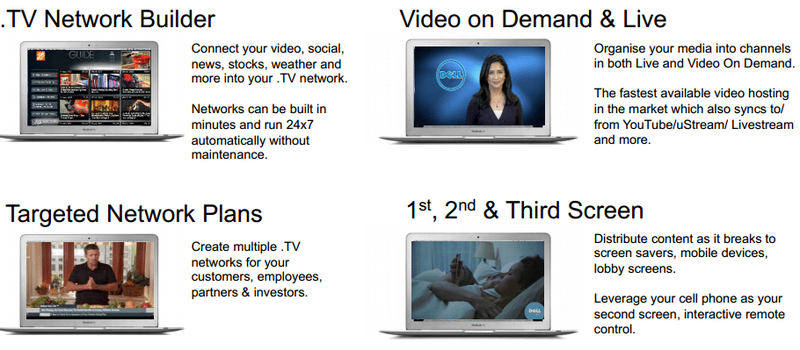 They can build one network or ten and they run automatically. The networks can be split into channels dealing with different aspects of the business or the market it's operating in. And all of it can be tailored to suit a marketing plan with pushes going out to the full range of interactive mobile devices.
The reason video is so powerful is that people like watching it – and when you have captured eyeballs, you can present marketing and sales messages.
This could be a very valuable service, and as you're about to see, XTV is setting about making it pay...
Our Track Record
Since the Next Tech Stock article on Connexion Media (ASX:CXZ), Tiny ASX Company to Supply Tech to GM and Volkswagen: Potential $50BN Market by 2018? , CXZ has risen as high as 90%.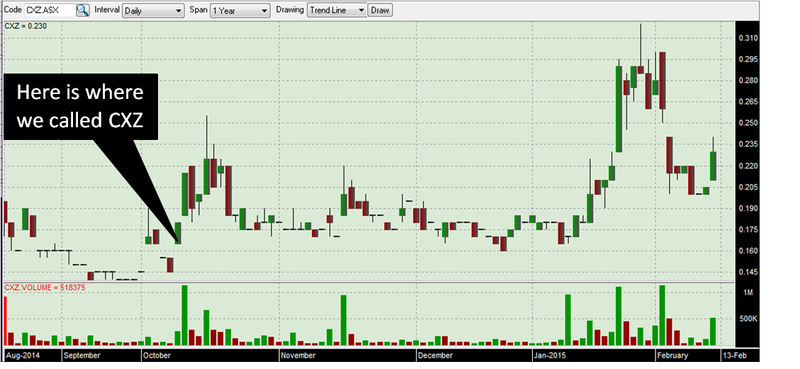 Source: Etrade Australia
The past performance of this product is not and should not be taken as an indication of future performance. Caution should be exercised in assessing past performance. This product, like all other financial products, is subject to market forces and unpredictable events that may adversely affect future performance.
XTV's programming for profits
Just like Foxtel, Sky or HBO, XTV is a subscription service:

XTV charges up to $2,499 per month for a small to medium enterprise to engage the company and get a channel up and running.
Larger enterprises like Microsoft and The New York Times can be charged up to $250,000 per month...
Microsoft's marketing budget in 2013 was $2.5BN ... we believe that $250k/month for the services XTV can offer is more than affordable for large, global corporations like Microsoft.
Plus, budgets for online advertising and marketing are only rising as the medium's audience grows.
The value for money these companies get from XTV's service is easy to see: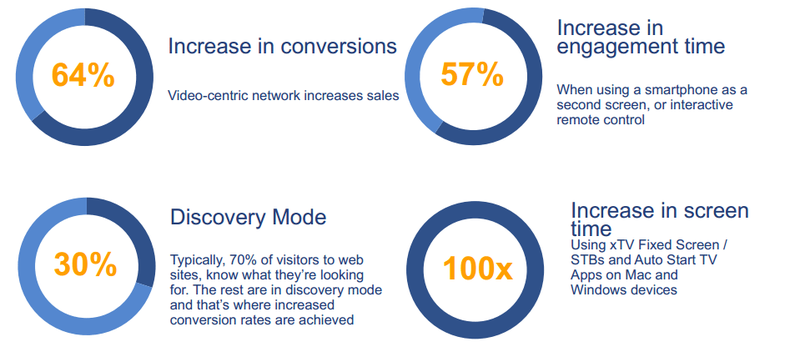 Companies around the world spend money on ads to make money, so when it comes to offering advertising and marketing services, XTV is out in front to get that spend with its online TV service.
That's the bottom line for XTV. It's got an in-demand service and it's charging for it – and lots of companies are lining up to do business...
Deals and dollars in the pipeline
The two recent $1.8M deals over 5 years with Innovatv Health and UST Global may just be the beginning for XTV.
By locking in its first deal with Innovatv Health in the multi-billion health care industry, the entire healthcare vertical has been opened to the benefits on XTV's services.
This deal arose via the partnership with UST-Global – a major investor in XTV, who will be rolling out XTV's services to engage better with their employees – and pay XTV $1.8M to do it.
We would expect a few more deals to arise via the XTV – UST-Global partnership shortly.
With technology scalable across all industry sectors, XTV has also established partnerships with these leading global brands: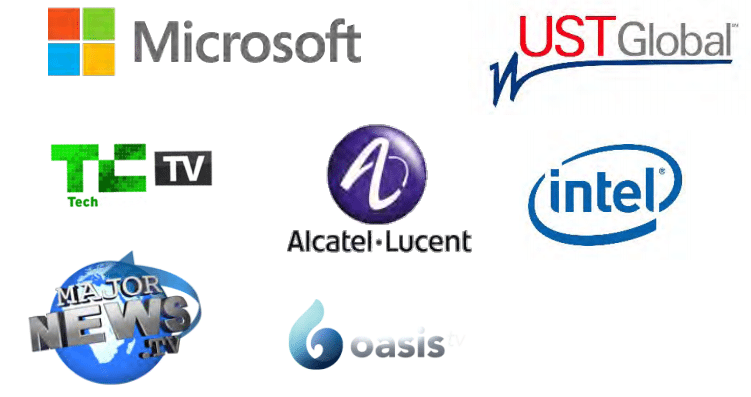 XTV has another 40 opportunities in the sales pipeline with more companies and brands including:

Aside from the US, XTV is also looking toward the east...
XTV's China strategy
The other big development for XTV is its move into China after a Shenzhen-based tech incubator named Inno Valley invested $500,000 as an equity partner.
XTV is planning to set up a JV to tap into China's media market and leverage Inno Valley's expertise in the mobile Internet industry. Over a billion Chinese use a mobile phone and there are forecasts that up to 90% of the population will have a smart phone soon – the ones capable of streaming video.
So as you can appreciate, XTV isn't just waiting around for clients to knock on its door. The company is aggressively and actively setting up deals and arrangements that could win it business at every level of company size from Microsoft down.
Our Track Record
Since the Next Tech Stock article on YPB Group (ASX:YPB), $1.7 Trillion is Lost Globally to Fake Products: Does this ASX Tech Company Have the Solution? , YPB has been up as high as 60%: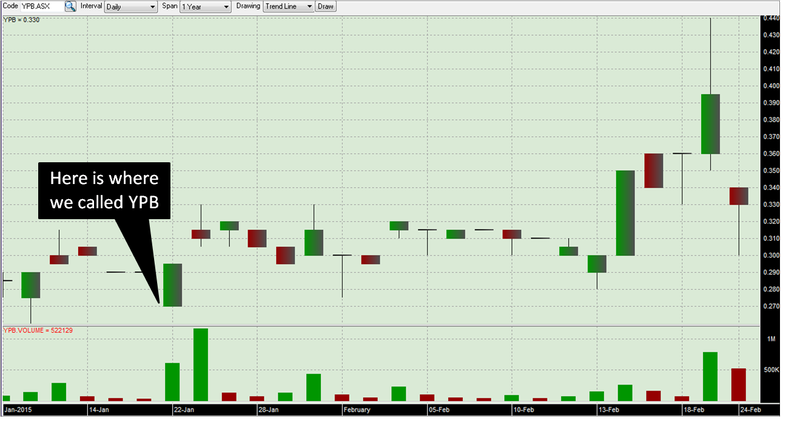 The past performance of this product is not and should not be taken as an indication of future performance. Caution should be exercised in assessing past performance. This product, like all other financial products, is subject to market forces and unpredictable events that may adversely affect future performance.
XTV tuning in for a big 2015
XTV may be a new addition to the ASX but, in tech terms, it's well established and following its business plan quickly.
At The Next Tech Stock we expect to see a steady stream of announcements on upcoming deals and the new clients that come onto XTV's books throughout 2015.
We also expect to see progress made on the JV in China – that's a very large market that if tapped could bring a significant revenue streams to XTV.
Aside from solid growth in earnings, the blue sky for us could be a takeover.
This technology could be very attractive to a larger media company as the demand for Internet video continues to grow...
Regardless of that, XTV appears to have a stream of potential clients coming its way in 2015 and subscription fees of up to $250,000 a month to provide its services.
We expect solid cash flows soon and from there an expansion of XTV's market presence.
Our eyes will be glued to XTV's screen!
Are you an XTV investor and want to spread the word?
Get the message out there – make sure everyone knows about XTV and share this article by clicking the buttons below:
[sd_share_article title="Silicon Valley: ASX Tech Play Backed by Microsoft"]
---