Ready to Commercialise: New Deal Could See QFY Become a 'Powerhouse' in Smart Home Innovation
PUBLISHED: 25-10-2018 10:36 a.m.
You left the house in a rush when you realize you have left the lights on. Rather than turning back and making yourself even later, you pull out your phone and navigate to an app.
'Alexa, switch off the lights.'
All lights, including stand-by power to the TV etc, are switched off. The blinds come down to ensure your new couch does not fade in the sunlight.
That level of smart home integration is an idea that seemed impossible just a few years ago, but with each passing day we're one step closer to being fully integrated into this fast-moving Intelligent Building phenomenon.
Quantify Technology Holdings (ASX:QFY) is a leading pioneer in the Intelligent Building space, having developed a diverse range of patented Internet of Things (IoT) solutions that are practical and affordable.
QFY has been relatively quiet this past quarter maintaining a primary focus on development of its smart home solution, working diligently to ensure its solution was ready to take to market.
Now comfortable with its due diligence, and after an encouraging year of overall progress, QFY has shifted its focus to commercialisation. The products look great and the clever design plus cloud-based configuration means electricians and installers have huge time savings over others in the market.
QFY this week announced that it has formed a partnership with Powerhouse Home Automation Group, which will see both parties join forces to revolutionise the smart home movement in Perth and regional Western Australia.
This partnership is the strongest sign yet that its innovative Q Device, which has now been successfully installed in Harvey Norman Commercial Division's (HNCD) demo apartment in Rosebury NSW, is ready to surge.
To expedite commercialisation, the company has also signed a pivotal agreement with Cambridge Electrical Services (CES), which will facilitate further commercial and residential installations across regional NSW.
In addition, QFY's agreement with Electronic Caregiver LLC (ECL) is also shaping up as a key catalyst for increased exposure in the burgeoning US aged care sector – a multi-billion-dollar industry.
If you're familiar with our work on the Next Tech Stock, then you'd know QFY has been on our radar for some time and we have tracked its every move. Now, this new deal could put it on another plain, so let's take a look at what separates QFY from pack...

Quantify Technology Holdings

Before we examine what Quantify Technology Holdings (ASX:QFY) has been up to recently, here's a quick breakdown of how its technology works.
Simple. Innovative. Limitless
For those unfamiliar with QFY's offerings, it has re-imagined the humble light switch, power outlet and auxiliary systems.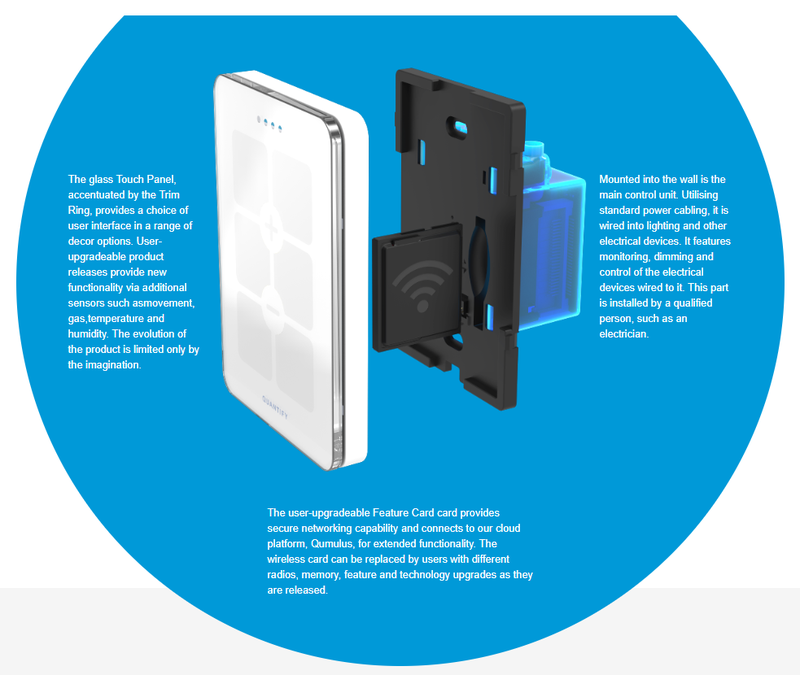 Power management is just the beginning of QFY's solution, with up-coming features including passive infra-red motion sensors, proximity sensors, temperature and light measurement and humidity monitoring, with further capability on the way.
These highly cost-effective and scalable devices are integrated into the company's flagship commercial product, the Q Device.
For developers and installers, Quantify Technology delivers significant savings in labour costs: 15 minutes for the installation of each switch, compared to up to one hour per switch for competing products. It is 240V and 110V capable and can be retrofitted into existing buildings and does not require re-cabling or the addition of a neutral wire. Cloud based planning, installation and configuration tools allow massive time savings in configuration and the total cost of technology adoption for large scale deployments.
From the device fixture to the Q Device itself, the user experience is entirely customisable, so if you aren't happy with the UI setting on the light switch (for example), all you'd need to do is reconfigure it via the touch screen.
Once installed, the network is connected to an IoT platform, where users may organise and manage their devices via the cloud.
In a huge vote of confidence for its Q Device, QFY's 'Qumulus Skill for Alexa' passed certification in February this year. In theory, this means users may now utilise voice control to regulate their power consumption and feel like Tony Stark (Ironman) doing it.
This added functionality is significant as it will leverage the increasing scale and capability of Amazon's AI services (such as AWS IoT and Amazon Echo).
While we won't delve into the politics at play behind the country's energy crisis, here's some food for thought.
Electricity was twice as expensive in Sydney compared to New York last year, with South Australia sporting the unfortunate crown of most expensive electricity prices in the world.
Since 2000, prices have more than tripled in Australia and they show little sign of slowing down.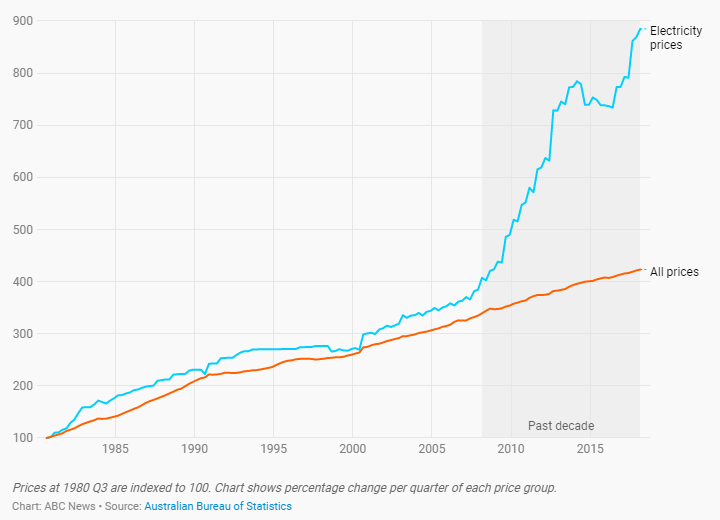 High electricity costs make QFY's solutions even more appealing, and with every deal it does it could help reduce electricity costs further for those who adopt.
The roll out is a Powerhouse
QFY's partnership with Powerhouse Home Automation Group, which was signed on October 17, paves the way for an expansion into Western Australia.
Powerhouse prides itself on identifying emerging key trends and technology in home automation, so it's little surprise the two parties are working together.
Powerhouse's display showcase at Subiaco Home Base – which it claims is the largest home centre in Australia – is the ideal starting point for QFY in the Perth Region. The centre features a database of over 26,000 registered clients and is featured in the prominent 'Home Magazine' twice a year.
This recent news comes after the completion of QFY's key agreement with Harvey Norman's largest franchise, Harvey Norman Commercial (HNCD). HNCD is a key liaison in the construction industry, acting as a supplier for builders, developers and architects.
The franchise is projected to turn over $300 million for the financial year and exceed 10% annual growth.
QFY's successful installation of the Q Device at HNCD's demo apartment in July may have been the final proof of concept needed to drive widespread adoption.
Considering the projected apartment market in NSW is expected to exceed 40,000 units alone next year, QFY's partnership with Cambridge Electrical Services (CES) looks set to build off the HNCD proof of concept.
The pivotal partnership – signed on September 18 – will see CES execute purchase orders and recommend the QFY suite to current and future customers.
This is not the first time QFY and CES have worked together, with CES executing the implementation of the Q Device at the Lindfield Apartment project in Sydney's Upper North shore in March.
QFY has successfully completed a variety of installations, including the Portico residential complex in Sydney, the commercial University of Western Australia (UWA) Medical & Dental facilities and aforementioned Lindfield apartments.
It is also in the process of deploying its intelligent solution across Mantra's Wallaroo Shores (which is currently under construction) in South Australia.
This recent newsflow has provided a solid foundation for QFY to seek further exposure in alternative markets, such as the aged care sector...
Honey, you left the oven on
Australia is currently in the midst of an aged care crisis.
Although the number of Australians receiving home care packages has increased by more than 20% in the last year, the waiting list to access federally funded home care continues to balloon.
The Australian Government has remained steadfast in its desire for more elderly people to remain in their homes, but at-home support is often inadequate.
The number of elderly seeking home care packages has increased from 88,000 in June 2017 to 108,000 in March 2018.
What if there was a way to lessen at-home care stress and keep aged care residents safe?
Enter QFY.
Considering the aged care sector in Australia alone is now a A$20 billion industry, the company has wasted little time exploring IoT solutions for those in need.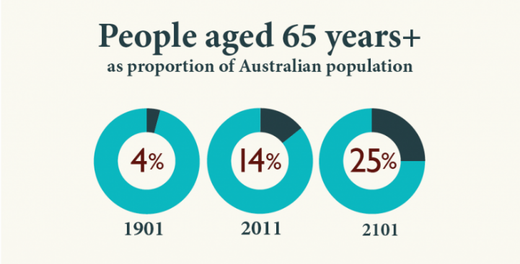 Its first move into the industry was back in May, when it signed a key deal with US-based Electronic Caregiver LLC (ECL). The ECL collaboration is a key play for QFY as it looks to gain a foothold in the US market.
As touched on in our previous QFY article, this agreement is exceptionally beneficial for both parties.
ECL is a significant player in the US providing a variety of tangible solutions (below) for the elderly ranging from reducing medical complications to wellness support via technological delivery.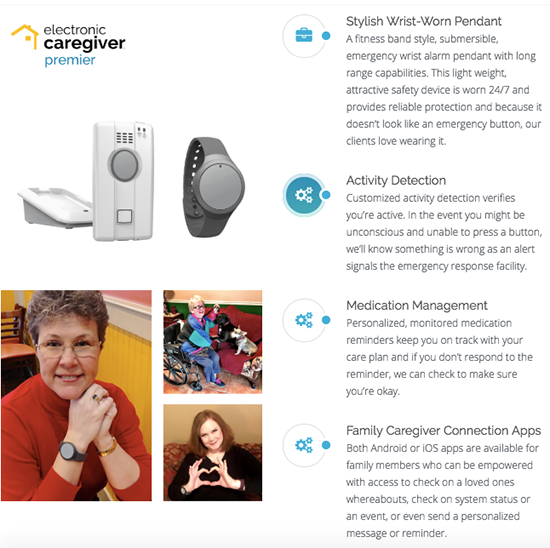 QFY will enhance ECL's existing client base offering via its software, with the added bonus of gaining exposure to some of ECL's largest contracts. These include several key hospitals, medical institutions and leading health service companies such as Vantage Healthcare Network, Total Healthcare and Unity Health Systems.
In addition, the data collected via the agreement by QFY will be invaluable moving forward.
Theoretically it could be used to drive an application that allows users to monitor and turn off appliances remotely, therefore reducing stress on at-home services and families, meaning your elderly parents won't leave their oven or gas heater on all night.
It's the kind of win-win scenario that won't hurt QFY's chances as it looks to facilitate a better lifestyle for the 46 million Americans aged 65 and older.
It will then set its sights on the Australian market.
QFY puts the Q in quality of life
Since entering the aged care sector, QFY has identified the fledgling National Disability Insurance Scheme as a logical avenue for further R&D work.
The company is in the midst of building a cutting-edge proof-of-concept home for people with severe intellectual disabilities, thanks to a collaborative agreement it signed with St John of God Accord in June. The home will be fitted out with QFY's innovative devices and utilise its newfound Amazon Alexa capabilities, allowing residents greater independence and freedom.
St John of God is blazing a trail in providing better care for patients as this article attests:

Factor in that St John of God is Australia's third largest private hospital group, the agreement with QFY is another important step towards solidifying revenue.
The accommodation will be located in St John of God Accord's newest group home, which is being constructed in East Brighton, Victoria.
Gaining momentum at an opportune time
With much of its foundational work complete, QFY has done well to identify key markets that are ripe for disruption.
Its recent partnerships with Powerhouse and CES will serve it well as it looks to scale its reach in Australia. And, as the US and Australia's population continues to age, finding alternative measures to help people avoid institutional care or improving the life of those in it is a necessity.
While IoT adoption has been historically slow, QFY is well placed to reverse that trend... and potentially reward shareholders along the way.
---