New patented battery technology to deliver safer, faster, longer energy charging solution
PUBLISHED: 18-06-2017 23:25 p.m.
It's not just the growth in electric vehicles and mobile phones that will be supported by the lithium-ion battery revolution. Huge demand will also come from existing industries, such as transportation and manufacturing. These industries will be major users as the applications for lithium-ion batteries become more apparent and the technology is improved to a point where it is a superior choice over existing energy sources.
Improvements in this technology are underway, but the pressure is on to develop batteries that have longer life cycles, are safer than what's on offer now, and have faster charge rates and storage capacities.
One major issue that has held back the infiltration of clean and renewable energy supply is limitations in energy storage systems. In other words, batteries aren't yet advanced enough to charge fast enough for convenience, certainly not as quickly as you can fill up your combustion engine car at your local service station.
But what if there was a solution that could potentially match current methods of keeping your car running?
The patented technology of today's company offers a solution unlike any other.
It improves the performance of lithium batteries in a way that no one else has yet been able to do.
Specifically, it can deliver on three important fronts:
Bringing about fast charging.
Expanding battery life through greater number of charging cycles.
Improving battery safety.
It should be noted here that this technology is early stage and investors should seek professional financial advice if considering this stock for their portfolio.
The benefits of this new charging technology look something like this:

In fact this company's technology could potentially charge a smartphone to 70% in under six minutes, dramatically increase the capabilities of an EV with just 10-15 minutes of charging and because it is free of carbon for Li storage can eliminate explosions or fires, meaning your Galaxy Note 7 won't catch fire on a plane or in your pocket.
All of these benefits and the vast R&D being done has led the company to sign its first Memorandum of Understanding with Swiss battery storage supplier Leclanche SA, one of the world's leading fully integrated battery storage providers.
Together with Lelanche, this company will collaborate on a pilot project to test and evaluate today's company's technology to ultimately seek a cost competitive and large scale manufacturing of a high-cycling, fast charging and high energy density battery for the EV market.
Meanwhile, rechargeable batteries already have a place in transportation, but they still have huge scope ahead, with Electric Vehicles (EVs) markets, specifically electric buses (e-buses) expected to be worth more than the entire market for rechargeable batteries for consumer electronics in just a few years.
Consider the lithium-ion battery business is set to dominate the battery business at around US$140 billion in 2026 compared to US$31.5 billion last year, and you get an idea of the market today's company is bringing its solution to.
This is not simply an ideological goal — better charging technology could bring about real and meaningful advantages to rechargeable battery makers and their end users.
Introducing...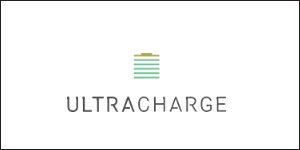 Ultracharge Limited

UltraCharge Limited (ASX:UTR) is an Israel-based battery technology company that has the potential to revolutionise the market for lithium batteries by producing a battery that is safe, has a longer lifetime and is fast charging.
UTR has acquired the rights to patented technology that improves lithium batteries unlike any other. It involves replacing the standard graphite anodes in lithium batteries with a nanotube gel material made from titanium dioxide.
Here is UTR CEO Kobi Ben-Shabat with a detailed overview of the company, its recent milestones and plans for the future from the recent TechKnow Conference:
UTR was borne out of the prestigious Nanyang Technological University (NTU Singapore), which developed the basis for what could be the next big thing in battery technology. It has established a laboratory facility in Israel to conduct nanotube synthesis and fabrication of the nanotube anode, and is currently discussing supply options with end users in the global battery market.
The batteries produced using this nanotube anode has wide ranging uses across a variety of industries, but its application in the already rapidly expanding market for electric vehicle batteries is one industry where it could really make its mark. That's thanks to the combination of benefits it brings to batteries...
UTR's technology could produce a safer, longer lifetime and faster charging battery.
Superfast charging
Even while the market for EVs is already growing at impressive rates, the adoption of electric vehicles over traditionally powered vehicles is hindered by a couple of major battery limitations. One of these is length of time it can take to charge EV batteries. Charging times of more than four hours are a real dampener and one obstacle that inhibits market growth.
UTR's nanotechnology could see smartphones charged to 70% in under six minutes, and electric cars would be able to increase their range dramatically with just 10-15 minutes of charging.
Significantly improves battery life
The limited lifespan of current rechargeable batteries means that although they generally have sufficient lifespans for consumer electronic devices — of around 500-1,000 charging cycles, which is about a couple of years of use — they can't match the longer lifecycles of vehicles.
UTR's technology can lift a battery's life to around ten years — that's around 10,000-15,000 charging cycles. That means vehicles won't need frequent battery replacements.
Improved safety is a major drawcard
A major factor that makes UTR's technology attractive is that it lets battery manufacturers produce safer batteries.
The reason is that existing batteries are using graphite as the anode component. If you're familiar with the issues around the Samsung Galaxy Note 7, you'll know that this can be extremely dangerous and be the cause of batteries exploding.
Due to multiple reports of the devices exploding seemingly out of nowhere, the devices were recalled and banned from commercial flights due to safety concerns.
The problem basically came down to Samsung cramming too much energy into too small of a space.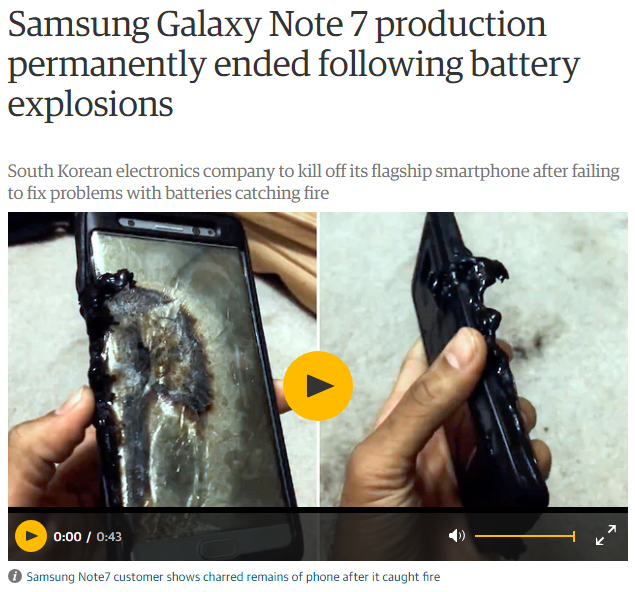 UTR's patented titanium dioxide anode technology replaces the dangerous graphite anodes in lithium-ion batteries, thereby producing a safer product.
UTR has successfully reproduced its titanium dioxide nanotubes in its pilot research facility, and is seeking to further optimise production processes to ensure it meets end user requirements.
Additional benefits for battery manufactures are that UTR's technology allows rapid and straightforward integration into current battery production lines. And it uses low cost raw materials combined with an affordable patented production method.
Here's a summary of titanate nanotubes compared to other anode materials:

Let's have a quick review of the technology behind lithium-ion batteries.
These batteries have three components: two electrodes — a cathode and an anode, separated by an electrolyte.
The cathode is the positive terminal, which contains lithium when the battery is in a discharged state. While the anode is the negative terminal, which has lithium in it when the battery is in a charged state.
The improvements that UTR is putting forward are to do with the anode component of the battery...
It has identified significant benefits in replacing the graphite anodes in lithium batteries with nanotubes synthesised from titanium dioxide.
These titanium dioxide nanotubes replace traditional graphite used for the anode.
This change brings a host of attractive improvements to lithium-ion batteries, which despite their current limitations, are rapidly gaining market share in the energy storage market.
Check out this video from the company explaining the benefits of the technology:
This technology has the potential to make a significant impact in the transport industry
UTR has already received considerable interest from potential end users, and has been in discussions with several companies over production of its titanium dioxide nanotube technology.
In mid-March UTR agreed to undertake a joint venture with battery manufacturer, Leclanché SA to develop a battery that meets the high cycling and fast charging needs of Electric Vehicle battery markets.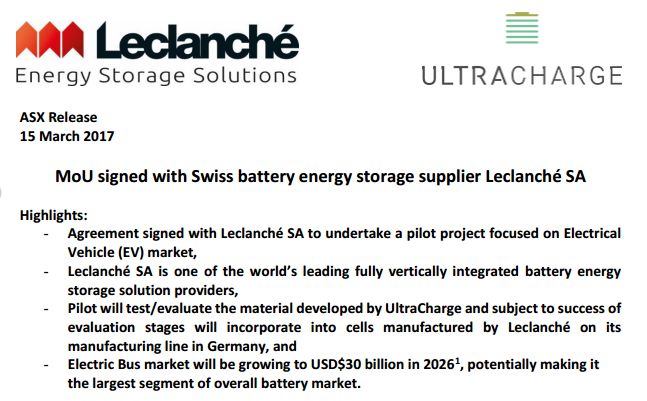 This agreement is a big milestone for UTR as Leclanché is one of the world's leading fully vertically integrated battery energy storage solution providers.
The Swiss company designs, develops and manufactures customised energy storage solutions for generation and transmission of electricity, mass transportation vehicles, heavy industrial machines and specialty battery systems. It is also investing in research and develop of the next generation of lithium-ion batteries — where UTR steps in.
This joint venture will work on a pilot program focused the Electric Vehicle (EV) market, specifically the rapidly expanding Electric Bus, or 'e-bus', market.
The collaborative pilot project will test and evaluate the UTR's UltraCharge TiO2 nanotube anode technology and incorporate it into cells manufactured by Leclanché at its plant in Germany.
The ultimate objective is to achieve cost competitive and scale manufacturing of a high-cycling, fast-charging, and high energy density battery that can meet the needs of the electric vehicle market.
Global market research group, IDTechEx , estimate that by 2026 — that's fewer than ten years from now — the market for e-buses ALONE will be worth $30 billion.
Of course it is difficult to determine how much of this market, UTR could potentially reach, so investors should consider all public information and take a cautious approach to their investment decision with regard to this stock.
If this plays out as expected, it would make it the largest segment of overall battery market. The research group say that during 2019-2020 batteries for use in e-buses will overtake the consumer electronics market.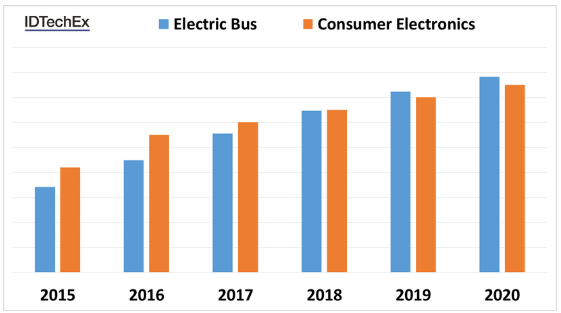 Currently, this is a market in which China is leading the way. Of all electric buses in circulation, 97% of them, as well as 75% of the batteries in those buses, are produced in China.
The country is also leading the global deployment of electric bus fleets, with more than 170,000 buses on its streets.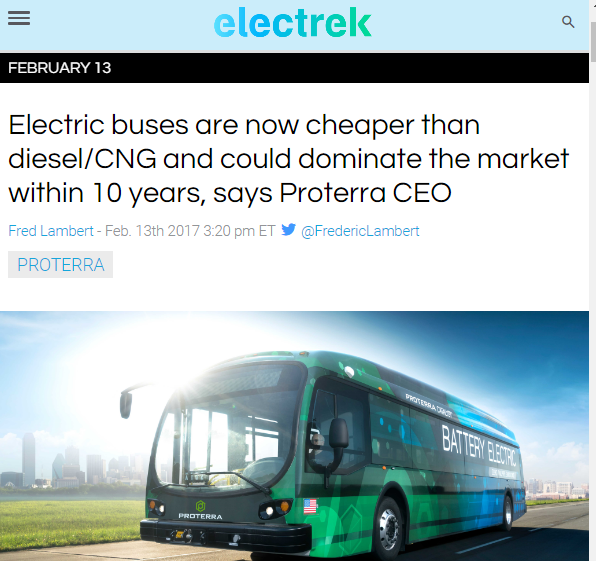 This market presents significant opportunities for any company that can get on board. Today, only around 1% of the entire transportation market is battery powered, most still being powered by traditional energy sources of gasoline, diesel, and natural gas.
But with improvements such as those on offer from UTR, batteries will become the preferred energy source fuelling the electric vehicle market.
EVs are on course to dominate the e-bus market within ten years, and by 2025 the majority of bus sales to transit authorities are expected to be electric and by 2030 all buses will be electric powered.
Australia's energy supply is facing serious supply pressures.
Another established potential end user of improved battery technology is consumer energy supplies. A number of energy crises in Australia and across the globe highlight the need for new solutions for energy supply.
South Australia's energy crisis was big news last year as the energy regulator began shutting off customers' power due to a lack of supply. This was a decision it was forced to make since the entire system can suffer blackouts if the supply-demand balance gets out of whack.
Wholesale energy prices in the state spiked after the electricity connector from Victoria was down for maintenance. With the sun not out and no wind, the state had to rely on gas for power. And gas is expensive. For the month of July, electricity in SA cost an average of $230 per megawatt hour, well above the $65 average across the rest of the country.
A year earlier, Tasmania was plagued with its own energy crisis...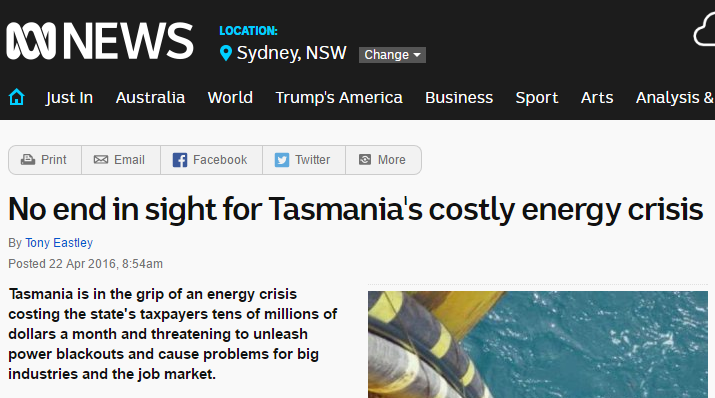 Tasmania draws its energy needs from two sources. One is its Hydro electricity scheme and the other is via an undersea cable across Bass Strait, called Basslink, which transports electricity to and from the mainland. Tasmania sources approximately 40% of its electricity from Victoria.
This crisis came about when the cable was ruptured and mainland supply lost. Added to this was low water storage levels restricting hydro power generation. To pick up the slack the state had to burn billions of litres of diesel each month.
The thing is that both Tasmania and South Australia have a fairly well developed renewable energy sector, compared to elsewhere in the country.
One limiting factor that stands in the way of the state being able to rely on renewables, is that storage capacity is limited. Basically, the energy can be produced, but current batteries aren't capable of storing it.
Improved battery technology, such as UTR's that improve battery performance could cause an exponential rise in demand for rechargeable batteries.
This article summarises the situation we find ourselves in...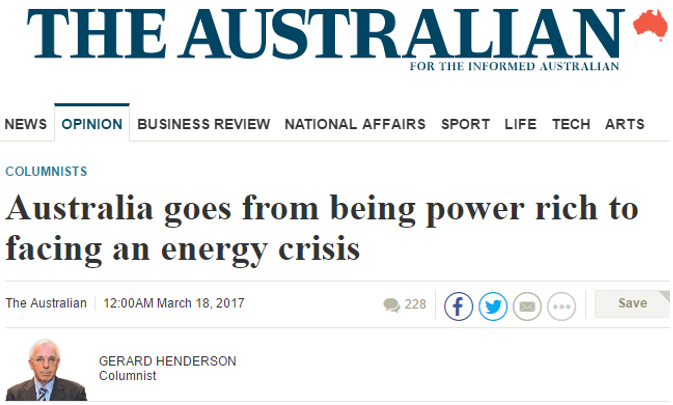 The Australian Energy Market Operator (AEMO) is predicting that if the market continues as is, Australia will suffer from a shortfall of gas and electricity starting in 2019. AEMO says NSW and South Australia would be the first hit, and then Victoria in 2021.
Much of the issues stem from Australia's aging fossil fuel fleet. The recent closure of the Hazelwood brown coal power station in Victoria's Latrobe Valley and last year's closure of Port Augusta coal plant are putting tremendous pressure of power supply.
And there's little desire to build new coal plants, as the environmental implications mean they will likely have a short shelf life. Add to that the fact that constructing new gas plants doesn't stack up financially, at least without a carbon price — which the Federal government won't even consider — and you can see why Australia is facing energy pressures...
...and is in need of a large scale, reliable renewable energy storage solution.
PM Turnbull recently met with Tesla and SolarCity founder Elon Musk to discuss possible solutions for South Australia's energy crisis.
Musk is confident that he could fix the state's energy problems, saying that Tesla could get a 100MW solar and battery system installed at a cost of $33.2 million, and have it working within 100 days or it would be free.
Below are the much publicised tweets that followed...
Thanks @elonmusk for a great in depth discussion today about energy storage and it's role in delivering affordable & reliable electricity
— Malcolm Turnbull (@TurnbullMalcolm) March 12, 2017
You're most welcome. Very exciting to discuss the future of electricity. Renewables + storage arguably biggest disruption since DC to AC. https://t.co/7uXoUQf29f
— Elon Musk (@elonmusk) March 12, 2017
It's unknown what will come of this, but what we do know is that a solution is crucial as energy supply issues and power blackouts become all too common.
A world powered by rechargeable batteries are much more than just an ambitious dream —although that's only true if current technology is improved to overcome its current limitations.
Here's UTR's Dr Chen Xiaodong describing the process behind the UltraCharge battery technology, and the inspiration that he found in everyday experiences: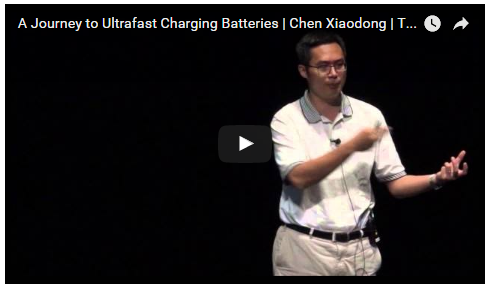 Sun doesn't shine at night, wind doesn't always blow...
...if they did, we wouldn't find ourselves in this energy storage dilemma.
And that's why the pressure is on to develop longer lasting batteries with greater storage capacity, faster charging times and that are safe.
A number of European nations have been trying to encourage citizens to tap into solar power that is fed into the country's electricity grid. France is one nation struggling to store energy generated from rooftop solar panels for use by its citizens.

The best they have come up with so far is a programme involving customers signing up to receive an SMS a day before a sunny day. They are trying to encourage this clean energy to be used immediately, so the storage issue can be avoided. So far, the all this has added up to...
"I switch on my washing machine when the sun shines". Clearly that is not a comprehensive, long term solution.
The competition is yet to produce a solution superior to UTR's
No other group has come up with an idea that brings the three benefits in combination — longer battery life, faster charging and a safer battery — as does UTR's technology that replaces graphite anodes with titanium dioxide nanotube anodes.
Yet this is still a speculative stock and investors should seek professional financial advice if considering this stock for their portfolio.
The big players are all doing their own developments and enhancements and a few smaller outfits, like UTR, are looking into potential solutions. One alternative being investigated is replacing the graphite anode with lithium titanium anodes. However, this material doesn't offer the three unique benefits that UTR proposes – longer life, safety, and quick charge.
At this point, there's no one else can offer all three benefits in one.
---