Mobile phones and micro donations: ACU makes every dollar count by signing big global partners
PUBLISHED: 17-12-2015 09:56 a.m.
If you've ever been left scratching your head after donating your hard-earned money, you're not alone.
In fact, we should all be scratching our heads and asking very valid questions of incumbent payment processors and administrators who on average take 38% of all money donated globally, effectively leaving you and the organisation you donated to short changed.
One company is putting the money you donate, back in the hands of rightful owners – and still generating tidy revenues.
In a nutshell, Activistic (ASX:ACU) can potentially generate millions of dollars in revenue simply by liberating charitable giving from payments processers that clip 38% of all donations made.
ACU passes that 38% onto charities in exchange for a much smaller fee.
Benefitting from ACU's micro-donations and crowd-funding platforms are politicians, start-up businesses, religious organisations and even sports teams that are all partial to raising money...
By making every donated dollar count and allowing donors to micro-donate directly from their mobile phone bill, ACU could become the preferred conduit for charitable giving worldwide and earn 6.9% of all donations given.
It's a win-win for everybody, and the only losers are these guys: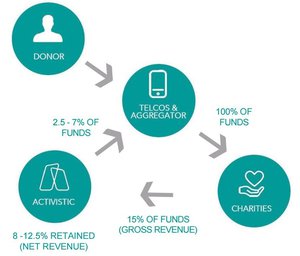 However as a junior company ACU still a long way to go and professional advice should be sought if you are considering investing in this company.
Payments processors such as Visa, MasterCard and PayPal are currently milking donor's money for what its worth with both charities and donors looking a bit like this:

But if ACU gets up a head of steam, those same payments processors will probably look a bit like this: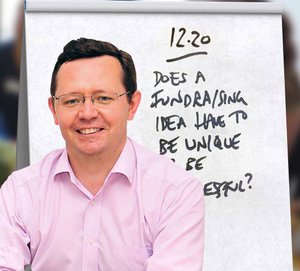 Since we last covered ACU in the article : $1 Trillion Fundraising Industry to be Super Charged by ACU's Game Changing Tech , they have been busy.
ACU confirmed commitments for a $3.94M capital raising at an issue of 11 cents per share to help accelerate existing products – this came from sophisticated and institutional investors, indicating the smart money likes what it sees.
Meanwhile, ACU continues to firm up its partnerships after signing VFW National Home for Children to a five year partnership agreement to Veteran's Call.
ACU has also signed a contract with Operation Support Our Troops – America (OSOT America), the seventh US Veterans Charity to join Veteran's Call.
And to further put the icing on the cake, eight leading UK charities are now Featured Partners, supporting ACU to roll-out its micro-donation app, Ralli.
Donors and charities want change, and ACU is providing it as we speak by continuing to sign important partners, and delivering more to needy organisations than ever before.
Taking a fresh look at: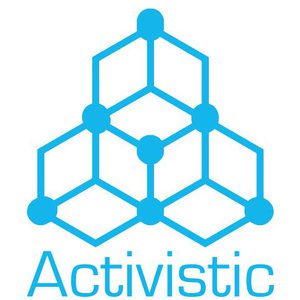 Sitting in amongst donors and charities is Activistic (ASX:ACU), operating in the $1 Trillion global charitable giving market. This isn't just a charity play though – ACU is keen to extend its technology to other sectors, like funding political parties and religious groups.
ACU has moved quickly to establish a unique first-mover advantage by enabling donors to donate without the need for debit/credit cards.
How?
By connecting everything involved with charitable giving to a donor's mobile phone, including the donation part.
The entire premise of ACU's business model is leveraged to the growing use of mobile phones and social interactivity they now provide, through multimedia applications and instant connectivity. Already, there are around 2 billion smartphones in the world today, with that number expected to rise above 9 billion by 2020.
From a commercial perspective, ACU is barking up the right tree. The company is currently the only organisation that can accept repeatable micro donations via a mobile phone bill in the $335BN US market, due to its first mover agreement with a direct billing aggregator.
What's more is that ACU is effectively forging a new market niche, servicing the overlap between micro-donations, crowd-funding and charitable giving. No one has done this before and ACU is not waiting around for the competition.
ACU is now actively signing up and on boarding organisations to its range of apps such as Veteran's Call, Ralli and Church Call.
Signs of the Times
To continue its aggressive approach to bringing partners on board, ACU recently secured firm commitments for a $3.94M capital raising.
The funds are already going towards accelerating existing products such as Veteran's Call in the US and the new Ralli platform in the UK.
The funds will also allow ACU to enter and advance other celebrity and faith-based verticals in the first half of 2016.
But let's concentrate on ACU's biggest and fastest growing product, Veteran's Call.
Veteran's Call now has seven charitable organisations on boarded and given the success seen so far, many more are queuing up to take advantage of ACU's superior micro-donation, crowd-funding model.
On the 18 th of November ACU announced its sixth partner VFW National Home for Children (VFWNHC) , who believe that its partnership with Veterans Call is a great opportunity to welcome new donors including young millennials.
The VFWNH has a long history, operating since 1925 and helping veterans get back on their feet. Having 85% of money donated go directly to the VFWNHC, is a boon for this much needed not-for-profit organisation that provides America's military and veterans families a place to turn to in difficult times.
Shortly after signing VFWNHC, ACU were once again on the front foot announcing a one year, renewable partnership agreement with Operation Support Our Troops – America (OSOT).
OSOT is a non-profit that has become one of the largest volunteer based military support groups in the US, with over 500 volunteers giving well over 10,000 hours each year in service.
Volunteers give comfort and support in the way of care packages to military personnel and their families. Food, snacks, supplies and basic essentials are packaged up by the volunteers and sent to those in need once a week.
And ACU is facilitating this support through proprietary technology that delivers more to those who need it and decimating waste brought about by archaic payments systems that belong in the Stone Age.
ACU Rallies Charities in the UK
On top of its current efforts in the US, ACU has also been busy signing up partners in the UK to its Ralli app.
The Ralli app is the UK's first micro-donations app and recently signed up eight leading UK charities including Children's Heart Surgery Fund, Scotty's Little Soldiers, Arc Youth Counselling, Grass Roots Suicide Prevention, Emmaus, Temwa, Spark Inside and Tearfund.
As you can, these charities range across a broad spectrum of worthy causes: fighting poverty, preventing suicide, supporting children and adults with congenital heart defects, supporting bereaved children, counselling youth and even life coaching for people who have taken a wrong turn in life.
Peter Yates, Digital Communications Manager at Tearfund, a Christian charity passionate about ending poverty believes the app will make it easier for givers to contribute to the work they are doing and engage a wider audience.
But if ACU's charitable focus raises doubts about commercial viability – there is at least one indicator that helps assuage those doubts....
Management the Leading Indicator
One thing we absolutely love to see here at The Next Tech Stock , is when senior management figures responsible for operating the company, keep buying their own stock.
It's usually a sign that the operators believe in the vision and are confident of success.
Either that, or cash is burning through their pockets and they don't know where to put it.
Jokes aside, ACU's Executive Chairman Nigel Lee, who was appointed to the position in November 2015, has acquired just under 1 million shares since December 4 th – with a value of $110,000 at current market prices.
Compared to his shareholding last month (696,112 shares), his two further acquisitions means he has increased his holding by 132% this month.
Further afield, and as we indicated earlier, institutional investors jumped onto an oversubscribed placement of $3.9 million merely a few weeks ago.
If you want to hear more directly from Nigel, who previously held senior roles at American Express, take a look at this video:
ACU stock buyer and Executive Director Nigel Lee interviewed by PPR Australia
However, do bear in mind that any commercial business bears risks. It's not assured that ACU's model will be commercially profitable or that its valuation will rise as investors are hoping for. Any investment should be carefully considered, and only done after appropriate research and with professional advice.
Charity begins at home, but with ACU, it begins with your mobile phone
Charitable giving is moving online at a rapid pace.
Currently, only 6% of all donations are completed online – but if you look at the annual growth rate of offline vs online, you will see a huge disparity.
Shown below, is a graph of how online is making its mark in terms of attracting donations compared to traditional street collection and events (offline).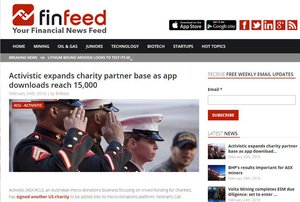 Online charitable giving is growing at annual pace of 13.5% compared to offline which is growing at 4.9%. At some stage over the coming years, online is likely to catch up to, and overtake offline charitable giving...
...and ACU is well placed to capture all that donor cash, direct it to where it was intended, and make a commission on its efforts.
The global charitable giving market is worth around US$1 trillion per year globally and around US$330BN just in the US. The US and the UK represent two of the largest donor markets in the world today and that's exactly where ACU is heading with its recent Veterans Call launch in the US and the launch of Ralli in the UK.
Both entities will attempt to raise the amount of donations made through ACU by signing up charities and adding them to their database for donors to choose from when making a donation.
Longer term, ACU wants to see its technology grace every continent, especially in countries that have high mobile phone penetration. Importantly, there is no limit to ACU's scalability across countries because its technology doesn't infringe on any Financial Services Regulations by operating directly through the mobile phone bill.
That's exactly where it's mobile-centric business model kicks into gear. ACU is ahead of its peers and can attract a far greater array of donors compared to traditional methods that requires debit/credit cards, age verification and other jurisdictional red-tape.
People just want to give a few dollars a month with no hassle – but that has been easier said than done up until now.
ACU wants to deliver what donors want while giving charities what they truly deserve.
Here's the entire donation process in four easy steps:

Every user gets a profile and a user-friendly interface to see where they've donated, what's happened with their money and what impact their donation has had.
That kind of simple information is what donors want but given currently off-line methods, that's been impossible to deliver.
At the end of the day, many charities are still going out pavement-stomping with these chunky things: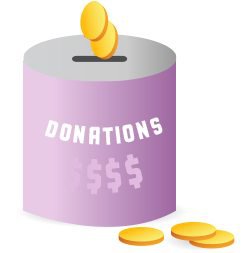 Even if people make a donation, it's usually very small and the donor has no further interaction with the charity. Also, charitable giving today is mostly about one-off transactions...
Now compare that with ACU: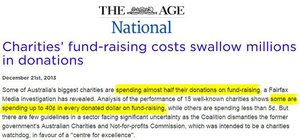 The donor receives a cockpit full of information about their chosen good cause and can choose to make repeat donations, set up alerts and receive updates directly from the charity.
Being interactive with its end-users and engaging with what they're actually looking for, helps ACU to foster recurring payments and helps grow its user base that can potentially be monetised at a later stage.
This kind of immersive experience when donating is exactly what donors are looking for, and what only online/mobile connectivity can offer. But with online giving only now becoming popular, the majority of potential mobile phone donors have yet to be addressed.
This is ACU's future business and there's oceans of it.
Take the US as an example – there are over 250 million mobile phones currently being used stateside, but only 5% of donations come from online/mobile sources. That means that at least 95% of the US mobile phone-wielding population has yet to be wooed by ACU's advanced crowd-funding features and more efficient money transfer capabilities.
When looking globally, there are over 2 billion smartphones currently out there and because ACU's model doesn't involve payments providers, its services can reach every country already. There are no roadblocks or legal hurdles to receive a donor's money from any country in the world.
ACU's business model is based on four verticals
These vertical can be white-labelled for each of ACU's different market segments including Veterans Call and Ralli (see below).
The verticals are:
Veterans (geared for donations for US war veterans)
Celebrities (leveraging TV, music and sports celebrities to raise charitable donations)
Church (geared for donations to religious organisations)
Politics (channelling donations to political parties)
The four verticals above directly show where ACU is heading with its current and future operations. With Veterans Call now launched, we can expect to see a celebrity angle and more focus on church and political-based groups from this plucky $10M-capped upstart in the months to come.
With the US Presidential elections due in 2016, it could be a lucrative year for ACU if it can hook into the groundswell of grass roots political party funding.
Calling all veterans
Veterans Call is ACU's flagship application launched in the US earlier this year. It specialises in obtaining donations for US war veterans and is already gaining popularity – click on the video to hear Staff Sergeant Todd Domerese's story where Veterans Call fits in.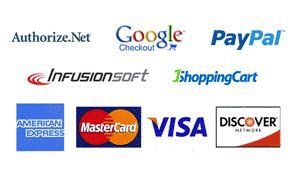 Click on image for video
Since launching Veterans Call, ACU has on boarded seven charities into its portfolio with more to come.
Veteran's Call is gradually growing its popularity amongst the US public with celebrity reinforcements expected to be drafted in soon.
Rallying for a cause
On top of its core Veteran's Call application cutting a swathe into US donors, ACU has also launched a parallel business-to-consumer (B2C) product called Ralli, specifically designed for the UK.
Ralli will serve as ACU's global B2C brand whereby ACU engages donors directly and offers them a wide selection of charities to choose from. In effect, Ralli is a 21 st Century, charitable-giving conduit with a difference.
The next part of ACU's business plan is to get its apps onto the billions of smart phones worldwide...
Now, what's an effective way of persuading lots of people to donate $5 per month to their favourite charity from their mobile phone?
Celebrities.
And when it comes to celebrities, they have more pulling power with their fans than elected heads of state.
Here's what Rutgers University has to say about celebrities' pulling power:

And if we go to look for actual examples of how much impact celebrities can have on a charitable cause or campaign, it's clear they are very good at raising money and more importantly, most of them are embracing crowd-funding, which plays into ACU's business model perfectly.

Celebrity-led charitable campaigns such as Live Eight and Comic Relief tend to perform very well amongst the public given the public visibility celebrities provide.
There's even a dedicated site monitoring the entire celebrity universe for who has donated what and where. According to Look to the Stars, it currently tracks 3606 celebrities, supporting 2094 different charities.
The writing on the wall is clear...
...celebrities encourage people to give and their stardom only adds to how far their call travels.
We will be watching ACU closely over the coming months to see if it can sign on some star power to fuel its consumer marketing plan.
Charitable giving and Tech make for a spicy combination
Usually, start-up tech companies need to achieve a critical mass of users before monetisation can begin. With ACU, because it's focusing on sourcing crowd-funded donations and contributions to various organisations such as charities, political parties and religious groups – monetising its user base can begin immediately.
Nowadays, people are rather put off by the prospect of providing sensitive bank information for security reasons. ACU's solution absolves the donor from that risk by keeping donations small, doing it via mobile phone bills and then adding true value by using technology to provide value-add interactivity. On top of all that we could soon see celebrity endorsements adding a further layer of trust to the ACU brand.
The size of the market ACU is parachuting into is worth reiterating – it's a $1 trillion global industry , and it's currently stuck at 94% offline versus 6% online!
That ratio will almost certainly swing more towards online in the years to come...
...with ACU perfectly positioned to capture that charitable flow.
Although this is still a junior company and professional advice should be sought if considering them for your investment portfolio.
With patent protection in key markets assured, ACU can now take advantage of an archaic donating ecosystem that's more akin to a horse and cart than a modern 21st Century automobile. Cars replaced horses by addressing inefficiencies and inconvenience, ACU does something similar.
ACU wants to change the current status-quo by inspiring social change. Currently, almost 70% of all donations do not go to funding what they were meant to.
Charitable giving will eventually join the modern world, leaving no room for opportunistic payments processors to snag their exorbitant fees.
With a platform that can reach more people and facilitate more funds reaching their destination, it really does seem that in the donation industry, ACU's tech solution could spark a revolution.
ACU's technology changes donating for the betterment of good causes the world over – and stands to make money for investors too if successful.
An activist at heart and a business by nature, ACU is on course to become a crowd-funded breath of fresh air for organisations, with the help of mobile phones and micro-donations.
---