ICT Building Global Online Education Empire? Two More Acquisitions Confirmed
PUBLISHED: 23-12-2014 03:26 a.m.
icollege (ASX:ICT)'s business plan is very simple – buy up well-established, revenue generating education providers, add them to its iCollege online learning platform and use that technology to leverage them to a global online classroom worth $91BN and rising .
Global education behemoth Blackboard was taken over for $1.64 billion in 2011...
But no other e-learning company like ICT exists in Australia – and there are 4,900 fragmented Registered Training Organisations operating here, many years behind with their technology...
ICT has spotted an opportunity to collect them up and give them the tools they need to prosper in the global market now and in the years to come.
e-Learning is a hot space right now – US venture capital investment tripled from $146M to in 2002 to $429M in 2012 in this sector. Total M&A activity in 2012 was valued at $8.5BN.
Hot on the heels of its acquisition of a management education group and an online bookkeeping school, ICT has just sewn up two more deals to snap up education groups with combined FY14 revenue of $9.4M and EBIT of $2.8M (unaudited).
The new acquisitions are the largest ICT has targeted yet, and once absorbed into ICT's technology platform they could help position ICT as a major player in the online education market – both in Australia and around the world.
Binding agreements are now in place for ICT to buy the Management Institute of Australia for $10M and Mathisi, a retail-training group, for $900,000. Each deal has an up front payment portion with the balance geared to EBIT targets. ICT will need to complete a placement or financing to complete the acquisitions.
On completion of the transactions, ICT will have baseline revenues of $12.4M and EBIT of $3.8M based on FY14.
But ICT doesn't just get each company's revenues in the deal...
A big part of the acquisitions is the content.
ICT wants to offer the full spectrum of learning on its online education platform and each course, skill and qualification it adds to the pool makes it a more comprehensive and powerful education group.
Each new acquisition will be enhanced through ICT's mobile and tablet optimised online education platform and could be sold around the world.
ICT has snapped up four education providers so far in 2014 and it's far from satisfied. It's got sharp eyes looking out for more acquisitions – could there be more just around the corner?


The Next Tech Stock first sat in icollege's (ASX:ICT) online classroom with the article $91B Education Tech Industry: ASX Listed Company Selling Education Online – Globally which goes into deep detail about the company and the reasons we decided to make an investment.
But this isn't a lecture... before we check out ICT's latest acquisition moves, let's have a quick study of its business model.
At it's most basic level, ICT offers over 20 online learning courses through its website – iCollege.net .
Check out this video that shows you how the online learning process works:

This is the learning of the future – online, flexible and interactive.
And it's worth a lot of money. The London-based investment bank IBIS Capital puts a value of $4.4 trillion dollars on the global education market and says that figure is growing.
One of the fastest growing education segments in the world is e-Learning, which IBIS reckons will grow up to 23% by 2017: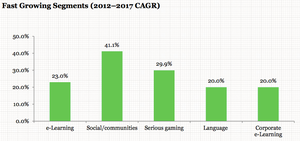 IBIS Word's Global e-learning Investment Review for 2013 says there are 1.4 billion students engaged in e-learning globally and the sector is worth around $91BN and rising – in Australia online education is worth $5.9BN with annual growth of 14.4% between 2009 and 2014.
The rising cost of education and the growing convenience of online study is making a digital education ever more attractive, and ICT is positioning itself to be the providor of this e-Learning.
ICT's portal for this new way of learning is the iCollege technology platform: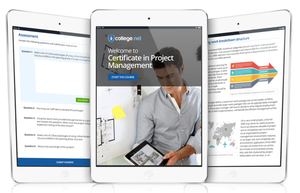 This bit of digital kit has been in operation for six years and has been constantly updated and improved to make sure it's state of the art. It can display all forms of course work and even conduct remote exams...
iCollege is optimised for iOS and Android mobiles, tablets and laptops.
It uploads absolutely any course module offered by ICT and displays it clearly and simply for students to study whenever and wherever they are.
But this is just the beginning for ICT. It's developed an aggressive acquisition and sales plan to make iCollege the world's learning platform.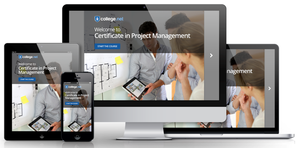 Firstly, ICT will market and sell its e-Learning platform globally so that education and training institutions worldwide can license the iCollege platform and use it as their online textbook.
But in order to scale bigger and faster, ICT will be aggressively acquiring – buying up small and medium sized education companies so it can grow into a global education provider.
Each new addition will have access to ICT's state of the art education portal and enjoy synergies for marketing, client growth and technical support with all of the others.
Our focus in the article is ICT's latest round of acquisitions – snapping up two companies that will position ICT for a very big 2015 targeting the $91BN and rising global e-Learning sector.
So pencils sharp, eyes to the front of the classroom, here begins the lesson!
New deals for ICT
In our last article , ICT had just wrapped up two share sales agreements to buy up two education firms – Dynamic Learning Systems and The Bookkeeping School.
This was supported by a share offer that raised $500,000 and the deals added two profitable education groups to ICT's mix. Dynamic Learning Systems had $2.98M in revenue for FY2014 alone.
But since then ICT has completed two more deals and as you're about to see, they are the biggest yet to be reeled in:

The first deal is for ICT is to acquire the Management Institute of Australia , which was established in 2005 and is a leading professional development group down under.

The Management Institute of Australia has 70 courses that cater for 22 industries including Business, Logistics, Aged Care and Workplace Health and Safety.
Once the acquisition is finalised, each and every one of these courses will be added to ICT's iCollege platform and will widen our company's scope in the online education space.
The deal for ICT to acquire the Management Institute of Australia is for a total purchase price of $10M, with $2M cash at settlement and the balance of $8M geared to EBIT targets. The acquisition will require ICT to complete a placement and or finance to complete the deal.
Similar terms have been negotiated for ICT's next purchase, the Mathisi Group, a leading Registered Training Organisation (RTO) based in Brisbane that specialises in retail training.

This purchase is for $900,000 with $550,000 paid up front and the balance also geared to EBIT targets.
Mathisi is a leading RTO in retail training with a 99% completion rate approved Pre-Qualified Supplier status for Queensland's Department of Education, Training and Employment.
ICT spends money to make money
So assuming performance targets are hit, for a capital outlay of $10.9M in total (with $2.550M paid upfront) ICT expects to have baseline revenues of $12.4M and EBIT of $3.8M (based on FY14) on its books.
These two new additions to ICT's online education stable will help position the company as a leading online educator and bring a steady stream of income to ICT's coffers.
But remember, e-Learning is global. The revenue ICT will absorb now could act as a baseline for its global expansion.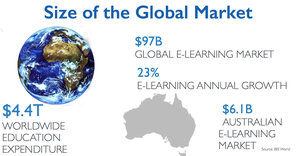 Both companies, the Management Institute of Australia and Mathisi, will have their content absorbed and then enhanced by the iCollege platform, driving synergies between all the other acquisitions.
As ICT enhances its offerings, it will be looking for overseas sales for the content – there's nothing to stop a retail course developed in Brisbane by Mathisi from being taught in Jakarta!
And in Australia, ICT is positioning itself as the only major e-Learning company targeting the over 4,000 Registered Training Organisations operating around the country.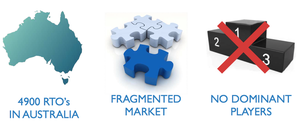 Big e-Learning companies like Blackboard (valued at $1.64BN when taken over in 2011) tend to ignore the smaller players that ICT is targeting. But these smaller education providers are keen to digitise their paper based class work and leverage off the power of ICT's online platform.
The blizzard of acquisitions that ICT has conducted in 2014 is just a taste of things to come, and 2015 promises more growth for this aggressive and innovative business.
The class of 2014
So in 2014, ICT did what it said it would do – expand its education offerings and market share through acquisition.
At The Next Tech Stock we are impressed with its conduct so far and look forward to seeing what it has up its academic gown's sleeves in 2015.
ICT's most recent purchases – Management Institute of Australia and Mathisi – have driven its baseline revenues to over $12M as well as increased the potential of its ability to expand both in Australia and globally.
We expect to see more of the same in 2015 and look forward to seeing ICT graduate to the next level of profitability and global reach.
---