ASX Chem-Tech Junior Inks Major Deals with Billion Dollar Bedding Manufacturer & US Military Supplier
PUBLISHED: 30-04-2019 10:09 a.m.
The best companies to invest in overwhelmingly deliver change: new and innovative solutions and products or services that are unlike anything seen before.
Today's company is developing technologies that address key gaps in the niche, yet sizable flame retardation market — said to be worth US$9 billion per annum.
It has developed patent pending flame retardant (FR) technology that has enhanced FR properties and provides improved environmental and health profiles.
This technology offers the only production viable option to flame retard nylon cotton blends.
The technology has wide ranging applications and is already recognised by a major uniform supplier to the US military.
The company has entered into a development agreement with a group that has significant expertise in the treatment of US military textiles to develop and potentially supply its flame-retardant chemistry to treat cotton/nylon military uniforms.
This comes after the US military put a call to industry to provide basic flame retardant protection for all military personnel, seeking a next-generation fabric that addresses critical flaws.
The news doesn't end there.
The company has also signed an MOU with the global leader in the production and sale of brominated and phosphorous flame retardants.
The deal will take into account future marketing, sales and potential manufacture of the product, which will increase the channels to market for its flame-retardant products.
The company has also recently secured EPA approval to manufacture and sell flame-retardant products in the US, the world's largest market for FR cotton.
Flame retardation technology isn't the only bullet in its gun, the company's other focus is on phase change materials (PCM) for the thermoregulation of materials. This, too, is a significant market, with PCM worth an estimated US$1 billion per year, globally.
For now, the major customers are bedding manufacturers, although the PCM technology has wide ranging applications.
As announced yesterday, the company has entered a development agreement with a leading, multi-billion dollar US bedding manufacturer: a move that I believe will open up even more avenues.
Introducing,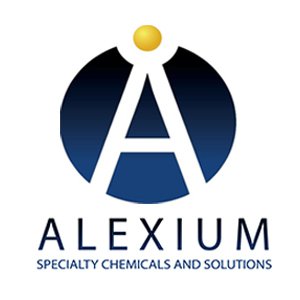 Alexium International Group Ltd
ASX:AJX
Market Capitalisation: A$57 million
Share Price: $0.16 (as at April 29, 2019)
Here's why I like it: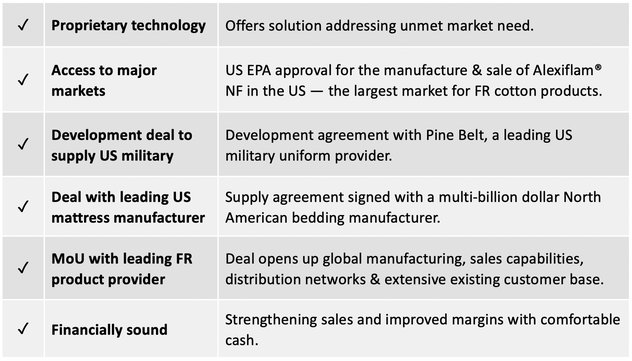 Who is Alexium?
South Carolina, USA based specialty chemicals innovator, Alexium International (ASX:AJX) has a focus on high-performance, environmentally friendly, nonhazardous flame retardants (FR) and phase change materials (PCM).
What does this mean? Let's take a look at AJX's products to break things down more clearly.
Alexium's chemical treatments are marketed under two brands — Alexicool® and Alexiflam®.
Alexicool®
Alexicool® is Alexium's proprietary line of phase change material (PCM) products — a material with a high heat of fusion that can store and release large amounts of energy — developed under three Alexicool® product lines:

Alexicool® AL, AC, and FM each supply the mattress and bedding markets with beds, pillows and mattress toppers.
The technology works by absorbing and releasing thermal energy to maintain a cool outer temperature that is comfortable against the skin.
Alexium began selling the product in 2017 and has since expanded Alexicool® products into a broad range of mattress components and higher volume mattress tiers: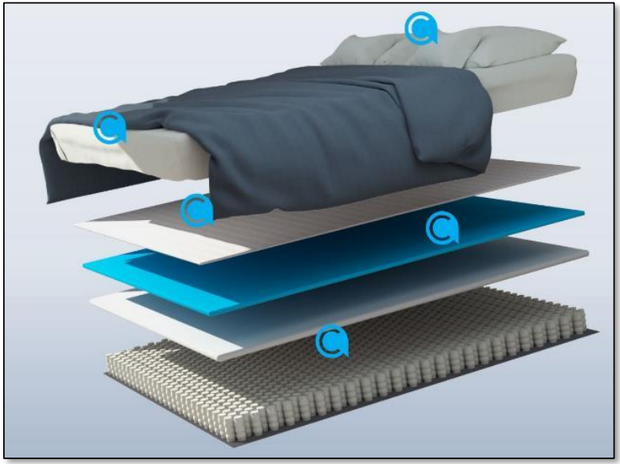 In its solid form, Alexicool® products are fully encapsulated PCMs. They absorb body heat and begin to melt into a liquid — drawing heat away from the skin, containing it in the core of the PCM capsule.
This is a regenerative process, so when the skin is no longer in contact with Alexicool® technology, it will transform back into a solid form, ready to be used again and again.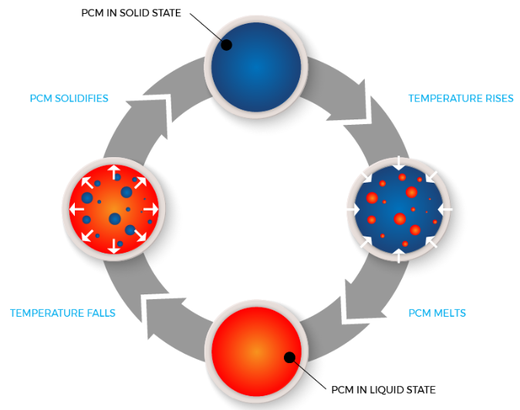 What differentiates Alexicool® from its competitors, is that Alexium is focused on its ability to cool, and to cool for longer, rather than worrying so much about the aesthetics — as is the case for competitors.
This is important as 60% of consumers look for a mattress that stays cool. To prove up its performance, Alexium has developed an analytical method for assessing cooling effects of PCM on textiles.
This enabled Alexium to demonstrate cooling effectiveness, therefore removing the focus on aesthetics and back onto what's important. These tools revealed that Alexicool® was 120% cooler than its competitor.
Here's a direct hand-to-hand comparison of treated samples between Alexicool® and a competitor: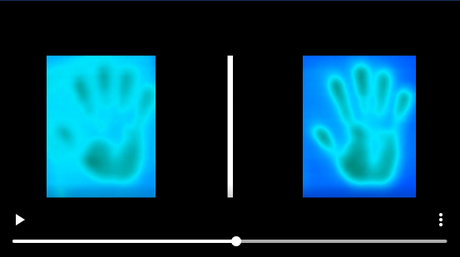 Clearly, AJX is leading the way and through the growing reputation of its technology, it has been able to secure several major contracts...
Deal with multi-billion dollar North American mattress manufacturer
Alexium this week entered into a Supply Agreement with a multi-billion dollar North American mattress manufacturer, with the intent to form a strategic partnership.
The manufacturer has grown and sustained its position in bedding manufacturing and distribution by embracing innovation and technology. That now includes Alexicool®, with Alexium the preferred supplier of PCM products for textile applications to the manufacturer's bedding products.
Under the Supply Agreement, Alexium will provide its Alexicool® products for application across the mattress manufacturer's brands. The agreement is for two-years and will automatically renew for successive one-year terms.
Aligning with a multi-billion dollar leader in the mattress industry to provide mattresses with improved thermal regulation is major news for Alexium shareholders.
The news was reported by Finfeed.com: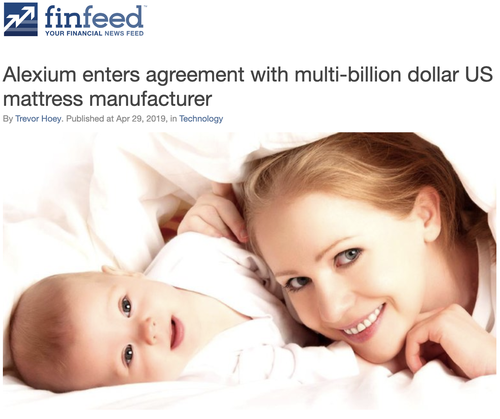 While Alexium can't name the manufacturer or its brands, we know that there are only two multibillion dollar mattress manufacturers in the US — Serta Simmons Bedding and Tempur Sealy International.
As you can see in the table below, the four brands of those two companies are way out ahead as leaders in the US wholesale bedding space.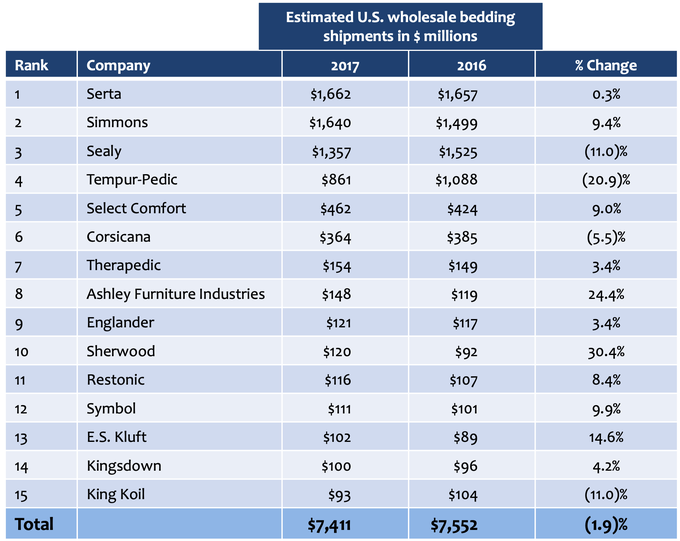 This agreement combines the bedding experience and market position of the partner with Alexium's speciality expertise in PCM chemistry and its application to textiles.
And as demand for temperature management in bedding continues to grow, so does the opportunity to bring Alexicool® cooling technology to a wider range of bedding products. There's also scope to explore and expand additional areas of technical collaboration with this strategic partner.
Not only will Alexium's collaboration with this global bedding industry player provide additional revenue streams outside its traditional military uniforms market segment, but it will offer diversification into a new industry, de-risking the group's reliance on one-off contracts with a small clutch of clients.
The benefits of having established alliances with high profile corporate and government cannot be overstated.
Alexiflam® flame retardant
Alexium has two products in its Alexiflam line — Alexiflam® FR and Alexiflam® NF:

Alexiflam® NF
Alexiflam® NF is a proprietary flame retardant that was developed for durable and effective flame retardation of cotton and cellulose-based textiles.
Alexium recognised that established FR cotton technologies are simply too involved, too complicated, and require too much nuance. Alexiflam NF was developed to address this gap. The benefits of Alexiflam NF include:
Simplified Process
Durable finish (50+ laundering cycles)
Effective flame retardancy
Low cost process
Environmentally friendly process
The patent pending flame retardant has enhanced flame-retardant properties over incumbent products.
It also provides improved environmental and health profiles being essentially formaldehyde free, having mild application conditions and ammoniation free application.
Alexiflam® FR
Flame retardation of higher percentage nylon compositions has been studied for many years, but has proven difficult to achieve. Various segments of the US military have actively sought flame retardant technologies for 50/50 nylon cotton, as is widely used for uniforms.
Alexium has developed a solution: Alexiflam® FR — a flame retardant treatment for synthetic and synthetic-blend fabrics that is used on nylon/cotton (NyCo) fabric blends. The product offers the comfort of nylon, flame retardant and reasonable cost.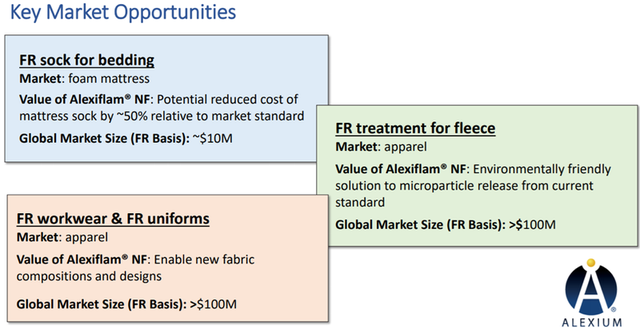 The company received patent protection for Alexiflam® FR earlier this year which was developed for use in military uniforms.
In fact, both products are attracting the attention of major suppliers, particularly after the EPA gave its stamp of approval.
EPA approves manufacture & sale of Alexiflam® NF in US
Alexium last week achieved a significant milestone when it received US Environmental Protection Agency (EPA) approval under TSCA (Toxic Substance Control Act) for the manufacture and sale of Alexiflam® NF in the US.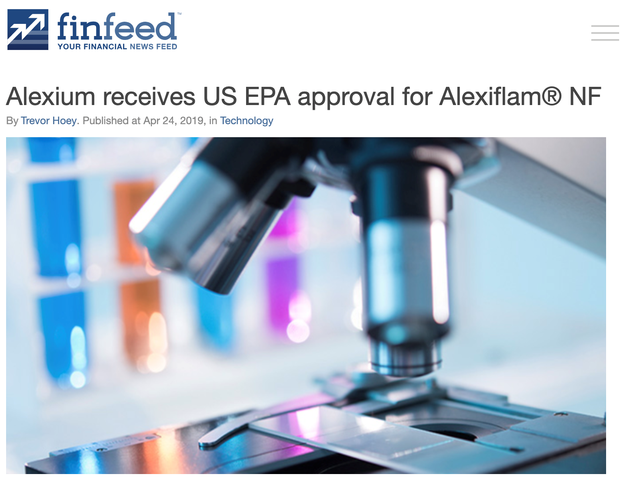 Development agreement with Pine Belt Processing
On 26 March, AJX announced it had signed a Development Agreement with Pine Belt Processing, a subsidiary of Warmkraft, Inc., to provide its proprietary flame retardant chemistry for the treatment and supply of nylon/cotton garments for US military uniforms.
Pine Belt Processing's reputation as a provider of high performance, high volume uniform treatments to the US military is unrivalled.
It has significant expertise in the treatment of US military textiles having successfully treated over 25 million US military uniforms with their proprietary insect repellent coatings.
This has seen Pine Belt gain a strong position of trust and expertise within the US armed forces.
The agreement follows months of product refinement and testing to ensure compliance with specifications outlined in the US military solicitation for the provision of a no melt, no drip flame retardant function for standard issue US military cotton/nylon uniforms.
The agreement will see samples, pricing, testing and the timetable for delivery of Alexium treated uniforms by Pine Belt Processing to the US military for limited user evaluation, or 'wear trial'.
Alexium has now satisfied the key specifications in terms of both flame retardant performance and garment servicing and is now working with Pine Belt Processing to comply with their production requirements and to prepare uniforms for the military's evaluation.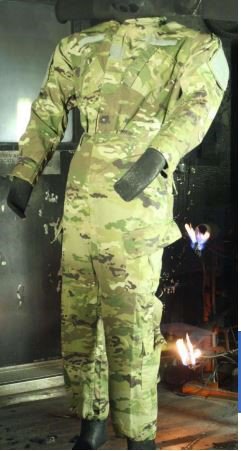 The next step will be for the parties to enter into a Supply Agreement for the final commercialised process and treatment, and then move onto final preparations for large scale deployment by Pine Belt at its facility.
This initiative is in addition to Alexium's efforts to develop flame retardant fabrics for the Flame-Resistant Army Combat Uniform (FRACU) program which involves the redesign of a specialist uniform. Alexium remains involved and active with this program, but is currently focusing its resources in advancing the Pine Belt initiative.
This is a significant market opportunity that Alexium is tapping into. The US military is a major target market, and even just providing for high risk military personnel is significant. Here you can see the flame retardant requirements of both the high risk personnel and all US Military branches: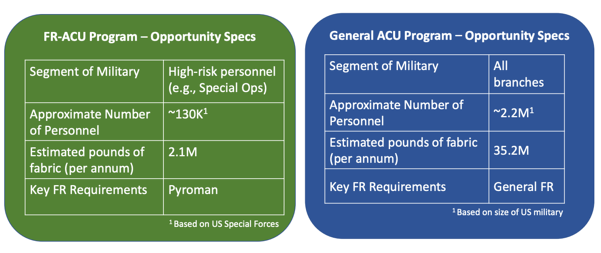 Global distribution of Alexiflam NF
In early April, Alexium signed an MoU with Israel Chemicals Ltd (ICL) (NYSE:ICL | TASE:ICL), a specialty minerals and chemical company and the world's largest provider of phosphorous based flame retardants.
As a leader in the manufacture and sale of flame retardants, ICL offers access to a receptive global audience for Alexium via its existing customer base. It has global manufacturing locations and large sales and distribution networks.
ICL has an extensive and one of the largest existing portfolio of flame retardant products, covering multiple applications and servicing key agricultural and industrial markets.
However, its extensive portfolio hasn't had a product like Alexiflam® NF — until now.
The MoU establishes a framework for the potential commercialisation of Alexiflam NF chemistry, leveraging ICL's unrivalled global manufacturing, sales capabilities and extensive existing customer base.
For Alexium, the decision means it can avoid the expense and logistical challenges involved in a global product launch, meaning that the company can instead focus resources on further innovation and product development, thereby creating shareholder value.
It further progresses Alexium's strategy to increase the global sales channels for its flame-retardant products and could lead to a strategic partnership for the marketing, sales and potential manufacture of Alexiflam® NF globally.
Additionally, Alexiflam® NF has applications beyond textiles, including wood and adhesive applications, so partnering with ICL could also accelerate these applications route to market.
Initial distribution efforts are expected to focus on European end markets, followed by expansion into China and the US. Beyond these established markets, the company has identified unique opportunities for Alexiflam® NF such as prospective applications in FR sock for bedding and FR treatment for fleece.
The MOU comes after a long period of co-operation with ICL. This includes a 2014 collaboration in a South Carolina/Israeli Collaborative Industry R&D Program where Alexium and ICL worked on novel approaches to the flame retardation of nylon-based textiles.
All of these deals have led to bigger revenues.
Strengthening sales & improved margins
AJX delivered an impressive third quarter performance. It grew its cash reserves by 50% on the previous quarter thanks to a lift in sales, all the while establishing important agreements with major global enterprises.
With these agreements confirmed, Alexium provided a positive earnings outlook for the remainder of 2019, anticipating positive monthly EBITDA on an ongoing basis by the December quarter, and ongoing profitable growth in the years ahead.
Another positive sign is the fact that while the company has been growing sales, there's also evidence of margin improvement, indicating increased efficiencies and possibly the benefits of the competitive edge provided by its technologies.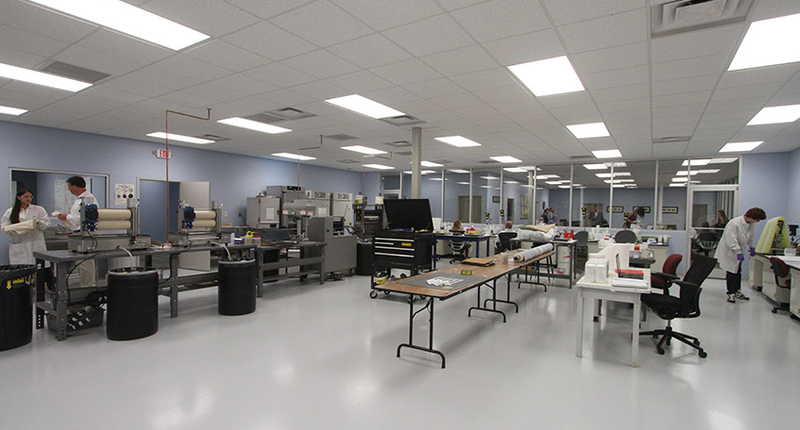 Going Forward
The market size for Alexium's Alexiflam and Alexicool's products is significant, and the scope of applications continue to expand.
The opportunities supplying flame retardation for military uniforms is particularly notable and should begin generating significant revenues for Alexium by 2020, while its new relationships in the bedding industry are now contributing both to accelerated sales and revenue visibility for its PCM business.
While sales are mainly US centric for now, Alexium is working to expand its global reach via partnerships and supply agreements.
The MoU with ICL — the leader in the manufacture and sale of flame retardants — could position them as Alexium's global distributor, increasing its ability to infiltrate new markets for flame retardant cotton.
Plus there's the major announcement of the development agreement with Pine Belt covering the development and potential supply of Alexium's flame-retardant chemistry for the treatment of nylon/cotton military uniforms.
With 130,000 special ops military personal requiring flame retardant uniforms and a potential expansion across the full 2.2 million military personnel, this is a significant market already. And that's without even considering the other applications of the technology outside the military or apparel in general.
On the other side of the business, Alexium's supply agreement with the multi-billion dollar North American mattress manufacturer to integrate Alexicool® into its products will open up further routes to market.
With its proprietary technology well sought after, management's confidence in delivering near-term earnings before entering a strong growth trajectory appears well founded.
---