Apple Co-Founder and Richard Branson Validate VPC Technology
PUBLISHED: 12-11-2015 09:33 a.m.
Tell me and I forget. Teach me and I remember. Involve me and I learn.
That's the mantra in most classrooms these days.
Education has come a long way since classrooms, rows of desks, chalkboards and chalk.
Nowadays it's far more efficient to educate with the help of digital tools that save time and money while improving interactivity and steepening learning curves.
If only corporate education was as up to date as the school room.
Well, now it can be.
Velpic (ASX:VPC) is capitalising on this tectonic shift, and is a revenue-generating player in the Learning Management System (LMS) space – a market on track to reach $7.8BN in 2018.
The company recently won an award for 'Most Disruptive CIO/CTO' in the Talent Unleashed Awards. Now there are a lot of award ceremonies these days, but this one is a particular standout.
Sir Richard Branson, Apple Co-Founder Steve Wozniak, and SEEK CEO Andrew Bassat validated VPC's technology.
These tech heavy hitters judged the awards, and VPC won – this is a strong recognition that the possibility of VPC taking a lead role in the LMS industry could well turn into probability.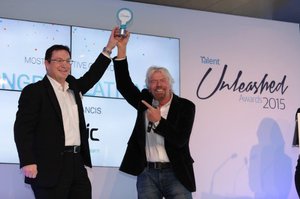 VPC CEO Russell Francis receives award from Sir Richard Branson, looking very smug indeed. Russell also looks pretty happy.
VPC just raised $4M and is listing on the ASX today
This cash will be invested in furthering its current national expansion in Australia and then global expansion into the United States, New Zealand, the UK, Singapore, Hong-Kong and South Africa.
Of course this is a junior tech stock and professional advice should be sought when considering for your portfolio.
VPC's ambitions have been motivated by recent tech acquisitions (Linda.com by LinkedIn for $1.5BN) and the large valuations of local, but global, tech disruptors like Atlassian – who are set to IPO on the NASDAQ for a valuation of over $3 billion USD , and Xero (ASX:XRO) – currently capped at $2.4 billion...
It is in one or both of these directions that VPC wishes to head.
VPC has the backing of one of Australia's preeminent tech investors, Tony Gandel, son of property billionaire John Gandel and other power players who have joined its share register following its successful ASX listing.
With all that and more in mind, we continue our coverage of: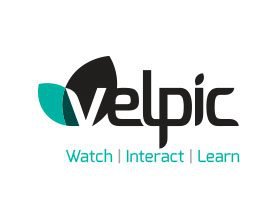 Velpic Ltd. (ASX:VPC) is aligned to the surging demand for cloud-based corporate education and training
VPC owns an eLearning platform that allows any company to create and distribute video based online training to their staff, contractors and customers on any device.
Companies want to be able to provide their staff with the necessary training without classrooms, whiteboards and stacks of paper.
They want their staff to have the ability to access training sessions on the move, in real-time and most importantly, be able to monitor their entire workforce with as little fuss as possible.
VPC soothes this headache that large companies typically have...
How do you adequately educate and train 1000+ employees without plunging your balance sheet into the red or tying up your HR department in knots?
As with so many things these days, the solution to this problem is technology.
More specifically, cloud technology – and VPC may well have the answer – and they are selling it right now.
VPC's platform gives users supreme functionality and usability while companies get a transparent, up to date picture of what their staff is doing.
VPC is unique in the global LMS market place in that it provides the user the ability to create video based multimedia presentations inside the LMS without having to use a separate, complicated, often expensive tool.
It then also allows the people being trained to stream the video lessons from the same platform. So VPC's Unique Selling Point is that they have all the tools anyone needs to create, distribute and perform lessons and then report on the results, all within the one elegant and extremely simple to use browser based application.
Here's how it works... as you can see VPC are bringing together a series of disparate (and costly, complicated tools) under one easy to use platform: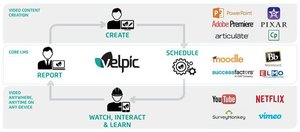 In the end, VPC's solution translates into better staff retention, steeper learning curves and a far-less spending on training compared to before.
Head in the Cloud
The global LMS market is mushrooming on the back of higher corporate standards and stiffer training requirements across most industries. It's growing at an annual rate of 25% and is expected to reach $7.8BN by 2018...
VPC has carved out a niche in this market and positioned itself amongst some significant tech companies as a first mover in the video-based LMS space.
Just take a look at some of valuations on tech players disrupting similar industries: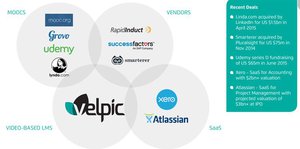 VPC is a tech company with a key differentiator to many other tech hopefuls: it was generating revenue from its outset and to date, VPC has recorded consistent growth across all metrics including sales, revenues and client numbers.
Here's a full timeline of where it has come from – and where it is going now that the company is listed on the ASX: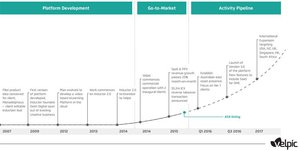 VPC's business strategy combines three dominant trends, with a view to become the world's premier video learning provider for corporations:
Growth of cloud computing.
Increased demand for integrated, high quality training and education amongst corporates.
Greater importance of Video content globally.
By delivering video-based training over the cloud through VPC's platform, businesses can forego spending an arm and a leg on external training providers whilst simultaneously improving the effectiveness of content being provided to employees.
The revenue model for VPC is commercially scalable and based on Software as a Service (SaaS) and Pay-Per-View (PPV) which enables it to monetise each training session provided.
With its ASX-listing now complete, VPC's gameplan is set to go up a gear, fuelled by the significant $4M capital line obtained as part of its listing.
These funds will allow VPC to expand globally into new fertile territories such as the United States, New Zealand, the UK, Singapore, Hong-Kong and South Africa.
And they will be dispersed by some top level rainmakers who know how to make the markets work.
The Rainmakers
Real clouds create rain. Digital clouds create revenue.
In order to maximise its most integral feature (cloud technology), VPC has moved to acquire a key part of its SaaS global puzzle. Just months ago, VPC recruited Leanne Graham into its ranks to lead VPC's charge into cloud-based SaaS technology on a global scale.
Leanne Graham has been dubbed 'The Rainmaker' for her ability to extract revenues from cloud-based businesses exactly like VPC.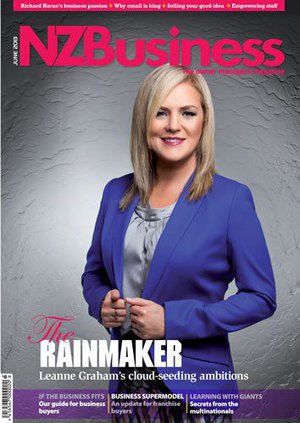 She has achieved great feats at Xero, GeoOP and even runs her own consulting company – aptly named 'iExecute SaaS', specialising in helping companies leverage their software capabilities via mobile connectivity and the cloud.
Just recently she was announced as VPC's new Chairperson and is expected to orchestrate VPC's entire sales, marketing and commercial strategy effective immediately
Meanwhile, as if one star name wasn't enough, VPC's Managing Director Russell Francis went and won himself the 'Most Disruptive CIO/CTO' award at this year's Talent Unleashed Awards (see the pic above with Richard Branson).
There are awards and then there are Awards. Now in its third year, Talent Unleashed is a world-first, global technology awards program for start-ups, entrepreneurs and visionary leaders, rewarding and recognising individuals who are unleashing, innovating and changing technology in business and the community.
The 2015 Talent Unleashed Awards were judged by an impressive international panel including the following heavy hitters: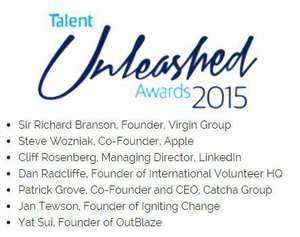 If this crew endorses you, you're doing something right.
So when we saw VPC's CEO Russel Francis, collecting an award for being the most disruptive CTO, it helped to validate VPC's entire business model.
VPC's Russell Francis picked up the award for " achieving amazing results through a disruptive or transformative approach to their technology strategy". A great endorsement for everyone behind VPC, highlighting its disruptive idea for the LMS market and its great potential.
Mr. Francis has started and sold several businesses over a 23 year career specialising in building enterprise scale applications for the likes of Citibank, ABN AMRO, P&O, Lloyds TSB, and Goldman Sachs.
With Ms. Graham packing 28 years of software experience, combined with Mr. Francis's 23 years, VPC has assembled an experienced front-line of rainmakers with a stellar track record of generating rain (revenues).
Can these two disruptive innovators do at VPC what they did at their previous haunts?
It's what they do best, so we would say there's a good chance.
There are no guarantees, however, and caution is advised when considering this stock for your portfolio.
Speculate to accumulate
Yet another high-profile pillar supporting VPC's foundations is investor support from Tony Gandel, son of billionaire property developer John Gandel.
VPC raised in excess of $4M for its ASX listing, while picking several high-profile investors that have a knack for backing the right horse.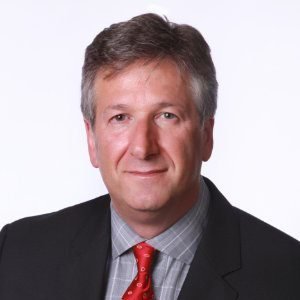 Tony Gandel, Managing Director at Gandel Invest
Mr. Gandel Snr bought a stake in Melbourne's Chadstone Shopping Centre in 1980 , now the largest retail shopping centre in the southern hemisphere. Son Tony runs Gandel Invest, which has made strategic investments in technology companies in Australia and the United States, including the US-based Datacastle.
Some of the other lesser profile names now invested in VPC includes Sanlam Private Wealth, Alignment Capital, Shaw and Partners, to add to Gandel Invest's investment.
Of the $4M raised, VPC intends to accelerate sales growth across the Australian east coast and initiate the development of additional products aimed at small and medium sized businesses.
Taking its services global is also part of the plan which the rainmaking Ms. Graham will be tasked with addressing.
Why have companies been so quick to gravitate to VPC's platform?
...Because VPC's platform reduces the time to train employees by up to 75% and increases comprehension by around 60%, compared with text-only training methods.
Exceeding even their own expectations, VPC's platform has been onboarded at over 20 companies, ranging from small to huge.
For its latest scalp, VPC has forayed into the $23BN Australian retail sector by signing up Direct Group, a leading marketing company employing over 700 people.
The deal will see Direct Group rollout a range of training courses for its staff, using VPC's platform. VPC stands to earn a flat fee in addition to recurring fees going forward.
Very SaaSy.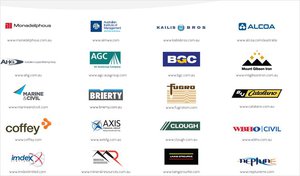 Some of Velpic's SaaSy client list
VPC's gradual but consistent bolstering of its sales numbers is a strong endorsement of VPC's product. The broader client list includes a fair share of blue chips and smaller names spread across a variety of sectors. The fact that VPC's fee structure is a fine balance of fixed subscription and Pay Per View (PPV) means it can optimise its revenues depending on the client.
Of course, this company is still in its early stages of development and due diligence must be done when considering VPC as an investment option.
"PowerPoint on Steroids"
VPC has a focus on video content as the prime medium for education because of the greater level of interaction and steeper learning curve the medium provides compared to others such as text and audio only.
In its own words, VPC's platform is akin to "PowerPoint on steroids".
The main selling points for VPC's platform (aside from being cloud-focused) is the fact that it is video-centric in its design and incredibly user-friendly in its operation.
By demystifying and simplifying video production, VPC enables the average user to create compelling, professional quality content and easily distribute it as required to any device. Companies will soon be able to even distribute the content they create for sale to third parties through a dedicated marketplace.
VPC says pretty much anyone can jump into it and begin making compelling videos without the need for video production qualifications or a graphic design degree.
In many ways, VPC's platform bridges the gap between what end-users are currently able to do when creating education and training sessions, and what they aspire to do if there were no limitations to their ideas.
In other words, facilitating average people to create professional-grade content.
Started by three tech entrepreneurs, Pat Connell, Glen Moora and Russell Francis in 2012, VPC and its sister company Dash Digital employ around 25 people.
VPC generates revenues through monthly SaaS fees, along with PPV fees for each lesson completed. In the last 12 months, VPC has recorded a steady 25% month-on-month growth in revenues for its SaaS platform and combined the two companies exceeded $2M in total revenue for the year.
VPC's success can be largely attributed to a rapid take-up of its product offering.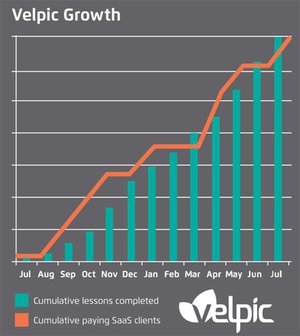 With the amount of sessions being provided growing at a strong pace, VPC's commercials are looking well-founded.
What's in store?
VPC is now in a position for a strong expansion both operationally and geographically.
First off, VPC will try to grow its customer base without excessive marketing expenses. To do this VPC will rollout affiliate agreements, white-label solutions and reseller incentives in a very similar way that Xero (ASX:XRO) have done.
Now capped at $2.4BN, Xero added 120,000 customers over 3 years by launching a strategic partnership program in 2009 and VPC's rainmaking new Chairperson will be doing her best to repeat the feat here.
Second, VPC will push into potentially lucrative new territories such as the United States, the UK and Singapore. These new markets present huge commercial opportunity given the sheer size of VPC's addressable market in these developed areas.
Last but not least, VPC plans to roll out version 3.0 of its platform and attack the SME market.
Come Rain or Come Shine
VPC's progress is on track to follow in the footsteps of other successful SaaS-focused plays such as multi-billion dollar heavyweights Xero, Atlassian and Salesforce.
With revenues growing steadily, new clients coming on board and several big hitters now standing behind VPC's platform, the future appears bright.
VPC has also demonstrated a unique ability, not only to commercialise its tech offering from the outset, but also, to attract the best and brightest of the tech sector into its ranks.
Ms. Leanne Graham has already achieved exactly what VPC is currently aspiring to achieve, at Xero and GeoOP – two businesses with remarkable parallels with VPC.
Here at The Next Tech Stock , we certainly look forward to seeing what the weather brings for this $14M-capped tech upstart.
We think there's a strong chance that come rain or come shine, VPC could capture a significant portion of the fledgling corporate training and education market, still in its early stages of development.
---