A year in: Simble's IoT solutions are lighting up
PUBLISHED: 25-02-2019 09:51 a.m.
The world's buildings consume a huge amount of energy. Residential buildings are believed to account for 40% of all energy use, while commercial buildings consume around 30% of available energy resources.
Therefore, solutions that help reduce buildings' energy consumption have potential to make a meaningful dent in global energy use and deliver commercial rewards to the businesses and investors behind these innovations.
Attention from property developers, owners, and building managers is turning to address ways to reduce energy consumption and greenhouse gas emissions, as well as the need to combat rising energy costs.
While we're still in the early stages of what is possible, energy management solutions are already becoming more readily available, largely thanks to the emergence of Internet of Things (IoT) technologies.
IoT technology is powering smart building management systems, delivering solutions to optimise a building's energy resources, saving waste and dollars.
Backed by the power of IoT, Australian energy management software company, Simble Solutions (ASX:SIS), is targeting the energy management systems market via its IoT-enabled real-time energy visualisation platform that connects to smart devices.
Its energy management and data analytics suites comprise the Simble Energy Platform or 'SimbleSense', data analytics platform "SimbleSense Lite", and the "Virtual Analytics App".
A year on since listing on the ASX, SIS has made great strides, which, importantly, are yet to be widely recognised by investors.
With a share price of just 7.5 cents, for a $7.7 million market cap, SIS may just offer the most attractive value in the sector. It clearly carries significant upside potential for early stage investors — all the ingredients for a successful ASX technology play.
Since listing, its gross costs have been down every quarter, while cash inflows are on the rise thanks to a number of revenue generating contracts, including securing its first major contract wins with its new energy software product.
In fact, the company secured contracts and partnerships with a cumulative order value for the Simble Energy Platform of A$4.9 million over the course of the year and cash receipts were up more than 120% in in the second half of FY18 compared to the first half of the year.
Customer growth is currently at 240% year on year, while the company's channel partner network has expanded in size, and quality, since the company's IPO in February a year ago. This combination has delivered tangible outcomes and significantly improved its economics.
SIS is now in a strong position, capable of nurturing its partnerships and delivering incremental growth.
Validating SIS's IP is the recent news that as part of the UK Government's energy efficiency funding scheme, the Clean Growth Strategy, Simble, in partnership with Cambridge Architectural Research, was awarded a £383,000 (A$680,000) UK government grant.
SIS will use the funding to advance its Virtual Analytics App in the UK domestic market to help consumers reduce energy consumption.
Another recent announcement of note is SIS's sales contract and strategic partnership with UCR Consultants, a UK based utility broker, that will deliver potential initial revenues of up to £2.2 million (A$3.9 million).
UCR Consultants has also stepped up as an investor in the company, when it subscribed for $500,000 in convertible notes out of a total commitment of $650,000.
Underpinning all of this will be a marketing partnership it has signed with the $146 million capped, ASX listed Bid Energy (ASX:BID).
All in all, things have progressed nicely in the company's first year on the ASX, yet there remains opportunity for investors in these early stages.
Catching up on: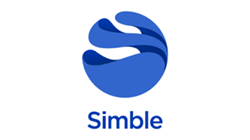 Simble Solutions
ASX:SIS
A year on from listing on the ASX and Simble Solutions (ASX:SIS) has expanded its suite of energy management solutions to meet market demand, accelerate user growth on its platform, and cater towards a larger range of industries and markets.
SIS's energy management and data analytics suites enable grid connected premises to reduce energy wastage, automate control of their switch circuitry and monetise surplus microgeneration capacity. Its products are offered at various price points and customised for different target groups including enterprise, small businesses and residential users.
For a full breakdown of its solutions, check out our previous article: Fastest Growing Energy SaaS Company on the ASX, Lowest Market Cap of All Peers.
The existing Simble Energy Platform or 'SimbleSense' is an integrated hardware and real-time software solution that enables businesses to visualise, control and monetise their energy systems.
The company's Software as a Service (SaaS) platform has Internet of Things (IoT) capabilities and empowers enterprises and consumers to remotely automate energy savings opportunities to reduce their energy bill.
SIS expanded its product offering, launching its "Virtual Analytics App" for residential customers, and "SimbleSense Lite" for business customers, to meet market demand for low-cost software-only products without the need for on-site hardware installation
SimbleSense Lite, is a software-only entry level SaaS product with low-cost deployment and rapid market penetration potential, without the need for on-site hardware installation.

With offices in Sydney and Melbourne, as well as in the UK and Vietnam, SIS targets the distribution of its platform through channel partners for the SME and residential market.
Simble 1-year on
2018 was a year of transition for SIS. Not only did it list on the ASX in February, but it was the first full year of commercialising its energy analytics and IoT software suite.
During this first year, the company secured contracts and partnerships worth $4.9 million in orders for its energy software product, the Simble Energy Platform.
During the second half of the year, momentum accelerated with cash receipts up more than 120% on the first half of the year.
The aggressive on-boarding of customers has commenced with customer growth of 240% over the year, while management is confident that the company has set a solid platform for sustainable growth going forward.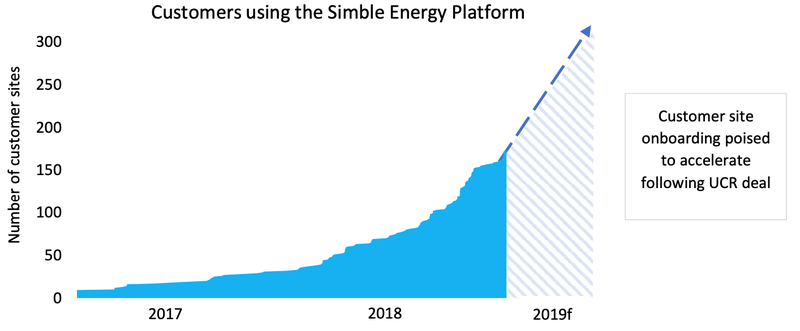 This trend is poised to accelerate as a result of recently signed contracts, which will see a minimum of 10,000 meters across 6,000 customer sites added to the platform over the coming years.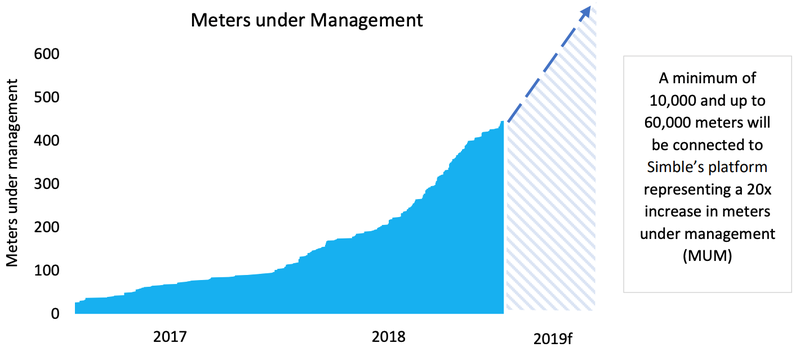 The business' gross costs have declined in every quarter since IPO and cash inflows increased substantially throughout the year and SIS is now nearing a breakeven point as net operation cash burns continues to narrow.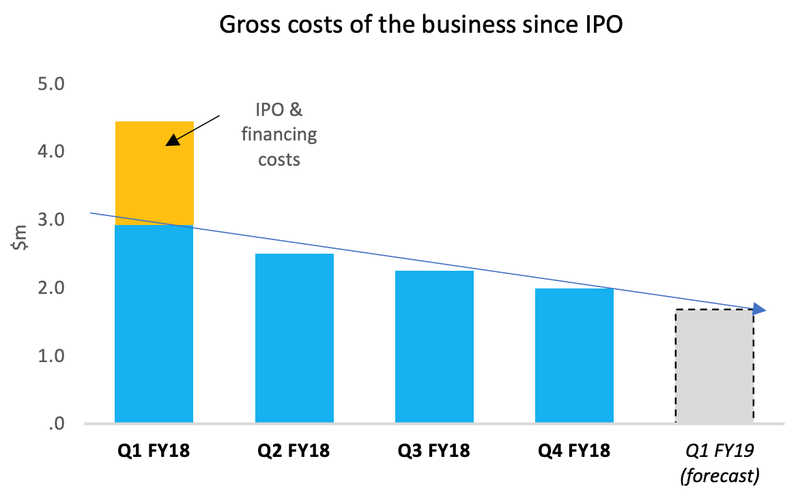 With contracts from partners including Synnex Australia, Powercor UK or UCR Consultants, the momentum should continue well into 2019 and beyond.
And it will be further solidified via its partnership with BidEnergy.
The right bid
SIS recently signed a marketing partnership with ASX darling, the $140 million capped BidEnergy Ltd (ASX:BID).
SIS entered the partnership agreement to pursue the opportunity to commercialise a bundled technology solution comprising of BidEnergy's "Robotic Process Automation" platform and Simble's IoT visualisation and data analytics platform targeting business customers in Australia, UK and USA.
If you are unfamiliar with robotic process automation, here's a quick explainer:
The agreement further builds on SIS's partnership-led strategy creating collaboration opportunities where it will be able to demonstrate the scalable benefits of its IoT analytics platform.
SIS and BidEnergy will work collaboratively targeting large multi-site customers seeking an end-to-end energy spend, metering and carbon reporting solution to manage their utility portfolio and reduce their energy consumption.
The out-of-the-box Energy and IoT Analytics solution, the Simble Energy Platform, complements BidEnergy's unique Robotic Process Automation platform. It will allow end-customers to understand and control energy savings, carbon emissions and multi-layer environmental data, visualised by our powerful big data processing platform.
It will work like this: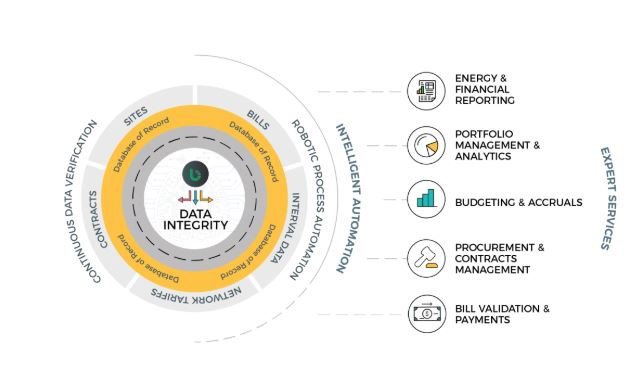 This partnership with BidEnergy has potential to significantly enhance the company's value proposition and turbocharge sales.
UK government recognition
The UK is major target market of SIS, as evidenced by its recent partnership agreement with Cambridge Architectural Research Limited (CAR).
CAR has been working on energy efficiency in buildings, and heat loss/heat transfer coefficients in particular, for the past 30 years and working with the UK Government to improve energy efficiency in homes for more than ten years.
Working alongside CAR, SIS will help the UK Government achieve its Clean Growth Strategy objective to grow the economy while reducing greenhouse gas emissions to which it has committed to invest around £3.6 billion (A$6.5 billion).
In January, Simble, alongside CAR, wa­­s awarded a £383,000 (A$680,000) UK government grant from the Department for Business, Energy & Industrial Strategy (BEIS) as part of a funding scheme to support energy efficiency projects in UK homes.
The funding will be used to advance SIS's Virtual Analytics App in the UK domestic market to help consumers reduce energy consumption.
The project has the potential to revolutionise work aimed at cutting carbon emissions from homes and being recognised by the UK Government as a leader in innovation is a strong validation of Simble's IP.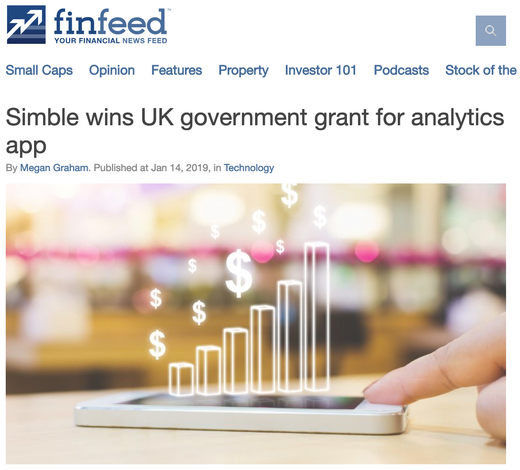 Long term contract secured with UCR Consulting
January was a busy month for SIS, with it also signing a pivotal sales contract and strategic partnership with UK-based utility broker, UCR Consultants.
The news was reported by Finfeed:
The three year deal with UCR is SIS's first significant contract for its data analytics platform, SimbleSense Lite.
UCR itself specialises in utility cost reduction for business and private customers, and manages over 40,000 customer accounts and more than 60,000 meters across the UK.
UCR will deploy SimbleSense Lite to a minimum of 10,000 meters with the potential to expand to up to 60,000 meters. Each customer has an average of approximately 1.5 meters per site.
The deal's minimum contracted SaaS revenues are approximately A$680,000 over the contract term and will increase to A$3.9 million if the internal target is achieved.
Capital Raising
Following the signing of the long-term contract with UCR in early February, Simble proceeded to secure commitments for $650,000 financing by way of convertible note
SIS has received commitments from a number of investors for A$650,000 financing by way of an unsecured convertible note (2019 Notes).
UK partner UCR Consultants stepped up to cornerstone the raising, subscribing for $500,000. The remaining noteholders are members of SIS's board and executive management, as well as existing sophisticated investors.
The firm commitments from UCR were made on terms that are favourable to SIS shareholders, and the strategic investment from UCR aligns the two businesses' interests more closely and effectively nurtures the partnership.
After signing the partnership agreement with SIS and seeing the 'tremendous potential' for growth here in the UK market, UCR took the opportunity to directly invest in the business and ensure that the company is in the best possible position to exploit all opportunities.
The consulting group also expect to achieve its own ambitious growth targets by leveraging the partnership — a win-win situation.
The 2019 Notes are convertible on or before 31 December 2021 at a conversion price of $0.15. The Note conversion price of $0.15 is 134% higher than the closing price of SIS shares trading on the ASX as at 31st January 2019.
This significant premium paid on the conversion price is a vote of confidence in the company and its recent progress.
Carbon Trade Exchange
UK public listed companies have had to report their annual greenhouse gas (GHG) emissions, energy use and energy efficiency measures for a number of years now.
This was expanded when the UK government last year introduced new regulations on energy and carbon reporting for large UK enterprises that will come into effect from April 2019 impacting large unlisted/private UK and EU companies too.
This presents an opportunity for SIS, which has expanded its commercial relationship with Carbon Trade Exchange (CTX) — the world's first electronic exchange for voluntary carbon credits.
SIS last year launched its energy and carbon reporting software "CarbonView" in the UK market through a reseller partnership with CTX.
CTX is a reseller and go-to market partner of Simble's IoT energy platform "SimbleSense" to help businesses reduce their energy bills and remotely automate energy savings opportunities.
More detail can be found in this BusinessWire article: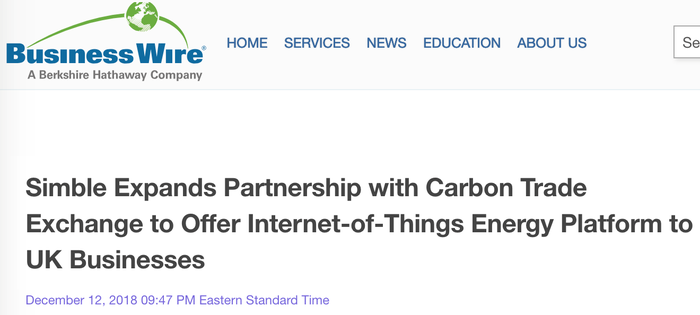 A final word
The ongoing growth and new partnerships are potential value drivers that could see SIS deliver for shareholders. With the financials clearly heading in the right direction, the company is in a strong position, capable of nurturing its partnerships and delivering incremental growth.
---