$760M Car Leasing Company Teams with Tiny QNA
PUBLISHED: 23-10-2014 17:43 p.m.
Tiny $5.4 market cap Qanda Technology (ASX:QNA) has just signed a strategic agreement with $760M market cap giant McMillan Shakespeare Limited (ASX:MMS).
McMillan Shakespeare's Interleasing division will now rent late model ex-lease cars through QNA's peer- to-peer marketplace for cars – DriveMyCar Rentals .
Demand for cars has been exceeding supply at DriveMyCar Rentals – now with this new deal, QNA can draw on an Australia wide pool of cars to meet the growing demand for its services.
Another tick in the box for the collaborative consumption market and for QNA's growth plans.
In case you missed our first article , collaborative consumption is an economic model based on the sharing of products or services.
It's how Airbnb grew to $10BN and Uber to $18BN – these companies started off as tiny collaborative consumption start-ups and in the space of a few years now they are global brands, with market caps to match.
The company is also set for a name change from Qanda Technology to Collaborate Corporation – a name we think is a far sharper reflection of its focus on collaborative consumption. There is also a 10 to 1 share consolidation planned, that should reduce the volatility in QNA shares – after consolidation the QNA price can move in much smaller increments.
QNA now has three businesses that have peer-to-peer rentals as their heart and soul.
It's just completed the 100% acquisition of Caramavan, an online service that allows caravan and campervan owners to list their assets for rent to tourists and holidaymakers.
Caravanning is a $7BN plus industry down under and now QNA is set to carve off a slice.
Speaking of which, QNA's DriveMyCar Rentals continues to record strong sales growth – in the last quarter, net days sold were 71% greater than the same period last year.
It's been a big month for QNA. Let's get stuck in and see how big the rest of the year could be...

TIME Magazine has listed Collaborative Consumption as one of the 10 ideas that will change the world.
Within a 'peer to peer marketplace', collaborative consumption is where people can rent their services or goods to other people.
You can leverage your existing assets like spare bedrooms or a lawnmower into income streams by sharing them – for a price. It's widely seen as a new economic model in the 21 st century.
The operator of the marketplace matches renters needs with owners assets and builds 'trust' into the transaction by providing insurance, ID verification and payment processing.
Without this trust and owner/renter matching, assets would otherwise remain idle...
Some of those who broker collaborative consumption have grown to giant companies with global footprints.
The accommodation-sharing network Airbnb is worth $10BN while Uber – a service that turns any car into a taxi – is valued at $18BN.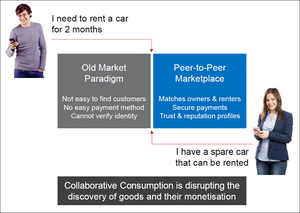 There are other companies attracting investment dollars too. Beepi , a peer to peer market place for buying and selling cars online just raised $60M in venture capital funding to expand its business.
QNA has seen the potential in this space in Australia and acted decisively – snapping up collaborative consumption assets so it can grow them. We first added this $5.4M market capped mover and shaker on our investment radar in September with the article ASX Listed Tech Company Set to Capture Global Mega Trend.
The article goes into great detail about QNA with a particular emphasis on DriveMyCar Rentals – it's well worth a read to get your head around the potential of collaborative consumption and QNA's plans to expand the three collaborative consumption businesses it now has in the bag:
DriveMyCar Rentals – A firmly established Australian online marketplace that allows people to list and rent their cars to others. It's just like Airbnb, but for cars.
Rentoid – Australia's largest online rental marketplace for anything from a hand trolley to a 30-foot sailing boat. It's set to expand with QNA's help.
Caramavan – A caravan rental service that works very similarly to DriveMyCar Rentals. It's the very latest addition to QNA's collaborative stable.
The big news this month is all about QNA's DriveMyCar Rentals.
A strategic agreement has been signed with McMillan Shakespeare Group that will greatly expand the pool of cars DriveMyCar Rentals has on tap – and some impressive sales figures have just come in showing the company is on the right track.
In this article we're going to run you through the deal and what it could mean for DriveMyCar Rentals. Plus we'll be looking at the deal for 100% acquisition of Caramavan.
One month, two deals – what's next? Read on...
McMillan Shakespeare enters QNA's vehicle leasing play
DriveMyCar Rentals works very simply – if you have a spare car or one you no longer use – list it for rent and the website will connect you to a customer for a small fee. It's easy, totally covered by insurance, credit and ID checks and a top-notch team.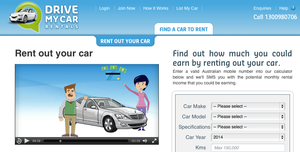 QNA is planning to expand DriveMyCar Rentals through a re-launch of the website, an enhanced reputation platform and a consumer marketing campaign. New ID and credit checks have been added and e-signing contracts are on the radar.
Before any of that can be tackled though, QNA is concentrating on another area – vehicle supply.
DriveMyCar Rentals is finding that sometimes it doesn't have enough vehicles to satisfy demand.
But QNA has just come up with a solution :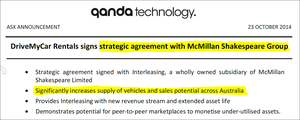 DriveMyCar Rentals has just signed a strategic agreement with McMillan Shakespeare Group's (ASX: MMS) Interleasing division to supply vehicles to its peer-to-peer marketplace.
Quick sidenote for those not familiar with MMS – now capped at $760M, it's been in business since 1988 and offers services for salary packaging, novated vehicle leasing and fleet management. It takes care of specialised operations for governments and large businesses, and has a stellar reputation – not to mention profits of $55M in 2014.
MMS's Interleasing division manages fleets of vehicles throughout Australia – a huge footprint that can give DriveMyCar Rentals the ability to even more effectively meet the growing demand from renters across Australia.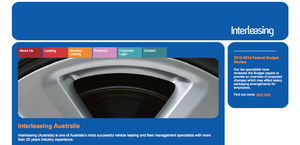 Under the agreement, late model ex-lease vehicles owned by MMS's Interleasing will be rented to private drivers through QNA's DriveMyCar Rentals.
This is a win-win for both sides of the deal, and by partnering with a much larger company, it validates QNA's business model. MMS gets to extend the income generating life of its vehicles and benefit from a secondary revenue stream.
More importantly for QNA shareholders, the deal means DriveMyCar Rentals can meet the growing demand for its cars by tapping into this big pool of vehicles – helping expand its business and satisfy the demands of customers.
This is the big point of the deal. QNA wants to expand DriveMyCar Rentals and attract even more customers to the service. It needs to guarantee supply though – and the strategic alliance with McMillan Shakespeare Group's Interleasing division means it can safely press ahead with its plans, knowing it is well placed to meet any new demand it creates.
QNA's McMillan Shakespeare deal provides further validation of the peer to peer rental model and paves the way for more deals with corporate fleet owners in the future.
Think about all the cars that are sitting in car yards and auction house parking lots for extended periods. DriveMyCar Rentals provides a solution to the owners of these vehicles, turning them into income generating assets.
Right now though, demand for DriveMyCar Rental's services is breaking company records...
Our Track Record
Regular readers of our sites will be familiar with our long-standing interest in high potential stocks.
To note just a few:
The past performance of these products are not and should not be taken as an indication of future performance. Caution should be exercised in assessing past performance. These products, like all other financial products, are subject to market forces and unpredictable events that may adversely affect future performance.
DriveMyCar drives strong sales
DriveMyCar Rentals' business unit just produced some promising sales results for the July to September quarter in 2014:

Net days sold for car rentals were reported at 71% greater than recorded in the July to September period in 2013 and 40% ahead of the April to June 2014 quarter.
This is very encouraging – it shows that QNA's DriveMyCar Rentals is expanding and that the business is being met with increasing demand.
The next phase for QNA is to accelerate DriveMyCar Rentals even faster by getting its aggressive marketing strategy up and running – using advertising, social media and other forms of PR to get more customers using the site and more car owners registering vehicles for rent.
With McMillan Shakespeare now signed on to supply ex-lease cars, the business is primed for growth.
Hopefully the next set of figures QNA releases for DriveMyCar rentals is even more impressive!
QNA hitches Caramavan to its tow bar
It's just the thing for a classic family road trip – or for hitting the road when retirement beckons – hitching a caravan to the tow bar and driving into the sunset.
In Australia alone over $7BN is spent on caravan holidays every year and in 2013 the number of registrations rose 5% to over half a million caravans – be they the towed mobile homes, tent trailers or motorised RVs.
But for owners caravans can be expensive to maintain and don't always get used – and for people who just want to rent them, the prices are often prohibitive and the choice is limited. This makes caravans a perfect commodity for collaborative consumption – exactly why QNA snapped up Caramavan: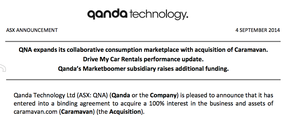 The last time we reported on this deal QNA announced it – and now everything's been signed off.
QNA now owns a 100% interest in Caramavan – an online community that allows people to list and rent privately owned caravans and campervans. Think of it as DriveMyCar Rentals for caravans.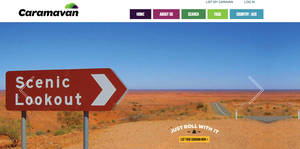 Caramavan was established by Tim and Samone Bos who have driven the site to become one of Australia's leading caravan rental portals. But now it's time to take things to the next level – and QNA is just the company to do it.
To get Caramavan, QNA has issued:
50M ordinary shares priced at $0.002 per share, 25% with no escrow, 25% to be held in voluntary escrow for 6 months from acquisition completion date;
50M unlisted options over fully paid ordinary shares with an exercise price of $0.002 per share and an expiry date 3 years from completion date – these options can only be exercised once Caramavan has earned gross profit of $300k under QNA ownership;
25M unlisted options over fully paid ordinary shares with an exercise price of $0.003 per share and an expiry date of 3 years from acquisition completion date. These options can only be exercised once Caramavan earns a cumulative profit (BITDA) of $100k in any rolling 6 month period from completion date to the expiry date of the option.
For all that QNA gets the Caramavan brand, domain, software platform, source code and a number of databases and customer and subscriber relationships.
Plus, it gets the chance to take a leading collaborative consumption website for caravans and supercharge it with all the back end innovations it has been sinking into DriveMyCar Rentals and Rentoid.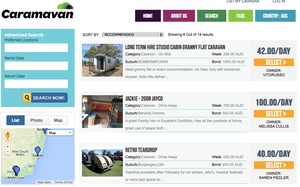 Caravans are a $7BN plus a year industry in Australia – and QNA has just taken the controls of a business that's opening up the collaborative market for this space and showing great potential for expansion.
Every tourist, retiree or local holidaymaker who wants a caravan in Australia can now rent one through Caramavan – and with QNA driving this site, a big slice of the market could be won.
The bottom line for investors is that Caramavan is now QNA's third collaborative consumption business joining DriveMyCar Rentals and Rentoid.
That's three rapidly growing collaborative consumption markets covered – peer to peer caravan rentals, peer to peer car rentals and peer to peer everything else rentals. So what's next we wonder?

QNA Share Consolidation
At the company's upcoming Annual General Meeting, QNA will be putting up a resolution for the consolidation of capital on the basis of every 10 shares held by investors to be consolidated into one share – a ten for one consolidation.
As QNA investors ourselves at The Next Tech Stock, we see this is a good move. Less shares on issue means less volatility. One of the factors currently limiting price growth is that shares can only move from $0.002 to $0.003 – a 50% jump. After the consolidation, the QNA share price can move in much smaller increments.
Another bit of financial housekeeping for QNA is that it has negotiated to amend the maturity date of a convertible note facility of $75,000. This was due to mature on the 12 th of September 2014 but the date has now been pushed to the 12 th of December 2014. All other terms for the note remain unchanged.
Also, QNA says it's paid another convertible note facility worth $100,000 following the receipt of an R&D rebate from the Australian Tax Office. The note was due to be repaid on January 15 th 2015 but it's now been cleared from QNA's books.
Collaborative Consumption in the news
Peer to peer businesses like Airbnb ($10BN market cap) and Uber ($18BN market cap) usually get all the headlines – renting spare rooms as hotel beds and private cars as taxis has seen to be very disruptive and very profitable by these companies.
But there's another very lucrative market flying under the radar – money.
Specifically, peer to peer loaning – and it's a bit more sophisticated than a fiver from your mate down the pub for the next round!
In New Zealand a peer-to-peer moneylender called Harmoney has just launched with a $100M pool of lending capital. The aim is to compete with traditional banks for personal loans and investments.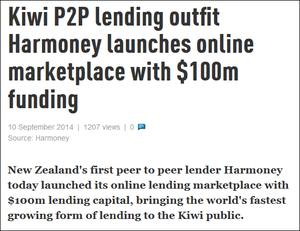 The article from finextra.com says that internationally, peer to peer lending is an established form of investment, currently growing at more than 200% per annum.
It says these types of loans are an increasingly popular form of crowd funding that is changing the way that people borrow and invest. In the United Kingdom, the UK Government is the largest funder of P2P loans.
Who knows, maybe QNA has P2P investments on its radar? Anything is possible.
On a more familiar note for QNA investors, the peer-to-peer auto marketplace Beepi has just pulled in $60M in venture capital funding :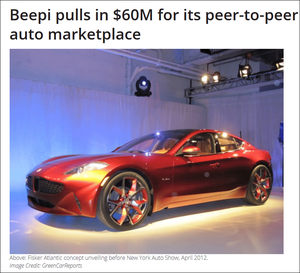 Beepi is an online site where people can sell cars and other vehicles to each other – a kind of Auto Trader for the web – however it accepts credit cards and bitcoins as forms of payment, enabling the purchase of a car to be a lot easier. It's just won some big investor support – $60M – showing how much buzz there is for collaborative consumption in the market.
QNA is well positioned in the collaborative consumption market with three businesses on the boil.
It's good to see big money being sunk into this sector – perhaps someday we could see QNA hit the headlines in this way?
Further down the road for QNA
The final months of 2014 are upon us and QNA is speeding up its plans for DriveMyCar Rentals.
Now that it's got a strategic alliance with McMillan Shakespeare Group's Interleasing division in the bag and some very encouraging sales results to boot, QNA can push forward with confidence, adding new customer management technology to the back end of the web site to make the process faster and launching a big marketing push to get more customers.
We think it will be the same story for Caramavan now that QNA has secured 100% ownership of the business. It's established already, but QNA aims to take it to the next level.
We'll be looking out for announcements on how QNA's improvement works are progressing for both of these businesses – and also keeping an eye out for any sales figures.
If the DriveMyCar Rentals figures are any indication, 2015 is shaping up to be a big year for QNA now that it has three collaborative consumption businesses in hand.
And who knows, perhaps we'll see a fourth, even a fifth one added to the team before the New Year? Here's hoping!
---