ZYB Secures Foothold in Growing US$6 Billion IoT Space
PUBLISHED: 08-04-2016 09:14 a.m.
Data security is causing more anxiety for average people and large businesses alike.
The high-tech world of apps and connectivity has attracted some unsavoury characters that have persisted in exposing the severe lack of adequate security across the entire digital landscape.
And it seems that nothing is safe anymore. PC's, tablets, corporate servers and even mobile phones are being broken into by hackers...
...and it's costing big business an arm and a leg.
Zyber Holdings Ltd (ASX:ZYB) has clearly not let this trend escape its attentions.
ZYB recently signed a deal to invest in a cutting-edge technology developed by Iota Security – a Canadian security software developer that has a former Amazon Prime developer on its books.
The acquisition gives it a key point of difference in its fight against cybercrime.
Iota Security utilises a patent-pending approach to securing devices using machine learning, which can identify new and emerging attacks against mobile devices.
Iota Security is now in talks with multiple banks in North America, South America and Asia, and has recently signed a first trial with a major bank in Asia.
Mobile security is the start for Iota Security, with a focus on preventing cybercrime in the medical and fintech industries.
However, Iota Security's architecture and product roadmap extend beyond mobile into Internet of Things (IoT) devices.
This deal could give ZYB significant new revenue opportunities and a foothold in the fledging Internet of Things security market, estimated to be grow to $28.9 Billion annually by 2020...
Remember this is still an early stage play and caution should be heeded if considering this stock for your portfolio.
For ZYB investors, the good thing about the deal is that no further cash needs to be raised by ZYB, making it a clean acquisition.
The Iota deal comes on the back of ZYB's Redcore partnership.
ZYB is in the throes of building an enterprise-secure file sharing and management solution and the partnership with Redcore should help to reduce ZYB's development time by 30%.
The bottom line is that data security gaps are growing faster than data security patches can be made to cover them...
...which means cybersecurity gaps are causing anxiety and heartache for individuals and costing businesses billons.
ZYB wants to step in to claim a share of this appalling lack of adequate security by delivering a platform that addresses the bugbear of cybercrime in one holistic solution.
With its latest potential acquisition it is well on the path to delivery.
Refreshing: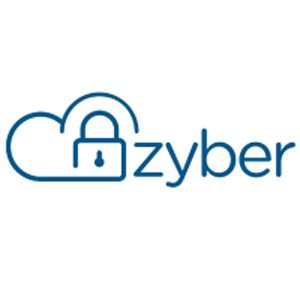 Zyber Holdings Ltd (ASX:ZYB) listed on the ASX in February this year offering secure file sharing on any device.
We first brought you ZYB late last year after tracking its reverse takeover (RTO) of Dourado Resources, as part of our article, " The $100BN+ Data Security Market is Ripe for this Cyber Duo: ASX Shell Days Away From Acquisition ".
We then published an update article a couple of months later as ZYB first appeared on the ASX.
In the article, we said: "ZYB is also exploring a number of acquisition opportunities within the cyber security niche to boost its product line, in order to get the wheels moving revenue-wise".
And: "Given the increasing focus on this space, there could well be a number of acquisition opportunities currently under review by the company".
And this is exactly what has transpired since our last update:

And if we look at why ZYB has picked Iota Security, it could well be because of this worrying trend:

Connected devices remain woefully insecure despite their meteoric growth over the past decade and the amount of devices floating around will only keep on rising.
In 2014, the global cost of Cyber Crime was estimated at $480 billion, and attackers have been focussing on the financial industry.
One recent cyber bank heist ( the Carbanak attack ) stole US$1 billion from over 100 financial institutions in 30 countries.
The mobile banking channel is also under particular attack, with mobile banking transactions exceeding branch-based transactions.
Let's take a look at how ZYB can help.
Zyber security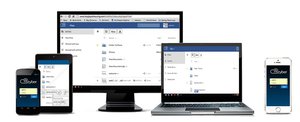 ZYB offers a security solution that transcends the current architecture of IT security, and therefore has a strong chance of reeling a healthy part of this burgeoning security market, as we'll explain later.
It has a strong veteran team that's led by a former Bank of America cryptographer and as a sign of its momentum, ZYB has just pulled trigger on a deal that sees the company have an option to acquire a firm specialising in mobile security within the Internet of Things (IoT) – Iota Security.
With mobile phone security and the IoT being one of the fastest cybersecurity niches out there, ZYB is swooping on a boutique company with a strong patent-pending IP, and an existing suite of products that slots directly into ZYB's overarching strategy.
Last but not least, ZYB's takeover target boasts former Amazon developer Dr Richard Krueger who helped developed Amazon Prime from "inception to scale".
ZYB is currently on track to roll-out a new version of its secure file sharing software imminently, and is also currently focussing on Proof of Concept endeavours with 5 different companies.
ZYB has taken yet another step towards securing a foothold in cybersecurity
With the ink barely dry on its ASX-listing, ZYB has moved quickly to initiate both product trials of its proprietary platform and is taking steps to acquire key pieces of its cybersecurity puzzle.

Iota Security Inc., is a Canadian-based security company that develops "machine-learning" solutions for mobile and IoT devices.
What's particularly different about Iota Security's approach is that it does not rely on so called 'security signatures' to detect threats – but instead leverages machine intelligence to build security products. This lets them alert their customers of threats in in near real-time.
In the current security architecture, traditional anti-virus companies publish "Virus Definitions", or signatures, that act as inoculations for 'known' threats.
Once a threat is detected, computer programmers develop a solution and distribute it to millions via automatic updates.
The only issue with that is that the threats being developed in today's fast-moving, interconnected digital world can wreak irreparable damage before any solutions have even been thought of.
Data security specialists are fighting a losing battle with hackers that have consistently shown an ability to circumvent any security put in front of them.
For more detail on polymorphic threats that will ultimately require polymorphic security measures, take a look at this article:

A new way of fighting this battle is needed, and it must be able to detect Polymorphic attacks to succeed
Security companies are too slowly coming around to the realisation that signature-based data security is simply not effective enough given today's rambunctious digital space.
Nowadays, threats are 'polymorphic' which means they're dynamic rather than linear, multi-faceted rather than simple and sophisticated rather than crude.
Straight-forward detection isn't working which is why a new weapon must be found to combat cybercrime.
Iota Security's technology facilitates a 'machine-learning', artificially intelligent architecture that doesn't wait around for a programmer halfway across the world to develop a threat signature, before it can get to work.
Iota Security's Solution is able to detect up to 94.5% of "zero-day" threats, including malware missed by other vendors. Being able to detect a threat at the first point of contact (rather than waiting for a detection signature) constitutes the crux of Iota Security's market advantage and its major unique selling point.
ZYB's potential acquisition means it can seamlessly fold Iota's technology into its own platform thereby taking its own platform to the next level.
At the same time, it should be noted that ZYB is a speculative investment – this is a small company and its early stage technology. Always consider your own personal circumstances if considering an investment, and do your own research.
Let's take a look at ZYB's Iota deal in a bit more detail
ZYB would have the option to acquire 100% Iota as part of a sliding scale so to speak.
To start with, ZYB will advance Iota Security an initial loan of $500,000, with a further $500,000 being committed subject to Iota achieving agreed commercial outcomes. The loan is convertible into Iota shares and will carry an interest rate of 8% a year.
ZYB and Iota Security will also agree to grant each other options that would result in ZYB acquiring Iota Security, if exercised, for a total consideration of $4.5 million upfront and $4.5 million in deferred consideration – all payable in escrowed shares (not cash).
If the acquisition proceeds, the shares will be issued at the lower price of $0.05 each and the 10 day VWAP for ZYB's shares immediately prior to settlement of the acquisition.
The deal bears zero capital raising requirements for ZYB and ZYB can choose to exercise its exclusive option or not, depending on due diligence and shareholder approvals.
On the upside, the deal secures ZYB's foothold in the fledging IoT market and sets the stage for significant new revenue opportunities later this year.
The IoT security niche is estimated to be worth around US$6 billion annually and growing every year as part of a broader global cybersecurity market that's forecast to grow to over US$155 billion by 2019.
In a nutshell, the deal could give ZYB a progressively staggered way into the IoT security market and adds another spoke to its cybersecurity suite all in one go.
With the deal announced and the formalities now underway, let's take a look at what Iota Security's developers have designed – and what ZYB plan to be commercialising later this year.
Iota Security reviewed
Iota Security's growing suite of mobile and IoT security products is highly complementary to ZYB's secure file sharing solutions because they are both working towards the same goal: strong security for all devices including encryption, threat detection and file sharing security.
And as we have mentioned earlier, this potential acquisition provides further tools for ZYB to enter the fledging IoT security sector, which is estimated to grow to $28.9 billion annually by 2020.
Iota Security's detection capabilities have already been successfully tested by potential customers, and Iota Security is currently in discussions with multiple banks in North America, South America and Asia.
The company is working towards fully completing its product architecture by the end of this year, and the opportunity to be acquired by ZYB is expected to accelerate its development given the injection of funding and pending takeover.
Iota Security has a strong and seasoned management team already in place. The CEO, Yaron Vorona has global experience in electronic supply chain management, finance consulting, and energy and security policy.
Technology development is led by Dr. Richard Krueger, Chief Software Architect, who was a part of the core Amazon engineering team that built the popular Amazon Prime offerings from inception to scale.
Iota Security's advisors are:
Mario Chiock (Security Advisor), former Chief Information Security Officer at global energy company Schlumberger;
Ofer Shai (Data Science Avisor), currently Chief Science Officer at Meta and former data science lead at Kontagent (acquired by Upsight) and Kobo (acquired by Rakutan), and;
Bohdan Zabawskyj (Venture Advisor), currently CTO at Mercatus Technology and former CTO at Rypple (acquired by Salesforce).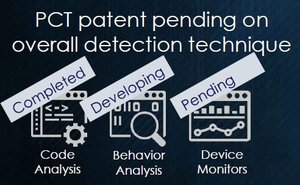 Iota Security has a PCT patent filing and intends on filing full patents in strategic international markets.
The code analysis portion of its architecture has already been used by global financial institutions, and it has begun the next stages of its development roadmap, including behavioural analysis and device monitoring.
The cash injection from ZYB is expected to shepherd this development through to completion with ZYB reaping the rewards later in the year, if all goes to plan.
In terms of seeing the deal's big picture, here's what Iota CEO Yaron Vorona said:
"There are strong strategic reasons for Zyber and Iota Security to join forces. Our highly complementary cybersecurity technologies allow us to effectively address massive market opportunities. Together, we can create a group with significant intellectual property and growth potential, whilst leveraging significant synergies between the companies."
One other partnership worth noting, is the one ZYB formed with Redcore...
Redcore is one of Australia's most highly respected cyber security companies specialising in cryptography, identity management and cloud managed services.
ZYB is in the throes of building an enterprise-secure file sharing and management solution and the partnership with Redcore should help to reduce ZYB's development time by 30%.
This constitutes yet another additional layer to ZYB's offering.
Let's run through what ZYB is developing, and where it ties into the broader cyber security market
Here's a quick recap of ZYB's four pillar business model: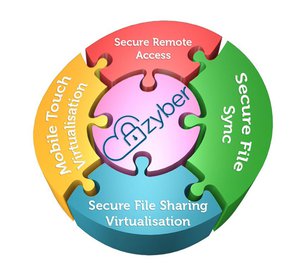 Each element serves as an integral puzzle piece for ZYB, to create the following end-product:
Provide 'military grade' 256bit symmetric encryption as a baseline for protecting confidential data (a bit like offering bullet proof panels as standard on every new car sold);
ZYB's technology allows users to view, edit and share data even using devices that are 'unsecure' but still manage to preserve security and privacy;
Computers that are riddled with viruses, key loggers and malware are able to access sensitive data without compromising it (that's like going for a swim and not getting wet)
Users can use fully featured PC software from their mobile phones including Windows and MacOS operating systems (the same as being able to watch Blu-ray discs on your DVD player).
ZYB's product superiority is gradually seeing the light of day compared to its peers, and as the company nears its final product, its unique-selling points (USPs) are already visible.
First, here's the lay of the land for ZYB in the consumer market: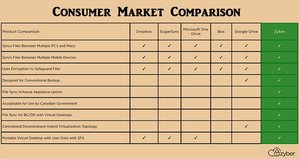 And here's the same peer comparison amongst corporates: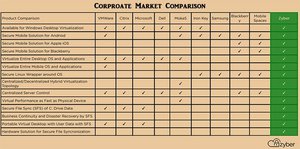 ZYB's superiority in several key aspects could mean ZYB develops a best-of-breed solution that caters for both corporates and consumers.
ZYB is still working towards a final holistic product, which is where field-testing its product really comes in handy.
Proof of concept trials
While Iota Security is progressing its mobile IoT technology, and Redcore works on building ZYB's file-sharing product...
...ZYB's very own IP is already being field tested by several large corporate clients.
ZYB is beginning Proof of Concept trials with Government, Retail, Telecommunications, Energy and Healthcare clients to provide real world analysis of how well its security solutions hold up to existing threats.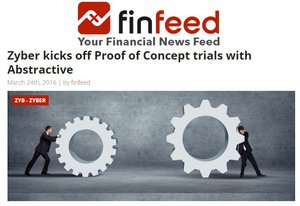 ZYB is currently field-testing its platform with four large Canadian companies, still undisclosed for commercial reasons.
But one name that ZYB has revealed is Abstractive.
As part of the trials, ZYB will provide Abstractive with a straightforward and secure way of collating data from dozens of peripheral sources for storage at a centralized hub.
ZYB's secure file storage platform will work alongside Abstractive's existing applications to evaluate its effectiveness.
What Abstractive is looking for, is to be able to collect data from multiple sources and securely collate it within an encrypted working environment.
Abstractive's clients within both the commercial and government sectors also require data to be securely transported and stored.
This is what ZYB is demonstrating as you read this, by providing Abstractive with a secure and seamless way to transfer data from distributed locations to a central hub, with a possible commercial deal in the offing.
Details regarding the success of these trials are likely to trickle through over the coming weeks and months...
...and could serve as price catalysts if ZYB's platform proves its mettle out in the field.
Of course this is speculation at present – there is simply no guarantee price catalysts will eventuate, and professional advice should be sought if considering ZYB as an investment option.
A growing ZYB team
ZYB wants to take the cybersecurity world by storm with its progressive security solution, but in order to do that a strong Management team with proven expertise is essential.
ZYB CEO Clay Epstein carries significant clout in corporate security circles, having served as the VP and Technical Manager at Bank of America responsible for the bank's global Public Key infrastructure and Cryptography Engineering group.
He was also Head of E-commerce Technologies for ANZ, helping one of Australia's largest banks secure its web infrastructure, internet banking and payment processing systems.
Following the proposed acquisition of Iota Security, yet another big hitter could join the ZYB fold.
Dr. Richard Krueger is Iota Security's Co-Founder and Chief Software Architect with a rather significant claim to fame.
As we indicated earlier, Mr. Krueger worked on Amazon's Prime service from 'inception to scale' since 2008 and will be a key element in ZYB fulfilling its long-term plans.
The Revenue Model
ZYB's revenue model is targeting businesses with around 50,000 employees that will typically pay $2MN-$4MN in up-front fees followed by 30% ($1MN) per year in maintenance and working fees for ZYB.
If ZYB's Proof of Concept trials prove to be successful, ZYB could be striking such deals with each one of its early adopters.
What do the analysts think?
A recent equity research by APP Securities analyst Russell Wright suggests this ZYB security play may have some upside in the coming months. Mr Wright has put a $0.105 price target on ZYB – that's more than a 300% premium to the current price of $0.026:

This analysis is of course subjective and the price target is no guarantee of eventuating. ZYB remains a speculative, small-cap stock and investors should therefore exercise caution.
Security has a new interface
ZYB has taken all the necessary steps to establish an ASX-presence and provide a solution to the ongoing security gaps catching out consumers and corporations alike.
Product trails are underway while ZYB plucks and installs the necessary parts of its overarching strategy such as the proposed acquisition of Iota Security and partnership with Redcore.
ZYB is on schedule to develop a commercial version of its secure file sharing software later this quarter which could see its Proof of Concept trials turn into rock-solid commercial agreements later in the year.
There are still several aspects yet to be decided, but if ZYB's tech solution satisfies the handful of large corporate customers it's currently working with, it would validate ZYB's technology and could be the beginning of its revenue-generating future.
The future of technology and our data-centric world is all about cyber security and $9MN-capped ZYB represents a bargain-basement entry into one of the most gargantuan markets we will ever see, created by the exponential growth in connectivity and digital device adoption.
---