ZipT App Now Available in Key Markets – Exponential Growth Imminent?
PUBLISHED: 22-12-2014 09:32 a.m.
Today, Monday December 22 nd , marks the launch of the ZipT app.
Ziptel (ASX:ZIP)'s pilot roll out of its ZipT app – a mobile app that allows users to SMS and make international calls for free, App to App, or at low cost to any landline or mobile globally, has begun.
ZIP have just released a promotional video to support the drive for customers across the globe:
ZipT compresses the data signal so the connection is crystal clear no matter what – and ZIP is using the app to target a big slice of the $1.7 trillion global telecoms market.
Just in time for the holidays, ZIP will roll out ZipT's pilot phase in its key target markets – India, Brazil, Mexico, the US and the UK – focussing on the Android market within each nation.
The original plan for the pilot phase was to acquire 50,000 users in these strategic markets using advertising, promotions and low cost downloads, then use that base of people to grow ZipT's network into the millions.
But internal testing by ZIP has found 50,000 was too low – so it's upped the ante and set a target of 130,000 users to be acquired for ZipT in the pilot phase beginning today.
This appears to be a sign of confidence from the company – upping the stakes and making the pilot version available to 130,000 users seems to indicate they are optimistic about user uptake and are accelerating the app's roll out across the globe.
This is a targeted launch strategy, designed to rapidly grow the user base while also ironing out any issues before a full public launch later in 2015.
Phase one of ZipT's pilot roll out will target users in India and aims to acquire 80,000 people through ZIP's distribution agreement with AirLoyal, an Indian mobile advertiser that can capture millions of users , and through ZIP's promotion partnership with Mpire Media, a top notch Australian advertising group that will promote ZipT through the Google Play store.
Phase two of ZipT's pilot will begin in mid January 2015 and will see the app promoted by Mpire in the US, UK, Brazil and Mexico, and will see another 50,000 users added to the pool.
After that, it will be all systems go for ZipT.
ZIP expects the user base will grow exponentially from the 130,000 it is now working to establish.
ZIP has a fighting fund of $3.6M set aside to acquire the first 5.6 million users of ZipT.
Post its recent capital raising, ZIP had over $8m in cash which gives them more firepower to push the ZipT app even harder.
The six-month target is one million users, then scalable targets rising to 10 million and then up to 50 million users in the first year of operation.
The user interface has been thoroughly tested and is ready for the pilot phase of the global roll out.
Years of development and hard work have come down to one date – today, December 22 nd – and as ZIP investors ourselves, we're treating this as ZIP's early Christmas present!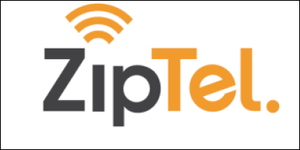 We first called up ZIP in October 2014 when we released this article – $1.7 Trillion Telco Market: ASX Tech Company Weeks Away From Global App Launch . It covers the company's products and plans in great detail and is a good place to start.
But now that the pilot launch of ZipT has begun, let's catch up quickly with what ZIP is doing.
First things first, this video offers a perfect explanation of what ZipT does :
The ZipT app encrypts and compresses the data of every call it makes into as little as eight kilobytes per second (kps), far lower than the minimum of 50kps needed by services like Skype – a company which was bought for $8.5BN by Microsoft in 2011...
So... reckon ZipT could be next?
This very low compression allows ZipT to send clear voice signal over any phone or internet connection, even in a low bandwidth environment, meaning users in a 2G network can call a person in a 4G network and vice versa with no loss of voice quality.
ZipT does all of this while using up to 80% less data than rival services like Skype and Viber.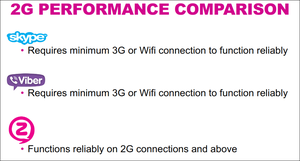 Source: Ziptel
Global telecoms are worth $1.7 trillion and ZIP could scoop up customers everywhere – starting from today.
ZipT can target the 1.9 billion people around the world still using 2G phones and internet networks, as well as more advanced nations with 3G and 4G networks.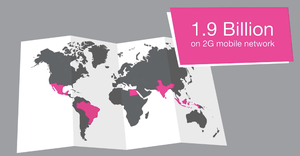 This is why ZipT is being launched in the pilot phase to India as well as Brazil, Mexico, the USA and UK – it can cater to a mix of telecoms technologies and unite the millions of people in these markets, creating connections that were never possible before.
In this article, The Next Tech Stock is going to run you through the pilot launch of ZipT that ZIP kicked off today and show you how it will lay the foundation for the app's wider global launch and future growth.
ZipT ready for take off
ZIP's revolutionary ZipT app has been launched.
The roll out of ZipT will begin with a pilot phase targeting five strategic markets – India, Brazil, Mexico, the USA and the UK – all places with big populations that use mobiles voraciously – perfect places for building a big base of users for the ZipT app.

The plan is to acquire up to 130,000 users for the ZipT app in the pilot phase starting now.
The original plan was to snap up 50,000, but internal testing by ZIP across 2G, 3G, 4G and Wi-Fi environments produced what it calls "outstanding results" and prompted a higher target to be set – 130,000 users.
These will be acquired across two phases of the pilot for ZipT:
The Primary Pilot Phase will target users in India where ZIP has secured a distribution agreement with AirLoyal, a massive mobile advertiser whose Ladooo platform will be used to promote ZipT to the million of Indian mobile users.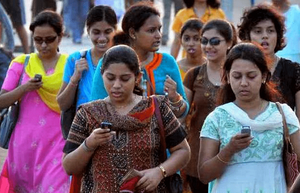 India has poor coverage of high speed internet and still has 2G phone networks – yet it's number two on the list of countries with the most mobile phone use, with an abundance of Android system users, which ZipT is optimised for along with Apple.
This combination of high mobile engagement and creaking infrastructure makes India an ideal proving ground for ZipT's technology, which allows crystal clear voice communication no matter what.
ZipT will be promoted through Ladooo, initially targeting 10,000 users who will be able to download the pilot version of ZipT over a two to three week period. ZIP will use this initial phase to analyse feedback, fix issues and measure engagement and retention.
After that, Mpire Media steps in and works to gather 70,000 users through distribution of the ZipT via the Google Play store. This phase will also measure engagement and retention and begin the organic growth strategy.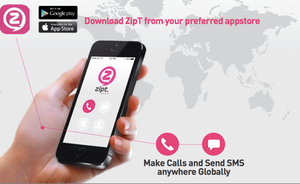 The Secondary Pilot Phase will see ZipT rolled out in Brazil, Mexico, the USA and UK beginning in the middle of January 2015.
There is significant untapped potential in these four markets for ZipT to really take off – they all have highly engaged mobile phone using populations who download apps. The USA and Brazil are 3 rd and 4 th on the list of mobile users in the world :

In the final weeks of December back in 2012 over a billion apps were downloaded in Britain and in Mexico, the latter being where the world's former richest man Carlos Slim built his fortune from telecoms...
The Android version of the ZipT app is good to go and these countries all have significant numbers of Android devices. This will be the primary target of the pilot roll out.
Marketing in the second phase of the pilot will be done by Mpire Media which aims to acquire 50,000 users across the nations.
Once the pilot phase is completed, ZIP will then move into the second and third phases of its commercialisation strategy, targeting 120 countries from early 2015.

The big goal is to get up to 50 million users in the first year of operation – and then, fingers crossed, double it, triple it, and keep going...
ZIP has a war chest of $3.6M set aside to acquire the first 5.6 million users with a six-month target of one million users, then scalable targets rising to 10 million and then up to 50 million users in the first year of operation.
But it will all start with this pilot phase that's about to begin with the first 130,000 users forming the nucleus of ZipT's success. The ZipT website even has a promotion where the first 50,000 to sign up will become founding VIP members: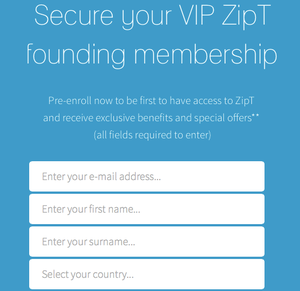 The ZipT product could be revolutionary and if it goes viral then ZIP could very well be the next billion-dollar telco... The next three months will be crucial for ZIP as it rolls out its technology.
ZipT's new look ready for launch
In the lead up to the launch of ZipT's pilot phase, the team at ZIP conducted an investor road show, travelling far and wide to demonstrate the product.
The Next Tech Stock got a look and we were impressed – and so were domestic and international institutional investors who stumped up $5M in a share placement timed to support the global launch of the ZipT app.
ZIP is now cashed up to support the global roll out of ZipT – and it's keen to show off what it's got – especially now the new user interface is ready: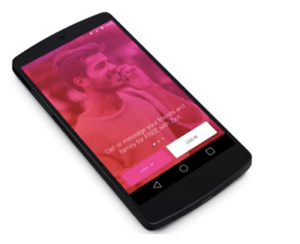 The user interface has been developed, screen trialled and tested, and ZIP says it's completely ready for today's launch.
This is crucial – without an excellent interface nothing will happen. This is like the steering wheel of a car, or the keyboard on your computer. It has to work, and work very well.
The interface ZIP has produced for ZipT is designed from the ground up to enhance the power of social networking, the very thing that will drive ZipT's growth from its pilot phase user base of 130,000 to the 50M mark and beyond.
Sharing is king in the internet and mobile world, and ZipT aims to create a seamless experience for the users as they flip between communicating on Facebook, Instagram and Twitter and then dialling up their friends or sending a message.
Remember, the ZipT app uses 80% less data than its rivals and needs just 8kps to work – that's something people will want to tell their friends about!
Here are a few key features of the ZipT user interface: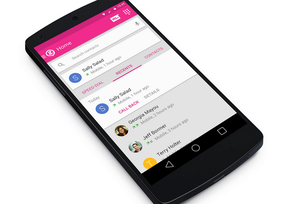 This is what the app's home screen looks like and puts all the features the user's fingertips. Redial the last call, speed dial of favourite contacts, an easy to use credit recharge zone; it's all there.
New users are greeted with an introduction to the app to show them how it works and at every step of the way the app has been designed to be shared, so a critical mass of users can be achieved quickly.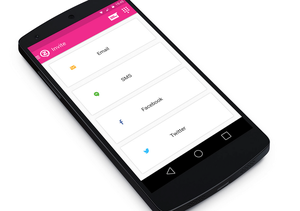 The picture above is of the ZipT invitation screen, which allows a user to recruit friends and family to the app via Facebook and Twitter.
The pilot launch beginning today will test this technology for real and the feedback that comes from it will help ZIP enhance the ZipT app as much as possible before the wider global roll out in 2015.
The interface is clean, looks good and has social media built into it as the vital component. The key to ZipT's success is sharing, and the interface ZIP has designed should allow the app to become one of the hottest bits of kit in 2015 and beyond...
A new card and a new deal for AussieSim
While ZIP prepares to launch ZipT, it's other business AussieSim has also been growing leaps and bounds.
ZIP's AussieSim offers prepaid Sim cards that replace a customer's regular mobile card whilst they travel overseas, allowing them to roam like a local. ZIP says the service can reduce fees by up to 95% through discounted rates for calls and texts.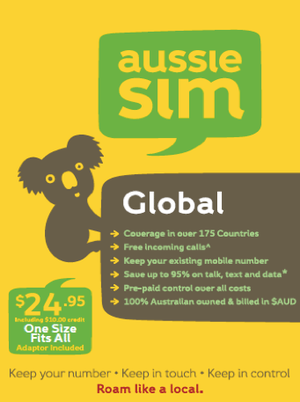 Customers who just want data can now use ZIP's new AussieSim Global DataCard , which allows customers to use a prepaid card that solely supports data-driven activities like browsing the internet and sending emails.
The global mobile data roaming market is expected to be worth $40BN by 2017 so this new product positions ZIP very well, especially now that it has an even wider commercial reach across Australia:

In a landmark agreement for ZIP, both the AussieSim and DataCard products will be sold in 7-Eleven stores across Australia with the potential to scale up to over 600 stores.
7-Eleven is a big petrol and convenience retailer with hundreds of stores across Australia – you know the ones: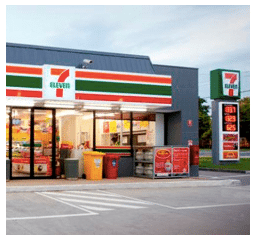 The deal began on the 1 st of December will last 18 months initially.
It will see AussieSim's products distributed and sold in 7-Eleven stores across Australia, more than tripling AussieSim's retail points of presence in one go – and fingers crossed adding to AussieSim's solid and growing revenue for ZIP:

These are great moves for ZIP – a new product and a new way to get it out to the public.
AussieSim is ZIP's existing little earner and these developments should add to its solid revenue as the ZipT app takes on the world.
Countdown to ZipT's pilot launch
So while the rest of Australia takes it easy with Christmas lunches, cricket and holidays, the team at ZIP are gearing up for the event they have worked long and hard for – the launch of the pilot phase of ZipT's global roll out.
This crucial event will see ZipT acquire 130,000 users over a two-phase pilot launch into India, Mexico, Brazil, the USA and UK.
The idea is to build up a solid base of users while also ironing out any issues before a wider global launch to 120 nations in 2015.
Upping the target number of users from 50,000 to 130,000 for the pilot phase demonstrates the company's confidence in the product.
ZIP is cashed up after a successful $5M share placement to institutional investors. Its money making AussieSim business has a new data only card product and a distribution agreement with 7-Eleven that has tripled its retail points of presence.
This is a key period for ZIP. A successful pilot roll out that sees it acquire 130,000 users will be the perfect base to launch ZipT into the wide world. We can't wait to see what happens in the coming months and will keep you up to date with all the latest news.
Christmas is coming three days early for ZIP's investors this year, due to today's ZipT pilot launch and we wish ZIP the best of luck – it's taken care of all the rest.
---