YPB Accelerate Up Take of Anti-Counterfeit Tech: Monthly Growth Rate Up 400%
PUBLISHED: 29-07-2019 09:52 a.m.
YPB Group (ASX:YPB) continues to demonstrate it is heading in the right direction, confirming today that its YPB "Connect" SaaS platform is accelerating in its growth.
YPB's Connect platform is a proprietary software platform, which is sold to customers on a monthly subscription SaaS offering that complements the use of ProtectCodesTM.
The Connect platform receives data from smartphone authentication scans and provides subscribing brands with detailed portraits of their end-consumers, including location, timing and purchasing information, significantly improving the brands' market knowledge.
These codes are sold on a per unit basis in connection with other YPB anti-counterfeit product markers and facilitate much richer consumer engagement for the company's clients.
As YPB's markers are applied to more products the usage of the Connect platform is consequently growing in tandem.
The company receives a fee for each code sold plus a monthly platform fee for use of the Connect platform – so the higher the volume the better.
Consequently, the rapid acceleration in uptake of YPB's product codes is good news.
Think about this: It took two years for YPB to get to 75 million ProtectCodesTM sold. It has taken just two months to increase that to 100 million.
Companies that can attract recurring revenue via a globally scalable SaaS technology platform attract the highest valuation multiples – and that's why this growth rate is going to be one to look out for in the future for YPB.
Especially as it gains a foothold in industries that are large (in the case of pharmaceuticals) and rapidly growing (in the case of cannabis).
YPB's current market cap is less than $8 million – however the rapid uptake of its ProtectCodesTM, as well as the moves it is making in the cannabis space, point to huge upside potential. Add to this equation, the fact there are very few players globally in the Anti Counterfeit space and YPB is definitely a stock to watch.
So let's dig a bit deeper into YPB's latest potentially market moving news.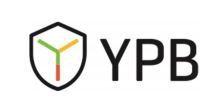 YPB Group Limited
ASX:YPB
Share price: 0.008 cents (at 29 July pre market open)
Market capitalisation: $7.34 million
YPB Group's investment case: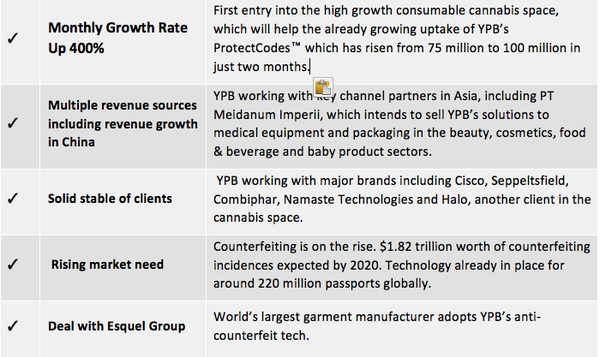 4 x Growth in Adoption of ProtectCodesTM
Back in May, when YPB announced that it had reached 75 Million "ProtectCodesTM" issued in approximately 24 months from the launch of Connect, it was seen as a major move forward.
CEO John Houston had come back into the company, reinvigorated interest in its products, significantly trimmed overheads especially salaries and YPB was considered to be moving north, with a fair bit of wind at its sails.
That tail wind has picked up considerably since that announcement, with YPB adding an extra 25 million issued codes in just two months.
In the past two months, YPB's cannabis and Pharma customers (predominantly) have accelerated the uptake to 100 million, with over 29 million codes being issued in the past 60 days.
That is a monthly growth rate over four times higher.
This acceleration in update demonstrates the significant momentum YPB's technology is having with its customers.
YPB Group CEO John Houston said of the milestone: "We were delighted when YPB reached the 75 million codes issued milestone in May 2019, and now more so that we have exceeded 100 million codes issued.
"This uptake of ProtectCodesTM and Connect completely validates the time and investment into our Connect SaaS platform, validates the rapidly growing need for Product authentication and when Motif Micro is released commercially will perfectly complement that revolutionary product".
As mentioned above, YPB's Connect platform is a proprietary software platform, which is sold to customers on a monthly subscription SaaS offering that complements the use of ProtectCodesTM.
The Connect platform receives data from consumer scans, provides subscribing brands with detailed information and reports on their end-consumer behaviours including the location, timing and other purchasing information that significantly adds to their market knowledge.
The following demo, gives you an understanding of just how the Connect Platform works:
Adoption of the platform is growing along with its determination to provide its anti-counterfeit technology to the rapidly expanding cannabis industry.
YPB's halo
It was just last week that YPB announced that it had signed its first client in the cannabis consumables space.
Cannabis is a key vertical for YPB. It already has a number of sales agreements in place to provide its product markers for cannabis products such as vaporisers and other accessories.
It is countering black market products including vapes and cartridge concentrates that have become an issue for this rapidly growing industry. Almost all major vaporiser brands have counterfeit versions in the market.
YBP provide an industry-wide authentication and consumer engagement solution called "Cannabis Confirmed" which seeks to stamp out fakes by enabling cannabis brand customers to confirm the authenticity of their product after purchasing online by scanning a unique serialised QR code — a ProtectCodesTM — on the product packaging.
Last week's agreement with Halo Labs Inc., a cannabis grower and processor listed on several exchanges, primarily on Canada's NEO exchange under the ticker NEO:HAL, will see YPB provide Halo with its authentication solutions and YPB Connect consumer engagement platform.
Revenue will be two-pronged:
- Authentication tracer and labels will be charged on a per unit volume basis; and
- Connect consumer engagement technology will be provided on a SaaS basis and charged monthly over the life of the contract.
Halo will deploy YPB's technology on both its delivery systems and consumables products, from late Q3 2019.
It these types of agreements that have been behind YPB's recent product acceleration.
Looking forward
Considering the increasingly rapid uptake of ProtectCodesTM and the Connect platform, the future is starting to look quite bright for YPB.
There is plenty of news in the pipeline as well.
Remember the Halo deal is the second major partnership this year in the legal cannabis industry, which the Barclays European Consumer Staples Report from September 2018 estimated to be worth US$150 billion (A$213.8B), potentially doubling to US$272 billion by 2028.
Those two partnerships alone, the other with Namaste, will go a long way to improving revenues and provide plenty of catalysts in the foreseeable future.
YPB is no doubt eyeing off other deals in the cannabis space, as well as looking at partnerships in the broader beverage market to complement its deal with Australian wine giant Seppeltsfield.
Meanwhile we can expect to see the roll out of Motif Micro, when it adds curved-surface readability to smartphones using the Motif Micro app. This is also expected to have a positive impact on revenues due to the pent up demand for a smartphone readable Product Authentication solution.
The back half of 2019 is looking strong as YPB gains a foothold in the consumables market and we look forward to seeing what comes next.
For a more detailed account for the Halo deal, read our previous article: YPB Continues Push into Multi-Billion Dollar Cannabis Industry
And for a broader understanding of YPB's entire offering to combat anti-counterfeit read: YPB Continues Push into Multi-Billion Dollar Cannabis Industry.
---