WHK Delivers Timely Solution to Growing Cybersecurity Threats
PUBLISHED: 28-02-2018 09:00 a.m.
Cybercrime and fraud have the potential to utterly destroy a small business. In fact, six out of ten small businesses close after a security breach.
And the threats are only becoming more widespread. Until around 2013 — that's just five years ago — cyber crime overwhelmingly targeted the financial and government sectors. But with evolving technology and new threats, cyber crime has spread across all business sectors, including ill-prepared small and medium sized business.
The cost of fraud or data breaches puts the survival of such businesses at risk — a problem that stems from small and medium sized businesses being unprepared to deal with such threats.
Even those that are aware of the dangers and are prepared to take preventative action are often woefully under prepared to protect themselves. Without an extensive knowledge of cybersecurity and the solutions available, a company will struggle to decide on how to best protect its business, customers and business partners.
This is where WhiteHawk (ASX:WHK) step in.
Providing the world's first online security exchange, WHK advises on cybercrime and fraud prevention. It has created an online,business-to-business (B2B) marketplace — think Amazon — to match small and mid-sized companies with cyber security providers targeted to their individual needs and risk profile.
WHK's marketplace drastically simplifies cybersecurity decision making. It brings together a multitude of cybersecurity solution providers to help businesses identify and purchase those most appropriate for their individual circumstances.
This online marketplace not only matches companies with specific tools, services and best practices, it helps them understand risks, gaps and trends regarding cybercrime, fraud prevention and mitigation, whilst linking them instantly with a Cyber Advisor.
WHK uses machine learning and cyber know-how to help customers better understand their needs, receive immediate online matches to top solutions with affordable vendor products and services.
The benefit to customers is WHK's platform lets them quickly assess risk, prioritise need,matched to affordable and effective options that can be implemented.
Led by a highly experienced team of former US government and Federal Industry cyber and global risk experts in the Dulles Tech Corridor in the US capital of Washington DC, WHK already has over 200 cybersecurity solution vendors on its books.
It continues to partner with major companies to bring customers to its cyber exchange and has lead generation contracts with more than 50 cybersecurity companies. WHK has also worked with the US Department of Homeland Security and the US Department of Energy.
However, it should be noted that WHK is still an early stage play and investors should seek professional financial advice if considering this stock for their portfolio.
Cyber security is a rapidly growing industry, driven by an unavoidable need for businesses to protect themselves. That sounds like an industry worth investing in, and it's all available to investors right here on the ASX. Even if WHK tap just a small portion of the global cybersecurity market via its online exchange and scalable business model, it could prove to be a wise decision for investors.
All the latest from,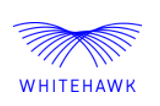 WhiteHawk (ASX:WHK) is creating the first global online cybersecurity exchange to assist small and medium businesses in managing cybersecurity threats.
And it's arrived at just the right time. A massive 81% of businesses have suffered a cyber-attack in the past 12 month, while 22% of business have had to cease operations due to ransomware.
WHK helps small and medium sized businesses find appropriate solutions to manage these threats. It has created an online exchange of cybersecurity service providers along with a patented algorithm that matches companies to their most suited providers. Its B2B digital cybersecurity exchange is the first of its kind, and it holds strong potential for market domination.
We introduced you to WHK back in January — on the day it listed on the ASX — with the article, Crack Team of Cybersecurity ExpertsBuilding the Amazon of Cybersecurity. WHK had just raised $4.5 million within 24 hours.
The listing was covered by finfeed.com: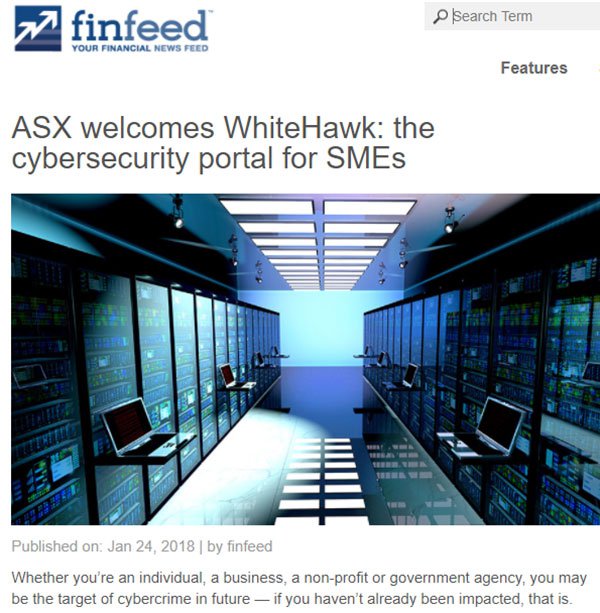 Selecting the appropriate cybersecurity solution can be overwhelming — even for those immersed in the sector. And there are few who are more familiar with the cybersecurity space than WHK founder and CEO, Terry Roberts.
Roberts has over 30 years of experience as a US national security and cyber intelligence professional including as a US Naval Intelligence Officer, a Department of Defence Senior Executive and as a Cyber Engineering, Architecture and Analytics industry executive.
As Deputy of US Naval Intelligence, she managed more than 20,000 intelligence and information warfare military and civilian professionals as well as resources, technologies and programs valued in the order of US$5 billion.
Roberts was also an Executive Director of Carnegie Mellon Software Engineering Institute. There she led the technical body of work for the entire US Interagency, with a focus on leveraging and capabilities, and establishing the Emerging Technologies Centre and Cyber Intelligence Consortium.
Here you can hear Roberts discuss cybercrime with former Director of the CIA, Michael Morell: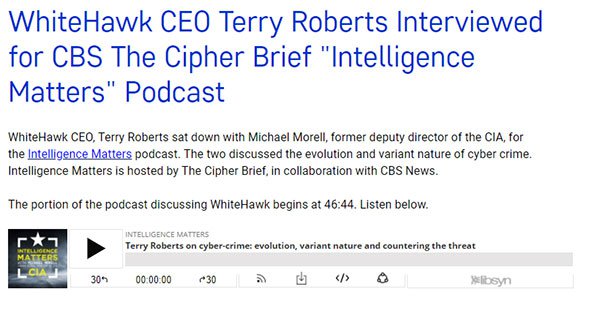 Even with such an impressive background, Roberts realised that if she had trouble sorting through and making sense of the multitude of cybersecurity providers and solutions on the market, then business owners would certainly find it overwhelming.
From that realisation, WhiteHawk was born.
Roberts created WhiteHawk in 2014 to help companies that were struggling to pick the appropriate cyber security provider and services and 'to empower a fearless internet'.
Today, WHK's cybersecurity marketplace offers online access to tailored learning, smart buying and connections to the best products, services,insights and trends industry wide. It's a machine learning, scalable online approach to matching customers to effective and affordable cybersecurity solutions.
It does, however, remain a speculative stock at this stage and investors should still take a cautious approach to any investment decision made with regard to this stock.
The company has extensive expertise and partnerships in machine learning and data analytics, cyber market management, strategy and brand awareness.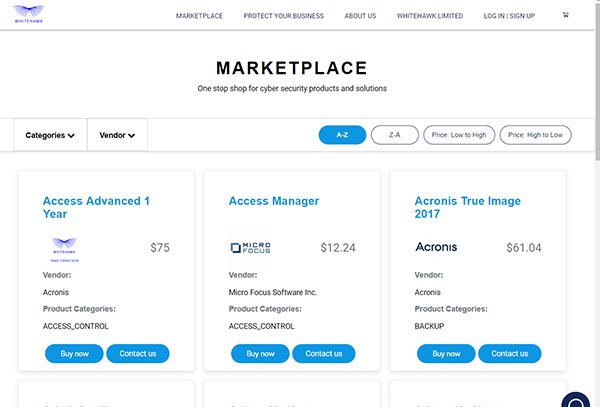 Cybersecurity: increasingly importantfor small business
The infographic below highlights the rising need for cyber security solutions for small businesses: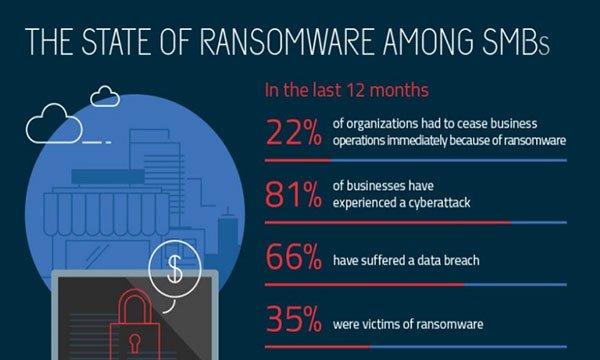 These statistics suggest cybercrime and data breaches are extremely widespread and detrimental to small and medium sized businesses.
Along with growing need, there's also growing awareness amongst small and medium sized businesses of the importance of having adequate cybersecurity solutions. However, as you can read in the article below, many bosses, especially baby boomers, don't have an adequate understanding or appreciation of the risks that they face.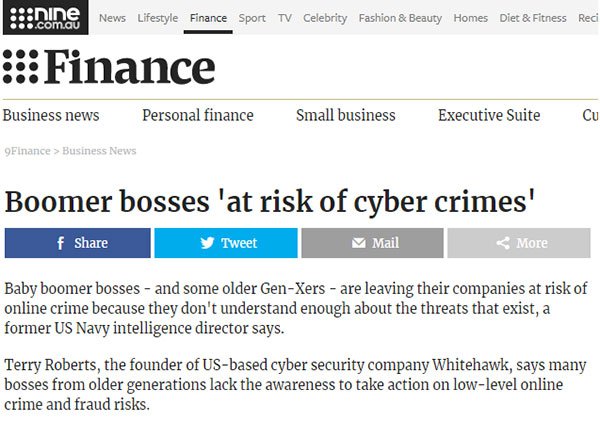 Roberts highlighted that many bosses lack the awareness to takeaction.
She found that too often companies implement protective measures that have little or no effect, when they should be focusing on a single and effective measure that can protect assets from threats that might directly impact revenue and reputation.
Here's CEO and founder Terry Roberts discussing cyber threats with CybersecurityTV.net.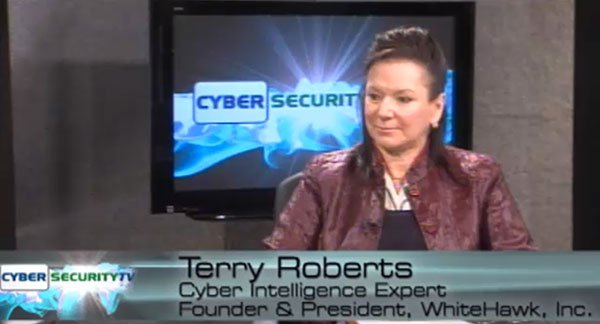 WHK builds on its impressive cyber team
WHK identified in its prospectus that hiring top technical talent was a key objective.
Since listing WHK has followed through hiring further cyber talent and promoting Antonio Crespo as Chief Information Officer.
Crespo is a career cybersecurity consultant to Fortune 500 companies with a background in cyber engineering and technical management. He joined WHK in 2017 as the company's Director of Product Development and Services. He has expertise in security threat analysis and security product engineering, having gained prior experience at Computer Sciences Corporation and Security Risk Advisors.
As CIO, Crespo will oversee the management and delivery of all customer facing WHK services, product lines, and business operations.
Soo Kim joins WHK as Director of Product Development from Accenture Federal Services. She brings more than 20 years' experience in software engineering and technology strategy, having held senior positions at Accenture Federal Services, HP Enterprise Services, and TASC Inc.
At WHK, Kim will lead the daily development, testing and advancement of the CyberPath Solution Engine and all data analytics efforts, to include the continuous improvement of the WHK online ecosystem.
Jason Beach has also joined the team as Senior Data Scientist,bringing recent data analytics and solution development experience from supporting customers such as Microsoft Corp, North Western Mutual Insurance,and US Departments of Treasury and Defense.
WHK also announced the promotion of Israel Villanueva, previously a WHK sales partner, who now joins as the Solutions Architect.
Villanueva will work with and manage all cyber security vendors,and focus on how to tailor, market, price and deliver top products and services. He has over 12 years of VP and Account Executive experience in the marketing and sales of software and technology.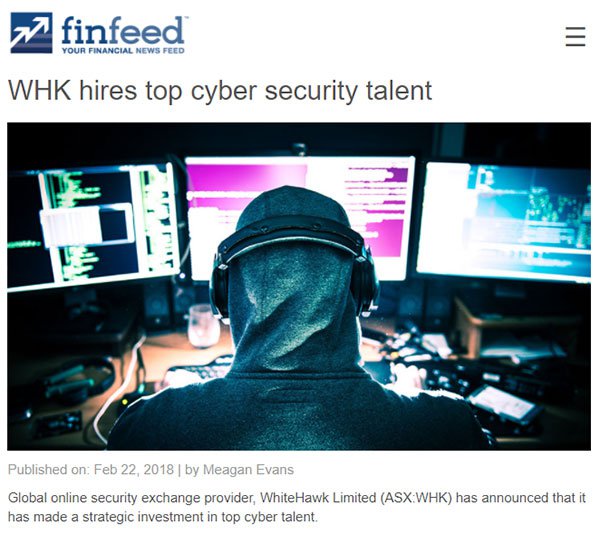 These additions position WHK to start executing on its robust development plan which could, in turn, create maximise value for shareholders in the long term.
Along with Roberts, Crespo, and the new hires mentioned above,WHK's Technical Director Luis Cruz-Rivera comes with an impressive resume. Cruz-Rivera has over ten years' experience as a serial entrepreneur and has been an innovator and technical visionary across the US government and commercial sectors.
WHK offers much needed solution
Cybercrime is a real and growing threat to businesses of all sizes,while the financial and operational impact on businesses is becoming more substantial with the average cost of a cyber-attack reaching $6 million in 2016.
Small and medium sized businesses are increasingly recognising the absolute importance of having adequate and appropriate cybersecurity solutions to prevent from losses. There's no doubt that this bodes well for WHK and its shareholders.
Of course how much of the market WHK could pick up remains to be seen, so investors should take all publicly available information into account before taking a cautious approach to their investment decision.
As an online marketplace, WHK shareholders get investment exposure to the growth of the wider cybersecurity market — not just the fortunes of a single cybersecurity provider.
And not to forget, WHK is already generating revenues via its advisory services, including contracts with government organisations. This makes it standout from other small caps that often take years to see any income.
Having recently made a strategic investment in further top cybertalent, WHK has all the pieces in place to globally scale and is primed to capitalise on its patented technology and market leading position as the only marketplace for cybersecurity solutions.
---