UTR Signs Deal with $100M USD NASDAQ Company to Fast Track Battery Solution
PUBLISHED: 03-08-2017 10:12 a.m.
There's no doubt that the market for rechargable batteries is taking off. The lithium-ion battery market is worth $32 billion today and is predicted to rise to US$140 billion within ten years.
But to capitalise on this rapidly growing market, battery manufacturers need to overcome a number of challenges. Namely, the specific problem areas are slow charging times, limited lifespans, high costs and safety issues.
It's no secret that solving customer problems is key to the success commercialisation of a business' products or services.
With a technology that could improve battery safety, significantly increase battery life, keep costs down and create a super-fast charging environment, $13 million-capped UltraCharge's (ASX: UTR) technology could be in high demand from battery manufacturers seeking solutions.
UTR is on the path to commercialising its world class lithium ion battery using nanofiber materials and expects to have mass production capabilities within 24 months or sooner.
It was just over a month ago, in June, that we introduced you to UltraCharge and its technology to technology that can greatly improve existing rechargable batteries.
At the time, UTR had just signed its first Memorandum of Understanding with one of the world's leading fully integrated battery storage providers — Swiss battery storage supplier, Leclanche SA.
Together with Leclanche, UTR will collaborate on a pilot project to test and evaluate its technology, ultimately seeking a cost competitive and large scale manufacture of a high-cycling, fast charging and high energy density battery aimed at the electric vehicle (EV) market.
And now UTR has agreed to another major partnership that could propel and fastrack the uptake of its technology. The agreement with a NASDAQ-listed company provides UTR with the option to purchase 100% of the company's new battery intellectual property (IP) portfolio, plus gives UTR access to world class research facilities, resources and personnel.
Of course it is early stage of this partnership and interested investors should seek professional financial advice if considering this stock for their portfolio.
Get on board the energy storage revolution
Growing at more than 18% per year, the lithium-ion battery market holds huge opportunities. We all know about the use of rechargeable batteries in electric vehicles and our smartphones and tablets, but there are plenty more applications for this revolutionary technology.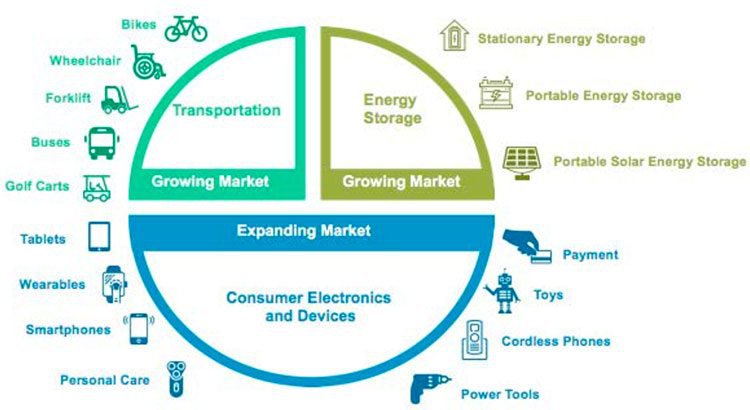 One problem is that current battery technology needs to be improved before the real potential of lithium-ion batteries can be revealed.
But first the specific market barriers faced by battery manufacturers must be overcome:
Slow Charging — it currently takes two hours to fully charge a Smartphone.
Limited Lifetime — today's batteries have 500-1000 recharge cycles, or two to three years of typical usage.
Safety and Transportation Restrictions — batteries are vulnerable to leakage, fire hazards and can create unsafe environments.
All the latest from...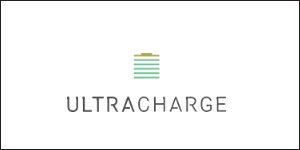 Ultracharge Limited

The Israel-based battery technology company, UltraCharge Limited (ASX:UTR), has the potential to revolutionise the market for lithium batteries — producing a battery with enhanced safety, a longer lifespan, fast charging, and is cost efficient.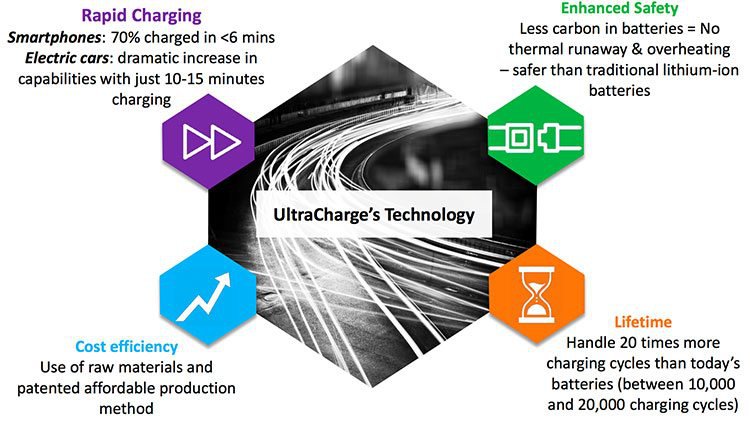 With a market cap of just $12.9 million and a 2.2 cent share price, UTR has plenty of upside potential as it continues the development and rollout of its world class technology and seeks opportunities in the wider rechargeable battery space.
However, the stock does remain speculative and investors should take a cautious approach to any investment decision with regard to this stock.
UTR acquires exclusive licence agreement to boost research
In a deal that allows UTR to diversify its product offerings in energy storage solutions, the company has acquired an exclusive licencing agreement with Epsilor Electric Fuel Limited.
Epsilor Electric Fuel is a subsidiary of NASDAQ-listed — and US$100M-capped — Arotech Corporation's (NASDAQ: ARTX) power sources division. Epsilor is a world leader in the development and production of custom portable and mobile power systems for the military, medical, aerospace, industrial and EV markets.
Its expertise lies in its battery cell selection primary and rechargeable battery pack design, assembly and electronic circuitry; battery charging systems and smart charging electronics.
You can learn more about Epsilor here: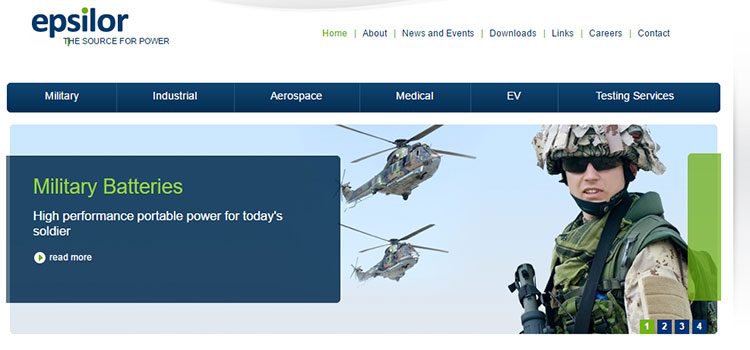 The agreement positions UTR to expand its energy storage portfolio and fast track its current research programmes in developing a world class nanotube anode for lithium batteries using titanium dioxide, as a replacement for graphite lithium.
It gives UTR the option to expand its intellectual property portfolio by acquiring 100% of all right and title in Epilsor's intellectual property.
UTR can either:
Buy the royalty payments for A$200,000 cash, or issue a minimum five million UTR shares within the first 24 months, which are valued at no less than A$250,000 when issued.
Buy the royalty payments for A$350,000 cash, or issue a minimum eight million UTR shares within the first 24 months, which are valued at no less than A$400,000 when issued.
If UTR decides not to buy the IP outright, it will pay Epsilor a 2.5% future royalty on the technology application's gross sales.
How does the tech work
UTR's breakthrough technology improves lithium ion batteries unlike any other. It involves replacing the standard graphite used for the anode in lithium batteries with a nanotube gel material made from titanium dioxide, as a replacement for graphite lithium.

Titanium dioxide (TiO2) is an abundant, cheap and safe material commonly used as a food additive and as a key ingredient in sunscreen lotions as it absorbs harmful ultraviolet rays.
It is naturally found in spherical shape, but UTR has patented a unique, but simple method to turn titanium dioxide particles into long (micronised) nanotubes.
This nanotube material has significant benefits over current anode materials, including lower cost, higher density, safer, faster charging, and with a longer life. It's research focus going forward remains on the efficient production of nanotube material and increasing the density capacity of the materials, which determines battery size.
This technology enhances the most critical of a battery's features, bringing significant improvements to safety, battery lifespan, and charging time. And it gives reason to believe that UTR could be poised to take the lion's share of a growing, young market.
UTR gains access to world class research facilities, resources and personnel
UTR also has an agreement with Epsilor covering the lease of Epsilor's research facilities, hire of specialised equipment and an expanded research team with additional resources.
UTR will take up a sub-lease of Epsilor's facilities and hire of equipment at the Beit Shemesh Facility in Israel for 12 months, with extension options of two 12-month periods. The agreement provides the above at the reduced cost of US$149,000 per year.
That includes resourcing the facility with specialised equipment and highly experienced research team in the field of energy storage and the commercialisation of such technologies.
Looking into the future
The global market for fast, reliable and safe energy storage solutions is growing as battery manufacturers seek technological solutions.
UTR is taking the right step to serve this growing market with deals like the one it made earlier this year with Swiss battery energy storage supplier, Leclanché SA , to develop a battery that meet the needs of electric vehicles.
How much of the market UTR can attract remains to be seen and investors should take all publicly available information into account before making an investment decision.
Now that UTR is armed with this new licence agreement over Epsilor's IP, doors have opened for it to develop its world class lithium battery using nanofiber materials, fast track the delivery of its current research programmes, and diversify its energy storage solution product offerings.
---