This is Solar Energy: But Not as You Know It
PUBLISHED: 15-10-2015 09:56 a.m.
Is this the new dawn for solar energy?
With predictions of rapid growth in the solar industry over the coming years – estimated to grow from $13.9BN up to $22.8BN by the end of 2018 – it's time we took a closer look at one ASX listed technology company at the forefront of advancing the entire industry.
It's all down to this company's next generation solar energy technology – which if successfully commercialised, could be incorporated into any surface exposed to the sun.
Imagine that?
Any building could soon be a source of energy through an ultra-thin, hyper efficient layer of solar energy cells covering its roofs and walls
Abundant, cheap, clean energy for humankind is the prize here... and this ASX listed company is gearing up to hit the market with this new technology over the coming years.
Before we delve too deep into this company's story, readers should be advised that investing in speculative stocks like this company does carry risk, and professional advice should be sought before making an investment.
To understand the magnitude of the solar energy paradigm shift this company is at the forefront of, you need to understand what most solar panels are made of today.
For decades, silicon solar cells have been the industry standard, and their efficiency has increased in leaps and bounds as scientists made new technology breakthroughs...
Until very recently. The music has stopped for silicon solar cells.
Lately silicon solar cell efficiency has been hitting a ceiling of 25% for mono-crystalline, laboratory efficiencies. Industrial efficiencies are actually lower still, in the 10% – 15% range.
This lack of efficiency has hampered a widespread and complete uptake of solar as a clean energy source.
What's more, as the silicon cells are so thick, the actual solar panels tend to be large, chunky, and slapped on roofs much like this: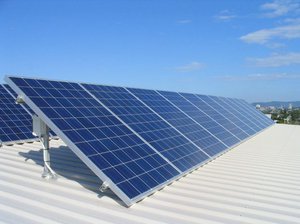 Conventional silicon solar panels – about to be overtaken?
They have done a great job up until now, but the next wave of solar panels promises to be different
Next generation solar panels are made from a special element called 'perovskite' – an abundant compound, and cheaper to make than silicon, especially as the energy content is lower.
Now, Perovskite Solar Cells are threatening to surpass silicon solar cells as the solar energy cell of choice – and are the hottest technology in solar right now.
They tick all the right boxes when it comes to effectively transforming the sun's rays into energy – a quantum leap in advancement from silicon cells.
Perovskite Solar Cells have high efficiency, low cost, are light weight, flexible – and they look much nicer too.
But the best part is – at 500 nanometres, they are a tiny fraction of the thickness of silicon solar cells – and can be incorporated into incredibly useful building materials like glass, metal and cement...
In addition, at sub 10 cent per kWh cost, they also have the compelling prospect of going head-to-head with silicon in just about any application, including wholesale utilities.
So is this the end of the silicon solar panel era?
If this company can unlock its technology commercially, cheap, clean energy will be the prize – as eventually every surface exposed to the sun could be delivering energy to society.
This is an opportunity to get in on the ground floor of a company that is playing a deft hand in modernising the world's energy mix.
Introducing: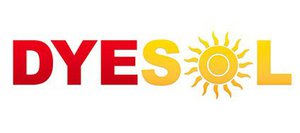 German Open Market: D5I
Dyesol (ASX:DYE, FWB: D5I) is at the forefront of commercialising the uptake of Perovskite Solar Cell (or PSC) technology.
By manufacturing and supplying PSC materials to the globe, DYE is an early mover in the next phase of solar energy industry growth – that may finally see this energy source gain widespread traction.
It should be noted that DYE survived the solar maelstrom of 2011 – 2012 when many other solar companies failed – it's a sign the company is a strong and adaptable outfit. The company is rigorously managed with strict cost budgets, and it has a clear strategy and path to commercialisation.
The ultimate goal is to apply these ultra-thin and translucent solar cells over every single building, by incorporating the cells into the building walls and roofs – this is the biggest prize for this company – and it could revolutionise how humans derive their energy.
But, before we get too ahead of ourselves, first the company is focusing on 'free standing products' – i.e. specific panels not incorporated into other materials – in order to commercially prove its technology and accelerate market entry.
This is not just an idea in a lab – $120M in Research and Development investment has been poured into DYE over the past few years, and has the backing of major universities and governments.
DYE is currently capped at $76M and has over 56 employees – so it's not a start-up tech company by any means. Cash in hand at the end of last quarter was $5.4M, and the company received an R&D tax rebate of $3.3M AUD just last week.
In the immediate term, the company plans to make cash by supplying materials, technology, and know-how in the PSC space, whilst partnering with brand leading multinationals to enter the larger global markets.
In fact, DYE already manufactures and supplies research grade PSC materials to over 600 R&D institutions, globally.
Broadly speaking, DYE is currently scaling up its potentially game changing technology in preparation for global commercialisation. Essentially, this means proving up technology stability and durability and transferring it to larger devices – the pathway from laboratory to fabrication ('lab to fab').
Such risk management practices are a stepping stone to developing a multi-billion dollar industry.
Just recently, DYE was awarded an initial $449,000 grant from the Australian Renewable Energy Agency (ARENA) to commercialise an innovative, very high efficiency solar cell – this is a strong sign of support by the Australian Government.
This milestone based, short term project is due to be completed next quarter – and will demonstrate the technology readiness of PSC for more scale up and development.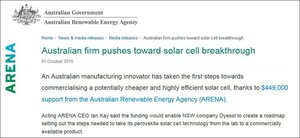 DYE has already struck strategic partnerships with other organisations across the globe, and this has facilitated its 'capital light' business model – avoiding the costs and risks of investment in end-product manufacturing facilities.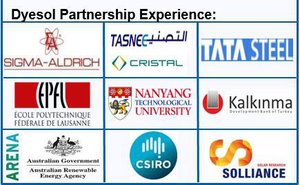 Source: Dyesol
DYE has already tied up partnerships with some of the industry's biggest players, including the publicly listed Tata Steel (US$219.60B market cap) – opening up a range of building sector markets including steel roofing, cladding and combined energy generation and storage devices... you can see where DYE is headed.
It seems like the future of energy generation is just around the corner...
The Solar Energy Growth story is only at Chapter One
By playing in the clean energy space, DYE is selling into a market with strong growth predictions. The alternative solar technologies market is estimated to grow from about $13.9 billion in 2013 to more than $22.8 billion by 2018.
That's a compound annual growth rate of 10.5% for the five year period between 2013 and 2018.
A groundswell of political will, combined with rapidly improving economics, is shifting the spotlight away from fossil fuels and onto clean energy sources, like DYE's solar energy technology.
The particular niche that DYE finds itself looking forward to is the "Building Integrated Photovoltaic" market – or BIPV for short.
The research DYE is doing could enable all building surfaces to be used to generate clean energy – even in low light.
This is an emerging market, and at the cutting edge of technology – but what is clear is that the growth of BIPV technology is expected to gradually replace the cumbersome conventional solar panels that you see around today: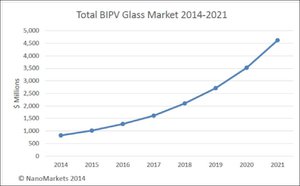 DYE front and centre to profit from this market, as it is years ahead of most other competitors on the commercialisation path.
Traditional Solar vs DYE's Perovskite Solar Cells
Getting the cell type right for solar energy is crucial – it's all about striking a balance between the lifetime of the cell (i.e. how long will it keep generating energy for?), the cost, and the efficiency.
These three characteristics form what DYE dubs the "golden triangle" – hit the middle of it and you have the best kind of solar cell going around: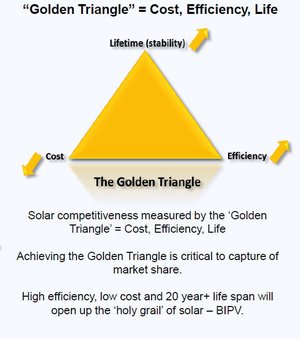 Perovskite is right in the sweet spot, and hundreds of researchers around the globe are advancing the technology so it becomes the industry standard for solar energy generation in the coming years.
With all these key characteristics in sync for PSC, it will allow the Building Integrated Photovoltaics market to really open up – which would mean any building material exposed to the sun could be generating energy – this would be a high margin product, and DYE are front and centre to profit from the technology.
Perovskite cells work in an artificial photosynthesis system to generate electricity in much the same way a plant produces energy and oxygen when it soaks up the sun's rays.
The beauty of trying to replicate nature is that plants tend to be pretty resilient things which you'll tend to notice don't need brilliant sunshine all the time to grow.
They can grow in light shade, in mixed conditions, and they don't have to be pointed directly at the sun in order to flourish.
And this is where DYE has blossomed.
Perovskite is abundant and cheaper than silicon and there are signs it may be more adaptable than conventional silicon, providing enhanced performance in low light conditions and being better suited for integration into external building components, such as windows and facades.
To gain an understanding of just how thin these cells are, compare the thickness of a human hair and the much thicker silicon solar cell (on the left) to a PSC cell (on the right):

That ultra-thin layer makes PSC the perfect technology to implement into the new wave of construction, or even retrospectively applied to existing buildings.
R&D Milestones Continually Hit by DYE
DYE is truly on the commercialisation pathway of its PSC technology, and next year the company is expected to finalise its first prototype of the technology incorporated into glass – from there, the company will look to release a commercial product in 2018: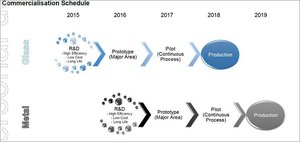 The road to such potentially game changing technology is long, and in the meantime, the company is putting strict KPIs on its research team to deliver continuous improvements on the efficiency and durability of its PSC technology. In the last six quarters, the research team has hit these KPIs every single time.

Meanwhile its commercial arm is selling materials and equipment into the market right now.
Testing, testing, testing
In August, DYE took multiple 1sqcm perovskite panels to testing, and all batches sent survived under full sun intensity for over 1000 hours. This is an import step towards IEC 61646 accreditation – the most established international measure for Photo Voltaic durability validation.
DYE's chief technical officer, Dr Damion Milliken told the market as much with some downright bullish talk:
"Dyesol believes no other team in the world has achieved these high quality results and we have created significant internal IP [intellectual property] along the way," Dr Milliken said.
"This achievement gives us confidence to accelerate development and scale-up of our preferred low-cost and easily produced PSC technology architecture."
The following diagram shows the proven performance of PSC and the rapid efficiency improvement since mid-2012: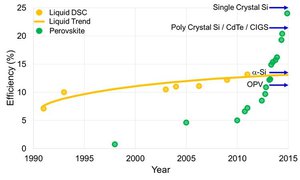 Source: Dyesol
Looking at the above, efficiency improvement remains on a clear trajectory upwards.
It shows PSC has caught up and is now comparable with traditional silicon cell efficiencies.
A previous test in May on DYE's preferred tech , proved that it could achieve stability for more than 2000 hours at temperatures of 80 degrees Celsius to 85 degrees Celsius.
It is one thing simply talking about the enormous potential of your tech, but it's quite another to successfully test it in harsh conditions.
At the moment DYE is testing small batches, but it's moving through the phases to scale up to panels of 1sqm and get to full production and commercialisation in 2018.
That means there's plenty more testing to come, with continued positive results a possible trigger for increased investor interest...
Lean on me
DYE is not going it alone, and is tying up all the partnerships it can.
This helps in two ways:
DYE can lean on expertise not necessarily within its ranks.
DYE can access money which may have been left on the table or sourced from debt or equity funding.
DYE has a host of partnerships with leading manufacturers that possess strong brands and established routes to market.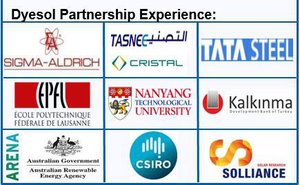 Source: Dyesol
These much bigger companies and organisations, like DYE, have all identified PSC technology as a key future growth area, and are looking to diversify their product offering – and DYE can assist.
Let's run you through a few of its key tie-ups DYE has already made.
Solliance

Back in June DYE caused a stir by being accepted into the Solliance consortium in Europe, joining the Solliance Perovskite Research programme .
This is a pretty big deal for DYE, and it gives the company access to labs and equipment it would otherwise have to pay for which will help it speed up commercialisation.
The labs and pilot production lines will be available to DYE for three years, giving them access to the world's best roll-to-roll processing equipment and expertise. This project is focused on fast tracking the solar enablement of coil-coated steel e.g. colorbond type products.
Horizon 2020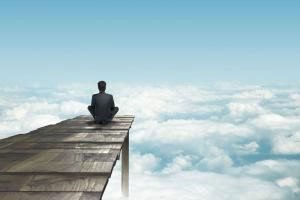 Key to DYE's prospects of scaling up is a recent grant of $1 million from the EU research program known as Horizon 2020.
DYE will spend the $1 million as part of a consortium focused on scaling up Perovskite Solar Cells, and address some of the technical challenges surrounding them.
The partnership will focus on using laser assisted, glass frit sealing technology and seek to adopt it for the use of making long-life steel roofing products.
Entering the steel roofing game is a strategic move. As we mentioned earlier, DYE is eventually looking to integrate its solar cell technology within steel building frames, rather than having cumbersome panels bolted on. BIPV is the key to eliminating installation costs and transmission losses when it comes to implementing solar energy systems.
We have said it before, but it's worth repeating – the commercial and environmental possibilities are endless.
Soon every industrial warehouse could have a roof which generates cash for the owner, by selling electricity back to the grid... all driven by DYE's game changing technology.
At the same time, its early days for DYE's technology – and success is no guarantee.
Tata Steel

DYE's long-term option with Tata Steel in the UK for distribution of integrated products is another strong tie up.
Last year it announced it had inked a 5-year letter of intent with the manufacturing giant should it be able to prove up its tech.
Given that DYE's tech doesn't need full and brilliant sunshine to function, the UK market could end up being a significant revenue generator.
Furthermore, manufacturing techniques are low cost and scalable and technology can be applied at 3m per second which means vast amounts of steel products can be rolled out.
So already DYE has a potential avenue of commercialisation of its high margin products available to it.
Sigma-Aldrich

There's a market opportunity for DYE to sell myriad components and materials onto the open market. A deal signed with Sigma-Aldrich in August gives DYE an instant market for this.
Sigma-Aldrich manufactures, sells and distributes 230,000 chemicals, biochemicals and other products to over 1.4 million customers globally.
By DYE stitching up a deal whereby Sigma-Aldrich distribute DYE's products, it becomes a tidy way to offset R&D costs while chasing bigger fish.
DYE is Talking Turkey
This is a major project for DYE .
In early 2015, the Turkish Development Bank issued a Letter of Intent to fund a major Turkish solar product. This non-binding LOI was in anticipation of DYE forming a 50-50 joint venture with Turkish outfit Nelsi DSC to develop, manufacture and distribute PSC in Turkey.
The deal with the government-backed bank is a sign that the Turkish government is keen to get solar going in a big way... having previously put all its eggs into imported crude energy.
So far, all the pieces are falling into place for DYE in Turkey.
After a false start caused by the 2009 global financial crisis, Nelsi and DYE have signed off on a heads of agreement which is due to turn into a binding MOU.
The first stage is to execute a $US1.9 million ($A2.66 million) contract for supply of prototype equipment – which is being undertaken substantially by Korean subsidiary Dyesol-Timo.
Then, with the equipment in hand it will develop a pilot line facility. This facility will allow DYE and Nelsi to manufacture large quantities of DYE's panels (20,000 square metres), which can then be tested and crucially, accredited for commercial scale.
Assuming that goes well, a full-scale manufacturing plant is due to be constructed at Mersin in Turkey by 2018.
This plant is expected to produce multi-million square metres annually – and could signal the start of serious revenue flow for DYE.
The European market
DYE told the market about the LOI with the Turkish Development Bank in late March , and we couldn't help but notice this line in the market disclosure.
"Dyesol also has plans to form similar partnerships in strategic geographical locations around the world and is currently involved in at least one similar negotiation for substantial and attractive project finance..."
That little quote just gave investors an insight into its game plan. The deal in Turkey forms the blue print for DYE.
This deal should provide the base from which DYE can launch other market entries by teaming up with local companies and governments to revolutionise their energy mix (and make a few dollars in the process).
For now though, DYE is focused on Turkey not just because of robust internal demand for solar products, but because of its strategic location.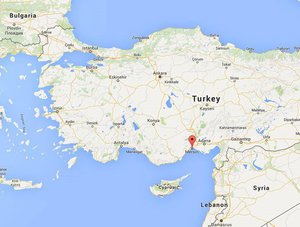 As you can see above, Mersin is strategically located on the southern coast of Turkey, just a hop, skip, and a jump away from the key solar markets of Europe.
Traditionally, Europe has been a massive supporter of solar power driven by nations such as Germany, Belgium, and Spain.
The European Union has directed by 2020, all buildings should include a net zero energy component.
DYE may just be entering the market at a time when the economies of scale start to take hold and Europe starts to rebound.
Solar Power Europe is forecasting growth in the solar market until 2019, as shown by the chart below.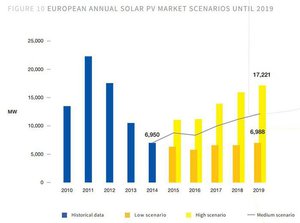 To be quite frank, while it is still possible, the low-side case is improbable.
More likely is the medium demand scenario. After all, European and world leaders are set to get a reminder of their climate responsibilities at the UN Climate Change Conference in Paris in a few weeks' time.
You'll notice on the above chart that the PV market starts to really pick up in 2018/19. In fact the market is estimated to grow to more than 22.8 billion by the end of 2018 from a value of about $13.9 billion in in 2013, a CAGR of 10.5% for the five year period.
DYE is on track to start mass production in 2018...
Talk about striking when the solar iron is hot.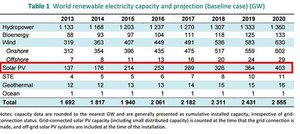 The figures above, from the International Energy Agency spells out the sort of growth story DYE is playing into.
From 2015 to 2020, hydro has growth rate of 12%, Bioenergy has a growth rate of 27%, Wind has a growth rate of 35%, but solar PV has a growth rate of 47% .
Of course, this is simply the IEA base case and doesn't account for what sort of impact innovative companies such as DYE could have with its clever tech...
Remember, at the moment solar PV is mostly silicon-based solar panels which are big, bulky and need to be pointed directly at the sun. The perovskite solution DYE is working on is thin, flexible, and can work in a range of lighting conditions.
The final word
DYE represents a significant opportunity to invest in a company developing innovative technology which threatens to modernise the world's energy supply.
DYE operates a 'Capital Light' business model and avoids the costs and risks of investment in end-product manufacturing facilities.
This is a great news for its shareholders who should see long-term benefits based on the company's vast network of global partners and manufacturing avenues.
At the same time, DYE is a speculative technology stock, and it's recommended that professional advice is sought before investing.
The market potential is endless with billions of dollars to be tapped as DYE integrates and applies its technology in the steel and glass markets.
We will be following DYE with interest over the coming months...
---