SM8 Continues US Roll Out of its Shark Mitigation Technology With $10M Proposal on the Table
PUBLISHED: 28-09-2017 09:50 a.m.
The most promising path to peace between humans and sharks in history is here, and it happens to be ASX-listed.
Shark Mitigation Systems (ASX:SM8) has produced one of Australia's most ingenious inventions for decades — a way of making peace with sharks without stomping all over the environment, or slobbering over marine wildlife.
It's wholeheartedly in the Aussie spirit to solve problems with a combination of nous and ingenuity, as well as caring for your neighbours in the process.
...and SM8 has delivered a dual-pronged, environmentally-friendly tech solution.
SM8's Clever Buoy sonar and SAMS suits have been a huge hit with both individuals and entire communities, excited by the benefits of this simple-but-effective technology.
SM8's wetsuits have the X-factor, making its wearer invisible to sharks, but without resorting to tech gizmos that require batteries, or burdensome solutions such as beach-wide netting or sea-walls.
Our monocles have been trained on SM8 for over a year, and the company has made solid progress in this time shoring up partnerships in Australia and overseas.
In that time, we've seen government departments clamouring to trial SM8's Clever Buoy sonar-detection technology, and SM8 being invited to provide its shark security solution at several high-profile surfing events. Even Bondi Rescue's Bruce Hopkins has come on board as an ambassador giving the company a great deal of clout with regard to its NSW trials and roll-out.
In its most recent news, SM8 announced the support of United States federal congressman, Dana Rohrabacher, for a pilot project involving the Clever Buoy technology.
This is strong vindication from the US government as SM8 focuses on expanding the product throughout the US market.
How much of this market this company can tap into remains to be seen, so investors should seek professional financial advice for further information if considering this stock for their portfolio.
SM8 has been working with Orange County officials in California in recent months on an integrated shark management plan, including installation of Clever Buoy systems at a further six beaches along their coastline.
This pilot installation will act as a precursor to a US$10 million shark management proposal.
SM8 is also branching out, developing marina cleaning technology that can cost-effectively clean any marina and beachside resort with almost zero human effort or elaborate cleaning techniques involving chemicals.
With both commercial and public-sector momentum gradually building, SM8 is well positioned to secure a substantial commercial haul for shareholders over the coming months and years.
Keeping track of:

Shark Mitigation Systems

In over a dozen countries around the globe, and most acutely in Australia where beaches stretch into the thousands of miles, humans and sharks are coming together more and more.
Whether we like it or not, we have to share the oceans with sharks, and for coastal communities, the ocean is their lifeblood.
From a commercial perspective, the fightback against the misplaced fear of sharks has already begun in Australia, in places like Balina, NSW.
But now, Shark Mitigation Systems (ASX:SM8) is widening its international horizons and taking its solution across the Pacific to the United States: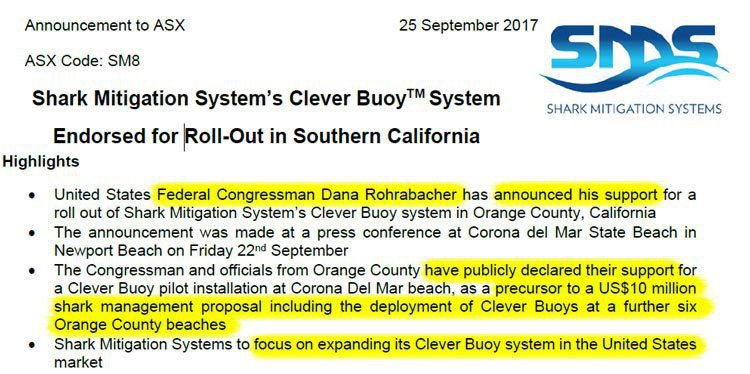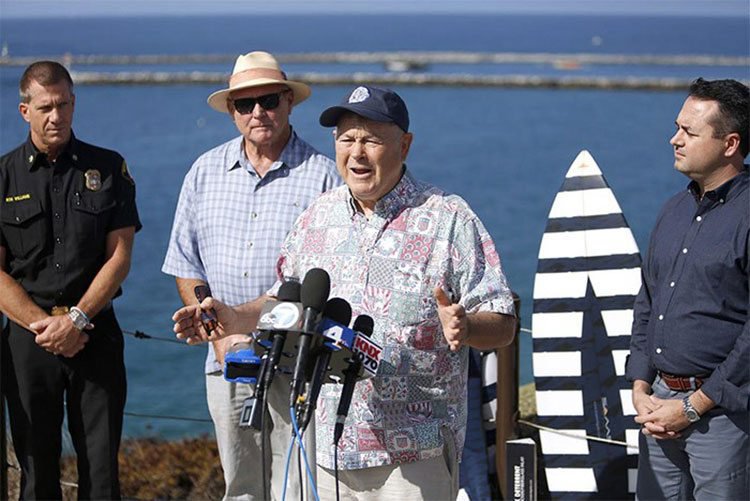 The possibility of a bumper US$10 million (A$12.6 million) fully-fledged deal is now in SM8's crosshairs and may make its way to newswires soon.
Before SM8 signs a binding deal, there is still testing to be done, including rolling out SM8's patented Clever Buoy technology at six beaches in Orange County, California.
If successful, SM8 can look into the remaining 3,300 patrolled-yet-unmitigated beaches in the US, each and every one perfectly-suited to SM8's technology.
Take a look at this news footage showing SM8's Ian Cairns fielding an impromptu interview alongside Orange County Congressman Dana Rohrabacher, who is publicly throwing his weight behind SM8: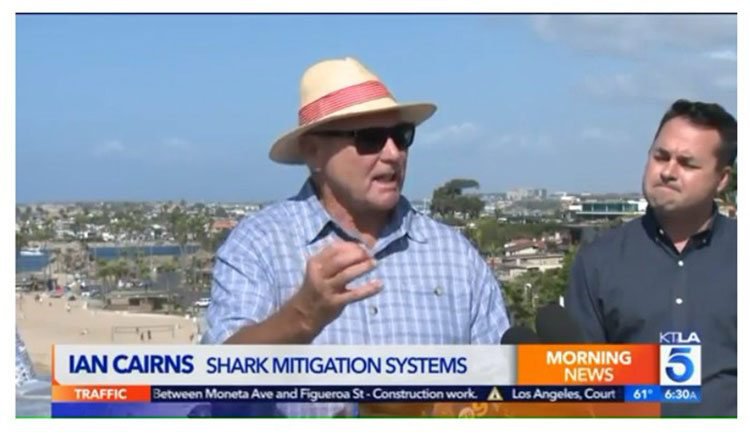 In the US, this is the state of play regarding reported shark attacks nationwide: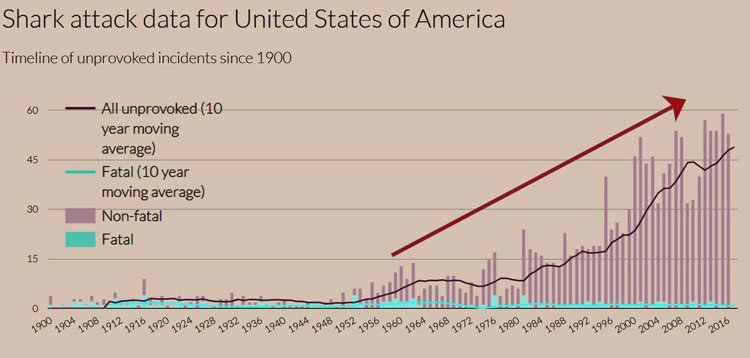 Growing strongly year-on-year, the amount of people calling for something to be done is growing and is only adding to SM8's momentum.
If and when SM8 gets the market traction it ultimately deserves, the commercial potential is mouth-watering simply because of the spare capacity i.e. there isn't a single non-invasive solution to the problem of sharks that actually works.
SM8 has proven its technology has the legs to succeed and the world is slowly waking up to it.
Yet the company is still in the early stages of its roll-out so interested investors should take a cautious approach and weigh up all publicly available information before making an investment decision.
SM8's next port of call in terms of installing its technology and trialling it for the benefit of beach-dwelling coastal communities is South Africa and Reunion Island in the Indian Ocean, where SM8 has submitted formal proposals earlier this year.
The commercial blue sky for SM8 is therefore all encompassing. SM8 could potentially license this sonar technology to hotel chains, coastal communities in other countries and commercial fishing companies globally.
Home is where the heart is
In addition to its private-market ambitions in the US, SM8 is implementing its technology at home in Australia. Having blipped up on our small-cap investment radar last year, SM8 has already attracted the attention of government officials who are desperately searching for a way to reduce the growing fear of sharks in coastal communities.
It started a year ago...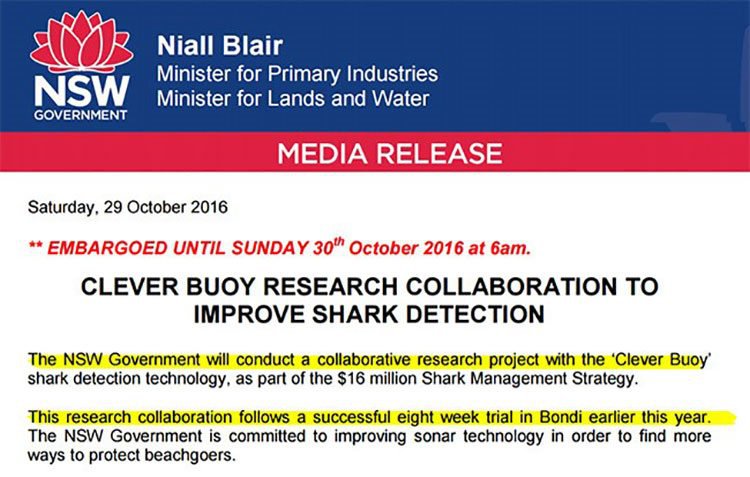 ...and has continued since.
Primary Industries Minister Niall Blair says the government will partner with the University of Technology Sydney on a research project that will position a Clever Buoy about one kilometre off the coast of Hawks Nest at Port Stephens in NSW.
A series of underwater stereo video cameras will record for up to five hours a day over a four-week period and the images will be compared to the data received from Clever Buoy.
SM8 has agreed to collaborate with the NSW Government to improve shark detection on NSW beaches, all with a view of installing the technology up and down Australia's coastline which stretches thousands of kilometres.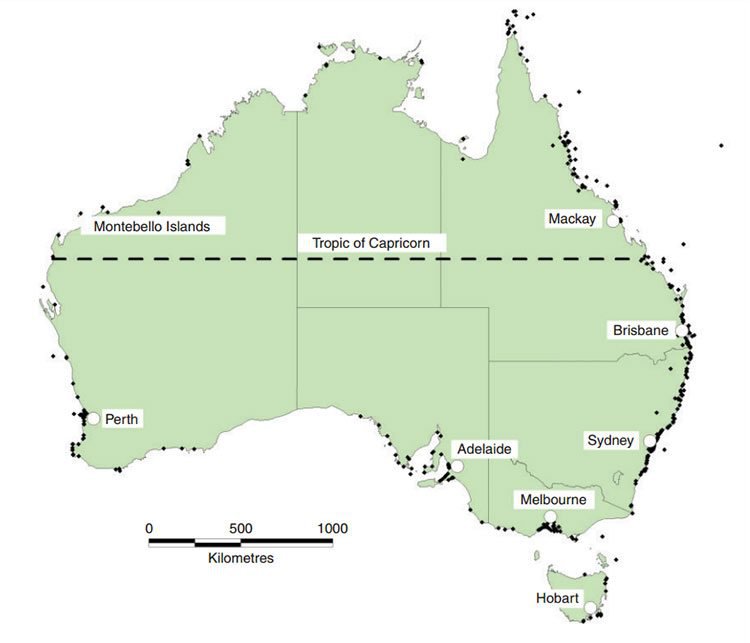 Shown as black dots in the above image, you can see where shark attacks have occurred in Australia. Clearly, Australia's Eastern coast is the prime area where humans and sharks tangle, which explains why NSW and Queensland are the two states most interested in SM8's environmentally-friendly sonar detection capabilities.
SM8's cause has been strengthened by the appointment of highly credible Bondi Rescue identity Bruce 'Hoppo' Hopkins (see below) as the company's ambassador for Clever Buoy. Hopkins has had first-hand experience in implementing SM8's notification system into beach safety procedures.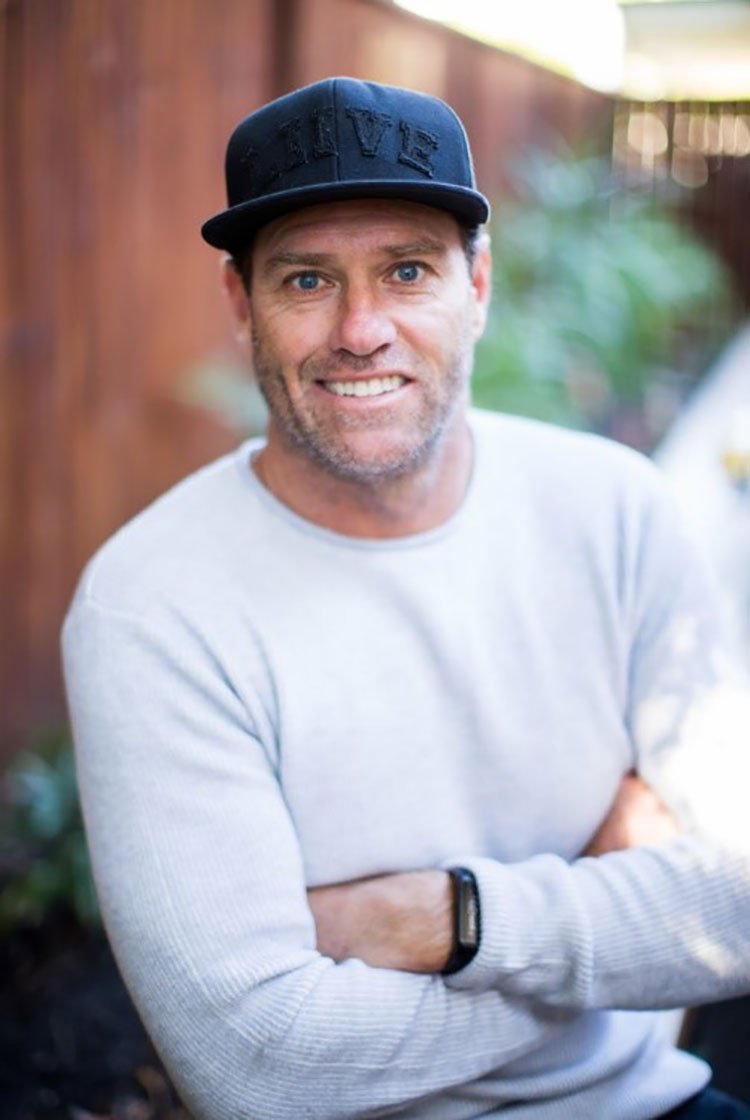 SM8 is also working closely with the newly elected WA State government for further potential expansion following what seems to be a continued strike of shark attacks along its coastline.
Let's review SM8's Tech to see how it works and why it's gaining popularity
SM8's technology is two-pronged, with each taking a different perspective.
SM8's wetsuits simplify the recognition process for sharks i.e. when they see a surfer with an SM8 wetsuit, its aesthetic design helps the shark to correctly identify the surfer as non-edible.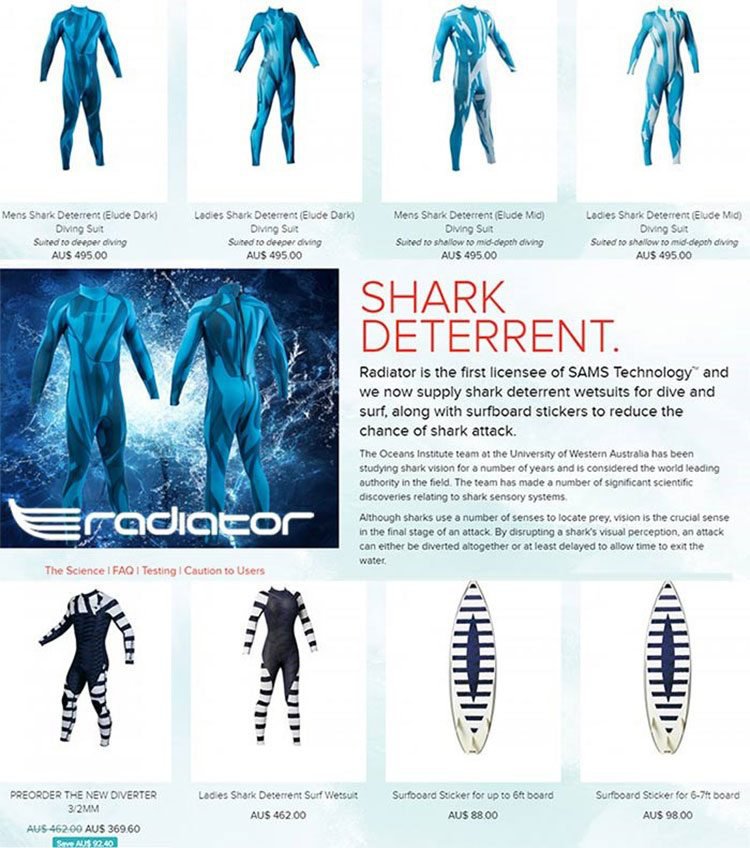 These suits are on sale via Radiator and ARENA and several professional athletes have already taken to them like ducks to water...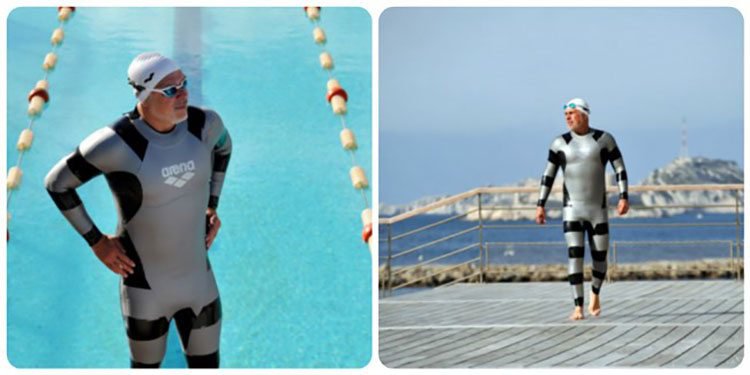 This is Nino Fraguela sporting the SAMS suit that he will wear during his record-breaking triathlon voyage from Miami, US to Havana, Cuba, due to commence at the end of September 2017.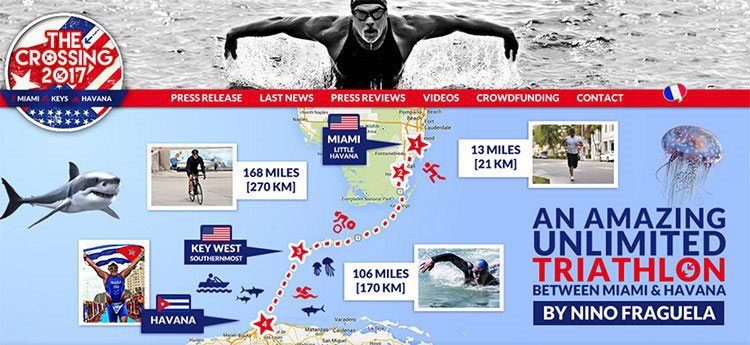 If SAMS suits whet the appetite, then SM8's Clever Buoy sonar is aiming to serve up a commercial feast
SAMS suits are expected to see a gradual uptake in sales over time as the surfing/water-sports communities see its genuine improvement in shark avoidance.
In parallel, SM8 has also developed a unique and the first of its kind sonar technology that can detect the size, type, direction and travel speed of all marine life in its range. That range will only grow and become more accurate over time.
Here is the idea illustrated and explained: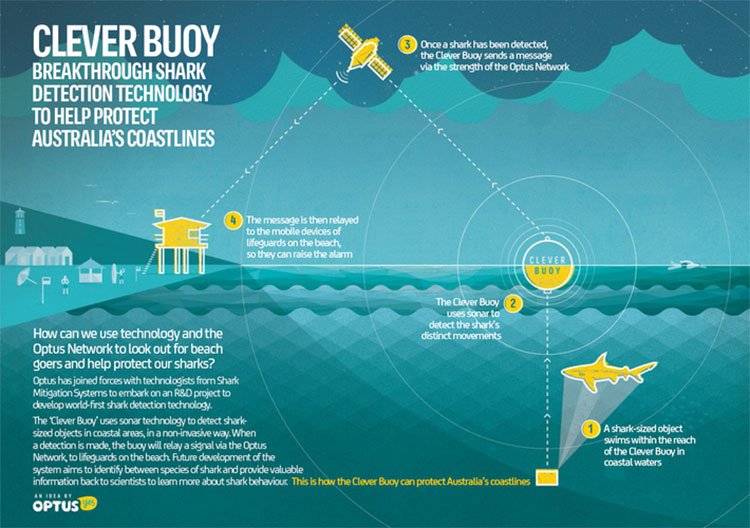 How it works:
The system uses multi-beam sonar transducers mounted on the ocean floor to scan for marine life.
On-board software interrogates a detected object's swimming pattern to determine whether it is a shark.
The software instantly relays a message about the shark and its location to lifeguards so they can raise an alarm.
The Clever Buoy has a VR2 receiver fitted and records information about any sharks nearby which have been previously tagged.
The eight-week trial of Clever Buoy at Bondi Beach in summer and autumn of 2016 proved that sonar technology could be successfully used in east coast conditions.
The amazing thing is that this technology has already passed gruelling trials at Bondi Beach and was implemented at the J-Bay Open in 2016 where zero shark attacks/sightings were reported.
Of course, one event is by no means conclusive proof that Clever Buoy has made it to the top of the class, but nevertheless, it is a superb advertisement and validator at a crucial stage of SM8's life as a publicly listed company.
This is how Clever Buoy relays its sonar-obtained information to the operator, who is then able to distinguish between various marine life simply by analysing its exact movements in the water.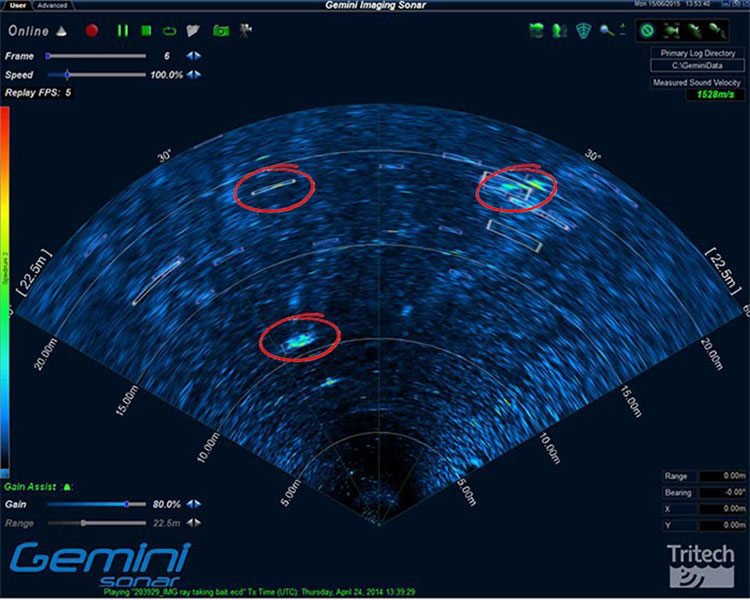 This type of tracking would typically require some form of transmitter attached or implanted in the animal — not so with Clever Buoy.
This technology will be further refined and tweaked to enable automated tracking and a higher level of definition thereby enabling SM8 to detect a wider variety of sea-life at even greater distances.
Can you imagine being able to spot entire shoals of fish at 100+km away? Or being able to map entire communities of whales, sharks or dolphins?
The potential applications could be both commercially enriching and environmentally ground-breaking. It has no negative environmental impacts or expensive infrastructure to install and service.
The best of the rest
In addition to everything you've heard, SM8 has yet more commercial leads.
First off is a recent licensing deal with Boardlams, signed in July 2017. Boardlams is the principal provider of graphics to major global surfboard manufacturers such as Lost Surfboards, Channel Islands and Rusty surfboards.
SM8 is also finalising arrangements with various leading global surfboard and watercraft manufacturers to integrate the SAMS visual technology into its broader product range. With over 400,000 surfboards sold globally each year, plus 6 million body boarders floating around out there (and growing fast), the market potential for SM8's SAMS suits is significant.
Furthermore, SM8 is continually expanding its market footprint by signing up more affiliates and securing further license agreements, which could ultimately see SM8's products reach more people through both online and offline sales.
SM8's dark horse: The Seabin Project
One of SM8's lesser-known commercial ventures is the Seabin Project, SM8's de-facto pathway to becoming a 'tech incubator'.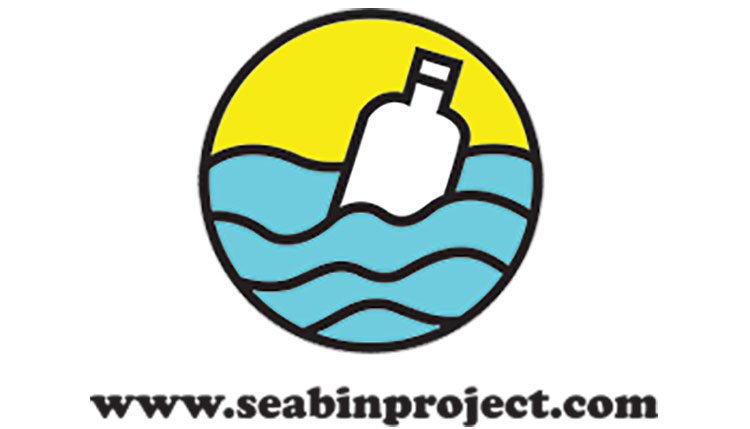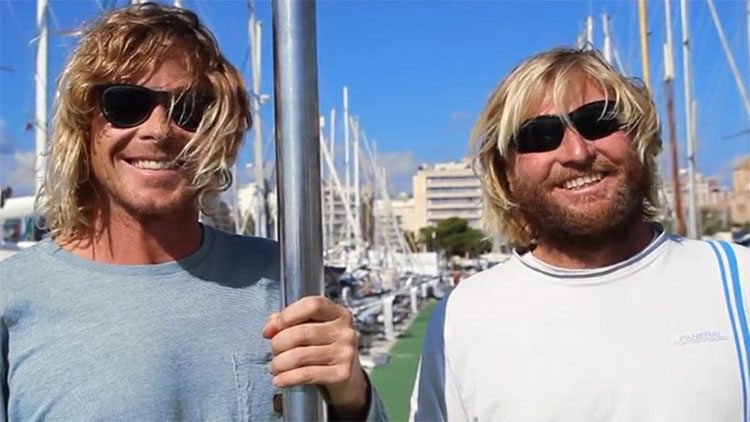 Seabin Founders Andrew Turton and Pete Ceglinski
The Seabin Project is developing marina cleaning technology that can cost-effectively clean any marina and beachside resort with almost zero human effort or elaborate cleaning techniques involving chemicals.
Take a look at this brief video showing this simple and effective technology that has just recently been given the green light in the South of France :
The technology has the potential to solve ocean and water pollution at least on a small local scale almost immediately. With further development Seabin could be used to clean up large-scale oil and chemical spills that decimate ocean environments and public spending budgets.
By developing its own marine-focused technology, as well as taking stakes in other small start-ups with big tech solutions, SM8 has several horses in the race to commercial success.
The latest news from the Seabin team is that the project is now undertaking pilot partner installations in marinas in San Diego, California, Helsinki, Finland, Port Adriano, Spain, Bermuda and Montenegro. The next step will be to secure commercial license agreements with manufacturing and distribution partners in anticipation of commercial sales commencing within weeks.
So far, Seabin is the only project of its kind anywhere in the world and has surpassed all expectations during preliminary testing. We can't wait to see how this card in SM8's marine-tech deck will fare over the coming months.
Swimming towards commercial success while making friends with its environment
SM8 offers an ethical, yet commercially-viable, combination of products in Clever Buoy and the SAMS wetsuit range, to eradicate the deep-rooted problems between society and ocean wildlife.
With its sonar technology successfully trialled and tested at Bondi Beach and City Beach in Perth, singled out to watch over the J-Bay Open at Jeffreys Bay in SA, and now having an exclusive agreement with US Government officials in Orange County, SM8 intends to become the go-to name for shark security and mitigation. SM8 is also in cahoots with the NSW State Government to put a definitive cap on the amount of shark attacks plaguing Australia's eastern coast.
It is an early stage, speculative stock however, so investors should seek professional financial advice if considering this company for their portfolio.
As you can see, SM8 is gradually moving towards becoming a household name in marine sports, marine conservation, and fingers crossed, will see commercial rewards in the not-too-distant future.
SM8's string of validations and initial collaborations are just the initial smatterings of a substantial tapestry of commercial opportunities over the coming years.
Surf's up.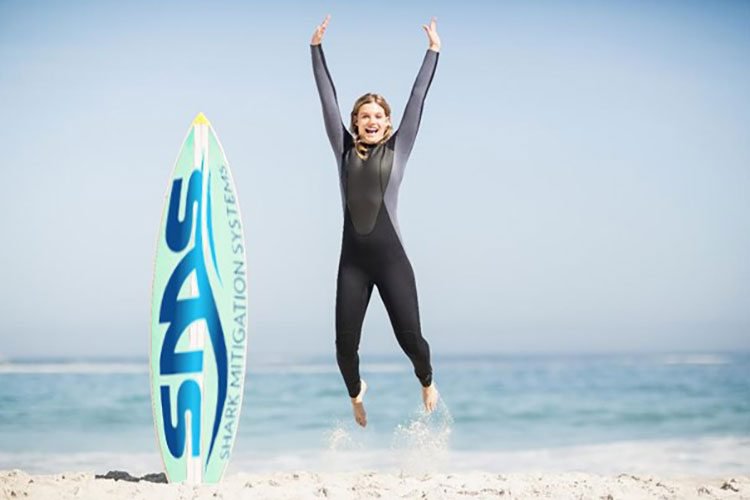 ---