Shock Recruit: Ex Intel Heavyweight Joins RAD Take Over Target
PUBLISHED: 22-03-2016 10:03 a.m.
Given the rapid pace of industrialisation and digitisation of the entire globe, the amount of data people create is quickly outpacing our current capacity to store it.
What makes things worse, is that data hungry users not only want more storage space – they also want quick access.
Here's the current trend summarised in one image: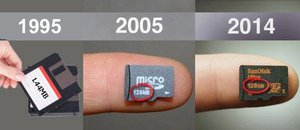 It seems that memory storage is both a challenge and an opportunity – with the US$580MN memory storage sector about to mushroom to over US$37 BILLION within the next five years, growing at an estimated CAGR of 38.25% from 2014 to 2020.
Furthermore, over 30 billion devices across the globe are generating and using real time data, data which is stored for later use – if it's in the cloud, it's still stored on a corporate server somewhere.
Radar Iron (ASX:RAD) via its RTO target Weebit, is determined to fill that growing market gap in memory storage through patented breakthrough technology that will increase storage space, reduce production and maintenance costs and improve access speeds in one swoop.
It has been full steam ahead lately for Weebit.
In its latest move, Weebit drafted in a semiconductor " Big Dadi " – who developed most of Intel's Pentium technology since the 1980s.
Based on revenue , Intel is the world's largest and highest valued semiconductor chip maker and was ranked #19 by Forbes on the 2015 rankings of the world's most valuable brands.
The Big Daddi we are talking about here is David 'Dadi' Perlmutter whose Intel team was responsible for 80% of the world's microchips – That was a team of 35,000 people worldwide.
Perlmutter also oversaw investments and acquisitions exceeding $US2.5 billion during his time with Intel.
Needless to say, this is a big coup for Weebit and it is hoping for the similar kind of success that 'Dadi' achieved with Intel. We think who better than Dadi to give Weebit the inside track in discussions with the global semi-conductor / chip maker about collaborations / M&A activity?
At the same time, this is very early days here, and an investment in RAD is speculative, with no guarantee of success – so caution should be applied before choosing to invest.
Weebit has also been busy shoring up its technology.
It has developed a breakthrough technology to expand memory capacity and target embedded applications for the Internet of Things.
Weebit also made a significant breakthrough in semi-conductor industry miniaturisation , meaning it can scale down the size of its ReRAM technology.
Backed by the world's leading research and world's leading semiconductor guru, Weebit has set a course to dominate the next wave of memory storage devices built on 'ReRAM' technology that is about to go mainstream.
With storage space issues gradually becoming a bottleneck for many data-intensive companies, Weebit is on course to transform data storage in a flash.
Catching up with: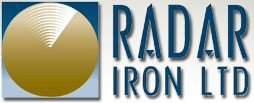 Radar Iron Ltd
To become

Weebit is an Israeli semiconductor developer that will soon be ported over to the ASX courtesy of an RTO deal with Radar Iron (ASX:RAD).
RAD will be looking to raise up to $10M in the coming weeks to fund product development and the commercialisation of its tech.
If all goes to plan, via the RAD deal, Weebit should be ASX-listed in the next 3 months.
The company's premise is to improve upon the existing form of energy storage technology called ' Flash '...
...by developing and commercialising the next phase of memory storage called ' ReRAM ' – due to hit store shelves (and become widely used) by 2018.
We first covered Weebit and its reverse takeover deal with RAD in January 2016 our article, " ASX Shell to Acquire NASA Validated Technology " where Weebit's NASA-stamped credentials were outlined and reviewed. Since that time, ASX listed RAD has started its gradual move earlier this month – possibly in anticipation of some news from Weebit. Since our first article, RAD has been up as high as 60%: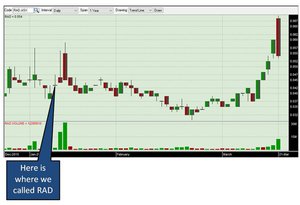 The past performance of this product is not and should not be taken as an indication of future performance. Caution should be exercised in assessing past performance. This product, like all other financial products, is subject to market forces and unpredictable events that may adversely affect future performance.

Now, we're here to update you further on this intriguing story that's just got a huge organic boost via the star Intel recruit.
Weebit – bit by bit
Being a spearhead in the frenetic world of technology is a tough ask – which is why Weebit has brought in Intel's former Chief Product Officer and General Manager of its Architecture Group into the fold.
David 'Dadi' Perlmutter is a semiconductor veteran having worked for Intel (NASDAQ:INTC) for 34 years from 1980-2014.
Rising through ranks into the heart of the inner sanctum of Intel's Senior Management, Mr. Perlmutter was directly responsible for developing several of Intel's major microprocessor and computer products.
If there's anyone who can tell you a lot about making a semiconductor, it is this guy.
And that's why Weebit has brought him on board.
If you were ever wondering who led the brains trust behind 80% of the world's microchips currently in use today, Perlmutter is your man.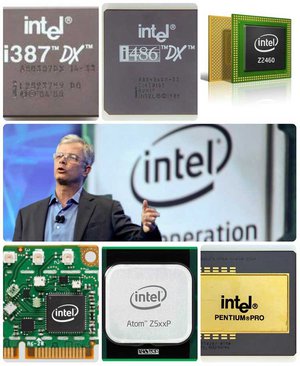 While at Intel, Weebit's new recruit was responsible for the operations and development of Intel's platform solutions for all computing and communication segments, including data centres, desktops, laptops, handhelds, embedded devices, and computer electronics.
During his tenure he grew Intel's business from $US35 billion in 2008 to more than $US50 billion.
Just before his departure in 2013, he managed 35,000 people worldwide and oversaw investments and acquisitions exceeding $US2.5 billion during that period.
Weebit has most certainly found itself a good candidate to assist with the reigns.
His first big success at Intel came with the Centrino line of mobile processors that launched in 2003 and soon dominated the notebook market. Later, he was responsible for the Core line of chips that effectively replaced Intel's long-time Pentium brand of PC processors.
Weebit welcomes Mr. Perlmutter as Non-Executive Director and Board Member but there could also be some other financial overlaps too.
His industry knowledge, vast experience and market understanding will be used to drive Weebit's ReRAM product with the aim of emulating the success of giants like Intel.
Here's what Mr. Permutter said upon joining Weebit:
"I've been looking at ReRAM technology for years and there is a huge opportunity.
"WeeBit Nano's technology has great potential, with opportunities in various categories: the low­power and high-density potential allows it to be a major game-changer in growing parts of the digital revolution."
"As a business person, non-volatile memories are one of the most important factors in the Digital Economy Revolution, from the Cloud to mobile, and to Internet of Things, and I am intrigued in creating the next huge step in this world."
A huge step in this world
When it comes to taking huge steps, knowledge and understanding are key.
Weebit has assembled a star-studded list of top names from the semiconductor industry that will provide all the necessary assistance to commercialise Weebit's technology over the coming 18 months.
Here they all are: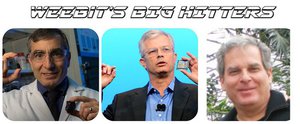 Professor James Tour (left), David 'Dadi' Perlmutter (centre) & Kobi Livne (right)
Professor James Tour is world-leading synthetic organic chemist, specialising in nanotechnology. He is Weebit's Chief Science Advisor responsible for the company's technology research and development. He has authored hundreds of peer-reviewed studies and has over 60 US patents registered on the back of his research at Rice University – where he continues developing semiconductors on a nano scale.
Mr. Kobi Livne is currently a Partner at AfterDox Angel Investment Group , an angel investor group that focuses on early-stage Israeli tech companies.
His previous track record stretches back over 20 years including various top-tier positions at NASDAQ-listed Amdocs (NASDAQ:DOX), currently worth US$8.5 billion (A$11.8 billion).
And now add the 'Big Dadi' of Intel into the mix.
With such strong high-profile support coming from industry veterans, something tells us this Weebit has a got more than just a bit of a wee chance after its ASX-listing is done and dusted in the coming months.
Securing funding
One large aspect of Mr. Perlmutter's involvement with Weebit could be his other pastime – running a multimillion dollar investment fund called Eucalyptus Growth Capital (EGC).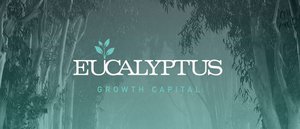 EGC invests in high-tech companies to help them expand their business and enter overseas markets, all with the aim of helping them achieve revenues in the hundreds of millions of dollars and turn them into candidates for initial public offerings.
Now, before we get too ahead of ourselves, it should be noted that early stage tech investments are speculative – there is no guarantee Weebit will be able to successfully commercialise its technology. It's always a good idea to seek professional advice before investing.
Another intriguing synchronicity is that Intel's former CEO (and Mr. Perlmutter's former boss) Paul Otellini is also on the EGC Advisory Board.
Could this band of semiconductor brethren be onto something?

As a general rule of thumb, EGC puts its own people onto the Boards of companies it invests in.
The news of Mr. Perlmutter's involvement suggests that Weebit's $10MN capital raising as part of the ASX listing will go rather smoothly as Weebit's new Board member just happens to be EGC's fund manager.
This is merely complete conjecture at this stage, but the writing is on the wall.
EGC could potentially take a significant stake in Weebit as part of its listing, with other Israeli tech investors also touted to be clamouring for a piece of this ReRAM pie.
The question on RAD investors' lips is: Does this micro-capped upstart have what it takes to take on the giants such as Intel and AMD?
With its team now assembled and an ASX-listing en route, let's take a look at what Weebit has been busy developing in a bit more detail.
Striving for technological supremacy
As Weebit's final product nears completion, it has already obtained several key patents and technological breakthroughs over the past year. In January Weebit announced a nano-porous Si ReRAM solution with filament size less than 5 nanometres (nm) in scale – an industry world first. Weebit then announced a 3-D developmental milestone enabling substantial increases in memory capacity , less than two weeks later.
Weebit says it expects to have a product ready for commercialising within 18 months.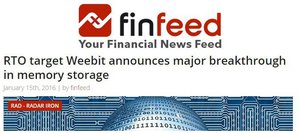 Weebit has managed to develop a nano-porous Si ReRAM solution with filament size less than 5 nanometres (nm) in scale.
The ability to scale down to this level of nano-miniaturisation is the holy grail of ReRAM technology development. Currently, the cut-off point whereby further miniaturisation was thought to be impossible was 16nm.
Following Professor Tour's breakthrough, Weebit has potentially opened the flash memory gates to go into a paradigm shift and enter a new level of <5nm efficiency and value for Weebit shareholders.
Weebit's breakthrough creates a patent-protected competitive advantage that sets the stage for Weebit to become a dominant force in ReRAM memory storage in the coming years.
Weebit wants to become the paramount storage solution in the $40BN+ storage market by 2020
Take a look at Markets and Markets estimate of where storage will go in the next four years...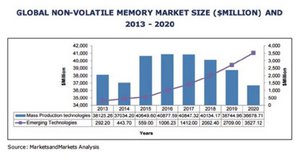 What's the all fuss about ReRAM?
By this point many readers will be wondering, what's all the fuss about? Can't people just buy extra storage and add it to their existing setup?
The simple answer is no.
Adding more memory wouldn't resolve the problem because the issue is not just memory size but also includes the need for faster access, better reliability, lower cost and lower operating temperatures.
As we continue to store more and more information, a viable replacement for Flash memory is quickly becoming a necessity.
And the front-runner right now is ReRAM technology which is what Weebit specialises in. The attractive aspect for Weebit customers is that its products offer the lowest storage cost per bit compared to all other competitors due to its SiOx (silicon oxide) ReRAM cell being significantly smaller than comparative MRAM, CBRAM, FRAM and PCM alternatives.
Here's a snapshot how and why ReRAM will take over from Flash incumbents we see today:

ReRAM, otherwise known as resistive memory cells, stores data by creating resistance in a circuit rather than trapping electrons within a cell – which is how your regular flash drives work.
Weebit has demonstrated a working ReRAM device that outperforms flash in every parameter:
Performance: 1000 times faster
Reliability: Reduces data corruption and eliminates errors
Energy efficiency: Lower power consumption and increased battery life
Cost: Reduces production cost
Scalability: 10 times smaller cells with the ability to store more information on the same surface area.
Given ReRAM's characteristics, this technology is likely to appeal to the top of the Enterprise market (data centres, corporate servers etc.) where memory storage needs to have better endurance, faster capability and overall better reliability compared to retail products such as USB sticks and memory cards.
How does Weebit sit compared to its peers?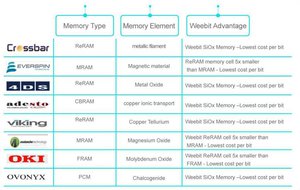 From the above comparison, we can see that Weebit has the edge compared to all other memory storage contenders. This is because of its world-class development team headed by James Tour who has been able to not only improve upon efficiency, but also cost.
Here's a rough guide to where ReRAM technology will be applied, in the order of priority.

Retail users are likely to see products such as this coming around the corner...

...while enterprise users will be the first to see their server farms running faster, cooler, more efficiently and at lower cost.
ReRAM is on track to outshine Flash memory in much the same vein as Blu-ray disks outshone DVDs.
Here is a bullet point list of where ReRAM will be used:
Smartphones and tablets are the major application where ReRAM will eventually be used.
Automotive, Navigation, Infotainment and safety components which require high-reliability data storage devices.
Health Care: Pacemakers, heart rate monitors, and blood pressure monitors. Non-volatile memory devices will outperform in this field due to higher read and write speeds.
Wearable: Adoption of these devices is expanding rapidly, and ReRAM memory chips will be required for reliability, efficiency, and added functionality.
Internet of Things: The Internet of Things (IoT) is the network of physical objects embedded with electronics, software, sensors and network connectivity, thus enabling these objects to collect and exchange data. The IoT allows objects to be sensed and controlled remotely across existing network infrastructure, promoting direct integration and communication between the physical world and computer-based systems.
Content: A forecasted 40 zettabytes of storable content will be produced annually by 2020, and that number is expected to continue doubling every two
Connectivity: Cloud Data Centres device connectivity requires ultra-fast response time, which iscurrently implemented by expensive SSD Flash drives. These can be replaced by ReRAM memory storage .
Dealing with a hoarded future
The digital revolution exploded onto the world stage in the 1990s...
...and has not stopped expanding since.
We are creating more data, with more devices that do more things, within a world with more people and more choice. On top of all that, everyone wants to store absolutely everything just in case they may need something in future.
Just like the VHS had DVD to take over its mantle and SDD drives are now replacing hard-drives, so the next step in extending the world's data storage capacity is likely to be ReRAM.
Armed with Intel's former Chief of Product, blessed with the world's leading nanotech Professor and fortunate access to deep pockets from Israel's tech sector attracting millions in venture capital – Weebit is locked and loaded.
To ensure its product achieves market supremacy, Weebit has access to several invaluable ReRAM patents courtesy of one big hitter (Professor James Tour) while another huge hitter (David Perlmutter) tweaks Weebit's post ASX-listing market strategy.
Now, at the same time, there's no guarantee that ReRAM will take over the memory industry or indeed that Weebit will achieve its ambitions – so apply caution to your investment decision, and consider your own personal circumstances before investing.
With such highly acclaimed personnel now on board, and enterprises gasping for better storage solutions, Weebit is entering a growing market with patented tech that reigns supreme over the current memory peloton.
---