RTO-Wielding ICX Eyes Bright Tech Future as Velpic
PUBLISHED: 25-08-2015 20:00 p.m.
The coal market has taken a turn for the worse – taking several coal explorers and miners with it.
For investors, this has meant lower coal stocks and a depressed industry unlikely to recover anytime soon.
International Coal (ASX:ICX) was one such company facing bleak prospects....
However the tide is rapidly changing for ICX.
Determined to leave its past behind, ICX will undertake a reverse takeover (RTO) of tech company Velpic in the coming weeks...
This will allow the company to enter an entirely new market with better growth prospects, one that has facilitated the rise of billion dollar tech giants Xero (NZX:XRO) and Atlassian.
Here at the Next Tech Stock , we first wrote about ICX back in June in our article, "$191BN Cloud Software Industry: ASX Shell to Re-list as Tech Company ".
In the article we went into great detail about how ICX is going about its metamorphosis...
In a nutshell, Velpic (ICX)'s cloud based platform has global potential to disrupt the traditional Learning Management System (LMS) marketplace currently worth in excess of US$7BN while simultaneously planting itself firmly within the Corporate Learning and Development market worth approximately US$130BN.
So far in 2015, Velpic (ICX) has grown its Software as a Service (SaaS) and Pay-per-view (PPV) fees by more than 25% month-on-month.
And possibly most crucial to the story, is Velpic (ICX)'s prized acquisition of 'The Rainmaker', a rising star in the cloud-computing domain (she led Xero to its current market dominance) that will help Velpic (ICX)'s expansion.
There is not a dominant SaaS based LMS in the market place, yet.
But Velpic (ICX) appears to have the right technology, with the right management team, attacking the right market to become this dominant player.
At the same time, this is an early stage company and still a speculative investment – there are no guarantees here.
But with things very much going to plan up until now, we continue our coverage of: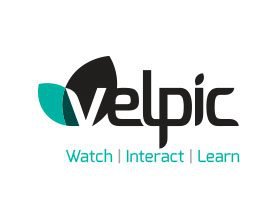 Courtesy of tech company Velpic, ICX stands on the verge of rising like a phoenix from the flames to put a smile on the faces of its shareholders.
ICX intends to complete its RTO of Velpic next month as part of a wholesale metamorphosis from a junior coal explorer with potential revenue to an innovative tech company with existing revenues of $2M over the past 12 months.
Commodities and Technology are polar opposites and given current market conditions, ICX is moving into an industry that has more spare capacity, better growth prospects and less barriers to entry compared to commodities exploration i.e. coal.
This existential shift is not only more likely to deliver better shareholder returns but also creates scope for far greater growth potential considering that tech companies are able to scale their business much faster than resource explorers/producers. Now, better shareholder returns is obviously not a guarantee here – investing in any stock bears risks, and small tech companies like Velpic (ICX) are no different.
ICX's RTO could spark a potential price catalyst...
With the RTO formalities almost complete, ICX will soon become Velpic. In view of that milestone, ICX is now busy working on a Prospectus which could raise pulses once published and widely distributed.
Velpic's growth story has only recently been made public and therefore, has not attracted a mainstream audience.
Yet.
Take a look at this chart showing ICX's share price since we first wrote about the company in June 2015 – the stock has risen as high as 240% since our article release. It's still up more than 70% since then: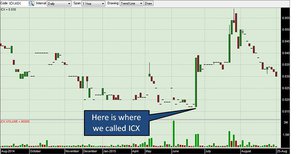 Source: Etrade Australia
The past performance of this product is not and should not be taken as an indication of future performance. Caution should be exercised in assessing past performance. This product, like all other financial products, is subject to market forces and unpredictable events that may adversely affect future performance.
There is a good chance this $6M-capped upstart could repeat the trick as its story builds momentum and percolates into the minds of avid tech-sector investors looking for that next SaaS play.
We expect ICX to publish its Prospectus soon after a shareholder general meeting scheduled for September 3rd 2015. At the meeting, ICX's Board will obtain approval to change the nature of its business activities and formally seek approval to raise $3M to $5M required for the RTO.
A month or so after its Prospectus is published, ICX will re-list as Velpic, assuming there are no hiccups.
Any potential investors in Velpic (ICX) should be aware that even with Velpic (ICX)'s strong performance to date, there are no guarantees about its future performance – so caution should be applied when considering as an investment.
Phoenix from the Coal
Velpic (ICX) has already amassed a flotilla of blue chip clients using its platform as part of its growth strategy. Household names such as Alcoa, Fugro, MRL and AHG have signed up to using a unified education and training solution to be rolled out across tens of thousands of employees.
The fact that Velpic (ICX)'s fee structure is a fine balance of fixed subscription and PPV means it can optimise its revenues depending on the client.
When looking at Velpic (ICX)'s solution, it allows any employee to complete training and educational courses as part of mandatory training requirements set by employers and industry bodies.
What's so unique about Velpic (ICX) is that its solution is truly mobile, interactive and empowering because it is a sophisticated, cloud-based, customisable platform that is able to generate video content.
It's essentially a convergence tech story that unifies all the tools needed by learning and development professionals into one simple to use, elegant, browser based application.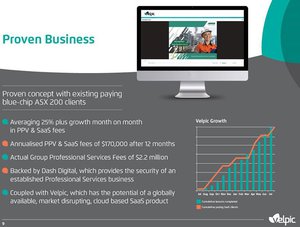 Just this week Velpic (ICX) launched an On-Demand Library feature "in response to high customer demand" which further improves its revenue model. Clearly not resting on its laurels, Velpic (ICX) is pushing hard on its R&D that is already ahead of its field.
By Velpic (ICX)'s own admission, its platform is "PowerPoint on steroids".
And several companies have raised their hands to be a part of it.
That's because Education and Training requirements are growing across all industries, sectors and geographies globally.
It seems the corporate world is being subjected to greater levels of scrutiny, licensing and oversight from regulators which effectively means most corporate employees today are likely to require several hours of mandatory training each week simply to be able to do their jobs effectively.
Velpic (ICX) bridges that gap which explains why the Learning Management System (LMS) market has grown from around US$2.5BN in 2013 and expected to grow to US$8BN by 2018.
US companies already spend around $2,000 per employee per year on education and training with a fifth of all workers preferring mobile devices such as tablets as the prime medium for educational content.
The fact that Velpic (ICX) offers a scalable, function-rich, cloud-based system that is effectively a one-stop shop for all learning, training and content development requirements, means that Velpic (ICX) is in a great position to carve out a sizeable market share.
Both large and small organisations are gradually moving away from linear compulsive training and turning to bespoke, continuous learning that's dynamic – and they are starting to turn to Velpic (ICX) for a solution.
Big hitter has joined Velpic (ICX)'s ranks
In order to attack the Software as a Service (SaaS) space within the LMS and eLearning markets, Velpic has turned to former Xero GM Leanne Graham .
Nicknamed 'The Rainmaker', for her ability to generate plentiful revenues (rain) from cloud-based, SaaS businesses such as Xero and GeoOp , Ms. Graham has been tasked with leading Velpic's global expansion and scaling up its business model.
Her appointment underlines Velpic (ICX)'s intention of severely disrupting existing LMS solutions within the Learning & Development space.
If her track record at Xero and GeoOp is anything to go by, Velpic (ICX) has acquired a proven achiever that is likely to continue delivering results at Velpic (ICX) for years to come.
Velpic (ICX) on boards blue chip Olam further validating its superior e-Learning technology
Velpic (ICX)'s proprietary platform has taken 2 years to develop and its functionality allows businesses to create their own training lessons and distribute them to staff and contractors, who can access the Velpic Platform on all devices including mobile phones and tablets.
Currently, Velpic (ICX) is the only company that provides this type of solution which is probably why so many large firms with extensive training requirements have reached out to Velpic (ICX):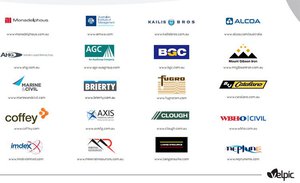 Velpic (ICX)'s most recent addition to its rapidly expanding user base is Olam, a multinational agri-business with over 23,000 employees, 14,000 customers and a $4.5BN market cap. Olam currently generates around $15BN in annual revenue and profits of around $450M per year.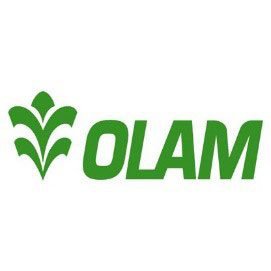 Velpic (ICX) will enable an initial tranche of 500 Olam employees to receive Human Resources and Occupational Health & Safety induction training as well as Olam to create its own in-house video training lessons using Velpic (ICX)'s built-in tools.
One aspect that continues to draw clients for Velpic (ICX) is its proven ability to deliver a ~70% reduction in training costs for employers, ~60% improvement in content retention and a vastly steeper learning curve compared to existing e-Learning LMS systems.
This is the root of Velpic (ICX)'s growth story.
We're keeping a close eye on ICX as the former coal explorer transforms into Velpic and reaches for the clouds...
---