Revenue Generating ASX Junior Leveraged to the $50BN Big Data Explosion
PUBLISHED: 29-03-2016 09:58 a.m.
Call it what you will: big data or the information explosion, but know that whatever its given name, data's growing influence has a profound effect on almost every aspect of peoples' lives.
The concept of 'Big data' is the analysis of massive sets of information to identify trends and patterns – and make predictions that can be profitable.
For the past few years, major retailers have been investing large sums of money into big data – all in the effort to lure customers in and influence their buying decisions by understanding their behaviour and then targeting them with product solutions.
The big data market is big – set to be worth $50 billion next year, and retailers are scrambling to get ahead of each other in the big data race.
PricewaterhouseCoopers estimate that slow moving Australian retail and consumer businesses, by not leveraging their existing internal data, are missing an opportunity worth $3.8 billion...
To amass 'big data' is one thing, but quite another is to understand it, and make important decisions based on it.
We have been alerted to an ASX listed tech company that is harnessing the power of data across four different products, which all deliver unique data driven insights for their users.
This company collects data and monetises it by selling innovative products that appeal to consumers and retailers alike.
This is no idea in a basement – this company already has traction in the market and is generating strong revenues now – $5.3 million in CY2015.
The last few months have seen this stock being significantly oversold due to a management restructure, however the products and strong revenue forecasts remain.
From one product alone, forecast revenue for 2016 is $8 million, with 75% committed already.
Future growth is locked in given multiple recurring revenue deals still to flow through the balance sheet.
This company is currently capped at just $14 million – and we have just noticed some strong on market buying by key management, indicating they are clearly backing this story with their wallets .
However this is still a junior stock, and caution must be applied to any investment here.
With indications of major catalysts on the way in the coming weeks , this could be the last time this stock remains at current levels...
Introducing with vigour: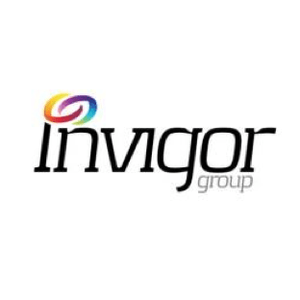 Invigor Group Limited (ASX:IVO) is a data analytics and business intelligence company with a growing presence in both business‐to‐business (B2B) and business‐to‐consumer (B2C) markets.
In order to strengthen its balance sheet and continue its growth trajectory, IVO is currently in the midst of a Share Purchase Plan ending on 31 March in which eligible shareholders can acquire up to $15,000 of additional shares in the company at 4 cents per share.
IVO's current core products are as follows:
Insights Retail – an analytics platform for brands and retailers – $2 million forecast revenue, $4 million in the current pipeline where IVO is shortlisted
Shopping Ninja – a comparison site that provides best value options to consumers on over 100,000 offers – over 100,000 monthly users
Insights Visitor – an analytics platform that can extract data from any Wi-Fi hotspot or from telco – Estimated revenue of $1.75 million
Condat – smart media solutions including a semantic engine and content distribution capability – FY2016 forecast revenue of $8 million

We will go into more details on IVO's product suite shortly – but as you can see above, these products are all well established, and the next few months will be all about revenue growth for this $14M capped company.
To hear it all direct from the top brass at IVO, here is IVO Executive Chairman Gary Cohen at last year's TechKnow conference explaining how big data a la IVO works.
In brief, IVO's products collect data and monetise it in a variety of ways – including through annual subscriptions, professional services, as a commission on sales, from providing promotional platforms for brands and retailers, from basic transactions for services and through software license fees in the case of Condat (more on Condat later).
IVO thus offers a full scale big data solution that provides innovative business intelligence to create a win-win for businesses and consumers.
With that in mind, let's take a further look at the products and the revenue models surrounding them.
The insight of a ninja
It seems like a long time ago now, but before the internet, companies and brands used any market information they could, including data received from TV and print advertising campaigns to create operational reports – not the best data as you can imagine, relying on a fair bit of guess work.
They would then use the information from these reports to build their customer promotions and understand how well their products were tracking compared to their competitors.
As the market shifted online, data tracking companies had to build tools to effectively meet their clients' data collection needs.
IVO was already supplying online and offline data, but they decided to release their own products to capture more of the market.
The first product IVO launched was 'Insights Retail'.
Insights Retail
Insights Retail provides real-time data to brands and retailers on competitor products, pricing, advertising, and other changes in the market:
IVO first released Insights Retail into the consumer electronics market. As that took hold, they released the product into the alcoholic beverage space.
These two verticals form the basis of IVO's Insights Retail offering.
The company is now working to fully commercialise and monetise the opportunities within those verticals through annual subscriptions based on the number of categories and professional services.
The following diagram illustrates in broad strokes how the Insights Retail revenue model works: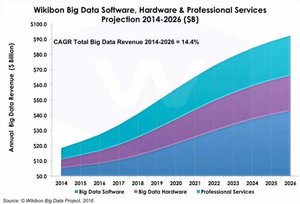 Insights Retail's data sets cover price, freight, offline brand, web traffic and online marketing spend to name just a few of its functions. This data can then be used to give customers a view of the landscape they are operating in.
The data is designed to create revenue generating opportunities for companies that can be pushed to the right people to create bigger profits.
IVO builds its own revenues via a subscription model fee, professional services and data consulting services.
After all, it is one thing to mine the data, it is another entirely to analyse and monetise it.
Since its first customer in May 2015, IVO annualised revenue from Insights Retail is growing rapidly.
In January, IVO signed a 12 month deal with a world leading electronics manufacturer to use its platform.
A month later it signed Treasury Wine Estates (ASX:TWE) to use the platform to deploy its alcohol beverage range. You may not know TWE as a company, but you would know its brands. They include Wolf Blass, Lindemans, Penfolds, Wynns and more. The $6.8 billion capped TWE is a wine lover's heaven if you are into that sort of thing.
A number of well-known brands and retailers continue to jump on board IVO's data train, so that they can access real time data on competitor products, pricing, advertising and other market conditions.
By the end of Q2 2016, Insights Retail is expected to be generating more than $2 million in recurring annual revenues.
IVO is also in shortlist negotiations with a number of other major brands and retailers for three-year deals for Insights Retail that could range from $300,000 to $500,000 in revenue, depending on the nature of the required services.
All in all, contracts worth $4 million are currently being negotiated by IVO.
For a company with a market cap of just $14 million, its continued growth and potential revenue generation could see its valuation start to creep up...
However, any re-rate in IVO is speculation at this stage and professional advice should be sought if considering this stock for your portfolio.
Insights Visitor
Insights Visitor Analytics can be used by shopping centres, conference centres, hospitality venues and bricks and mortar businesses to obtain maximum return on investment.
The product allows these places to track consumer habits, allowing them to make more informed business decisions.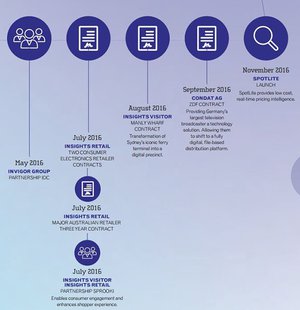 By offering an easy, frictionless Wi-Fi user sign up, which respects the visitor's privacy, IVO is able to obtain unique insights like demographic, psychographic, movement, behaviour and engagement.
The Wi-Fi feed presents opportunities to communicate and engage with shoppers based on their location and behaviour and present offers relevant to their likes and habits.
The platform also identifies shoppers running comparisons online whilst in store and provides retailers with the opportunity to intercept these shoppers before they leak out of store.
This is the way big data should be used.
The big data tools rolled out by Insights Visitor helps these businesses generate higher rental, add value for tenants, increase consumer spend, maximise car park revenue and increase advertising revenues.
No wonder IVO's customers continue to sign up to this product at a strong clip, with forecast revenue of $1.75 million...
Insights Visitor is built on IVO's proprietary technology and it is completely scalable, able to be applied to a wide variety of retail and public spaces.
Leading the push for Insights Visitor is Gary Pianko, who has worked for some of the most well-known corporations in Australia including Telstra, National Australia Bank (NAB) and the National Broadband Company (NBN).
Most recently, he was a marketing and management specialist in Telstra's Wi-Fi Networks team and previously held the role of Senior Marketing and Industry Engagement Manager.
Under his direction it expected that Insights Visitor will build on its already strong partnerships which include Cisco and Aruba (an HP company), hit its revenue target of over $1.75 million and build on its contract base, having recently signed with a shopping centre group .
Shopping Ninja
Shopping Ninja provides live comparisons across more than 100,000 retail offerings from brand name televisions and computers to washing machines, dishwashers and beer, wine and spirits.
It's Australia's first independent price-comparison browser plug in – providing consumers with real time price comparisons in consumer electronics, white goods and alcoholic beverages.
This explainer video sums up Shopping Ninja nicely:
Since its foundation in April 2015, the Shopping Ninja app has been downloaded over 25,000 times (end of January 2016) and it now has just under 90,000 users and visitors to its platform.
Shopping Ninja has enjoyed a rapid rise in consumer use in the past 12 months. In fact, since November 2015 alone, Shopping Ninja has grown by 130%.
Here it is featured on Channel 9's Morning Show:
Shopping Ninja was rolled out because IVO was collecting data for the B2B sector, which could be used to make consumers' lives easier as well – plus it's yet another way IVO is monetising big data.
As you can see from the graph below, the rise in consumer interest has been steady.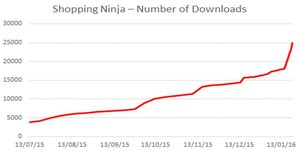 The next table gives you an indication of just how quickly Shopping Ninja is gaining traction among users.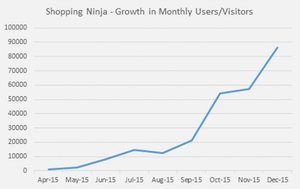 While revenues are modest at this stage, IVO has been investing heavily in improving technical and functional features and has ambitious growth plans set out for the rest of 2016.
This includes signing more affiliates to its platform who pay IVO a 5% commission for sales generated via Shopping Ninja.
IVO will soon be announcing a new product vertical that will be available for Shopping Ninja users. Additional products include cosmetics, perfumes and vitamins. Shopping Ninja is a globally scalable app, and once it's established here in Australia, there are unlikely to be many barriers in expanding the product overseas...
Watch this space.
Condat
The final piece of IVO's product puzzle is a canny acquisition instigated in October last year.
IVO's move to acquire leading German smart media specialist Condat AG had immediate impact on IVO's bottom line and gave the company instant global reach.
IVO now has the ability to facilitate the publishing and personalising of content through various digital channels.
Based in Berlin, Condat is the major provider of smart media solutions to public broadcasters in Germany.
Its Smart Media Engine, which allows companies to analyse semantic content, complements IVO's existing product offering and allows IVO to deliver better customer segmentation and targeting.
The acquisition has put IVO in the position to take a big run at becoming and end-to-end big data and content distribution provider.
Just have a look at how many clients Condat has and you begin to understand just how big this acquisition really is for IVO: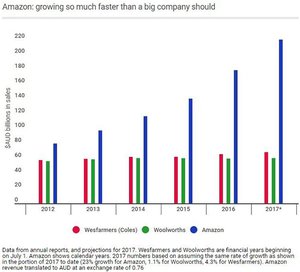 Since IVO's acquisition, Condat has won a $500,000 project with EU Horizon 2020 , a consortium of eight media partners, to develop media solutions in a $4.5 million deal.
Condat also won a $1.5 million deal with a major German media company to supply smart media solutions.
The project will generate $AU1.5 million in revenue for IVO over 14 months with the opportunity to supply further solutions in future.
More recently, Condat secured a $350,000 UK contract with a world leading technology and communications customer and locked in an additional $700,000 revenue from major German projects that will deliver revenue throughout 2016 and 2017.
By quickly adding millions of dollars of revenue to IVO, the Condat acquisition is a big win for IVO and it is a major part of their growth strategy moving forward.
IVO's Condat is expected to generate $8 million in revenue this year and already has more than 75% of that contracted or recurring.
Again, with deals being signed left, right and centre, an imminent re-rate isn't something that is out of the question.
And Condat isn't the only strategy being employed by IVO to bulk up its bottom line.
Money in the bank
As it moves to strengthen its financial position, IVO has been selling its non-core assets and putting money in the bank.
It has been negotiating to dispose of its investment in My Verified ID Group (MVID) and is expected to receive $2 million in cash & shares in a newly listed vehicle.
IVO received $725,000 from KIT Digital creditors , with a further distribution of funds expected later in the year.
A Share Purchase Plan that concludes on 31 March is also designed to strengthen the balance sheet.
The SPP has gone out to all eligible shareholders to acquire additional shares in the company at an issue price of 4 cents.
Shareholders are entitled to apply for up to $15,000 of new ordinary shares at 4 cents a share.
There is no guarantee investing in the SPP will be successful, and its always recommended to seek professional advice and also consider your own personal circumstances before choosing to invest in IVO.
After some Board turmoil toward the end of 2015, IVO has strengthened its entire operations, management team and Board – and this oversold stock may be set to rebound in 2016...
It has made some smart acquisitions, is strengthening its cash position, is looking at further verticals to improve its product offering and has brought in a team that it feels can drive it further... faster.
The data revolution – IVO is a leading player in Australia
It turns out that statisticians and data analysts are the new powerbrokers; the business revolutionaries who are driving consumer experiences and even the UN into brand new territories (or if you're Ford brand new Territories).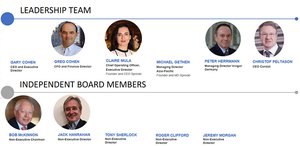 Though we can joke about it all we like, big companies such as Ford are using big data, to influence buying decisions and give customers experiences, not just sales pitches.
It may not be as serious as using big data to find a cure for Ebola, but in some ways it is just as important.
As the Guardian points out "who doesn't think that more money, innovation and effort should be poured into counting and measuring, and that more open data can help to unlock the corridors of power.
IVO is helping businesses to unlock these corridors with a big data solution that aggregates and analyses data sets to enable its B2B and B2C clients to get the best value for money.
IVO's current products, and those in the pipeline, have the ability to provide an end-to-end solution data solution across sales, product management, business intelligence, marketing, advertising, content creation and distribution, while monetising each and every step.
Meanwhile, it is building up its own coffers by bringing in revenues from its subscription based, commission, transaction and professional services revenue streams.
If you have bought a product recently, think about how you came to that buying decision. It may have been more than just fate, in fact there may have been some influence, some skerrick of data that was used to lead you to the point of purchase.
And behind that data is IVO.
---