Revenue Up 94% for Cashed Up Shoply… 250% Growth This Quarter?
PUBLISHED: 31-07-2014 11:01 a.m.
Cash revenues for SHP are up 94% to $0.93 M from the same time last year – all from Aussie online shopping.
Two new online retailers Warcom and Your Home Depot have been secured and are pumping revenue onto the books.
$3.5M in cash is in the bank, there are no debts.
The Online Advertising Division has been wound down.
And a new website ToyStore.com.au has just been launched into the $87M Australian online toy market.
Yep, you could say Shoply Ltd (ASX:SHP) just had a good June quarter !
This quarter is set to be even better – 250% is SHP's target revenue growth – recent acquisitions Your Home Depot and Warcom should contribute solidly to this growth.
SHP is now a pure play online sales company and its strategy of acquiring big name online businesses and domain names in Australia, then growing them organically, is starting to bear fruit.
Its ultimate goal of creating Australia's premiere online department store selling anything and everything is moving ever closer.
The 2014 financial year is behind us... and now we are looking forward to a big 2015 for this pure play online retailer: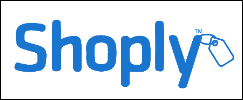 http://www.shoply.com.au/
We first covered SHP in our original article ASX Tech Junior: Final Nail In The "Bricks & Mortar" Retail Coffin?
That article goes into great depth about the strategies and actions SHP has been employing to become a dominant online retailer down under and it's definitely worth a thorough read. At The Next Tech Stock we do as much research as we can before investing in a stock, and as long term investors in SHP we recommend you do the same.
Now since that original bit of coverage hit your web browsers SHP has been very, very busy launching a new website, growing its stable of online retailers and counting up all the money flowing in from its new revenue sources.
Put it altogether and what have you got?
SHP's quarterly report for June which makes for some very bullish reading. Just like an online shopping spree, the report is easy to access and puts all the information at your fingertips.
Allow us to be your personal shopping assistant:
SHP's cash register is filling up fast
SHP's report for the June quarter has five main points to cover, all of them accelerating the company's ambition to become a leading pure play online retailer:
Ÿ Cash receipts up 21% to $1.1M in the June 2014 quarter;
Ÿ 94% increase in Online Shopping customer receipts;
Ÿ Improved cash position of $3.5M to support acquisitive and organic growth;
Ÿ Continued investment in the Online Shopping Division, and;
Ÿ Online Advertising Division to be discontinued in line with pure-play online retailer strategy.
Just before we get stuck in, let's have a quick recap of what SHP is all about.
SHP is an Australian online retail group with a tiny market cap of around $9M – yet it holds a stable of online retailers whose combined sales hit $1.1M in the June quarter!
Online shopping is a growing industry in Australia where it's worth $15BN and rising. That's not much compared to the $370BN online spend in the USA, but because online shopping is relatively underdeveloped down under SHP is in a good position to ride the rise of this sector.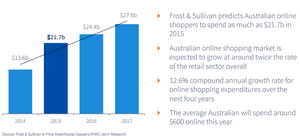 IBISWorld's annual report on Australia's e-commerce sector shows online sales growing at a healthy 24.1% between 2009 and 2014.
With that growth level in mind, PriceWaterhouseCoopers is predicting Australia's online retail spend could hit $21.7BN by 2015 and rise to $27.5BN by 2017.
If the way the June quarter went for SHP is any indication of the future then we reckon things really do look bright for this company.
To get there SHP has developed a cunning plan. Buy existing online retailers and absorb their revenues, customer lists, logistics chains and products and then invest in them so they grow and grow.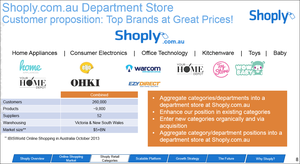 So far SHP has acquired a stable of seven online retailers covering baby goods, computers and electronics, toys and games, kitchen appliances and white-goods, televisions and home sound systems. All of the good stuff.
Plus, SHP is snapping up high profile domain names (website addresses) like ToyStore.com.au ; an online retailer for toys that's just been launched to the Australian public. More on that a bit later.
The ultimate goal of all of this acquisition and organic growth is to bring all of the sites under one banner – Shoply.com.au – a place where Australian consumers can browse online for everything they could possibly want and pay SHP to get it.
SHP is laying the foundations of its online empire now and we reckon the June quarterly results show the company is on the right track.
Our Track Record
Regular readers of our sites will be familiar with our long-standing interest in high potential stocks. To note just a few:
The past performance of these products are not and should not be taken as an indication of future performance. Caution should be exercised in assessing past performance. These products, like all other financial products, are subject to market forces and unpredictable events that may adversely affect future performance.
Revenue times two
First, let's follow the money.
For the fourth consecutive quarter SHP's Online Shopping Division has recorded two-fold revenue growth.
Check out the ski jump!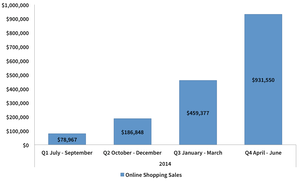 Cash receipts from the Online Shopping Division are up 94% from the previous year and this figure includes less than three weeks' contribution from the Your Home Depot and Warcom acquisitions which happened in mid-June.
SHP now has seven online retail websites under its control:
Your Home Depot – selling high end kitchen and home goods
Warcom – selling IT and computer products
Eljo – selling electronics, whitegoods and appliances
EzyDirect – selling electronics, stationary and home and office products
Ohki – selling just about anything you can think of
WowBaby – selling baby goods
Toystore – selling toys, of course! There are plenty more waiting in the wings and SHP have an ongoing strategy of finding even more online retailers to buy up and add to the revenue run rate.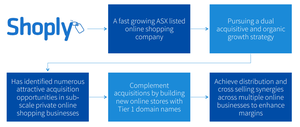 The fourth quarter of 2014 was the first quarter SHP was able to bring all of its new acquisitions together and the result is that cash receipts for the company are up 21% to $1.1M for the quarter .
So there's the rising cash flow – a key part of the quarterly success SHP enjoyed.
But it couldn't have gotten to this point without executing the key part of its plan to become a leading ASX- listed pure play online retailer...
A shopping spree that pays for itself
SHP spent $3M in Q4 2014.
For its money it completed the acquisition of the kitchenware retailer Your Home Depot for $2.85M – a price that which included $1.5M of fast moving inventory. This company brings 130,000 customers to the table and for the 2013 financial year it raked in $13M of revenue, with $1M EBIDTA.
Next on the bill was the completion of its deal to secure Warcom with a cash component of $150,000 plus a share consideration totalling $550,000 geared to revenue and profit targets over a two year earn-out period.
$3M for two high profile online retailers with a combined annual sales figure of $15M.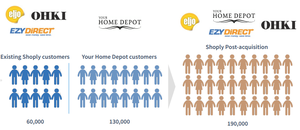 During the quarter SHP also raised additional equity of $3.65M before costs. This came from a fully-underwritten rights issue that raised gross proceeds of $1.8M and $1.85M raised from the exercise of 123.4 million SHPO options.
The money in the bank will be used to drive even more acquisition efforts.
Over the past 12 months SHP has put a finger in just about every slice of the pie chart that covers Australia's online retail sector; home and kitchen wares, baby goods, toys and games, consumer electronics, appliances and gadgets.

The only remaining areas SHP is yet to get a position in are sporting goods and food and beverages. But with $3.5M in the bank for future acquisitions and a website called sportinggoods.com.au in the works we're sure SHP is going to cover every base.
The ultimate goal is to aggregate all of these different departments into an online department store at Shoply.com.au .
But right now, SHP is concentrating on building up its brands and laying a solid online foundation for its electronic department store.
And that future department store now has a toy section...
Like kids in a toy store – that they own!
$87M.
That's the latest dollars figure from the research company IBISWorld on just how much money online toy sales in Australia are worth at the moment. IBIS says the industry is growing at an annual rate of 24.6% and is being driven by what it calls "increasing acceptance of the internet as a shopping medium for everyday products."

Parents and their tech savvy children are increasingly going online to buy toys and games. Pretty soon even Santa Claus himself could be cuddled up by the fire on Christmas Eve, ordering stuff for the sleigh on his smart phone!
And when he gets to the Australian part of his double checked gift list, he can use toystore.com.au – SHP's brand new online toy retailer that's just opened its electronic doors.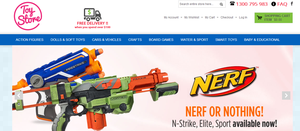 The launch of ToyStore.com.au is all part of SHP's growth strategy – combining acquisitions of existing online retailers and the organic growth of the brands it already controls.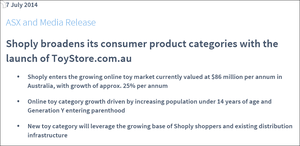 The new site marks SHP entry into Australia's growing online toy market and complements it's targeting of the baby goods sector through its WowBaby.com.au website.
And toys are a market worth targeting.
IBISWorld says traditional toys and games like dolls, trucks, building sets, action figures, puzzles and board games account for around 46.0% of the industry's revenue.
Well, take a look at what ToyStore.com.au sells:

All the big brands are on sale, one easy click away. Action figures from the Avengers to the Transformers, Barbie dolls and Mr Potato Heads, Hot Wheels cars, Play-Doh sets, Monopoly board games and rapid fire Nerf guns. All of it sold by SHP through ToyStore.com.au .
Electronic toys are a big growth area – think radio controlled cars, aerial drones and smart toys like the interactive Ubooly which links to smart phones – and SHP has this sector well covered at ToyStore.com.au .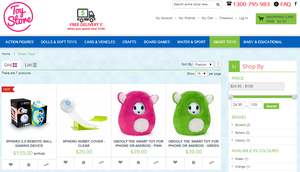 ToyStore.com.au 's digital interface is compatible with every conceivable version of computer, tablet and smart phone so every possible customer is catered for. A busy parent juggling playschool and work projects can order a birthday gift at the push of a few buttons; a very attractive option for the new parents of tech-savvy Generation Y.
Plus, the site offers the chance for SHP's other sites like WowBaby.com.au and the electronics site Eljo.com.au to cross promote products, offers and sales and guide their customers to ToyStore.com.au and vice-versa.
The eventual goal is bring them all together under Shoply.com.au but until that day comes SHP will be concentrating on growing ToyStore.com.au as much as it can.
Now, let's back the shopping trolley up just a second and have a look at the web address and name SHP has managed to get for its online toy store.

You want to buy a toy online? From a company with an Australian web address?
That's one of the best domain names we've ever seen. It's like cars.com or food.com. What ToyStore's web address says is exactly what it delivers.
Toys. In Australia. Online.
In the brave new world of online retailer competition is fierce and one of the most basic as well as biggest advantages a company can secure for itself is a good domain name.
SHP are no slouches and have been pursuing a strategy of acquiring the rights to high profile, simple to use and above all easy to remember domain names.
Next cabs off the rank will be sportinggoods.com.au and homeappliances.com.au. Bet you can't guess what they sell!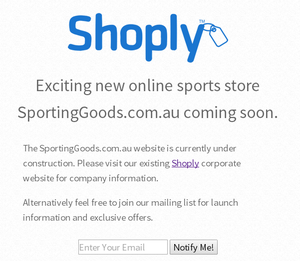 IBISWorld says there are just 196 businesses targeting online toys in Australia. SHP has analysed the market and believes there's a gap for an agile online-focused player. HP is not operating a website to support a bricks and mortar store like so many of its competitors. It's a pure play online retailer with its own supply chain and a nimble strategy of selling the hottest products with a few simple clicks. Its stable of online retailers give it depth and the ability to source products across company lines and bring customers from
When The Next Tech Stock first invested in SHP with a long term position we were drawn in by their strategy of acquiring established online retail companies and high profile domain names.
We love it when a good plan comes together and the launch of ToyStore.com.au is another big step in the right direction for SHP.
But as one new door of opportunity opens, another has just been closed...
SHP shuts the shop for online advertising
On August 1 st SHP will close the doors on its Online Advertising Division which was steadily wound down during the June 2014 quarter. This is a crucial step for SHP's ambition to become a pure play online retailer.
From here on in SHP is selling, not telling.
SHP says its online advertising revenues had declined to unprofitable levels and opportunities for growth in that sector are getting tighter.
SHP were very good at selling online ads. It's how they put together the whack of money it needed to acquire all of these online retail business. SHP says the unaudited accounts for the Online Advertising division present $1.3M in revenue and $0.3M net profit for the 2014 financial year to June 30.

A nice earner but it was a means to an end.
SHP reckons it will save an annual cost of approximately $0.36M through the closure of its Online Advertising division. Plus its focus will be totally fixed on growing its online sales, where cash revenues just went up 21% to $1.1m across the June quarter.
At The Next Tech Stock we see this as a shrewd move by SHP – one that shows it has the foresight and the stomach to succeed in the cut throat world of retail. Growth is great and we are certainly seeing a lot of that with SHP's accelerating strategy of acquisitions and organic expansion.
But guts are even more crucial.
SHP is showing it has the guts to stick to its plan of becoming a pure play online retailer and the way it has handled the transition has been smooth based on the numbers. As income from ads went down, income from online sales went up.
Can't ask for a better deal than that!
Australia number 1 for e-trade
SHP's big success in the June quarter came as e-commerce hit the headlines again and again down under. Here's the stuff that caught our eye:
A report from The Economist Intelligence Unit that's just been released rates Australia at number 1 out of 19 countries for e-trade.
Guess who came second? The USA – a nation where over $300BN is spent online each year compared to $15BN in Australia. Oz may be number 1 but there's a lot of catching up to do!
This write up in BRW s ays Australia topped the list because of "its affordable internet access, high smartphone penetration, a well-developed regulatory framework and high e-payments adoption."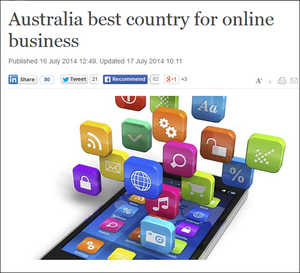 Australia also came ahead of the technology powerhouses Japan, South Korea and even beat Britain, the nation that played a crucial role in the internet's invention!
So as SHP ramps up its presence in Australia's online retail sector the rest of the world is taking notice. Australia is open for e-business.
But The Australian is reporting that a new study from the University of Sydney suggests most Australian businesses are a bit clueless when it comes to online sales.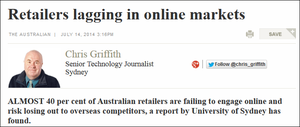 The report says 38% of Aussie retailers are "laggards" when it comes to digital commerce and fail to engage their customers online and are struggling to combine a bricks-and-mortar operation with the emerging needs of the internet.
No such trouble for SHP though. It's a pure play online retailer totally focused and totally committed to serving and selling to customers through the World Wide Web. The Economist says Australia is number one for e-trade but T he Australian reckons locals aren't cottoning on too well.
SHP is cleverly acquiring online retailers and spinning them together into a one stop online shop dedicated to online sales. Just the sort of thing Australia is crying out for. Their loss is SHP's gain.
Another big story coming out of Australia's retail sector is the takeover of David Jones- Australia's oldest department store – by South Africa's Woolworths Holdings for $2.2BN.

DJs, as it's known to locals, was founded in 1838 in Sydney and has grown into a colossal bricks and mortar shopping empire with stores in every major Australian city.
David Jones is what SHP wants to become – but exclusively online.
The deal was sealed after the Federal Court of Australia gave the green light for the Aussie icon to pass into foreign ownership. Good luck to them, but we're glad we've got an investment in SHP, a company that's positioning itself perfectly to ride the rise of online sales down under.
Bricks and mortar retail will still be part of the landscape but we reckon the sector with the most room for growth and the most opportunities for success is online retail. The takeover of DJs is a sign that the traditional retailers are struggling and scrambling to catch up with the internet behemoth.
Next on the shopping list
Alright, so what's next?
SHP has just had a bumper quarter with more action than an Arnold Schwarzenegger flick – which you can now watch on a DVD player ordered through one of its electronic retailers like Eljo.com.au .
The 2014 Financial Year is ending on a high for SHP and the company is now looking ahead to Q1 of the 2015 financial year as the time everything in its grand plan comes together.
The flurry of online retail acquisitions SHP pursued over the last 12 or so months is starting to bear fruit.
SHP says it expects 250% revenue growth this next quarter as the full sales firepower of its Your Home Depot and Warcom acquisitions shoots through the company. Remember, those two companies were only able to contribute three weeks of revenue to the $1.1M pot from the last quarter.
SHP will continue with its efforts to integrate both of those new acquisitions into its growing network of online retailers and says it's planning to upgrade both their websites and their mobile shopping interfaces.
SHP's domain name strategy is also starting to pay off.
Toystore.com.au is up and running and we expect to see a good stream of revenue coming from that site and adding to the pot. Sportinggoods.com.au and HomeAppliances.com.au are next up for launch and we look forward to seeing them get online and start pumping revenue onto SHP's books.
Above all of this SHP will be working to bring all of these online brands under one electronic roof – Shoply.com.au.
We expect to see updates on how this work is progressing and with the success of the most recent quarter very much in mind we're confident that SHP can fulfil its ambition to become a leading ASX-listed pure play online retailer.
SHP is cashed up with $3.5M in the bank and a steadily rising stream of revenue from its online sales plays. The company is keen as ever to keep exploring the market for suitable acquisition opportunities. Who knows, maybe they've got a few more up their sleeve right now...
---