New ASX Tech Company has the Answer?
PUBLISHED: 17-02-2015 09:01 a.m.
Almost every day we have a situation where we would like to ask a question to an expert.
From fashion to technology, pet health to DIY home renovation, tailored dating tips to weight loss questions from a pro – there are many occasions when we seek answers from an expert.
It really depends on the kind of person you are, and your hobbies and interests. Maybe you have a question for a car mechanic, computer expert, psychic, or wedding planner...
The problem is, these experts usually charge hundreds of dollars for a consultation – which usually takes less than 2 minutes and afterwards the answer seems pretty obvious.
There are billions of people all over the world with questions every day who could use the advice of an expert (or someone with some experience) in a particular field.
Professional consultants are usually prohibitively expensive and most of us don't have a friend available 24/7 who knows about any topic we are struggling with on any given day.
We have recently added to our portfolio a company that is already helping people out with the kinds of questions that need instant answers from experts.
This company is using mobile technology and an internal team of various subject matter experts; with plans to revolutionise how people seek advice – on anything...

CrowdMobile
CrowdMobile (ASX:CM8) make free apps & SMS services that can instantly connect you with experts – and charge just a few bucks for each piece of advice.
These apps are available for download right now and are generating revenue for the company. Scroll down to download them and try them out yourself.
3.4 million paid questions were submitted and answered in 2014 on CM8's platform, with the company taking a cut of each transaction.
Over 2.2 million questions were asked in the December 2014 Half (HY15) – this means they are on track to answer 4.4 million paid questions for the whole FY2015. That's a 30% increase from 2014.
There are dozens more apps to come on the company's product road map – and potentially millions more questions to be asked...
By 2020, there will be 6.1 billion smart phone subscriptions, and over 90% of the world's population will have access to a mobile phone. If even just a portion of these people had one question a day, you can see the potential global market for this is huge...
CM8 racked up sales of $9.84M AUD in FY14, with an EBITDA of $2.2M.
The latest half year results (HY15) have just been released – showing operating revenue up 20% to $5.6M and normalized EBITDA up 41% to $1.4M – impressive figures in the first 6 months of trading for the year.

Many pockets of revenue are coming from countries that may surprise you – we like the rapid global scalability of this company's offering.
With an existing presence in 14 countries across the globe, the company is now looking to expand into the burgeoning Asian Pacific region.
The Asian app market will rise to US$77 billion dollars by the year 2017, with a growth rate 3 to 4 times that of the USA. This company intends to take a slice of this market with their question and answer apps.
This shouldn't be too difficult given the simplicity of their technology and its flexibility to adapt their existing products to suit other niche markets.
This company paid fully franked dividends of $3M over the past three years as a private entity – but now major shareholders are keen to reinvest profits in these global growth opportunities – which is exactly why we have added this company to our portfolio now.
What are the analysts saying about CM8?
Wise Owl analysts recently released a report on CrowdMobile (ASX:CM8), with a 'Speculative Buy' recommendation and a $0.38 price target – that's 80% higher than CM8's current share price: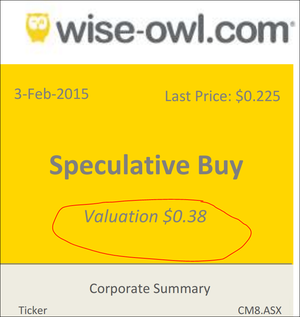 Whilst this report gives an excellent company analysis and overview, reading analyst reports are not the only type of research we do when investing in companies. Plus sometimes – analyst predictions are not realized.
Are you a CM8 investor and want to spread the word?
Get the message out there – make sure everyone knows about CM8 and share this article by clicking the buttons below:
[sd_share_article title="New ASX Tech Company has the Answer?"]
So how exactly do CM8 make money?
CM8's pay per answer mobile apps – to make things easier let's just call them Q&A apps – make their money not from people buying the app itself – but from the revenue generated from in-app purchases and PSMS (Premium SMS).
This is the "freemium" app model – and it's already allowed CM8 to generate strong profits for the company.
Basically it means that users can download the app for FREE – and then they make a purchase in the app, that gets charged to their phone bill or app store account.
Their apps are available across all Android and Apple mobile devices – right now.
CM8's Crowd Mobile Platform is capable of receiving a range of questions via SMS or one of their apps. These costs range from $2-$10 a question.
Remember, over 3.4 million paid questions were answered in FY14 alone – generating sales of $9.84M and a normalized EBIDTA of $2.19M: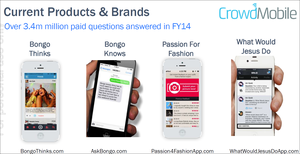 CM8 receives between 35%-75% of the $2-$10 that the customer pays – the rest being divided between telcos and app stores, and CM8's own in-house micro-job expert researcher.

The breakdown in revenue based on where it comes from is also shown in the pie charts here: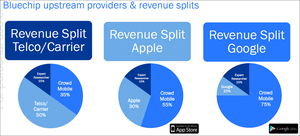 Whilst the PSMS model has served CM8 very well in years gone by, their latest products are all very much focused on the growing smart phone market – which gives them a larger slice of the revenue pie.
CM8 have found that profits can be made relatively quickly from each user – generally at the stage of the second purchase.
The fact that revenue is generated through major corporations – Google, Apple, and telcos, also gives extra security in terms of earnings.
CM8's CrowdMobile Platform
CM8 services user submissions using its very own "micro-job" platform – the 'Crowd Mobile Platform'.
This integrated cloud based management platform utilises 'crowd sourcing' techniques to answer questions.
Via this platform, questions from around the globe are received, and a team of over 500 researchers located all around the world, speaking multiple languages and available 24/7 are on hand to rapidly respond with a suitable answer to the customer. Researchers are paid per question responded to.
That's a win for the person seeking an answer, the researcher, and CM8 shareholders...
This technology could ultimately apply to any micro-job or crowd sourcing application – and it's all owned by CM8...
Our Track Record
Did you see the Next Tech Stock article on Ziptel (ASX:ZIP) ?
ZIP has been up as high as 160% since we first released our article: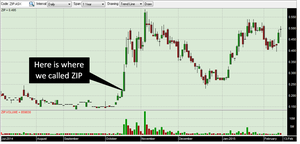 Source: Etrade Australia
The past performance of this product is not and should not be taken as an indication of future performance. Caution should be exercised in assessing past performance. This product, like all other financial products, is subject to market forces and unpredictable events that may adversely affect future performance.
CM8's technology can be rebranded for any niche market
CM8 have a portfolio of apps and messaging services available now, and with simple re-branding they can create new apps, and utilize the same tech platform to deliver responses.
For example, take Passion for Fashion.
Take a photo of what you are wearing, and submit it along with a particular question – you will be billed a few dollars for this.
Then a fashion expert will receive this question and respond with real time expert advice or suggestions – usually within minutes.
Now that you have tried it, can you imagine how many young people going on a first date would use this?
Or young professionals about to go on their first job interview?
No wonder Gen Y's phone bills are so big...
Now you can start to imagine the possibilities and applications to other areas where people are desperate for guidance, and are willing to pay a few dollars: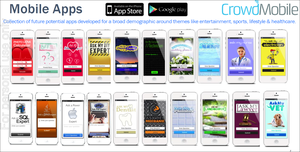 As well as Passion for Fashion, other apps within the CM8 product suite that are available right now are shown here – click on the image for links to each app: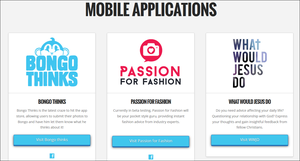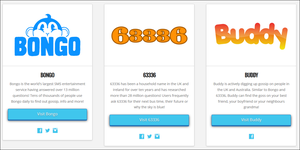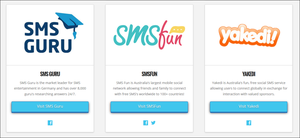 Did you know that CM8's Bongo app is the world's largest SMS entertainment service, having answered over 13 million questions? There are almost half a million likes from people around the globe on the app's Facebook page.
Utilising its Crowd Mobile Platform, all CM8 has to do is change the theme of the app to create freshly themed applications – as the core tech platform is the same across all products. This means endless expansion potential within its product lines.
Is also allows for product growth in developing regions and the dexterity to combat fluxes in trends.
Our Track Record
Following the release of the Next Tech Stock article on Connexion Media (ASX:CXZ): Tiny ASX Company to Supply Tech to GM and Volkswagen: Potential $50BN Market by 2018? , CXZ's share price has risen as high as 90%: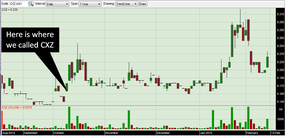 Source: Etrade Australia
The past performance of this product is not and should not be taken as an indication of future performance. Caution should be exercised in assessing past performance. This product, like all other financial products, is subject to market forces and unpredictable events that may adversely affect future performance.
CM8's global footprint
Aside from Australia, CM8 is doing business right now in New Zealand, the United Kingdom, Germany, the Netherlands and Switzerland, as well as recently expanding into France, Poland, Hungary, Norway, Portugal, Italy, Spain, and Denmark.
CM8 are thinking smart, and they're thinking global: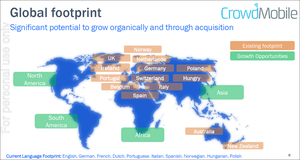 CM8's global footprint and scalable technology provides for continued entry into high value markets.
Their major focus right now, and a key reason for our investment, is their drive to establish a foothold in the potentially lucrative Asian Pacific region.
The estimated worth of the Asian app market will rise to US$77 billion dollars by the year 2017. The growth rate of the market is three to four times that of the US, so CM8's focus on the region is a strategically sound decision.

Even now, you can see where the global cash comes in for apps – dominated by Asia in red: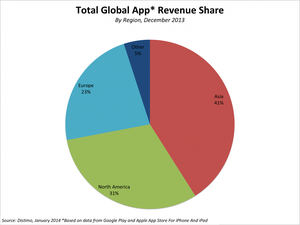 So this makes sense.
Asia makes up the largest percentage of mobile app downloaders on the planet – Malaysia, Indonesia, the Philippines, South Korea and Taiwan all make up the top five!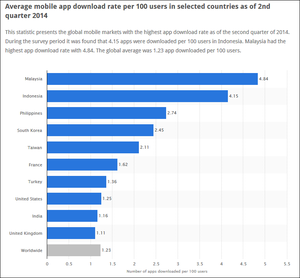 Due to the sheer size of the market, if CM8 can establish a foothold in Asia this would herald the most likely opportunities for rapid and significant company growth.
CM8 also have imminent plans to launch their services in the United States as well as deeper into European territories...
Our Track Record
We first wrote about Collaborate Corporation (ASX:CL8) way back in September 2014, in the article ASX Listed Tech Company Set to Capture Global Mega Trend . At the time this company was called Qanda Technology (ASX:QNA), the company then consolidated its shares as has been as high as 60% since we first wrote about it: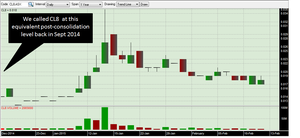 The past performance of this product is not and should not be taken as an indication of future performance. Caution should be exercised in assessing past performance. This product, like all other financial products, is subject to market forces and unpredictable events that may adversely affect future performance.
CM8 have assembled a powerful management team to oversee the global expansion
CM8's board of directors and executive team are all proven performers.
Melbourne based Chairman Theo Hnarakis, CEO Domenic Carosa and newly appointed CFO Christian Shaw have extensive experience in SME and ASX listed companies, and have driven the growth of CM8 to date.
Tobias Schlitzke (COO), based in Budpaest and with enviable industry experience, currently focuses on the growth and operations of CM8 and its customer acquisition strategy across multiple countries and time zones.
Hans de Back was recently appointed as Non Executive Director and has significant experience working in technology companies and is currently the Managing Partner at Incubasia Ventures, as well as non-executive director of ASX listed iCollege (ASX:ICT) and Moko Social Media (ASX:MKB).
We are confident that this team assembled will be able to steer CM8 to even greater profitability in the months and years to come...
Asian expansion imminent for CM8...
We're very much going to keep a close eye on what transpires over the coming months at CM8.
We are looking to see how they will roll out their Asian expansion plans and how revenue will grow in the coming months.
With their scalable product already operating and bringing in cash we are looking forward to what other apps they will bring to market.
We feel confident that CM8 should soon prove to be a crowd favourite!
Are you an CM8 investor and want to spread the word?
Get the message out there – make sure everyone knows about CM8 and share this article by clicking the buttons below:
[sd_share_article title="New ASX Tech Company has the Answer?"]
---