New ASX RegTech Play Aims to Put the Brakes on Cybercrime
PUBLISHED: 15-08-2016 10:03 a.m.
'Who are you – I really wanna know' – not just the lyrics of the famous Pete Townshend song, but also the opening theme song of popular television series CSI.
However, more importantly they are the words on the lips of every employer, and one recently listed ASX tech company is here to help organisations in determining not just who is on the payroll, but what their true identity is and their real background.
In an era where identity theft is rife and forging documents can be done with ease, the need for this company's wide range of high-tech identification products has never been greater.
Think how retail giant Myer could have avoided the Andrew Flanagan scandal, after they appointed him as General Manager, only to find that he had forged his CV. Myer lost time, money and face in a situation that could have been avoided using the right identification technology.
The other compelling feature is that this company actually makes money, generates sales and is expanding with existing clients.
This ASX stock has done a great deal during their short time on the ASX including releasing new Validation and ID cards for Metro (MTM), setting up distribution and partnering deals with several HR and Learning system companies, partnering with Job Board to create a validated profile campaign for their 30,000 members and integrating work flow process to reduce administration costs for several labor hire companies'.
In fact this company is on track to co-market services to 1,000,000 plus individuals in the Labor Hire Market shortly. Looking beyond at future opportunities, the company has negotiated some important deals in a short space of time and the fact that it has quickly been able to enter global markets not only demonstrates the breadth of demand for its services, but it also provides some insight as to the potential growth opportunities that lie ahead.
Remember, however, that this is an early stage company and comes with all the risks inherent in a tech stock, so seek professional financial advice if you are considering this stock for your portfolio.
Assessing their addressable market, it is all the more difficult for employers to really know their staff in an era where they are much more transient and there can be a high proportion of workers that have resided overseas, often in regions where records are either not maintained or there is the scope for manipulation.
While a minefield for employers, the landscape couldn't be better for this emerging RegTech (technology used to navigate regulatory environments, including police, identity and bankruptcy checks to name just a few) play, which possesses the proprietary technology to assist all parties in the employment chain, including HR enterprises, training organisations, employers and employees.
While the FinTech space gets plenty of airplay and there have been numerous ASX listings in the last 12 months, don't be surprised to see the more boutique RegTech sector take off over the coming months – in fact Deloitte are calling RegTech the new FinTech – and this little ASX stock could be the one that can make a lasting impact.
Importantly, it isn't just the scope of access that makes this security tech play an impressive proposition. Using traditional methods for conducting searches could take up to 3 hours per applicant, whereas this company's technology can achieve the same outcome within a matter of minutes.
Based on its products, the overall market, a tightly held stock and a pipeline of expected news, this $11.1M capped company will soon be looking for a re-rate.
Introducing:

TikForce (ASX:TKF) was established in 2014 and was subsequently acquired in a reverse takeover by Palace Resources. This was facilitated by a $4.5 million capital raising with Palace's name subsequently changed to TikForce prior to the commencement of trading on April 12 this year.
The capital raised to complete the transaction will provide the company with sufficient funds to complete the rollout of its HR technology platform, move to sustainable profitability and expand the business in the near term.
The following video gives you a simple introduction into how TKF will achieve this:
As you can see, it is quite a comprehensive business plan, which will be made even more complete with the recent launch of its Digital Validation Pack , which bundles police clearance, digital ID, right to work and credentials passport all into one low cost offering.
The pack has an addressable market of in excess of 20% of the Australian workforce and comes at the very affordable price of just $49.95. TKF sees it as an effective marketing tool to drive broader adoption of the TikForce platform – something they are doing quite well at already as evidenced by its relationships with other cloud based businesses such as Velpic (ASX:VPC).
The Velpic connection
In March, TKF was targeting breakeven and profitability in 6 to 12 months from commercial launch. The business is expected to be fully sustainable within 18 months.
TKF hit a high of 10 cents on the first day of trading, but trailed off in the ensuing weeks, arguably due to a lack of news flow.
However, this changed in mid-May after the company announced that it had signed a Memorandum of Understanding with cloud-based video e-learning group, Velpic (ASX:VPC), another stock we have been following over the past few months . In the space of a week TKF's shares increased from 6.7 cents to a high of 7.8 cents, representing a gain of 16%.
The past performance of this product is not and should not be taken as an indication of future performance. Caution should be exercised in assessing past performance. This product, like all other financial products, is subject to market forces and unpredictable events that may adversely affect future performance.
TKF's agreement with VPC will see the two companies investigate the integration of technologies to provide employers with workforce identity verification capabilities and automated employee profile generation.
As an example of how the two groups will interact, following completion of a lesson, Velpic's platform will automatically feed the results into TKF's qualification database, helping to generate a more complete profile of the employee which can be utilised to reduce onboarding time for employers.
In addition to providing easy identity verification and biometric confirmation during the delivery of training, TKF can also provide a sales channel for online assessments. This could result in a revenue sharing arrangement whereby both companies will charge a per transaction fee, with Velpic to charge a fee for each lesson completed and TKF to charge a fee for each verification.
Not only would this facilitate an additional revenue stream for TKF, but it would provide Velpic with a competitive advantage over other Learning Management System providers. This could potentially prompt other training organisations to negotiate similar agreements with TKF.
Another recent milestone, saw TKF accredited as a National Police Check Agency to conduct Australia-wide criminal record checks. In most cases, users of their police check service (will be able to complete their applications in minutes either on their mobile device or online. This process eliminates third-party validation requirements, providing a rapid low-cost end to end solution. To understand how these services are making moneylet's quickly have a look at the revenue model.
TKF's Revenue Model
At a time when many new tech entrants find it difficult to articulate exactly how they will make money it is refreshing to see TKF's revenue model clearly extrapolated. The group has a wide range of products with different price points, so it is worth gaining an appreciation of how the company will be generating income.
The real.id area of the business provides certainty of identity through digital or physical checks. This can involve facial and voice recognition technologies where required. The company's products meet international standards and can form part of an integrated package with some of its other products.
On a one-off basis the pricing is between $35 and $55, but less if packaged with other services. This will last for up to 10 years before updating and is a prerequisite for all other verification processes. This product can be used for security and ID cards.
tik.me
tik.me provides certainty of credentials through a cloud profile database on Microsoft Azure. The product meets international privacy standards and the data is managed by individuals, but is accessible by authorised employers, recruiters or HR managers.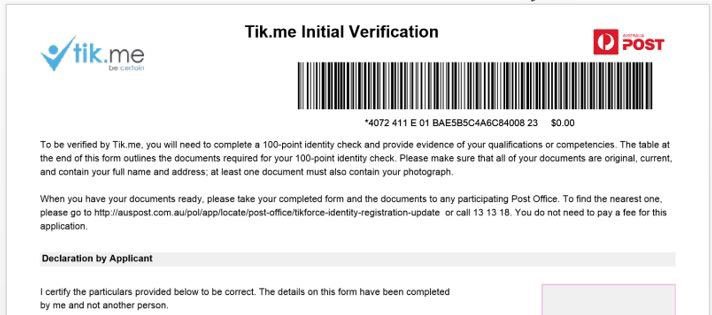 tik.me incorporates compliance tracking and reporting as well as digital and physical processing. tik.me requires real.id and can be facilitated using web and mobile devices. The pricing is $5.00 per user per month or less if packaged with other services.
Credentials can be processed physically at Australia Post offices or digitally via the tik.me website or workready.job wizards.
The validated profile covers documentation such as qualifications and competencies, licenses, insurance policies, medical certificates and immigration data.
A certificate of compliance transaction number, as well as credentials reports can be provided, and a charge of $35.00 per user compliance certificate is levied.
workready.jobs
workready.jobs provides links to position requirements that can include embedded specific training and tests such as site inductions. Specific components can be free or charged and support digital and physical processing. Positions database requirements templates are also available. The charge on a monthly basis starts from $2.00 per Wizard.
Workfacts income intelligence is a product that is due for release in September 2016. It will be Android and Apple enabled, providing extensive work, jobs, training and career news and knowledge. The product can be co-branded and sponsored, and news and information can be filtered and customised. The cost is $5.00 or less if packaged with other services.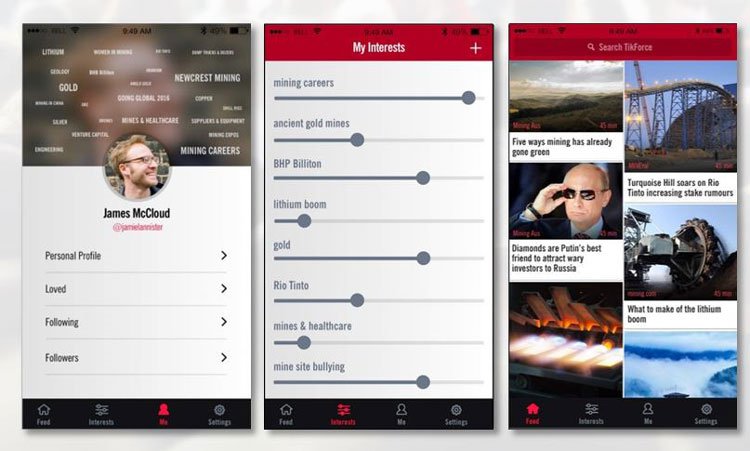 certain.online
TKF has cleverly tackled the rise problem of delivering training and testing online. Knowing for sure that the person on the other side of the screen is the person who is gaining the credentials at the same time of integrating certificates directly into their platform is crucial.
certain.online provides a set of application programming interfaces for online training at testing organisations. By using biometrics on course participants, employers, trainers and testers can be sure that the job applicant is actually the person who completed the course.
For ease of access certificate results are posted to the tik.me cloud profile as validated results. For course validations TKF can provide a sales channel which can result in sales margins for trainer registrations.
bemore.training
bemore.training, due for completion in November 2016, is an online marketplace for online and digital training and validation services that are compatible with the TikForce platform. Training and validation services can be searched and purchased via the platform along with supporting products such as resume advice.
This will encompass a wide range of areas such as police and integrity checks, licenses and qualifications, history and background, 32 personality checks and over 150 skills tests. Margins for this product will be in a range between 25% and 50% or less if packaged with other services.
How TKF works
TKF is poised to cash in on the RegTech trend with its proprietary technology providing businesses with a more efficient and complete solution for workforce identity and compliance checks and credentials, including qualification screening.
Here is a rundown of how TKF meets the regulatory and client expectations.
Verifies Identity with biometric indicators
Verifies Profile that is more dependable than a resume or LinkedIn Profile
Certificate of Verified Credentials
Position Specific Requirement Wizards
Easy Purchase additional Credentials, Licenses & Work Start requirements
Integrated On Boarding & Training Courses & Assessments
Extensive APIs for workflow and third party application integration
Here is Managing Director Kevin Baum speaking about TKF's products, services and industry reach...
Importantly, demand for these services isn't limited to Australia and there is substantial potential for the company to tap into overseas markets.
In fact the company has already negotiated an important agreement with a Hong Kong-based fintech group that could potentially provide a springboard for its entry into the broader Asian region including China.
In May, TKF signed a Memorandum of Understanding (MoU) with leading Hong Kong fintech Veridate Financial to join forces to provide a highly automated client onboarding solution aimed at the Hong Kong funds management industry. This is an industry estimated to have HK $18TN (AU$3TN) in regulated funds.
How much of this market TKF could tap into is yet to be determined, so take a cautious approach to your investment decision and don't use these numbers as the basis for your investment decision if considering this stock for your portfolio.
It is an industry crying out for more efficient security measures and Chief Executive, Kevin Baum highlighted that the integration would reduce application times from days to minutes for Veridate's clients while enhancing the user experience and minimising user interaction.
Not only is this an important development in isolation, the agreement strategically positions TKF to expand into the Hong Kong and China markets where the company is engaged in negotiations with a number of parties.
TKF will integrate its Tik.me Real.id platform with the Veridate system to provide worldwide digital client application validation capability.
Another example of how TKF's technology improves efficiencies relates to the manner in which it works with the labour hire industry, rather than being a competing entity, assisting in reducing costs while facilitating onboarding and verification of candidates.
TKF's platform used in collaboration with industry insiders and experts is at the cutting edge in terms of helping organisations and individuals to achieve compliance with optimum speed and efficiency.
TKF provides employers or contracting agencies with access to a database that covers a multitude of areas.
Only last week the group completed the Phase I contractor onboarding rollout with MTM Metro with the new version of identity validation and access process providing a more complete solution that streamlines the full onboarding ID process for an additional 750 contractors working on the Metro train network.
TKF's expansion and business model could open up a raft of sectors and markets as it looks to roll out its platform on a global scale and potentially match its peers in the security identification space.
Meet the peers
We have scoured the ASX for similar tech plays and many of them point the way as to how TKF may be able to grow over time. Though TKF is a microcap that may not be the case for long. Looking at the fast emergence of small companies in this space, Medibio (ASX:MEB) is a good example.
The group's market capitalisation has increased from circa $20 million in March to approximately $40 million as its technology has proven to be effective in distinguishing individuals with major depressive disorders. The quest to really know your employees has never been greater, once again substantially driven by ever-increasing compliance responsibilities.
Another highflying smaller player in this space is Konekt, Australia's largest provider of organisational health, risk management and return to work solutions. Konekt's acquisition of CommuniCorp in May could be viewed as an acknowledgement that employers are now more focused on prevention rather than the cure, squarely in line with TikForce's stategy.
The acquired business specialises in developing positive workplace mental health and well-being through developing resilience capabilities, as well as conducting training and risk assessment programs regarding psychosocial issues. The group also provides mental health advisory services.
In terms of determining whether the market is conscious of the growth prospects for such companies, Konekt's share price speaks for itself. This week's high of 56 cents not only represented a 12 month gain of nearly 200%, but also highlighted that a company with a market capitalisation of circa $35 million can in the right circumstances tap into a very lucrative industry.
The past performance of this product is not and should not be taken as an indication of future performance. Caution should be exercised in assessing past performance. This product, like all other financial products, is subject to market forces and unpredictable events that may adversely affect future performance.
There have also been some outstanding performances from the likes of IPH and Xenith IP, companies that target the patent management and compliance areas. These are relatively newly listed companies with long established businesses that have raised capital with a view to taking advantage of industry consolidation and the growth prospects on offer.
The key difference is that they manage all aspects of intellectual property registration, approval and management while TKF's focus is on people.
The common denominator though is that the industries they service have become increasingly challenged by the emergence of new technologies that can just as easily copy product designs as create false identities.
Looking at the success of the IP management plays, IPH listed on the ASX in November 2014 with an IPO price of $2.10, implying a market capitalisation of $330 million. Its share price increased by 350% in the ensuing 12 months, and while it has come off in the last six months, the fact that it has a market capitalisation of more than $1.1 billion tells the story.
The past performance of this product is not and should not be taken as an indication of future performance. Caution should be exercised in assessing past performance. This product, like all other financial products, is subject to market forces and unpredictable events that may adversely affect future performance.
Similarly, Xenith IP listed on the ASX in November 2015 with an IPO price of $2.72 and six months later hit a high of $4.32. While there appears to have been some profit-taking more recently the company's shares are still trading at a 25% premium to the IPO price.
The following chart indicates Xenith's growth in just a short space of time...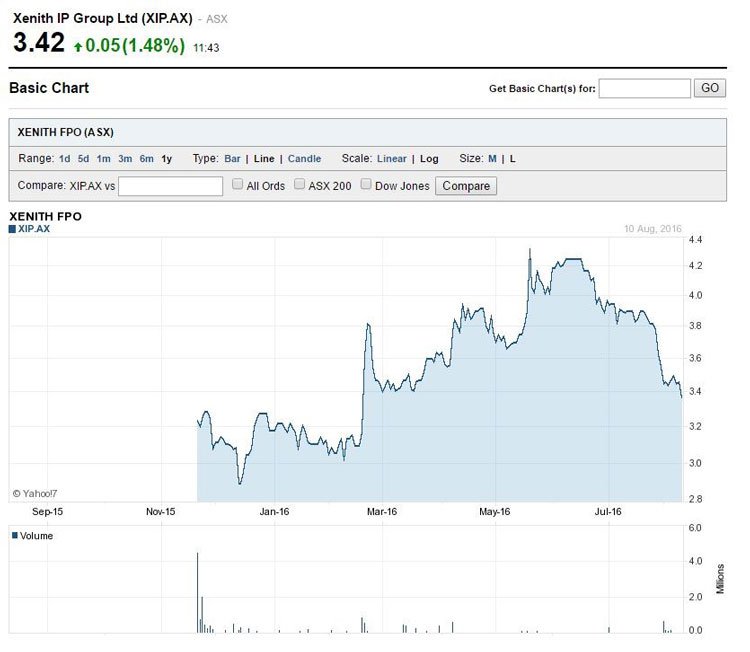 The past performance of this product is not and should not be taken as an indication of future performance. Caution should be exercised in assessing past performance. This product, like all other financial products, is subject to market forces and unpredictable events that may adversely affect future performance.
Combined with IPH, you get a sense of just how well companies in this sector are doing and TKF hopes to follow in their footsteps and gain similar traction on the market as its sales and profitability grow.
Again, this is an early stage play and anything can happen. Seek professional financial advice if considering this stock for your portfolio.
TKF becomes HR's best ally
Employers and investors alike are likely to be encouraged by the fact that TKF's products are technology driven, given that past reliance on human resources to develop appropriate policies and instigate induction programs has resulted in some monumental failures.
One notable event was the appointment of General Manager Strategy, Andrew Flanagan, by Myer Holdings. He was fired in 2014 because his job history was faked, an event which proved to be extremely embarrassing for such a large group.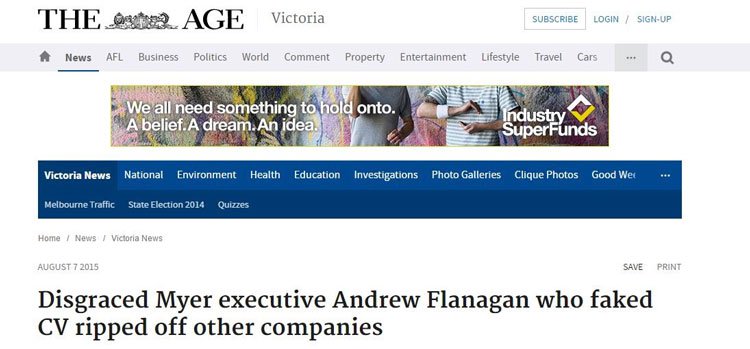 In this case, Flanagan claimed to be former General Manager of strategy and business development for Inditex, the Spanish retailer that owns international fashion brand Zara. When it was all too late Inditex denied that he was ever employed by the group.
It could be argued that the application of TKF's deep drilling personal checks would have spared Myer the embarrassment.
TKF puts paid to old-style CV checks
TKF has a wide range of products at varying price points in order to suit the needs of large organisations or individuals.
There are in-depth end-to-end solutions for large organisations that carry upfront and recurring fees, but there is also a large suite of products that individuals can cherry pick from in order to meet any requirement from ID checks through to training credentials and job experience.
While it may quickly come to mind that traditional checks and online reference points such as LinkedIn already provide this information, job applicants with sinister goals in mind can not only render these checks as irrelevant, but even use them to support a false identity.
The benefits of really knowing your staff beyond a tick and flick CV have long been recognised by leading corporate figures. Warren Buffett stressed that in looking for people to hire you look for three qualities: integrity, intelligence and energy. He went further in saying that if you don't have the first, the other two will kill you.
Next level security
There is no getting around the fact that over the last decade technology has changed the landscape for employers. However, there is more to it than the emergence of online job advertising. For example, while plenty of investors made wads of cash by investing in Seek in its infancy, those same returns can't be achieved today.
The emerging trend for investors who want to capture an early stage Seek type play is that of employee identification, verification and validation, the touchstone for employers seeking that key employee ingredient – in Buffett terms, 'integrity'. And it is TKF that can provide employers with this edge.
TKF's platforms differ from most products offered by its peers in that they is not trying to eliminate the HR professional. In contrast, TKF is seeking to provide those that work in that field with the tools to enhance their strategic business contribution.
Through utilising the group's online platform and mobile applications it is anticipated that HR professionals will be able to remove many of the administrative and repetitive tasks that are a function of selection, onboarding and compliance.
In a nutshell, TKF's digital solutions assist in identifying workers and validating their credentials and qualifications, thereby cutting compliance costs for companies and assisting workers in securing jobs more easily.
TKF increasingly shapes up as a news flow driven story and with management flagging a number of pending developments it is certainly one to watch out for.
---