New ASX Listing: ZYB Launch Assault on Corporate Cyber Crime
PUBLISHED: 26-02-2016 10:02 a.m.
Corporations are currently in the middle of data security jeopardy...
...and it's only getting worse.
In 2015, 193.4 million personal records were compromised by hacks , with 2016 predicted to set a new record that most corporations are desperate not to be a part of.
Take a look at this infographic. The larger the circle, the larger the hack.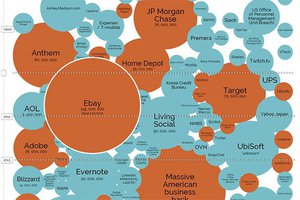 Malicious attempts to hack and disrupt today's businesses is costing companies millions, with the biggest bill falling at the door of large multinationals that tend to generate more sensitive data.
Some of the biggest names in global business have been hit with a variety of attacks since 2013 – Ebay, AOL, JP Morgan Chase, UPS, Ashley Madison, American Express...
It's no wonder then, that security technology companies such as Zyber (ASX:ZYB) are rapidly rising to combat the problem.
This North American company, has quite possibly found a fool proof security solution that could ease corporate heart strings while saving them a few dollars in the process.
At the same time, success is no guarantee for this company – it's a speculative tech stock, and caution is advised if considering as an investment.
ZYB listed on the ASX today, after successfully raising $3 million to complete the build-out of its product line and to explore acquisitions in the cyber security space to expand its revenue base.
In fact, given the increasing focus on this space, there could well be a number of acquisition opportunities currently under review by the company...
ZYB will also begin proof of concept trials with Government, Retail, Telecommunications, Energy and Healthcare clients to provide real world analysis of how well its security solutions hold up to existing threats.
The future of technology and our data-centric world, is all about cyber security...
From a security perspective, corporates are quite some way behind where they would like to be.
And from a market perspective, this creates an immense opportunity that is likely to remain viable for generations, fuelled by an Internet of Things that some have anecdotally dubbed, 'The Internet of Hackable Things'.
Information technology bugbears and issues may soon see companies spend in excess of US$170BN per year in efforts to contain them which leaves a market gap for any cyber-security hopeful that can provide an effective solution to the current situation.
Everything can be hacked , and corporates know it...
...so here comes a Zyber solution capped at $15.6MN.
Refreshing the story on:

Zyber
We first brought you this cyber-duo late last year in our article, "The $100BN+ Data Security Market is Ripe for this Cyber Duo: ASX Shell Days Away From Acquisition" where we had a good look at Zyber (ASX:ZYB) and its overarching strategy.
In this article, we're here to update you on how ZYB is tracking, especially now that the Reverse Take Over of Dourado Resources is complete, and the stock has listed on the ASX.
For those new to this company, this video best sums the technology and it global commercial potential:
That cash is earmarked to go directly into the company's product development, getting its operations moving and possibly snapping up a bargain as part of an acquisition, but more on that later.
ZYB is readying itself to hit this real world security problem head on.
What was once science fiction is now a real world problem
As the world becomes increasingly 'digital', the amount of data floating around in clouds, PCs, laptops, mobiles and tablets naturally grows.
If you include the likelihood that digital 'devices' are set to reach 30 billion in the next few years – it means that cyber security could be an absolute barnstormer of a market for decades to come.
The Internet of Things has boosted inter-connectivity but by the same token, has been an absolute nightmare for security and privacy.
When a video-games console controller can be connected to a laptop, and then used to hijack a car – that's when alarm bells should be ringing.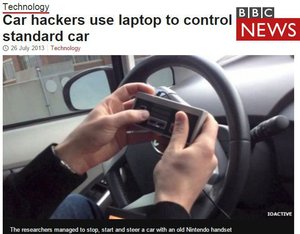 And they are: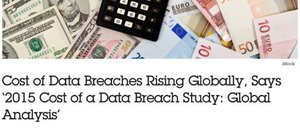 Australia's Chief central banker Glenn Stevens, sees spending on cybersecurity going up too.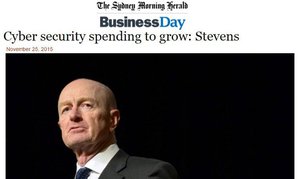 Cyber crime is increasing because smart fridges are now able to do the shopping for you, Barbie dolls can talk to your children and watches can keep track of your health.
The trend of the increasing use of inter-connected devices is likely to be targeted by hackers even more in 2016 – and given past hacking successes, a betting man would back the hackers to exploit just as many businesses this year as they did last year.+
When the head of the CIA has his email account hacked, you know there's trouble.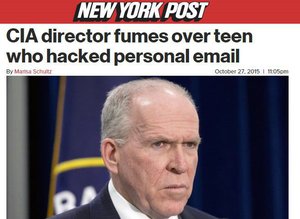 Zyber security to the rescue
What the world needs is a robust and reliable (but also simple) solution that allows corporations to conduct their business in peace, without hampering their day-to-day activity...
...and ZYB has developed a solution that's geared to deliver that.
ZYB is currently on track to roll-out a new version of its secure file sharing software later this quarter. Understandably tight lipped about its product line, ZYB hopes to woo its sample customers with product trials first.
ZYB is also exploring a number of acquisition opportunities within the cyber security niche to boost its product line, in order to get the wheels moving revenue-wise.
Proprietary technology underpins ZYB's unique product, while a market gap facilitates its take-up
Let's take a look at what ZYB has under its hood:
Provides 'military grade' 256bit symmetric encryption as a baseline for protecting confidential data (a bit like offering bullet proof panels as standard on every new car sold);
Patent-pending technology allows users to view, edit and share data even using devices that are 'unsecure' but still manage to preserve security and privacy;
Computers that are riddled with viruses, key loggers and malware are able to access sensitive data without compromising it (that's like going for a swim and not getting wet)
Users can use fully featured PC software from their mobile phones including Windows and MacOS operating systems (the same as being able to watch Blu-ray discs on your DVD player)
One of the best aspects for ZYB is that all of its features incorporate the fact that both retail and corporate users want to use the cloud to make their jobs easier.
As the shift towards cloud computing continues, many corporates are put off committing their sensitive data onto any cloud, primarily due to security concerns.
ZYB's product and business model takes away that apprehension, with larger, more data-intensive companies likely to benefit most from ZYB's products.
ZYB could simplify the burdensome problem of cyber security in a world where hacking is becoming commonplace. As long as its product stands up to the challenges, this $15.6MN upstart could find itself as a boutique go-to solution for thousands of businesses.
If this occurs, its valuation is likely to rise significantly above its current level. However, at this stage any talk of a revaluation remains speculative. Caution with regard to ZYB as an investment is advised – this technology is still in the early stages of development.
Since our previous article on the company, The $100BN+ Data Security Market is Ripe for this Cyber Duo: ASX Shell Days Away From Acquisition , ZYB has started turning its attention to trialling its technology.
When it comes to product testing and endorsement, ZYB has five 'whoppers' currently trialling its platform
Without being able to name names, ZYB admits it has five " large enterprise companies commencing trials in early 2016".
Assuming these prove successful, ZYB could have commercial deals signed within months which may likely serve as a near term price catalyst.
What businesses are particularly wary of is cloud-based services which pose the most security risk. However, despite the security risk, usage of cloud-based services is expected to rise strongly.
Here's Goldman's take on cloud-computing: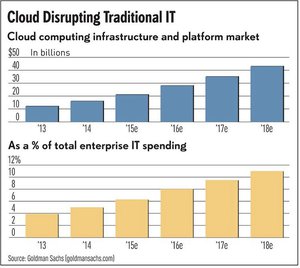 So cloud-computing is the most risky from a security standpoint...
...yet the world's consumers and companies are nevertheless jumping two-feet-first into the cloud.
Sounds like a recipe for disaster which would explain the exponential rise of hacking attacks in recent years.
ZYB wants to get in on this action and allow corporates to fulfil their efficiency-focused cloud aspirations, without having to worry about cloud-computing leaving gaps in their infrastructure for hackers to exploit.
Here's what the Ponemon Instuitute estimates data breaches to cost corporations: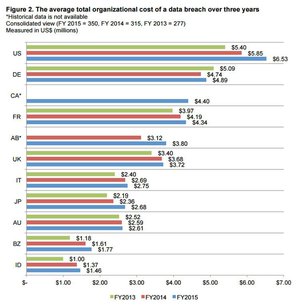 The US and Germany lead the hackers' hit list with data breaches costing organisations an average of US$6.53 million per company in the US and US$4.89 million in Germany.
If there's one thing companies don't like, it's spending millions on cleaning up security leaks that should have been plugged to start with.
As the world is plagued with security breaches, ZYB has the perfect backdrop to show its product and make the case for companies to divert those wasted dollars into securing their systems before a breach, rather than cleaning up after one has already happened.
For the tech savvy out there, let's take a deeper look at Zyber's product
Developed in-house by an experienced development team sourced from a variety of market sectors, ZYB's platform is built on four distinct pillars that represent the cornerstones of its cybersecurity push:
Pillar 1: Secure Virtual Desktop via USB
By creating a secure computing 'loop', users can access their sensitive data from public PCs at airports and internet café's whilst preserving data security by ensuring data is only transferred between the USB stick and the company's secure server.
Pillar 2: Private Cloud Secure File Synchronisation
Allows cloud storage and synchronisation of files between all devices. All data is encrypted automatically with 256bit military grade encryption. Users effectively 'project' the original file residing on company's secure server to any device. The actual file never moves and any changes made are always saved back onto the company's server.
Pillar 3: Open Source Virtualisation Appliance
Virtual server streams data to users which is encrypted on the fly at pixel level. In other words, as a user is making changes to a file, the projection of that data going back and forth is encrypted multiple times thereby creating a secure 'tunnel' between the user and the company's secure server. Open source code means ZYB avoids any software licensing costs.
Pillar 4: Mobile Touch Virtualisation
Provides an enhanced end-user experience by allowing full virtualisation of operating systems such as Windows and MacOS onto mobile phones. Users receive full PC operating system functionality on their mobile phone or tablet device. Powerful applications usually reserved for PC use only can now be liberated and used on the move – securely. All functionality is seamless and doesn't require third party updates.
When comparing ZYB to commonly known services such as Dropbox, OneDrive and Google Drive, its offering looks to be superior: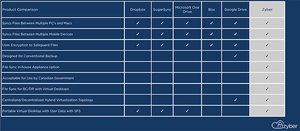 And if we compare its mettle with other corporate contenders, here too ZYB has seems to have an edge over its peers.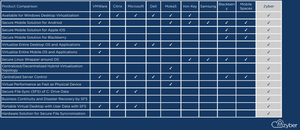 Given the company's strong R&D background and ongoing development work that's still not completely finished, ZYB is likely to add further to the range of solutions it offers users over time.
Here at The Next Tech Stock , we keep an eye on new companies looking to break into new markets – and who have a unique selling point to differentiate (and elevate) themselves above the competition and on this front, ZYB stands out.
In a quickly evolving landscape, retail cloud-providers such as Dropbox, OneDrive and Google Drive are lagging behind because security is not a priority feature for its users.
Or not yet anyway.
This is a potentially lucrative opportunity for ZYB. After consolidating its position amongst corporates, it can go on to target the mass consumer market further down the line.
An industry-leading organisation, Open Data Center Alliance (ODCA) which has more than 280 members, including BMW, JP Morgan Chase, UPS, Disney and AT&T, published a checklist of security requirements cloud-providers should ideally aspire to.
Here they are listed below:

ZYB's solution ticks all the boxes which means it is very likely to gain strong traction in a market in dire need of better security.
Not only that, but in a recent survey, the ODCA found that around 40% of respondents cited security as the primary inhibitor to utilising cloud-services.

If cloud-computing can be made safer, more users would adopt it – especially corporate organisations
ZYB stands out by making cloud use less daunting for high-end corporate users thereby carving out a compelling business model which can potentially be applied to individual consumers at a later stage.
So on one hand cloud-computing is likely to be embraced en masse by small and large corporations alike...
...but on the other, around half of those corporations have severe reservations about using cloud-based storage for their sensitive files and emails.
It's the immovable object versus the irresistible force... something has to give.
What's likely to happen is firms will embrace cloud-computing but limit the amount of information they make available on the cloud.
This presents a perfect storm for ZYB because its solution could allow companies to keep their operations undisturbed but still benefit from the advantages cloud-computing brings.
Once fully developed, ZYB's innovation may be a breath of fresh air for corporations currently gasping for a solution to their IT security problems.
It could enable them to slash their IT budgets, not to mention deflate legal expenses from data privacy and security breaches.
Keep in mind, however, that these solutions are still in an early phase, so consideration in ZYB's security platforms should be done with consideration of the time it takes for the company to become fully operational. This is a speculative stock, and it's always wise to seek professional investment advice.
Data Overload
One other important aspect to this ZYB security story is the amount of data actually sloshing around between us all.
The amount of digital information stored by all our devices put together doubles every two years in accordance with Moore's Law.
Some have even quipped that Moore's Law is now on steroids given the worlds full pace surge into a digitally powered modern society.

Current estimates see the world's data dump increasing from 4.4 zettabytes in 2013 to 44 zettabytes in 2020. That's an awful lot of data and most of it needs to be secured.
Here's an attempt to put all these byte sizes in perspective courtesy of a bite sized chart: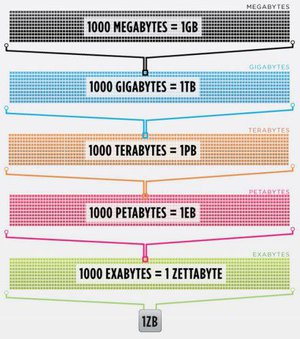 It's worth mentioning that catching up with memory expansion is no easy task. More is better and smaller helps too.
First, we all became accustomed to megabytes.
Then gigabytes.
Most recently, terabytes have started to appear on hard drives aimed at consumers, while component size has fallen markedly.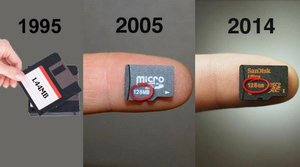 Meanwhile, corporates have been dealing with terabytes and petabytes for several years.
The bottom line is that the data we collectively create is expanding way faster than we can store it all. Cloud computing can step in to fill the gap however through cloud-storage – powered by huge data centres that are growing at an understandably immense rate given corporate data needs.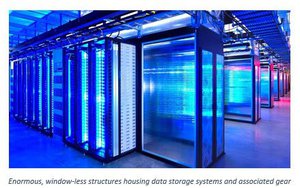 But cloud computing cannot fill that gap unless adequate security is assured.
ZYB's technology could effectively give the corporate march into the cloud revolution a resounding green light – and reap huge rewards as a result.
Zyber Potential
ZYB has arrived at the right place, at the right time.
Spending on cyber security is expected to grow from US$75BN to US$170BN before 2020 . Several companies attempt to jump on the back of such a strong security spree – and ZYB is now an ASX-listed $15.6MN-capped contender.
There's no guarantee that it will be ZYB's technology that trumps the rest, although with the security market growing so quickly, the timing is most helpful for ZYB, while its proprietary technology preserves its intellectual property.
With both companies and individuals reeling from hack-attacks, malicious viruses and data theft, what's needed is a way of protecting sensitive information in real-time across any device but simultaneously providing seamless functionality expected by end users.
In other words, a marriage of usability and dependability.
North American tech company ZYB is on track to deliver a solution that may give corporates peace of mind while allowing existing operations to go undisturbed...
...and saving companies millions in IT, legal fees and clean-up costs in the process.
And now it has successfully listed on the ASX.
---