New ASX Listing: Online Dating Platform to Follow Tinder's $3.6BN Path?
PUBLISHED: 30-11-2015 10:09 a.m.
Online dating is proving its initial doubters wrong.
When the online revolution first arrived back in the 1990s, Internet dating was barren ground with no participants or demand. This was most likely due to only a handful of people having online access...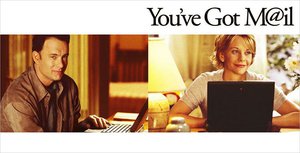 Fast forward to today and mobile phone and Internet connectivity have become part of the furniture.
Nowadays, 1 in 10 adults on average spend at least 1 hour per day using dating apps on their mobiles.
Combine this with the fact that over 80% of people in developed countries now have a mobile phone...
And you have fertile ground for an on-demand online dating solution with a real difference. An Uber dating experience, if you will.
When you consider the online dating market has a few multi-billion companies jostling for supremacy, an 'uber' dating experience – something that is unique to the industry – could be worth its weight in infinite likes...
Especially when you consider that there are hundreds of millions of singles looking for a date across the globe – and they are increasingly using online dating sites and mobile apps.
Several sites have tried to tap into niche markets (and succeeded to some extent). Anecdotal examples include CougarLife.com (provides contact with mature women), AshleyMadison (provides contact with only married men and women), SugarDaddyMeet.com (provides contact with mature wealthy men), ChristianMingle.com (provides contact with Christians only).
These are just a handful of examples – and they all try to offer customers exactly what they're looking for. And when successful, big things can happen.
After its recent IPO, Tinder's parent company Match Group was valued at US$3.6BN...
This company has hopes to emulate the likes of Match and Tinder and is already doing deals that could eventually push up its value.
Most recently it struck a revenue sharing deal with Hong Kong based MenClub which is a great example of how they are able to license their scalable technology platform to media partners around the world, to rapidly grow their user base and revenues with minimal marketing expenses (more on that later).
This is online matchmaking taken to the next level, and it's probably an early indicator of how tomorrow's crowd-sourced, sharing-economy will function.
We introduce you to: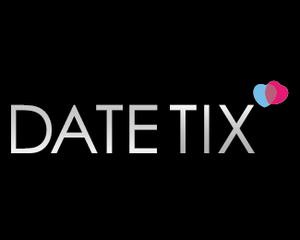 ASX: ERR
For Hong Kong based online dating company DateTix (ASX:ERR), dating is more than just business. It is more than a niche. It is about finding the right partner. People don't just sign up for 'any dating site' but rather the site that provides the exact type of person they are looking for.
The fact the company is based in Hong Kong is important, as this allows them to easily tap into the vast Chinese singles market.
There are 8 million singles aged between 18 and 49 in Shanghai, 7.2 million in Beijing, and 7 million in Guangzhou... How many dates will they need to find the right partner? We are betting on more than a few...
As China's economy moves to a services economy, and young singles gain more disposable income, DateTix will be there to offer them a guiding hand when looking to find the right match...
This company could provide exact matchmaking without the need to sift through dozens of dating sites and/or open several online dating accounts.
DateTix has created a mobile-centric technology and globally scalable data platform. It has created a site that takes the cynicism out of the industry and gives online dating mainstream acceptance.
A bridge between online and offline that preserves useful online connectivity while keeping things real.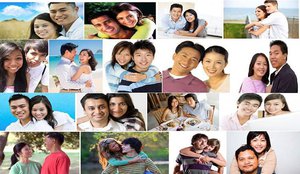 ERR folds DateTix into its current business
ERR has now completed its takeover of DateTix – an online dating tech company based in Hong Kong – in exchange for 12.5 million shares (with a further 12 million shares to be issued subject to performance milestones).
The Company was reinstated to the ASX on 27 November 2015 after it closed the offer under the replacement Prospectus on 23 October, fully subscribed. It completed the issue of 7,500,000 shares at an issue price of $0.40 cents per share.
DateTix offers customers the convenience of finding their perfect match without wasting time looking at the happy snaps of hundreds of potential candidates. Its proprietary matchmaking engine in tandem with human intervention is able to match-make profiles with best suitability, for a recurring fee.
Not only that, its business pitch is aimed at those who are serious about the outcomes of their dates whereby users go on dates that have been meticulously arranged from connection to location. DateTix even collects a share of couples' spend while at their chosen restaurant or any other selected venue.
It's a strong business model that had the attention of ERR early. In fact, as you can see below the dating vertical has multiple multi-billion players.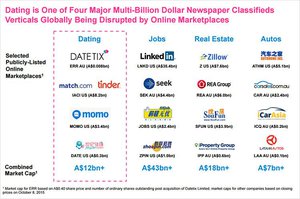 Can ERR and DateTix follow in the footsteps of these online dating giants? We will soon see as DateTix starts commercialising its product via its ASX listing into ERR.
When you look at the players in this space and consider that match.com, the owner of Tinder, is valued at US$3BN, it's easy to see why ERR made its move.
The Uber Experience
On demand service companies such as Uber (who is valued at $51BN based on its last funding round) and Airbnb ($25.2BN valuation) have capitalised on the rising functionality of smartphones and the Internet, to offer unique products and services that disrupt their respective markets and build big, loyal followings, because of the significant customer value it creates.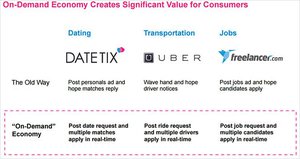 For example, Uber users can search for an available car, hail it and wait for the car to arrive at their current location as indicated by the phone's GPS.
Uber has had such a huge impact that many are following suit in the on-demand space. Including dating companies such as Datetix.
Ironically no matter what the demand, the companies offering 'on-demand' services are essentially all matchmaking sites.
So imagine the same modus operandi that Uber applies, applied to the dating industry...
Online dating is a rapidly growing market, fuelled by longer working hours and a desire for ultra-convenient solutions that take away the need for too much leg work.
This is especially true in Hong Kong, where DateTix was founded... Just take a look at the numbers for the company in its first week of launch.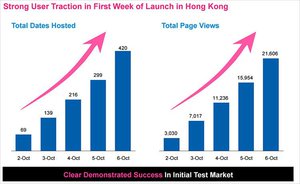 People don't want to walk around for hours looking for a taxi – and they don't want to go on dozens of dates to find love. They want a solution that offers the most convenience.
That is one of the primary reasons this industry has grown so substantially.

Here's a snapshot of the top players – you can see it's a healthy market of those looking to meet people: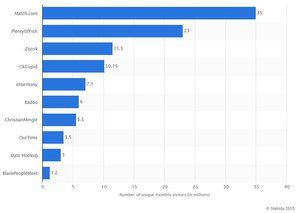 For the time being, the market leader is 'Match.com' with 35 million users and market cap of approximately $3.6BN, followed by 'PlentyOfFish' with 23 million and who Match will purchase for $575M, and 'Zoosk' with 11 million users.
Are any other dating hopefuls going public?
There just happens to be a showdown out there in the world of online dating.
Several companies have been chomping at the bit to go public, and the granddaddy of them all – Match.com – went public just days ago.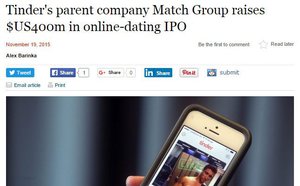 Raising over US$400M as part of the IPO, Match Group (NASDAQ:MTCH) splashed on to scene at $12 per share and moved up to $14 on early trade. MTCH is now capped around US$3.6BN (A$5BN).
What's even more impressive about the Match story and its valuation is that its media conglomerate parent company IAC/InterActiveCorp is already listed on NASDAQ, currently capped at around US$5BN.
IAC is a US-based company managing a variety of websites and online media channels under one roof. Some of its well-known brands include The Daily Beast and Vimeo with IAC posting revenues of US$3.1 billion in 2014.
Given the movement in the market, perhaps DateTix could catch the eye of this $3.6BN behemoth?
It wouldn't be the first time.
But having said that, there is no guarantee DateTix will grow that quickly, or attract any kind of take over offer – this company is in the very early stages, so tread carefully if looking to add to your portfolio.
Here's how M&A activity has panned out recently in the space: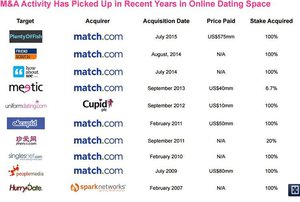 Maybe DateTix can join these ranks soon – but before that the company will be growing its business on the ASX in ERR.
The world of online is generating strong revenues, and dating remains an underpenetrated category , according to MTCH's Chairman Gregory Blatt.
This is the thinking behind IAC's move to spin-off Match, Tinder and OK Cupid into a separate entity.

ERR has entered this space through the takeover of DateTix.
Its ideas and business plan do however tap into a growing trend which is why we feel DateTix is a solid addition to our tech portfolio here at The Next Tech Stock.
In another twist, DateTix isn't only for those looking for love...
The platform also enables users to find business connections across all industries. By helping people find business contacts, new employees or explore new business opportunities, DateTix could potentially create a new market altogether.
Could you imagine finding a tennis partner or a gym buddy, at the click of a button?
And what about finding a personal trainer that also happens to attend the same gym as you?
In fact we could potentially see this technology applied to other market sectors where live, location-based mobile phone connectivity is a selling point.
DateTix could be an exciting and profitable transition for ERR as the company embarks on a new direction forced by turbulent market conditions in construction and mining...
However, this is speculation on our part – success is no guarantee for this small company – please do your own research and consider your personal circumstances before making an investment.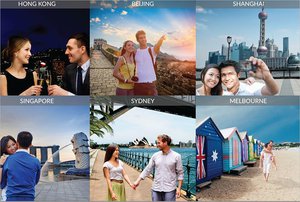 Enverro – past and future
ERR has been developing corporate management software since its inception in 2013. Its key market segments in this space are enterprises working in energy, construction and resources industries.
Given the current lack of business activity in many of its key sectors, ERR has taken the prudent approach of winding down unnecessary business units and focusing on new revenue drivers that can diversify its position.
If and when its core market recovers, ERR will be in a position to re-focus on its corporate platform.
For the time being, ERR has completed its DateTix acquisition merely days ago in exchange for 12.5 million shares (with a further 12 million shares to be issued subject to performance milestones).
In a strong sign of support, the capital raising to complete the acquisition was oversubscribed, raising $3M with the issue of an additional 7.5 million shares at 40c per share.
So why has ERR decided to pick up DateTix?
The less wealthy are just as keen to find love, and they're willing to pay above and beyond what Western cultures could imagine...
Once upon a date in China
Chinese social conventions surrounding finding a partner, dating and marriage are somewhat different to their Western counterparts.
For the Chinese, marriage is more akin to duty rather than choice. Arranged matches which likely become fully-fledged marriages are commonplace and similar to those of other cultures such as India and parts of Africa.
China has undergone rapid industrialisation over the past 30 years that has seen over 300 million people move from rural communities into urban metropolises such as Shanghai and Beijing. The reason for this torrent of migration was to pursue economic prosperity, unavailable to low-wage agricultural workers.
The rapid economic and demographic changes in China over the past three decades has had a huge impact on how the Chinese seek out romantic relationships and marriage. Nowadays, there are millions of wealthy Chinese who are single and looking for love but do not have the time to find a match.
It is estimated that there are over 8 million single adults in Shanghai alone, with 7 million more in Beijing. Over the coming decade, China is expected to have a surplus of around 24 million single males; and the majority are desperate for a bride considering the social pressure they are under.
Take a look at the table below, and you will gain a broader understanding of the sheer number of singles in Chinese cities. These numbers are far beyond anything experienced in other international cities.

This has created a unique market niche which ERR wants to capitalise on via its deal with DateTix.
The overarching strategy is to win market share and grow its customer base at the fastest rate possible by focusing on cities rather than countries. The chart above draws a map of where DateTix will be looking to expand after Shanghai, Beijing and Guangzou have been suitably romanced.
Here's what New York Times reporter, Brook Larmer had to say on marriage in China: "Without traditional family or social networks, many men and women have taken their searches online, where thousands of dating and marriage websites have sprung up in an industry that analysts predict will soon surpass $300 million annually".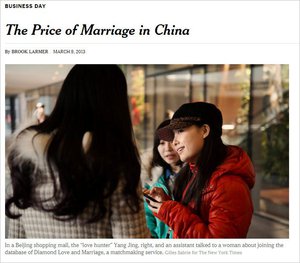 In fact specialist 'love-hunters' who are already operating in China are charging clients in excess of $100,000 to find a suitable bride/husband.
There are even 'marriage parks' where parents barter with each other with a view of arranging a suitable match for their sons and daughters.
This is China remember, not the West.
Larmer goes on to say, "Chinese women face intense pressure to be married before the age of 28, lest they be rejected and stigmatised as 'leftover women'."
ERR's coupling with DateTix will add another revenue stream to the company balance sheet, and propel it into a new industry growing at annual rate of $100M in the US, and $300M in China.
The confluence of demographics and economics has set up this compelling online dating play for ERR – and it's not wasting any time.
New manly deals
In moving forward, DateTix recently signed a revenue sharing and white label agreement with MenClub – a leading online media platform for men in Hong Kong.
The partnership provides ERR with instant access to 1.3 million unique visitors on the MenClub.hk website and over 300,000 fans on its Facebook page.
The demographic here is men between 25 and 40, which fits perfectly into DateTix's business model.
The Company will leverage its technology platform to offer a white label service to MenClub patrons to enable them to host and apply to local and in-person dates.
Meanwhile, DateTix and MenClub will share the revenues generated by all users who sign up.
Which brings us to the revenue model.
DateTix has 4 distinct revenue drivers, leveraging all the important aspects of online dating
DateTix isn't a simple online dating website.
The company wants to build on the existing online dating market to deliver a unique matchmaking service that blends the authenticity/security of offline matchmaking with easy access and convenience provided by online connectivity.
Its mission: to make it easy to meet new people anywhere.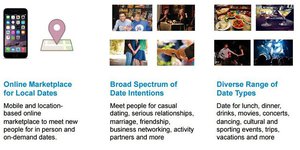 As part of this strategy, DateTix has created a scalable and defensible asset-lite business model by which it can monetise its user database through a range of methods outlined below:
Member Subscription
The most straightforward revenue channel for DateTix is user subscriptions. DateTix charges its customers a monthly subscription fee that ranges from $10-$100 per month. Users that are very active are upsold additional features and services.
Virtual Items
Customers are able to buy 'virtual items' with similar functionality to virtual currencies. An online marketplace gives customers the chance to buy date tickets, introductions to dates and other service features.
Tech watchers will notice that this kind of Software as a Service (SaaS), Pay Per View (PPV) model has worked incredibly well for other tech companies looking to take advantage of mobile/online business ventures.
Advertising
Charging local merchants to advertise on its online platform allows DateTix to bring in additional revenue. For example, a local restaurant would pay DateTix a fee for placing an online ad aimed at DateTix customers searching for a suitable restaurant. Advertising fees are likely to grow in proportion to the amount of subscribers DateTix signs up.
E-Commerce
Going a step further, DateTix has also implemented an e-commerce revenue stream whereby it issues customers with discounted tickets to concerts, restaurants and other events, from which it then earns a percentage. A couple that found each other through DateTix and then visited a restaurant would both be paying a subscription fee to DateTix while the restaurant pays a referral fee in addition to a share of the total bill spent by the couple.
The point where existing online dating sites end is effectively where DateTix wants to explore and monetise.

The path is now open for DateTix to push on and build up its customer base starting off in Hong Kong and China's largest metropolitan areas.
This dovetails nicely with DateTix's launch of its proprietary apps expected to be made available early next year.
The future of online dating is match-making
Given that the hundreds of dating sites currently available are all focused on chat and quick introductions for a small fee, they require large amounts of users to be viable.
With DateTix, China's distinct cultural and demographic nature opens the door for a more serious dating service that focuses on genuine dating and finding a true match for its customers.
By doing so it hopes to become the largest player in the online dating marketplace.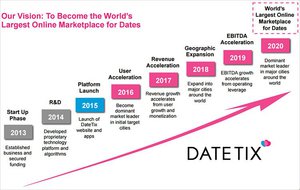 In having a different market position, DateTix is able to charge more per user and monetise its existing database to a greater degree than rivals such as Tinder.
The big selling point for DateTix is that users are matched with someone who is truly suitable and compatible without having to do any searching themselves. This suits the Chinese market perfectly.
Its expansion strategy is focused on cities rather than countries which sets a clear growth path for the foreseeable future.
Having tuned into a growing market, fuelled by a clash between culture and economics, DateTix is looking at an addressable market of over 25 million people in China alone. Other markets around the world including US and Europe could push the numbers to over 40 million.
If DateTix can attract a small portion of this large and growing market, it could be a match made in heaven for ERR investors...
Are you an ERR investor and want to spread the word?
Get the message out there – make sure everyone knows about ERR and share this article by clicking the buttons below:
[sd_share_article title="New ASX Listing: Online Dating Platform to Follow Tinder's $3.6BN Path?"]
---