New ASX Listing: Flying Selfies Launch Imminent for IoT Group Ltd (ASX:IOT)
PUBLISHED: 31-03-2016 08:59 a.m.
Almost everything you see and use, in some way, will soon be connected to the Internet – if it isn't already.
That connectivity is known as the 'Internet of Things' (IoT) – and there's money to be made for the most innovative and commercially savvy players.
We have now entered an age in which the consumer market's appetite for high tech watches and other wearables is rapidly expanding and is expected to triple in the next five years...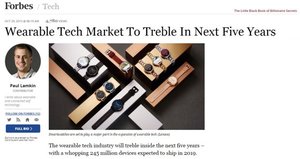 Following the completion of a reverse takeover of an ASX listed shell, IoT Group Ltd. (ASX:IOT) is planning to be one of the first players that takes the Internet of Things by the scruff of the neck and lifts it to new heights – quite literally.
Most of the tech currently available in this space is simply too expensive to be mainstream, and the IoT Group is aiming to manufacture a series of products at an attractive price point to attract a whole new range of people that had been priced out of the market.
Bringing Internet of Things products to a global mass market could be a complete game changer for the industry, with the IoT Group gaining a first mover advantage in a market that is ripe.
Indicative of the company being a leader in the Internet of Things market on the ASX, the company has now managed to take ownership of the 'IOT' ticker – a big feat in itself!
Now that the ASX listing and associated capital raising is complete, IoT Group is set to create a big splash in the IoT industry.
However, before we go too far, it should be noted that success is no guarantee here, and its early days for this company.
The near term plan by the company is to launch a wide suite of 'Internet of Things' products, attractively priced to appeal to the masses.
The current two products creating the most interest, are products that have already been road tested with consumers.
The company has also developed a very affordable smart watch – which flew off the shelves at Coles when the company trialled it with consumers.
Not just focusing on Australia, this company has deep ties and networks into the US and Japan, the biggest consumer markets on the planet.
Just to give you an idea of how lucrative the US market can be, Lily Robotics, which is based in San Francisco has racked up $34 million in pre-orders for its smart camera drone .
The US and Japan opens up a commercial market of hundreds of millions of people...
When you consider the global impact of the selfie stick, the ROAM-e flying selfie stick could take things to new heights, quite literally.
So, in a nutshell, IoT Group's major point of difference is it is innovating advanced consumer technology – and making it accessible to everyone.
Re-introducing: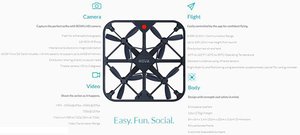 Watching the IoT revolution play out
IoT Group (ASX:IOT)'s game plan is to push consumer tech to a lower price point, moving into the territory of the likes of Apple and Samsung which have brand name recognition but are much higher priced.
The first market the company is targeting is the smart watch category.
Realistically, what are most people using their smart watches for? They're using it to check messages, make the odd phone call and if time allows, check the time.
Meet the OK V1.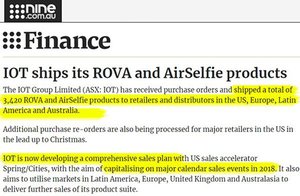 What's interesting about IoT Group's smart watch product OK V1 is that it's a phone in its own right with the tech SIM enabled, meaning it can make phone calls without being tethered to a phone in your pocket – you can still tether the watch via Bluetooth to access things like email and your social media accounts.
Where OK V1's market advantage comes in is at the price point.
It retails for just $99 AUD – and it's already been on sale in Coles supermarkets.
As a point of comparison, here's the cheapest smart watch we could find from Apple.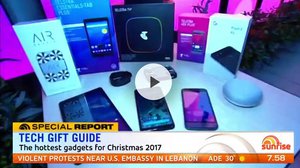 So, you can get the fancy watch which starts at $799 , or you can go for the watch which does virtually the same things for $99 .
Consumers care about products, how much those products cost and IoT Group has tested this theory.
It conducted a sales trial at Coles before Christmas, initially shipping 6000 units to selected stores. Then realised it would need more, shipping a total of 8000!
Due to its price point and the quality and functionality of its product, IoT Group has gained mainstream attention:
The word is that IoT Group is working on tying down more retailer partnerships in Australia – so be ready to watch this space...
Of course, this is still an early stage play and professional advice should be sought if considering this stock for your portfolio.
Also of note is that this is only one model – IoT Group is producing a whole new range of OK smart watches that are already available to buy or order online .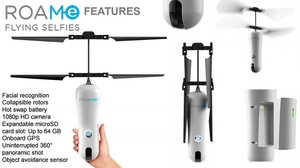 Is it a bird, is it a plane? No, it's some kind of selfie drone....
In addition to bringing smart watches to the mass market, IoT Group is aiming to take selfies to the next level, with the ROAM-e, which is can be ordered online now.
Quite a few selfie drones are being developed in the marketplace, but as per IoT Group's playbook, the company is aiming to undercut the market and gain a first mover advantage.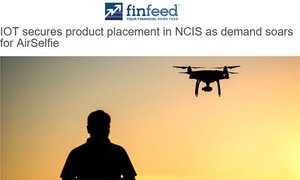 ROAM-e retails for around $349 and has the potential to be a consumer hit, particularly in the US and Japan given its low cost.
The ROAM-e, pictured above, features a full HD 360 degree camera which is SIM enabled, with Wi-Fi tethering which can connect to a smart phone or a watch.
In our mind, this brings up all sorts of possibilities.
Aside from the various angles you miss when holding a phone on a stick, ROAM-e has the ability to track subjects and follow them around.
It has been built with facial recognition technology, so that it never loses you and doesn't require tethering. ROAM-e will also follow you for up to 20 minutes and has swappable, portable battery that charges in two hours.
The safety aspect has also been considered, with ROAM-e remaining within 25 metres of its owner and always in view.
What's most impressive is that it's compact and light – think of the weight and shape of a 600ml water bottle – that's what ROAM-e is like.
Selfies are now on the fly and are here to stay.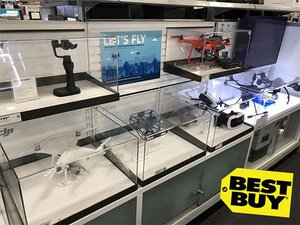 IoT Group is set to redefine this market, by making a highly affordable selfie drones that appeal to this new global obsession.
The Internet of Things
IoT Group is doing all sorts of things and developing all sorts of products, some at the prototype stage and some already in market.
Other products include an internet doorbell so you can answer your door from anywhere in the world, an augmented reality keyboard, a universal computing device and up to 20 'wearable' devices such as smart watches under development.
There's one thing all these products have in common: the internet. Or, to be more precise, the internet within an object. That could be a TV, a fridge, lamp, toaster...anything.
IoT Group is aiming to tap a technological trend which is playing out right now and will continue to play out in coming years known as the Internet of Things.
The Internet of Things is a concept whereby every device you can see in some way is connected to the internet.
Your fridge for instance, could be connected to the internet and order new supplies when you're getting low without needing to go out.
Now imagine all your lighting could be connected to your smartphone so you don't need to hit the dimmer switch.
Around the world manufacturers are figuring out how to connect objects to the internet to enhance consumers' experience with them – and there are predictions it's going to be huge business.
Consultancy Gartner has tipped there to be more than one billion connected in-home devices in the world by next year. That's up from 300 million in 2015, meaning there's going to be a market which more than trebles in the space of two years.
More broadly (inside and outside the home), Gartner is even more bullish.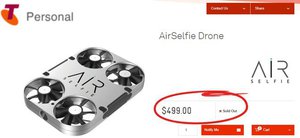 The play here is pretty clear.
The IoT revolution is well underway and IoT Group wants as big a slice of the pie as possible.
Remember however, that IoT Group has only just begun its journey, so it's a good idea to seek professional advice about this stock before choosing to invest.
Another of the Aces up IoT Group's sleeve will be its distribution network...
Getting into the biggest consumer markets in the world
There's an old saying in the retail business – 'Your product is only as good as the retailer who will sell it'.
It shows that like all good tech plays, IoT Group understands its fortunes will invariably be made in overseas markets.
We may be currently freaking out because Australia's population hit 24 million, but in terms of global scale the consumer base in Australia is smaller than California!
Needless to say, IoT Group expects to expand globally to try and make its fortune.
Luckily it has outlined a strategy to push into Japan and the US and has the talent at its disposal to make it happen.
Japan
In October last year, IoT Group announced a deal with a Japanese distributor who act as advisors to several companies, an importer of more than 40 consumer electronics brands and distributor of the three largest cell phone carriers in the country.
The distributor was also responsible for the introduction of the Sony Walkman.
If you cast your mind back you'll note that was a relatively big deal.
So with sales deal in hand, IoT Group is off to a good start in one of the larger consumer markets in the world – and it's also eyeing up the US.
The US
In conjunction with its Japanese deal, IoT Group has managed to bag a similar arrangement with a US distributor .
If Japan is big, then the US is behemoth.
In fact, it's the world's largest consumer electronics market, and is expected to reach about $228 billion in the coming year.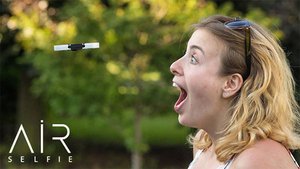 The main aim of the relationship is to develop partnerships with retailers and distributors in the US while possibly looking for M&A opportunities.
While we can sit here and talk about size of market and potential all day, the key thing for IoT Group is that it already has a distribution order lined up and in place.
Meanwhile, IoT Group is also in talks with some impressive US and global retailers which has, let's just say, cropped up once or twice in news coverage...
It's not just external relationships which are bringing retail excellence to the table, but IoT Group also has a fair bit of talent within its own ranks.
Ian Duffell
Duffell is an IoT Group Executive Director and has an impressive retail resume.

He was the president and CEO of Virgin Entertainment between March 1987 and January 1999.
During that stint he moved to the US and opened 20 megastores in the country, including the iconic Times Square superstore.
Suffice to say, he knows the US consumer market.
Previous to Virgin he was managing director at HMV Group and was partly responsible for the introduction of the Walkman into the UK market.
So not only does he know retail, he knows consumer electronics and how to market them.
Not a bad brain to have in your corner.
The final word
The strategy IoT Group is putting together is just about as pragmatic as you can hope for from a little fish in a big IT sea.
IoT Group is not aiming to capture the high end of the market, but it's pitching its shingle on making the technology accessible to the masses.
The IoT Group targets the 'Better' in the – 'Good, Better, Best' marketing theory – its products range between $79 to $349 dollars and that is affordable.
After all, there are a lot more people who can afford a $99 watch... more-so than a $799 watch.
That's just smart.
---