New ACU Partnerships Turbo-Boost Growth – Revenue to Follow?
PUBLISHED: 12-08-2016 09:19 a.m.
Partnerships in business are a powerful thing.
They help drive commerce and can assist a small company build scale far beyond their own capabilities.
Since the last time we checked in with Activistic (ASX:ACU), it has managed to form partnerships which could see it (in a roundabout way) endorsed by everyone from celebrities such as Chris Pratt and Meryl Streep, to potential First "Bloke" Bill Clinton.
They are some big names, yet, it is ACU's partners such as the recently signed Military Officers Association of America Military Family Initiative (MOAA MFI) who are its rock and foundations.
MOAA MFI, founded in 1929, is the largest military officers' organisation in the United States with almost 400,000 members. This is the twelfth leading US veterans' charity signed to ACU's Veterans Call app and ACU will assist in generating further donation revenue to MOAA MFI.
That's a big addressable market for ACU and another leg up into the US military; helping the military meet its philanthropic requirements.
For a small ASX-listed play, this sort of visibility could play a significant role in its growth.
At the same time, we should caution that there's no guarantee that increased visibility will lead to increased sales – please consult a professional financial advisor before deciding whether or not to invest.
To date, ACU has experienced exceptional growth with its Veterans Call App reaching over 150,000 people at the end of July.
Annualised donations continue to grow and are expected to reach over $600,000 during the September Quarter 2016.
Furthermore, ACU has taken a download-to-open rate of about 14% and turned it into an 80% figure while increasing overall downloads.
Impressively, Veterans Call has consistently gained high ratings on both the Apple App Store and Google Play Store and has amassed over 35,000 followers on social media platforms. Social campaign impressions have totalled over 18 million, and as per its latest quarterly the company is targeting an annualised donations amount of $1.86M for next quarter.
The numbers don't lie – this is impressive growth already.
And the growth will be further aided by a recently completed $3.6M capital raise via a private placement to professional and sophisticated investors.
ACU has managed to identify a problem – holding up the flow of donations – fix it, market it and the results have so far been exceptional.
How is it pulling all of this off?
Re-introducing: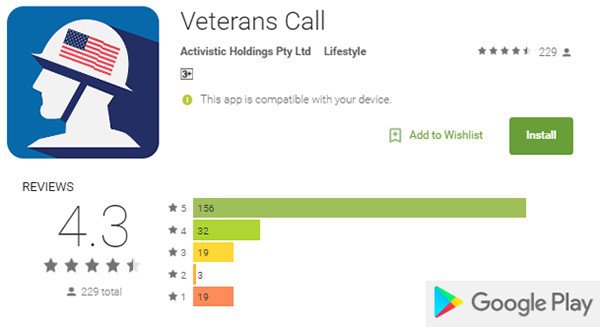 Activistic

ACU at a glance
Activistic (ASX:ACU) is setting itself up as a one-stop shop for micro transactions to a number of charities in key verticals – it's building a scalable solution which could theoretically be applied universally.
This small tech company has created the Veterans Call and Ralli Apps which connect ongoing 'micro-donors' with charities: a person elects to donate to a chosen charity from a list curated by ACU, ACU receives a small fraction of the donation, as does the partnered telecommunications company and the rest of the money goes directly to the charity, bypassing third party facilitators.
ACU is able to provide as little friction as possible between the decision to donate and actually donating.
You can read ACU's back history in the articles Mobile phones and micro donations: ACU makes every dollar count by signing big global partners and ACU Ink Deal with $60M Charity Tied to Google and Home Depot: Mass Uptake Imminent? , but a good comparison in the way ACU conducts its business is by looking at how Netflix operates.
ACU relies on scale to accrue revenue gradually, much like Netflix does.
How many of us have a Netflix subscription but have forgotten about the fact we're paying for it because its ~ $10 a month on their credit card.
That's how Netflix has built its empire.
Right now it's smack-bang in the middle of creating global scale, and while ACU may not reach Netflix's heights, it's the sort of micro transaction play a lot of smart companies are looking into right now.
It also plays into a couple of broader themes.
Firstly, what ACU and others are seeing in the space is that despite the Internet being completely ubiquitous – a lot of donations are actually happening offline .

According to research conducted by ACU, just 6.4% of charitable activity is done online.
The message here is that somehow, giving to charity online is not yet a learned behaviour for givers – meaning that there's large scope for growth of people looking online for ways to donate.
That's also played out in the number of mobile transactions taking place at the moment.

This chart shows the volume of transactions which took place through a mobile phone in the last couple of years, and what they're projected to reach.
By 2020, the value of payments put through mobile is expected to more than double.
Suffice to say, it's pretty fertile ground for ACU to be tilling.
To capture the growth though, ACU needed to get its core proposition right first – its Veterans App.
Calling all Veterans
At the end of May, ACU recognised that it needed to tweak its flagship Veterans Call app.
The old version of the app required the user to enter personal details before being able to use the app – a potential roadblock between the user and making donations.
It led to a situation where the app was downloaded 50,000 times – but only 14% of people were engaged on an ongoing basis.
It makes sense when you think about it – have you ever been put off using an app for the simple reason that you can't be bothered to fill in all those details. Seems a small thing, but it's a big deal, especially for app developers.
So, ACU got on the front foot and overhauled its app to make sure the experience was as seamless as possible.
It also moved to re-engage lapsed users by re-targeting them through advertising – to essentially nudge them and remind them of why they elected to download the app in the first place.
ACU put a pretty bullish engagement rate of 90% as a target to aim for – and at the end of June it was well on the way to doing that.
Thanks to the new re-design and associated marketing push (which we detailed in our last piece Can ACU Reach 35 Million Sports Lovers Through New SportsBlog Deal?) – downloads reached 110,000 – more than double the amount at the end of May.
ACU was tipping downloads to pass the 150,000 mark by the end of July – with annualised donations to reach $550,000 during the quarter.
ACU put some pretty bullish predictions on revenue in its latest quarterly ....

Those are all great numbers and we like seeing them – but what did the re-design do for engagement?
After all, that's the problem ACU was trying to fix.
The download to open rate reached 80%, which isn't quite the bullish 90% they put out, but is still impressive growth in engagement, and well above the industry average.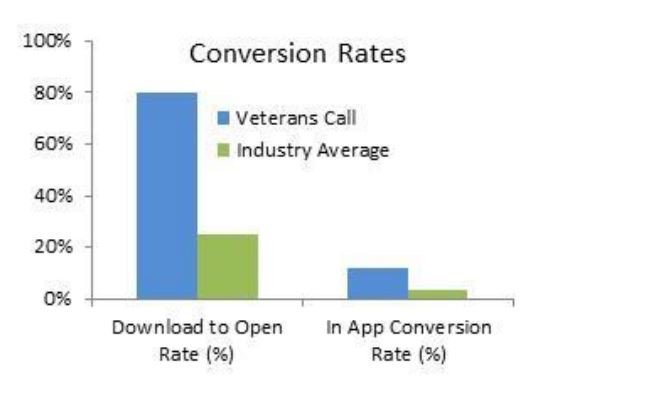 Along with that, its in-app conversion rate went from 2% to 10%, quintupling the amount of people opening the app and choosing to donate.
As you can see, that's also well above the industry average.
Whatever ACU did with its re-design, it worked.
Better yet, ACU is putting together some pretty bullish forward projections on in-app conversion as well.

Investors should note that the September and December quarter numbers are projections only and as such are not guaranteed to be reached. You should always see a professional before deciding whether or not to invest.
The triggers for the quick uptake have been targeted campaigns around the app running during the 4th of July celebrations in the US – in conjunction with SportsBlog.
ACU had tied down an arrangement with popular US sports blogging site SportsBlog to reach its 35 million subscribers through a marketing push.
At the time, ACU said the deal was great because there was a crossover in passion between those who were passionate about sport and those who were passionate about veterans affairs.
It turns out, on the surface of it at least, ACU was right.
The evidence is in the numbers – and now it has something it can well and truly take to charities in the space...
The MOAA and other deals
ACU's most recent signing is with the Military Officers Association of America Military Family Initiative (MOAAIF) – an old, proud and the largest military officers' organisation in the United States.
MOAA MIF has a membership base of nearly 400,000 people, which ACU will be able to market its Veterans App to on a monthly basis.
Mike Turner, Executive Director of MOAA MFI, Vice President of Development for MOAA and Colonel, US Air Force (Retired) sees the partnership as an opportunity to grow a long term, sustainable revenue stream for MOAA MFI while simultaneously strengthening relationships with its supporters.
MOAA MFI We will promote Veterans Call to approximately 390,000 members on a monthly basis through email campaigns, its members' magazine (circulation 261,000) and outreach on LinkedIn (28,000 members).
That's 390,000 people ACU could potentially tap into, all for a good cause – to help over 50,000 active duty service members, veterans and their families maintain and improve their quality of life each year through 12 programs including career transition initiatives, disability assistance, reintegration support, spousal support and financial education.
Got your 6
Just at a glance, this is an organisation which has ears in pretty high places.

Yep, that's Michelle Obama, and this is Bill Clinton with the Got Your 6 team.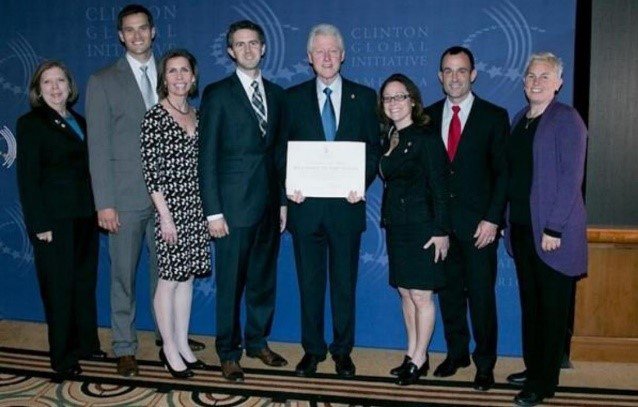 So what does Got Your 6 do?
It has two basic functions: the first is to promote the services of veterans to various non-profits and employers to make sure veterans have a role to play in the community when they get back home.
Secondly, it lobbies and advocates content creators (think Hollywood) to think differently about veterans to avoid misconceptions and stereotypes spreading through the media.
Why not portray them as useful members of society yearning to make a difference (which is much closer to the reality of the situation).
We can just imagine Meryl Streep making a YouTube video urging people to donate to Got Your 6 through Veterans Call right now...
Kind of like this, but with a call to action to donate via the Veterans Call app...
What ACU has done here is align with two very visible organisations with ties to even more visible people and organisations.
The Final Word
The re-development of ACU's flagship app has been nothing short of stunning.
ACU has managed to turn around download-to-open rates from 14% to 80% and increase the number of overall downloads of the app exponentially.
It is still early days however and caution should be applied to any investment decision relating to this stock.
What the current turnaround shows is that ACU has some insight into what makes a tech play like this successful.
It has harnessed the power of partnerships well in the past, and it continues to do so again.
In the past it was the likes of SportsBlog to act as a marketing platform – and now it's the likes of MOAA MFI and Got Your 6.
These are veterans' affairs organisations with massive links to organisations and people which can act as huge amplifiers for their content.
Imagine a call to action was added at the end of a donation pitch delivered by Michelle Obama, Chris Pratt, or Walmart.
It would create a lot of demand for the Veterans Call app –and we can't wait to see how these new partnerships will help drive business for ACU.
---