Monetising the Final Frontier: SAS on Launch Pad to Commercial Orbit
PUBLISHED: 28-09-2016 10:32 a.m.
We're catching up with our favourite space-bound pacesetter in this edition of The Next Tech Stock .
With the ink on the Virgin Galactic deal now dry, Sky and Space Global (ASX:SAS) has its after-burners primed for an epic space voyage by the end of 2018 — a voyage to pepper the earth's low orbit with 200 Xbox-sized mini satellites that will further accelerate our rendezvous with a sci-fi future, today.
But before that, SAS will debut its 3 Diamonds mission with an earlier launch in Q2 2017 to constitute SAS' maiden flight.
All indications are that everything is on track for take-off. Preparations at ground-zero are advancing nicely as SAS has already sold part of the bandwidth it will generate when its nanosatellites are in place.
In fact a recently signed MoU (that could lead to a joint-venture) with Flex Israel, affiliated with the $7.5BN USD capped tech giant Flextronics International (NASDAQ: FLEX) could plug SAS directly into the global communications infrastructure.
It is important to note here that SAS remain an early-stage tech play and all the risks inherent in that are apparent here. Apply caution and seek professional financial advice when deciding whether or not to invest.
All in all, SAS plans to get 3 nanosats up in early 2017, 200 more starting 2018 and eventually send up over 1000 nanosats to expand coverage, bandwidth and reliability of its nanosatellite constellation.
Formal tender documentation has been issued to major international aerospace contractors for the construction of SAS's full constellation of up to 200 nano-satellites.
The 2017 launch will be aboard an 'Indian Polar Satellite Launch Vehicle', better known as a 'PSLV'. In good news for SAS, this week India's space agency ISRO launched eight satellites from one rocket into two different orbits via the PSLV. The PSLV carried three satellites from India, three from Algeria, and one each from Canada and the US and the launch was " 100 per cent successful ".
This certainly bodes well for SAS, particularly after it received formal approval from the United Kingdom's Ministry of Defence (MOD) for the use of the MOD's UHF frequency, representing substantial technical validation of the SAS' narrowband communications platform offering.
SAS has been approved by the MOD to use the frequency until the end of 2019, with the possibility to extend this initial timeframe.
SAS is fully funded beyond the Q2 2017 launch of its "3 diamonds" pilot network. Construction of the Company's 3 initial nano-satellites "3 Diamonds" is on track to commence during October at GomSpace , following the recent completion of the Critical Design Review .
This new advance into satellite miniaturisation combined with an improved placement, distribution and control allows SAS to court existing satellite operators, TV-channels, telecoms giants and even consumers directly, in terms of broad-banding their connectivity to a new level.
Can you imagine having crystal-clear 1080P data streaming at the top of a mountain? Or HD connectivity in remote areas that are considered black spots for any type of modern communication? Ultimately, although SAS is currently targeting Narrow Band communications, once the technology is developed, nanosats will facilitate broadband connectivity to become standard pretty much anywhere in the world.
SAS is positioning itself as a first-mover-advantage-packed, zinger of a thunderbird. We first brought readers the story back in May , and have been following the story unfold ever since . Now, with the company edging ever closer to launch date, the stock is starting to find a much larger audience amongst investors, and:
SAS is up over 90% since we first wrote about it:

The past performance of this product is not and should not be taken as an indication of future performance. Caution should be exercised in assessing past performance. This product, like all other financial products, is subject to market forces and unpredictable events that may adversely affect future performance.
Teaming up with Virgin Galactic as its surrogate dispersal mechanism, SAS is aiming to hit stratospheric levels in both altitude and commercial margins once data-guzzling consumers and data-pumping media providers wake up to the new paradigm of cost-efficiency advantages miniaturised satellite data streaming can bring.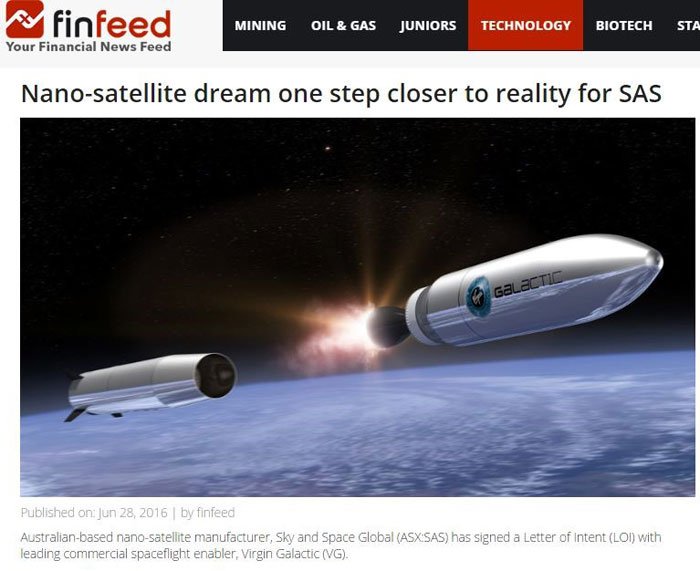 We're here to keep pace with: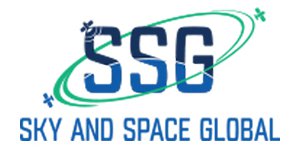 Sky and Space Global
ASX:SAS
Communication is the catalyst for all human life and development in society, which is why companies that improve upon interactivity and the ability to communicate, tend to do better at the store checkout.
Giant names like Apple, Google, Samsung and even Virgin, have all achieved huge commercial success and market dominance through making channels of communication wider, faster, more convenient and cheaper.
The unique selling points behind Sky and Space Global (ASX:SAS) dovetail very nicely with the themes of faster, cheaper and more interactive — but in an entirely novel degree altogether. Check out this USP summary: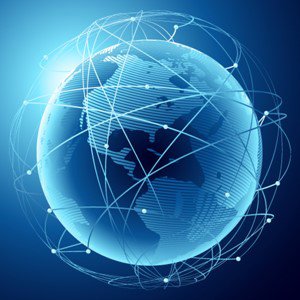 We first wrote about SAS in early June, in our article "Ready to Launch: ASX Stock Set for Blast Off" , where we sketched out SAS's story in broad strokes. We then followed up with updates in late June and mid-August .
The launch plan at SAS was always to develop its technology and sales channels concurrently to help bring together bandwidth supply with bandwidth demand.
Whereas earthly communications have already been sewn up by the likes of Vodafone, AT&T and Verizon...
...there is a new niche bursting onto the market scene made possible by technological progress, and yep you guessed it, miniaturisation.
Take a look at the tech that will be quarterbacking communications and data-streaming around the globe very soon, and in time, could become the new standard in global communication facilitation: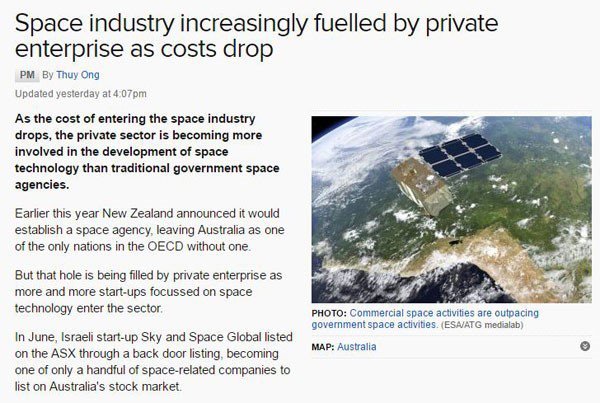 These teeny contraptions are able to form entire webs (or networks) in earth's orbit and then proceed to rearrange themselves in accordance to where data-streaming is being requested by data-streaming clients on Earth.
The possibilities are literally endless with even cattle-farmers being able to benefit from nanosatellites. For the first time in history, farmers will not be able to lose any sheep or their dog.
Here are the prime users and buyers of nanosat technology: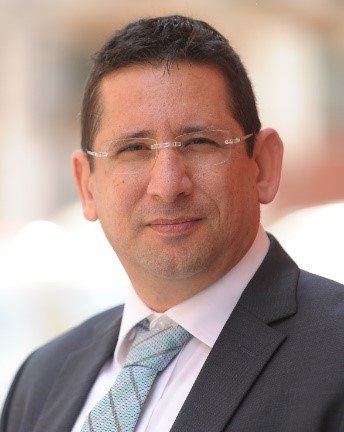 It is a neat business strategy with oodles of commercial potential — and SAS's recent sales deal perfectly validates its cosmic ambitions:

SAS has signed a potentially cornerstone MoU that is expected to lead to an eventual joint-venture with tech giant Flextronics International (NASDAQ: FLEX). Flextronics is a huge electronic device manufacturer that designs and builds products that plug in directly to the global communications infrastructure.
The deal between SAS and Flextronics will lead to joint collaboration in the design of new products that will ultimately be used to connect people to SAS communication grid.
Partnering with a multi-billion-dollar giant at this early stage, is exactly the kind of commercially astute step we like to see here at The Next Tech Stock, and raises the chances of the two companies developing a "must-have" offering that will be sold to telecoms companies and broadcasters.
Going inter-galactic
The big news surrounding SAS, is its high-profile deal with Richard Branson's Virgin Galactic.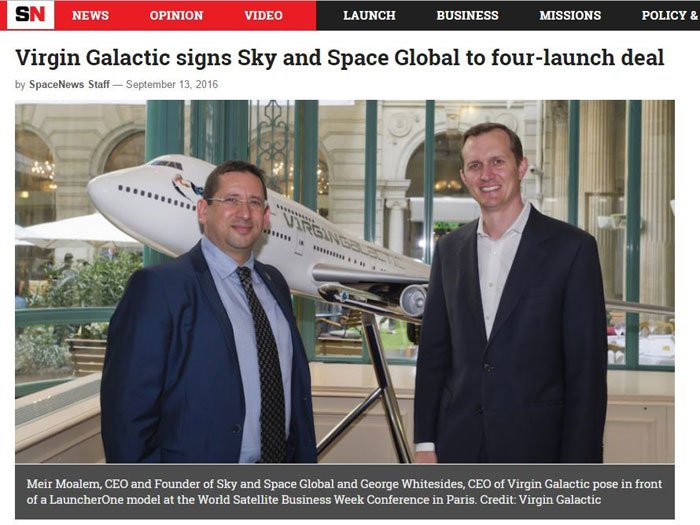 The deal with Virgin has now progressed into a 'binding agreement' to launch four flight missions starting at 2018. In other words, the countdown to lift-off has commenced and SAS must now strap in for the ride by getting its kit ready for action.
There is supreme elevation potential with SAS, and it all has to do with the fact that space colonisation can be extremely lucrative.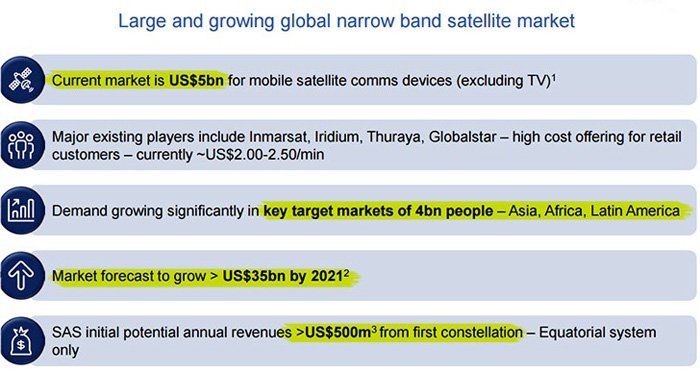 By having a constellation of satellites, SAS will be the equivalent of a King on the Hill, able to revenue maximise and use its first-mover advantage to generate strong margins.
Large multinational companies are keen to future-proof their globally interconnected operations, and SAS could be the key to making such network modernisation a reality.
Once SAS has its first 100-200 nanosat constellation up and running, it can expect to generate annual revenues of around US$500MN per year by selling bandwidth to telecoms companies, data to GPS manufacturers, and, providing bespoke satellite services for individual firms or just humble individuals with deep pockets.
That's a speculative figure and can't really be solely relied upon when making an investment decision – always consult a professional financial advisor about your investment choices.
Eventually, after SAS's technology is tweaked and input costs flatten — it could potentially be sold as a retail product to create personal, secure, uninterrupted and truly global networks with 100% coverage including in remote mountainous areas.
The flight plan
Here is Virgin Galactic's plane that will propel SAS to space in 2018:

The plane gets the orbital launcher as close to the troposphere as possible, before the 'LauncherOne' goes to work: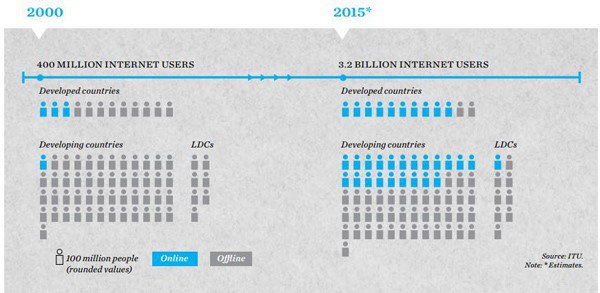 The LauncherOne separates from the standard plane in mid-flight somewhere in the troposphere and cruises into the mesosphere unassisted to unload its cargo of nanosatellites.
Using a traditional 747 jumbo jet to move the payload cargo into position rather than using standard rocket launches allows Virgin to offer much better flexibility in terms of nanosatellite placement, and ultimately, how much revenue can be generated on the back of the cheeky little buggers.
Other nanosatellite dispersal-contenders are taking alternative approaches, such as using the International Space Station (ISS) — this method is more glamourous and takes advantage of the international QB50 Project , but is unlikely to deliver the cost-savings Virgin and SAS are working towards with their surrogate jumbo 747 plan.
By facilitating space-launches from mid-air, Virgin Galactic allows nanosatellite manufacturers such as SAS to be able to launch their gizmos at a much lower cost, a lot faster and best of all, the payload is delivered to exactly the location required.
Diamond Beta Testing
Before embarking on its flagship voyage with Virgin to install over 200 nanosatellites in space, SAS will test-run its technology and future operations by launching a first phase of 3 satellites dubbed the '3 Diamonds'. The launch of this initial set of satellites is expected to validate SAS's broader operations and help SAS identify any teething troubles.
SAS has reached significant milestones in its software development, thereby enabling it 3 Diamonds launch to proceed as scheduled.

Software is a critical element of making nanosatellites work cohesively as part of a network. SAS has already proved its approach can deliver VoIP and data transfer capabilities, with recent testing demonstrating seamless audio and data transfer capability.
A Critical Design Review has also recently been finalised which yet again significantly de-risks SAS's space-bound operations. Working with Swedish NASDAQ listed GomSpace, SAS has been able to pass rigorous independent testing of performance, system budgets and altitude control with no issues.
Here's a little sneak-peak into the electronic substance that makes 3 Diamonds nanosatellites possible: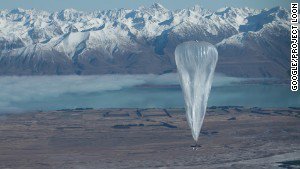 The 3 Diamonds launch has now progressed to the assembly and integration phase, expected to complete in January 2017. We could see a potential revaluation of SAS on the back of a 3 Diamonds success story because several initial customers have already secured bandwidth from SAS.
That's right, this little space invader is looking to book its first revenues without getting off the ground...
...and could really start motoring when eager-beaver consumers start clamouring for the benefits of nano-satellite data transmissions.
When it comes to mitigating risk, one tool does it best: Insurance
If you were setting off on a voyage of a lifetime — a voyage fraught with danger, technical challenges and a fair heap of space junk — comprehensive insurance may be a good idea.
SAS has appointed Marsh as its lead insurance broker to get the required insurance to cover the cost of any potential accidents and damaged equipment whilst in orbit.
Insurance is an essential part of space colonisation, and will help with any unexpected liabilities as they arise. For the 3 Diamonds launch, SAS will have its liabilities covered by Brit Global Specialty.
Setting up camp in the final frontier
We're very impressed with the market-niche targeting being done by SAS.
Whereas many other Tech companies are looking to take advantage of earthly market opportunities, SAS is going for the outperforming outlier in the form of Space — potentially the most awe-inspiring market niche there could ever be.
By rubbing shoulders with the likes of Virgin Galactic and GomSpace, as they look to open space exploration within the private sector, SAS is effectively moving into a megalithic future growth market.
Yet we need to reiterate that this is an early stage play and the growth of the market is speculative. If considering SAS for your portfolio seek professional financial advice.
What we really like about SAS' strategy is that instead of competing for a front-row seat in space-exploration, SAS is on course to astutely generate revenue directly from other companies aiming to put SAS's technology to good use as a first mover.
By selling the bits of kit that will actually knit tomorrow's world together, SAS has a real chance of becoming part of the global communication furniture. In effect, SAS is selling shovels in a gold rush — only its digital connectivity being sold, not shovels, amidst a blistering pace of worldwide Tech innovation.
Private companies like Virgin Galactic have proved that space need not be an exclusively public-sector enterprise. Exploring space for the benefit of mankind is one thing, but colonising it for the benefit of shareholders is quite another.
SAS is on a path to disrupt the current satellite phone market and beat existing players such as Globalstar and Iridium to a market worth $20 billion today.
In 10-20 years' time it is quite possible for this technology to take-over from existing telephony infrastructure, towards a more efficient one made possible by nanosatellites. If this does eventuate, that $20 billion market size will be significantly higher, possibly in the trillions.
Looking just 1-2 years ahead — on completion of its ~200 nano-sat equatorial constellation in 2018/19, SAS is hoping to generate annual revenues of US$300-500 million and springboard into expanding its nanosat constellation beyond 1000 as part of revenue-accretive, market-share assimilating, market strategy.
Looking at SAS's timeline, it would seem several catalysts may be on the horizon: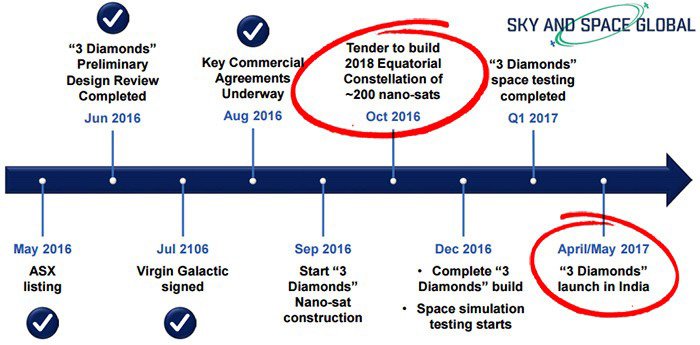 Next month, in October, SAS will tender to build the 2018 equatorial constellation of nanosats, will likely complete 3 Diamonds testing by Q1 2017 and carry out its maiden space launch in Q2 2017. That's a very alluring itinerary for value-seeking shareholders and profit-hungry speculators.
Anytime a company priced capped at around $32M that puts forth a tangible plan to tap ~$500 million in revenue within the first 3 years — makes us tend to sit up and pay attention.
There are no other companies in the same relative position as SAS — ASX-listed, well-funded after a recent oversubscribed capital raising, its technology-validated, customers signed, R&D partners on board and sales trickling in.
That's why investors may want to book their seat on the SAS launch shuttle into the stratosphere.
Docking complete.
---