Megastar Millionaire Nears Launch with Star-Studded Talent Pool
PUBLISHED: 09-05-2016 11:46 a.m.
Reality TV/talent search shows such as The Voice , American Idol , Australia's Got Talent and X Factor are taking over the media landscape, now accounting for more TV viewers than primetime news bulletins and movie premières.

Watching talent hopefuls lauding about on stage is hugely entertaining and gripping for the mass consumer – as rating season after rating season and big advertising dollars prove this point.
So much so that talent shows are now attracting more viewers globally than any other entertainment category.
Taking American Idol as an example; the show is worth around $2.5BN with the brand now recognised and exported to dozens of countries around the globe. Meanwhile, America's Got Talent is the number one network TV show in the US, now in its 12 th season since launching in 2004.
That's a phenomenal market share and value, which only one medium can hope to match: Online.
Imagine talent shows crossing borders, time zones, TV schedules and even going one better, becoming interactive.
The Internet is a living and breathing habitat that facilitates an incredible amount of synergies and opportunities for everyone involved.
MSM Corporation International Limited (ASX:MSM) built this exact philosophy into its DNA from day one of its ASX-listing earlier this year.
MSM will soon launch the world's first online, multi-million dollar talent show, Megastar Millionaire.
It recently achieved a prototype version of the Megastar Millionaire platform ahead of schedule and is on track for release of the live version in early in 2017, with its developers promising to blow the sockets off current TV versions of online talent shows.
That's because doing it online means you can integrate social media and real-time interactivity – a huge plus for fans and viewers. Commercially, Megastar Millionaire integrates advertising and marketing strategies that offers advertisers a different dimension to their sales campaigns.
Remember though that this is still an early stage tech play and caution should be adhered to in any investment decision you make.
Best of all, by launching Megastar Millionaire online, it opens the doors for talent searches to reach billions of people.
By 2020, the mobile gaming market is expected to be worth over US$74.6BN in revenue up from $34.8BN last year.
Of further note is that mobile ad spending is expected to reach $196BN from $69BN currently.
By tweaking its novel idea to capture the entire online landscape, MSM is on track to take reality TV talent shows into a new dimension of cross-platform and international exposure.
MSM's team is now assembled and since we last covered MSM back in January, this has swollen to now include:
Former Pandora (US$2 billion market cap) founding investor Doug Barry, who has helped create more than US$5 billion in shareholder value across some of the world's most successful tech and media ventures;
Former Electronic Arts and Zynga executive Jennifer Herman;
Sophie McGill, who worked with Southern Star and parent company Endemol on delivering brand extensions for well-known shows including Big Brother and Deal or No Deal .
Not to mention a highly experienced tech team based in San Francisco who is busy working toward product launch.
With all its stars aligning, there's a strong chance of MSM's Megastar Millionaire catching the eye of fans, artists and advertisers, with a US$1 million winner's prize likely to help in getting participation going.
Auditioning: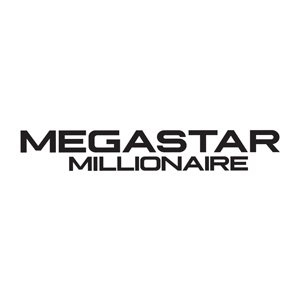 MSM Corporation International Limited (ASX:MSM) listed on the ASX in January 2016 and its journey towards becoming a household name in online media and gaming is just beginning.
Since our first coverage of the stock in our article So You Want to Be a Star? New ASX Tech Play Brings Profitable TV Format Online , the stock has been up over 70%: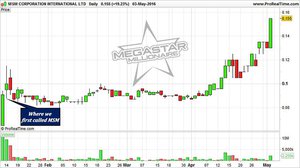 The past performance of this product is not and should not be taken as an indication of future performance. Caution should be exercised in assessing past performance. This product, like all other financial products, is subject to market forces and unpredictable events that may adversely affect future performance.
The company's talent-quest platform, Megastar Millionaire, is a million dollar, online-only video-based talent competition in the vein of popular TV talent shows such as the X Factor and The Voice .
Where MSM differs from its TV-focused peers is that its contest is online only and integrates online gaming and social media as part of the user experience.
Back in January when the stock first hit the ASX, the idea of an online talent show that offers a $1million prize seemed like a hit considering the surging popularity of existing TV-based talent shows.
Today, the market looks to be even stronger and MSM is in the midst of a media bonanza just waiting to go viral – and there's currently no one else in the running for this online media niche.
With a handy $5.1M cash balance at the end of last quarter, it appears the company is using its development spend wisely.
First prototype ahead of schedule
MSM recently achieved a substantial technical milestone with the delivery of the first prototype of the Megastar Millionaire platform.
The prototype contains basic functionalities that will be included in the final consumer-ready product.
A limited audience will now be able to use the platform and from this MSM will move into a robust project planning phase based on the feedback of this small group of users.
Through testing, MSM will conduct a thorough market demographic study to refine its target audience.
Meanwhile potential talent will be able to link the platform app to a video player account such as YouTube, and share, view and even vote on videos.
Through the launch of this prototype, MSM will also be able accelerate discussions with strategic partners and commence marketing to potential contestants.
The launch of the prototype means MSM is one step closer to realising its goal of becoming a first mover in monetised, global, mobile-first, online entertainment talent discovery shows.
MSM has assembled a star-studded team that has Silicon Valley and Hollywood written all over it
Any business idea or brand that wants to break into the entertainment industry must have the right connections, as well as the right commercial plan.
Good ideas are plentiful, but the ones that secure backing from important industry figures tend to flourish into becoming part of the entertainment furniture.
At MSM, the thinking behind its Megastar Millionaire idea is to recruit key figures from Silicon Valley and Hollywood and blend them with technical nous from IT and computer programming circles.
The result is a close-knit team that's abound with experience and technical ability.
Here are the A-list stars of Megastar Millionaire (you may be hearing about these folks a lot more later this year).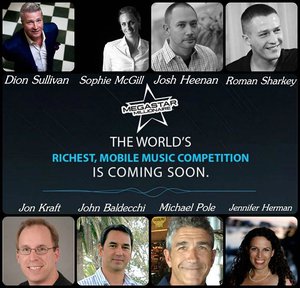 Each individual adds something integral to the Megastar Millionaire story...
Here's a quick rundown of what they bring to the table.
Dion Sullivan
MSM Co-Founder and Executive Director who's leading from the front. Mr. Sullivan is a bit of marketing guru who has worked in the entertainment industry for over 25 years.
He has developed winning marketing strategies for companies from the ground up, and delivered epic turnarounds for established brands such as ftd.com – helping to take that company to an $850M market cap on NASDAQ.
Sophie McGill
Ms. McGill has extensive experience and networks across the Australian media industry and was as Chief Operating Officer of Marquee Studios working brands including Twitter, Rimmel London, UBK, Dolly, Coca Cola, Spotify and Mirvac.
Ms. McGill has also held roles at Southern Star and its parent company, Endemol UK, one of the UK's largest independent production companies. At Endemol she was responsible for delivering brand extensions of popular programs, including Big Brother , The Match and Deal or No Deal to a variety of digital platforms, including mobile and the web. The reality show experience she has is no coincidence.
Josh Heenan
Heenan has over 12 years of experience in the digital gaming industry and six years working with social and mobile platforms. He has worked on major franchises including Call of Duty , Rockband and various Star Wars titles. Heenan also helped establish Zynga into the Indian market.
Roman Sharkey
Mr. Sharkey graduated from KIMEP University in 2005, a leading university in Kazakhstan, with a strong reputation of incubating high-calibre graduates with top-end mathematical and statistical abilities.
Coming in to bolster MSM's technical team, Mr. Sharkey will build the Megastar Millionaire infrastructure.
Jon Kraft
Co-founder of global music giant Pandora Media, Jon Kraft brings over 20 years of experience as an entrepreneur in software and consumer digital media. Mr. Kraft is a co-founder of early stage business accelerator LiftOff and Thrively, a consumer technology platform that helps children discover and pursue their passions.
Yes, you read correctly above, Kraft co-founded and was CEO of NYSE listed Pandora Media (current market cap US$2 billion) originally called Savage Beast Technologies) and one of the world's largest and most successful music streaming services, with over 250 million registered users today. Mr Kraft is currently the CEO of MuMo, a new mobile social music sharing service.
John Baldecchi
Mr. Baldecchi is a seasoned Hollywood producer having worked on titles such as The Mexican , Conan the Barbarian , 88 Minutes and the remake of Point Break , released in 2015.
Michael Pole
Michael is a Studio Executive with a 25 year proven track record of managing the development of hit video games. He has held senior management positions with the most prominent games makers such as Nexon, Gloops, Electronic Arts, Activision, Fox Interactive and Vivendi Universal Games.
As Senior VP at both Electronic Arts and Fox Interactive, he managed the development and launch of cult-classic titles such as Simpsons: Hit and Run, Simpsons: Road Rage , The Hulk , Tony Hawk , World of Warcraft, NASCAR 1998-2002 , Knockout Kings , Scarface , Ice Age , Robots , Hot Wheels Racing , NCAA College Basketball and Tiger Woods Golf .
Michael's games have sold over 40 million units across mobile, console and PC platforms and have generated in excess of $1 billion in revenue.
Jennifer Herman
Ms. Jennifer Herman joins MSM's Advisory Board with 20 years of digital entertainment, social media, video games and technology experience.
Her experience includes producing the early web efforts for MTV Networks at media conglomerate, Viacom and EA where she was part of the hugely successful EA SPORTS division.
Ms Herman has been a pioneer in mobile gaming as a founding team member of early mobile publisher Glu Mobile market capped at around US$380 million. Most recently, Ms Herman held a senior role at video game publisher Zynga where she helped define its mobile strategy and grow the business to become one of the leaders in mobile gaming.
As you can see this is a highly experienced, well rounded team, with one goal – to bring Megastar Millionaire to the masses in Q1, 2017.
Although this is still an early stage play and anything can happen, so apply caution to any investment decision you make with regard to this stock.
Let's take a look at how Megastar Millionaire works in practise
Focused on increasing integration between Silicon Valley and Hollywood as part of its Megastar Millionaire brand, MSM is attempting to create a dedicated talent discovery portal that fans can use to discover new artists, and which advertisers can use to target their marketing.
Its online focus means the MSM platform is a lot more inclusive and scalable than TV, but also more straightforward to set up and launch.
Let's go through the basics:
Megastar Millionaire is an online site where users can load and view individual videos recorded by wannabe stars, and vote on them.
Contestants must have a following on social media of at least 2000 followers to compete and pay a fee to participate.
Fans pay a subscription fee if they want premium access which includes the ability to interact with contestants and voting rights.
Voting is a core feature as the amount of votes decides whether artists advance, or not.
After 8 weeks of try-outs, 1000 contestants will be selected for a six-week judging round
12 semi-finalists are chosen for a two-week final round.
Four runner-up contestants will split $US100,000 and go on a promotional tour.
The overall Megastar Millionaire winner will win $US1 million and appear in an online film produced by Digital Riot.
Megastar Millionaire is an emulation of existing talent discovery shows on TV – but with substantial differences that open the door to many other commercial verticals for MSM.
MSM is delving into three overlapping markets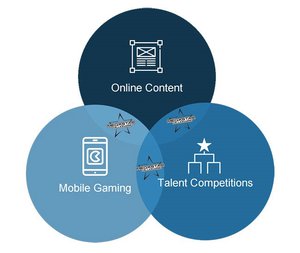 MSM is on track to build a dedicated platform that monetises online video, mobile gaming and talent-search.
The result is a means to tap into three key trends currently defining media...
Online video, mobile and social media
There is a very good reason why many tech companies are rushing into the mobile/online video market.
Here's that reason illustrated on a graph: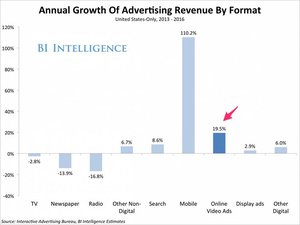 As you can see, advertising is shifting from TV, newspapers and radio towards mobile and online video.
Looking deeper, it's clear that the concept of 'playable media' is taking charge as the fastest accelerating advertising market.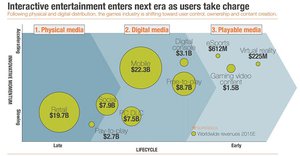 In terms of advertising spending, to attract a greater share, companies must embrace Digital media and be mobile-centric as much as possible.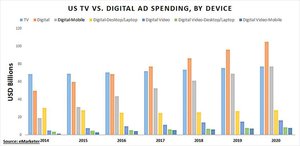 That's pretty much what MSM is doing by focusing its Megastar Millionaire platform (and brand) towards online video, social media and gaming.
In many ways, MSM is looking for that sweet spot where commercial opportunity best meets customer functionality
And when it comes to making commercialisation tick whilst sending a brand viral, Big Data is the catalyst that can get this job done.
Whereas TV viewing generates vague bits of information about the viewer...
...online viewing generates a whole heap of information that can be sold to advertisers.
The simple fact is that online activity can generate a very detailed profile of users, but TV can't.
Therefore, MSM can sell advertising space at a premium and attract larger revenues compared to TV ads because the addressable audience is likely to be a lot larger, and a lot more informative.
Furthermore, TV audiences are limited to the country the show is being broadcast. Various licensing and regional limitations prevent American Idol being watched in the UK for example...
...but for Megastar Millionaire , there are no borders or licensing restrictions. Anyone with an internet connection can view and participate.
The trend of 'cord-cutting' (people using online for all their entertainment needs) is growing and TV as a format is under threat from the nimbler and far-reaching online alternative.
The other factor is Gaming. This niche has been a sleeping giant for generations, but with the advent of rapid connectivity and more devices, it has awoken with resounding force.
Mobile gaming market
The global games market is booming.
By some estimates, the online gaming sector is worth $25 billion .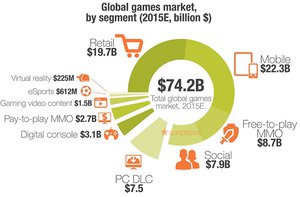 Over the past decade interactive entertainment has almost tripled in size as a result of a range of innovations:
smartphones have elevated mobile gaming to unprecedented heights,
improved broadband speeds and infrastructure have propelled online gaming forward, and
novel revenue models and digital distribution have greatly expanded the addressable market.
It is clear that Gaming as an industry has shifted its focus from physical to digital media, closely mirroring what's happening in the broader IT space. And in response, both publishers and retailers are adjusting their strategies to stay relevant to consumers and capitalize on the market's momentum.
As the industry has changed, so, too has the audience.
Today, people don't just consume entertainment but increasingly play an active part in it.
And here again, it's Mobile gaming that is growing fastest...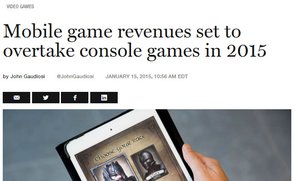 With three core markets in its sights, let's recap what MSM hopes to deliver to shareholders courtesy of Megastar Millionaire.
Commercialising the brand
With its mission set and game plan being completed, let's take a look at where MSM is at in terms of commercialising its Megastar Millionaire brand.
The reasons behind the company's success thus far are hidden behind the deals it is doing.
Aside from the personnel, MSM has also teamed up with Corporates with clout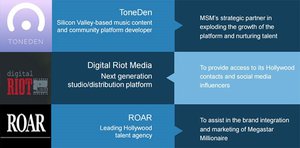 Hollywood-based ToneDen is a music creation software platform helping millions of artists connect directly with their fans online. ToneDen is one of the Internet's foremost and progressive music growth communities with prime focus on artist-fan interaction.
In Q4 2015, ToneDen recorded more than 250,000 registered accounts and reached over 2,000,000 registered 'fans' compared to 100,000 in August last year. That works out to around 13% growth month-on-month – and MSM is part of it having agreed a closely collaborative partnership.
ROAR is a talent, music, and brand management firm with expertise in overall career strategy, guidance, execution and business development, strategic partnerships and marketing initiatives. ROAR will provide a range of services for Megastar Millionaire but the most important will be to resourcefully plug MSM into the main vein of Hollywood and ensuring it gets traction with the right executives and studios.
Digital Riot Media will cast the winner of Megastar Millionaire in a film(s) and provide ongoing distribution support to drive the brand.
Its co-founder and executive chairman Doug Barry is Chairman of MSM's US operations while John Baldecchi is the CEO.
This is clearly a close partnership and another factor that should help MSM with its showbiz intentions.
With its glittering team of star names assembled, this is how MSM's Megastar Millionaire stacks up to the rest of the field

The brand offers the full spectrum of functionality that other multibillion dollar entities such as YouTube and Mobstar cannot. This superiority is likely to add value to MSM's proposition over time...
...and raises MSMS's chances of securing the most lucrative marketing deals as a result.
MSM revenue model
Take a look at how exactly MSM will be making its money...

To start with, MSM wants to build up its subscriber numbers by charging only small recurring fees as part of a subscription model. Longer-term, MSM will leverage the huge amount of data it collects from its platform to drive lucrative cost-per-engagement advertising.
Imagine a newly found music sensation with an angelic voice being discovered...
...any video or content that artist creates will be showcased via Megastar Millionaire.
Considering that talent quests are currently undergoing the biggest growth spurt ever seen, registering 2 million views from a global audience becomes a rather routine event: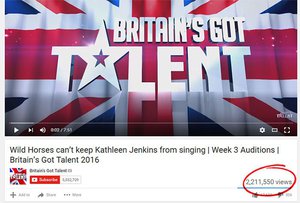 Each one of those views is a potential commercial opportunity for which advertisers will pay good money for.
That's the power of online entertainment – everyone can access it and there is no scheduling which means more eyeballs on the content being presented.
Here at The Next Tech Stock , we think MSM is barking up the right tree in its focus on mobile, gaming and social media to drive its platform and subsequent commercial strategy.
However, as an early stage play we do advise caution and to seek professional advice if considering this stock for your portfolio.
In the land of online media, every user is king
The Internet has facilitated one of the biggest shifts in how people view and create content.
Just by owning a smartphone, someone can create HD-quality content for whichever purpose they desire. That person can also distribute said video globally at the touch of a button.
For media-savvy fans, this shift has meant access to more content from more artists. That content is also more diverse, multilingual and often hugely innovative.
By conjuring up Megastar Millionaire, MSM is effectively the first company to take the hugely popular talent-quest niche online.
Of course success cannot be guaranteed at this stage, but the potential is substantial. If online talent shows get just a small slice of the traction they have done on TV, Megastar Millionaire is likely to establish a strong revenue base from participants and advertisers.
With a US$1million prize on offer for the winner, there are few reasons why Megastar Millionaire can't attract thousands (if not millions) of contestants who are eager to thrown in a few dollars just to show off their talent in the hope of being discovered.
When adding all the other positive verticals MSM could possibly move into, this tech play has found the perfect formula blending populist trends, technical innovation and commercial viability.
There are millions of people looking for their 15 minutes of fame, and MSM will be dishing it out to all interested parties later this year.
---