Little Known ASX 3D Data Player Swoops on $500 Billion Geospatial Industry
PUBLISHED: 01-03-2017 09:29 a.m.
Geospatial technology connects people with the world around them and has been vital to the growth and success of private and public entities.
Governments across the world use geospatial data to track poverty rates and the spread of disease. It is widely used in urban planning developments and was vital to the US in preparing accurate data to deal with the Hurricane Katrina tragedy.
In the private sector geospatial data is integral to the construction, transport, mining, and oil & gas industries.
Yet there is a problem.
Only a miniscule amount of data is being used effectively because data processing and storage environments are ill-equipped to handle the vast amounts of geospatial data being collected.
One cashed-up ASX-listed company may have the solution to this problem.
Its platform can be used to take large 3D datasets of hundreds of gigabytes, or even terabytes, containing hundreds of billions of points, compress it without any loss in resolution, and deliver it to any device, anywhere in the world through a standard web browser. Essentially, it offers a subscription service to the owner of the 3D data for easy sharing and access.
Importantly, it can do this at minimal cost compared to its competitors.
Currently, the challenge with massive 3D geospatial datasets is arranging them in a format that can be quickly and easily processed, managed, used and shared.
The solution this emerging ASX company is offering not only solves this problem, but in doing so it could significantly change the $500 billion global geospatial industry.
The company intends to lead the global market for 3D data, in the same way that stock photo provider, Getty Images is for photos.
However, it should be noted here that this company is still an early stage company and a speculative investment. Investors considering this stock for their portfolio should seek professional financial advice before making an investment decision.
As you can see below, geospatial technology is already bringing significant benefits to the global economy and to society: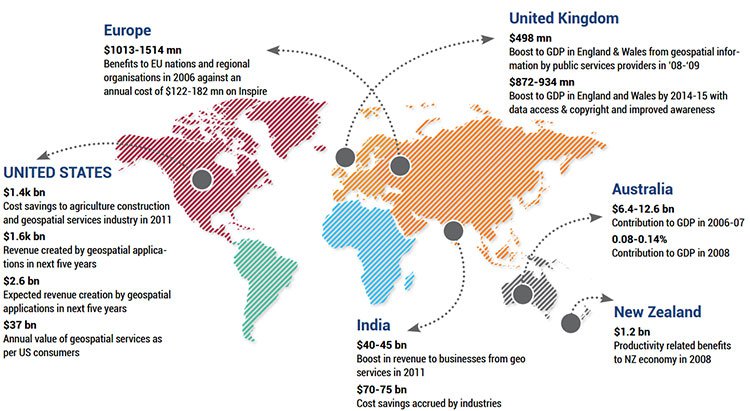 By 2020, public cloud services are expected to be worth more than $195 billion, according to Geospatial Media & Communications. That's more than double the $96.5 billion in revenues seen in 2016 and represents a compound annual growth rate (CAGR) of 20.4% from 2015 to 2020.
While these growth estimates are for overall cloud technologies, geospatial is expected to grow at similar rates.
This Company's unique technology aims to revolutionise the way data is accessed and used, making it stand out from the wider market and its peers.
The following description illustrates how the company is helping others use and share massive 3D point cloud data assets.

This Company has just finished presenting at the annual LiDAR Conference in Denver Colorado to great acclaim, which included the launch of certain US Government point cloud datasets which have, to date, been incredibly difficult to see, use and share due to the sheer quantity of data.
A new partnership with US based Blue Marble Geographics is already generating sales leads for this ASX junior, and the Company has further partnerships with organizations that have many years of historical 3D data they want to be able to see, manage and resell. Those companies will use this ASX stock's technology to provide the cloud-based data management and shopfront visualisation environment to allow customers to view their data.
Today's company is working towards the creation of a revolutionary global marketplace for 3D data, saving the users of 3D data time and money through a revolution in 3D data access.
This company makes dealing with massive 3D datasets easy – providing real-time, dynamic web viewing tools for easy data access from any device, in any location worldwide.
You may have heard of 'Software as a Service' (SaaS); it's a fairly well-known model for selling software, involving the licensing and delivery of centrally hosted software sold on a recurring, subscription model. It's often referred to as "on-demand software".
And now, just like 'Software as a Service', this growing Australian innovator has plans to commercialise its technology via a 'Data as a Service' (DaaS) model.
Bringing dimension to...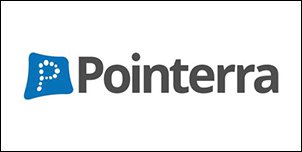 Pointerra Limited
ASX:3DP
Perth-based Pointerra Limited (ASX:3DP) offers on-demand cloud-based solutions for managing, distributing and visualising 3D datasets.
Put simply, it makes dealing with massive 3D datasets easy and cost effective.
The following video gives you a solid understanding of how 3DP is able to achieve this.
Via the direct import of 3D datasets, streaming map tile layers, or easy to use application programming interface (API), 3DP also provides desktop geographic information system (GIS) integration.
It offers real-time, dynamic web viewing tools for simple data access from any device worldwide. It also has privacy built in, meaning data can be shared securely, or monetised, through its world-first, online marketplace.
Whilst examining this stock, we had a look through the ASX to find suitable peers to compare 3DP to, and it became obvious that there is a clear pathway to on-market growth.
Currently capped at less than $10 million, and with over $3.7 million in the bank at last count, it had us wondering:
Could 3DP be the next Nearmap or Spookfish?
Nearmap (ASX: NEA) is the most obvious comparison to 3DP. Nearmap sells highly detailed visual and topographical content to quickly and accurately survey and measure a location.
Nearmap's share price has been up as high as 175% over the last year, and the company is currently capped at $200 million – over 20 times the size of 3DP...
The past performance of this product's share price is not and should not be taken as an indication of future performance. Caution should be exercised in assessing past performance. This stock's share price, like all other financial products, is subject to market forces and unpredictable events that may adversely affect future performance.
Spookfish Ltd (ASX: SFI) is another ASX listed tech stock that operates in a similar space to 3DP. Spookfish sells 2D, 3D and other geospatial imagery.
Spookfish is currently capped at $78 million – around 6.5 times the size of 3DP....
3DP is at a much earlier stage than Nearmap and Spookfish, but investors could start to catch on if 3DP grows quickly from its current sub-$10 million market cap.
So who is 3DP targeting for sales?
The Company is targeting high-value channel partners and end-user sectors.
The scope of 3DP's potential clients is extensive, including any business that owns, operates, works in or maintains a physical asset including roads, highways, bridges and technology.
Of course, how many clients 3DP can attract and generate revenue from remains to be seen, and thus investors should take a cautious approach and not base their investment decision on this information alone, but on all publicly available information.
Huge benefits could be seen in construction, engineering and resources sectors – all sectors that spend billions of dollars a year on accessing and using 3D data – although many groups are yet to realise the potential that 3DP's platform brings.
3DP will also seek to earn revenues from sale to medium sized enterprises and casual users of 3D data.
3DP's platform is also a valuable tool for making data more accessible for government and government agencies, and major international organisations.
Take the World Bank for example, which uses geospatial data and owns a huge amount of it. This data can be better utilised with tools that manage that data and its access.
3DP's compression algorithm and cloud-based delivery enables organisations such as the World Bank, as well as private entities, to visualise terabyte-sized 3D datasets in a web browser.
In summary, the primary industries of focus are:

Example real-world applications for 3DP's technology include:
A bulk commodity company that is undertaking a high-frequency laser scanning operation to feed predictive analytics algorithms.
An oil and gas company that is sharing terabytes of 3D scan data between field operations and the head office to better manage the plant.
A road network owner that is discovering new ways to work with and interpret 3D data that was previously unusable.
Another oil and gas company is visualising subsea 3D data of well head and riser infrastructure without the need for technical 3D software and operator.
A geospatial technology company, which for the first time, is visualising, exploring and extracting data from existing 3D datasets.
3DP is also targeting enterprise customers and resellers that can sell its solution, creating a globally distributed sales force.
Partnering to deliver geospatial technology solutions globally
3DP has established a number of agreements with Private and Public Sector organisations, both within Australia and overseas.
In November , California-based Esri formed a strategic partnership with 3DP. Esri is the leading global enterprise GIS platform. It's a pioneer and global leader in geographic information systems (GIS) technology with hundreds of thousands of users across 150 countries and the capabilities to rival the likes of IBM, Microsoft, SAP and Amazon.
With such large amounts of 3D geospatial data, Esri customers were struggling to do 3D data at scale. This led to its partnership with 3DP and the integration of 3DP's 3D point cloud technology with Esri's ArcMap solution.
Esri was quick to identify that 3D was well positioned to leverage a very exciting space for the geospatial industry, and that 3DP's solution had arrived at a crucial time.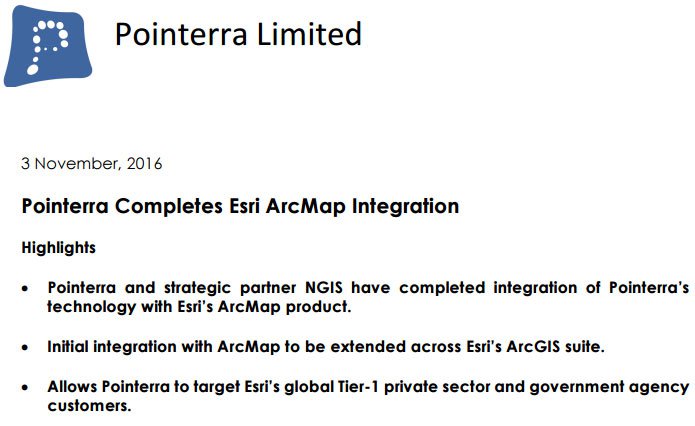 In December, 3DP partnered with Blue Marble Geographics to develop an extension to its highly popular and widely used Global Mapper product.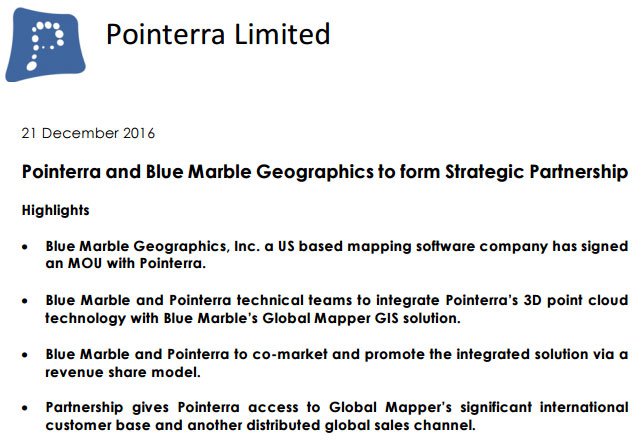 The deal allows Global Mapper users to experience 3D point cloud data using 3DP's visualisation and cloud based hosting technology.
Blue Marble is a long established market player with its Global Mapper product in its 18 th iteration across nine languages.
The enhanced offering was released to the international marketplace at the International LiDAR Mapping Forum in Denver a couple of weeks ago.
Other steps the company has taken to market its 3D technology include the signing of a Memorandum of Understanding (MOU) with engineering giant WorleyParsons .
Through the MOU 3DP and WorleyParsons will seek markets in the hydrocarbons, infrastructure, minerals and metals and chemicals sectors for Pointerra's 3D point cloud technology.
3DP is in an enviable position with a first-mover business model combined with world class technology.
As it continues to refine its compression and visualisation algorithms, 3DP will generate new Intellectual Property and tactical patent protection opportunities.
Here's a look at 3DP's timeline from technology solution to a profitable, globally scaled, sustainable business.

3DP's business model means it can generate high margins, thanks to its low capital requirements.
These metrics will continue to improve as the Company optimises its cloud (AWS) design and deployment, which will allow for more efficient and lower-cost hosting and delivery of point cloud data.
The direct sales pipeline along with 3DP's existing and, yet to be announced, partnership agreements, will help accelerate customer acquisitions.
How quickly these customer acquisitions are made is yet to be determined, so investors considering this stock for their portfolio should seek professional financial advice for further information.
Enterprise Customers are those that own, operate or manage an asset. They have significant amounts of hard-to-use 3D data. These will be direct DaaS license arrangements with 3DP.
Enterprise Channel Partners are those engaged in capturing 3D data or making the hardware that captures this data. They are already working for and with both Enterprise and Non-Enterprise Customers. Commission will be based on revenue share for DaaS acquisition wins.
Non-Enterprise Customers are those that require frequent casual use of 3D data. They will leverage free Government open-data initiatives and will have a stepped approach from paywall-free through to recurring DaaS revenue model.
A broader look at the market
The $500 billion geospatial sector is led by Sweden's $30 billion Hexagon Geospatial . Hexagon is to the geospatial sector, as SAP is to the accounting sector.
This is exactly the type of customer that would be attracted to 3DP's 3D data solutions.
Hexagon isn't shy about teaming up with whomever has the best solutions on offer. Consider the recent collaboration that Hexagon's Leica Geosystems has established with Autodesk — the sector's second largest player, and Hexagon competitor.
In a culmination of technology innovation, the two companies came together to improve construction industry workflows by streamlining and automating processes.
Data set sharing is becoming more common as can be seen by this recent announcement from Google .
Google is a regular contributor to the open source community — along with other tech giants including Facebook, Microsoft and Twitter — so its desire to share its geospatial data comes as no surprise.
Google is releasing its Earth Enterprise software as an open source in March. This will allow developers to deploy Google Maps and Google Earth across on-premises infrastructure.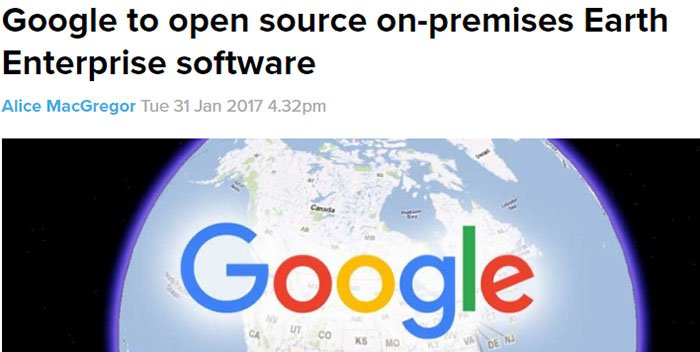 As you can see, geospatial technology has been adopted by some of the world's largest and influential companies, but 3DP's platform, deployed on Amazon Web Services, is in a world of its own.
Big plans for the future
On its pathway to profitability, 3DP plans to do the following...
It will launch its Non-Enterprise Solution in the US, UK and Australian based open government laser scanners (LiDAR) data portal and marketplace, augmented with proprietary data from customers of local or regional geospatial companies.
3DP will formalise its partner and reseller agreements, moving from evaluation to formal marketing and sales channel partner arrangements. This will create a highly leveraged global sales platform for 3DP.
The Company will also continue its GIS Integration with Esri and its other partners. This is an important part in driving sales in mature GIS-incumbent environments.
It also has a number of partnerships and reseller agreements to be signed as well.
3DP certainly has some promising plans, but could it be a good speculative investment?
3DP brings world-class technology within its first mover business model. Its strategy has patent pending protection and has additional IP development in the pipeline.
Its business model is scalable and it has a direct sales pipeline and partnership agreements for accelerated customer acquisition.
The team at 3DP has a proven track record of technology development and commercialisation execution, backed by a Board and management team that has a quality background of experience and delivery.
Add to that its modest market cap of under $10 million, its lack of debt, fully funded business model, as well as $3.7 million in cash in the bank at the end of last quarter and we see every reason to take a closer look at 3DP.
It may be an attractive small cap tech piece to add dimension to your portfolio.
---