Israeli Ag Tech Innovator ROO Strikes a Conditional US$19M Exclusive Chinese Distribution Agreement
PUBLISHED: 05-02-2018 10:00 a.m.
It was only last week that we first brought Roots (ASX:ROO) to your attention. What swept this pioneering ag-tech company into frame was its first significant commercial sale to the tune of US$257,000 (A$323,000) with leading international ag-tech integrator, Dagan Agricultural Automation.
This week, ROO topped the initial deal with Dagan by signing a conditional US$19 million exclusive distribution agreement over five years targeting the world's largest vegetable production market – China.
The deal allows Dagan to exclusively sell ROO's patented root zone temperature optimisation (RZTO) technology and associated products for three years throughout China.
China accounts for 53 per cent (nearly 550 million tonnes) of total global vegetable production.
For the Israeli-based ROO, that's a substantial market to tap into and could have a significant effect on the company's current market cap of $26 million, especially if it is able to establish a long term commercial relationship with Dagan.
It is still an early stage play, however, so investors should seek professional financial advice if considering this stock for their portfolio.
For those unfamiliar with ROO, RZTO is a disruptive, modular, cutting-edge technology that addresses critical problems faced by the agricultural community including plant climate management and the shortage of water for irrigation.
RZTO is a two-in-one root zone heating and cooling technology used to increase yield, improve quality, shorten growing cycles and reduce energy consumption in greenhouses.
As you may have read previously, this technology has significantly increased crop yields to 80% and simultaneously reduced energy consumption by up to 60-80%.
ROO currently has a further technology under development that is aimed to bring maximum benefit to farmers via off the grid irrigation by condensation.
Clearly ROO has a lot going on and we will go into more depth about the RZTO technology and its benefits shortly, but first let's reintroduce you to...

Roots Sustainable Agricultural Technologies
ASX:ROO
You can read a more in-depth analysis of Roots (ASX:ROO) in our initial article: This Israeli Ag-Tech Stock Has Technology to Increase Crop Yields by 80%: Signs First Revenue Generating Deal in China .
In that article, we discussed how this newly listed ag-tech disruptor was already emerging as a tech pioneer in the growing ag-tech space by developing a commercialising cutting-edge technologies that tackle severe weather conditions, water shortages, high energy prices and the global food supply/demand imbalance.
The following video sums up the business proposition: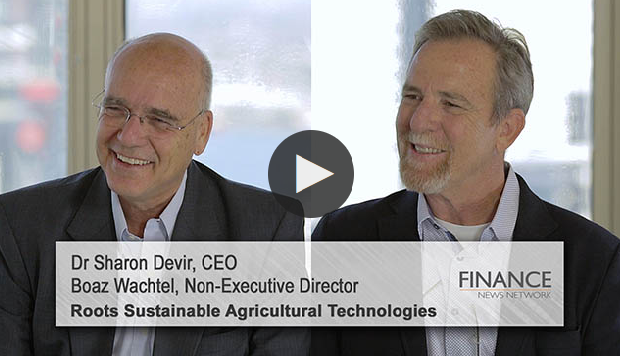 Given the pedigree of the executives in this company, it is not surprising that it is moving so quickly. It already has strategic collaborative deals with key players across Israel, Europe and Asia, but its latest signature could see it have a major impact in the 550-million-tonne China vegetable production market – the world's largest vegetable production market.
ROO signs Conditional $19 million distribution deal
The focus of this flash note, is ROO's signed distribution agreement with leading international ag-tech integrator Dagan Agricultural Automation that gives Dagan exclusive rights to sell ROO's patented root zone temperature optimisation (RZTO) technology.
The initial deal is for three years, with the agreement providing for a two year extension and the ability to expand to include other Roots' patented technology such as Irrigation by Condensation (IBC) and extend this exclusivity to other geographic markets.
We can't stress enough that this deal could open up the China market which accounts for 53% of total global vegetable production.
The distribution agreement is based on minimum exclusivity target over the five-year period of US$19 million for Roots technologies. This constitutes US$3 million in year-three; US$6 million in year-four; and US$10 million in sales in year-five.
This agreement follows hot on the heels of its US$257,000 (A$323,000) agreement with Dagan that was the focus of our previous article.
Dr Sharon Devir, CEO and Co-founder believes this agreement with Dagan will enable Roots to significantly expand its presence in China especially as China faces population challenges (three times the number of people per area unit of land as the rest of the world), a growing middle class demand for more protein in diets, and local land and water resource constraints that make production increases a challenge.
ROO is looking to meet these challenges head on as it establishes a long term commercial relationship with Dagan.
The relationship not only serves ROO's global expansion plans, but also acts as an endorsement of ROO's technology and its ability to help address some of the critical agricultural production and pollution challenges this market faces.
ROO has set conservative sales targets over the five-year period, allowing the first two years to focus on establishing sales networks and showcasing proof of capability, with resulting sales activity in years three to five.
The Final word
The latest deal with Dagan could see ROO take a major stake in the China vegetable market, but if news continues to flow as it has in recent weeks it may also have a significant impact on its very moderate $26 million market cap.
You can read our full report on ROO in our initial article , however as you can see ROO is acting quickly to confirm its place as a pioneer in the ag-tech space and the news is already flowing. This time to the tune of US$19 million.
---