IoT meets 'Intelligent Buildings' in New ASX Listing
PUBLISHED: 08-03-2017 09:52 a.m.
A seriously inventive tech stock has just landed on the ASX.
Recently the Next Tech Stock has informed you about connected cars, wireless technology, the Internet of Things (or IoT), game changing apps, fintechs, and given you plenty of caveats about the tidal wave of digital disruption hitting the world from all angles.
But until now, we have not jumped into the topic of connected 'smart buildings'.
As in buildings where it feels like Siri is living in your lounge room; or where you can remotely control your entertainment system's volume settings via your phone while you lay in bed.
The word 'modern' just doesn't really encapsulate what today's company is doing.
Put simply, it is developing technology to create "intelligent buildings", with the same technology aiming to provide a foundation to enable the creation of a secure Internet of Things (IoT) platform for IoT devices.
Considering IDC estimate the global spending on Internet of things devices and services was almost $700BN in 2015 and climbing, the options IoT creates for consumers, and fast moving investors alike, seem limitless.
That's why a unique product in the space could make a significant dent in this multi-billion market.
Today's ASX listed company has established a strong Unique Sales Proposition (USP) with its Internet of Things platform incorporating Internet of Things "fabric extension", together with a commercially ready product known as the Q Device – a replacement for standard power outlets and light switches in buildings both large and small.
Led by Mark Lapins, who ran Vieo Systems, which was acquired by the large, multi-national Schneider Electric in 2008, this small ASX company has already made commercial sales of its Q Device, and expects to be cash flow positive next year.
The Q Device replaces AC light switches/dimmers and power outlets with intelligent devices to provide real-time evaluation of environmental and risk factors for building occupants.
The Company's goal is to deploy Q Devices in buildings globally, with its first feature set providing an Energy Management solution – a clever strategy to capture the "real estate" on the wall, for the distribution of future technology offerings by the company.
Further to this, the Company intends to provide unified infrastructure for the Internet of Things.
This company's Internet of Things platform has mass application in all areas including Energy Management, Utilities, Health Care, Retirement Living, Hospitality, Defence, Mining and Resources and many other industries.
However, it must be noted that like many early stage tech companies, this stock should be considered a speculative investment and investors should seek professional financial advice if considering it for the portfolio.
The potentialities of today's company's products and software, newly on offer for a new generation of customers previously priced out of such technology, is difficult to fathom. But try anyway.
To the average person, a product that can do all of the above sounds either far-fetched, prohibitively expensive or overly complicated.
How many buttons will I have to push? How much will I have to spend?
The people asking these valid questions are this company's ideal future customers, they just don't know it yet.
This company has an IoT solution that is both simple and affordable, and the product is ready for market right now.
The company's platform has been determined to have "limitless" applications and "limitless" scalability, with major network players through to guys with great ideas in their sheds able to leverage the technology.
So allow us to illuminate you on how today's tech play plans to literally illuminate people's homes – in the smartest, easiest, most energy efficient way – and offer exponentially more benefits beyond that.
This ASX company has just completed a reverse takeover and an oversubscribed $5M capital raising, so it's an apt time to get acquainted with: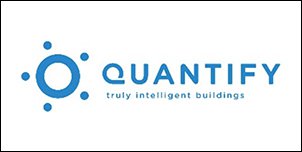 Quantify Technology Holdings

The Internet of Things (or IoT) is making incredible things possible; and seemingly impossible things credible. Quantify Technology (ASX: QFY) is expanding these possibilities, and bringing them home – in a very literal sense.
The company is doing this by bringing to market a platform which will allow users to control their home and work environments like never before.
QFY's first port of call for its patented modular technology is the field of Energy Management; allowing households to become more efficient users of energy by only using the optimum level of power at any moment.
The building does not take control of the environment, rather the IoT in the fabric of the building enables occupiers the ability to control the environment as they desire, from an app.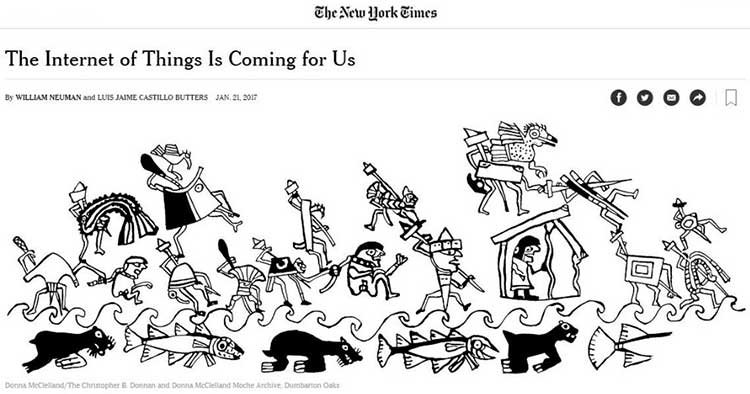 This all happens through QFY's patented 'Q device' which is installed at the power points and light switches in your wall.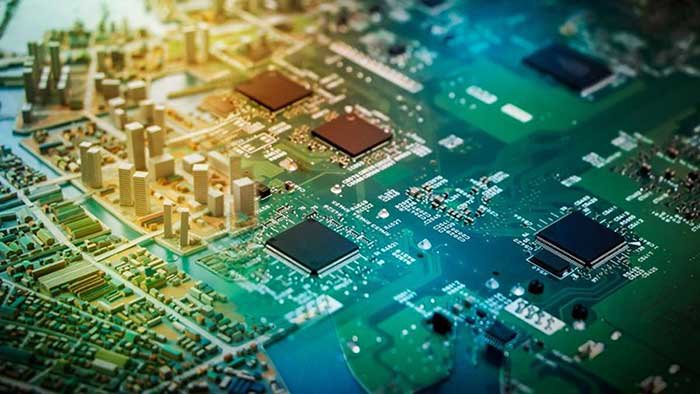 Here's a quick video so you can see how simple the installation is:
Embed link:
The Next Tech Stock track record – SAS is up over 870%...
Did you follow our coverage of Sky and Space Global (ASX: SAS)?
We first wrote about the stock way back in June 2016 , and our most recent article was in September 2016 . Since our first article, SAS has gone up over 8 times – 870% to be precise.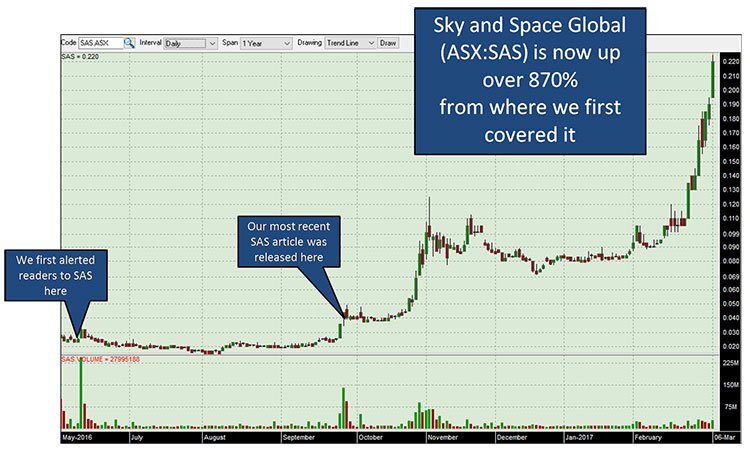 The past performance of this product is not and should not be taken as an indication of future performance. Caution should be exercised in assessing past performance. This product, like all other financial products, is subject to market forces and unpredictable events that may adversely affect future performance.
The Q Device in detail
The Q Device is QFY's flagship product, and is the result of $4 million invested into research and development over four years.
For this device, the company has received a high volume of expressions of interest from across the world, and the list is growing.
Without boring readers who aren't tech-heads, we'll keep this bit short – the device is basically a sophisticated (but not complicated to use) system that automatically controls and manages AC power networks at a granular level through wireless technology. It can measure, report on, analyse and control power at a local level – both lighting and devices connected via power outlets.
Some of its current competitive features are: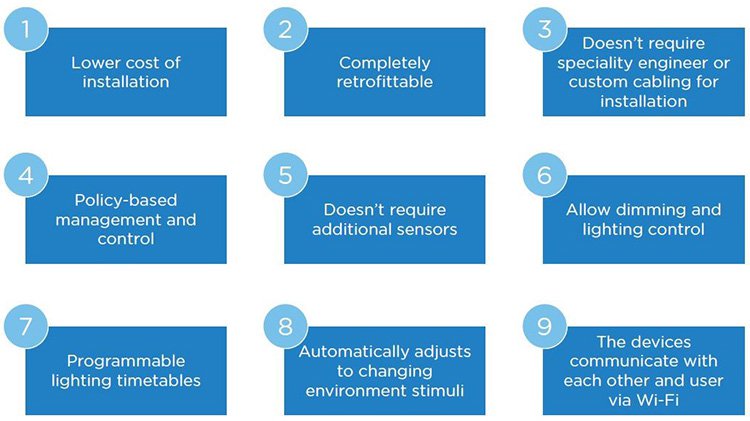 This is a product that exists now – it's not simply a great idea relegated to the confines of the founders' minds.
It's already being shown to investors and potential customers, been tested and shown to work, and is out there impressing the tech-savvy and the trend-setters. All it needs now is final certification and to be scaled so QFY can properly enter the market.
As mentioned, Energy Management is its chosen start point – and it's a market that not only allows consumers to save money, but to reduce their carbon footprint; a goal that's never before enjoyed such widespread attention as right now.
On a personal level, it's a convenient solution that saves on electricity bills, is straightforward, allows greater (and remote) control of power use, and is a way to create a connected network in your walls which can be utilised for a rapidly-growing list of futuristic-sounding capabilities.
As a quick taster of what the future may hold with this device... perhaps your building will make your coffee as soon as it notices you're out of bed; or it might lock or unlock doors based on your location and planned movements; it may even order you a pizza or tell you jokes.
Here's a video QFY has made – they've used the example of a scenario where a stove is left on to demonstrate not just the economic benefits but possible returns safety-wise:
Embed link:
That's the kind of capability we're talking about. It kind of sounds like Tony Stark's mansion, but the difference here is that it's not so out of reach.
QFY is offering this connected network without long and complicated installation (the product uses the standard power cable already in buildings), or a price tag which make your eyes water... depending on the size of your home, set-up may cost you an estimated $3,000-$4,000 – as opposed to the circa $50,000 you'd pay to get half of these features in the current market.
This means QFY can hopefully insert itself in the marketplace as a leader, and build its volume sales pipeline, which could mean high returns for the company and its investors.
However, whether it can become a marketplace leader remains to be seen and investors should take a cautious approach to their investment decision with regard to this stock.
And here's a comparison of its features as compared to existing competitors: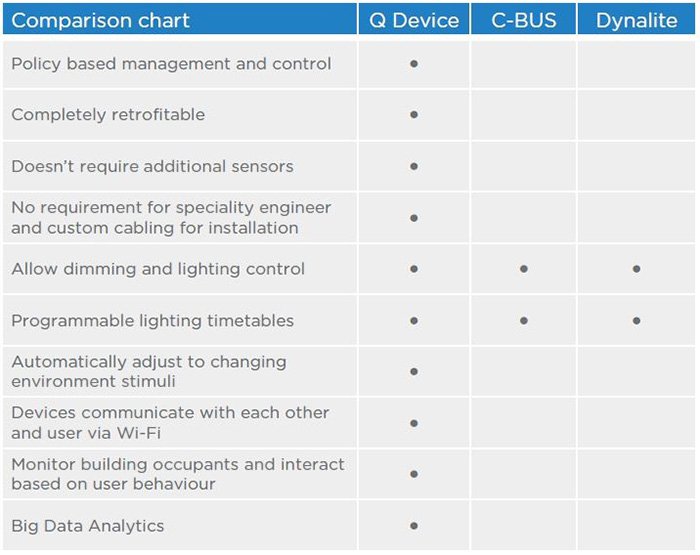 The 'Q Device' for energy management can be easily retrofitted into any building – all you need is a QFY certified electrician to put it in, and you're set.
The bigger picture, once multiple devices have been added, is to create a network in the very fabric of homes... thus creating homes that interact. The walls 'come alive' and you get what QFY call 'Truly Intelligent Buildings'.
The idea is that it's endlessly adaptable to changing technology, through being visibly customisable as well as software-supple via the ability to change the device's feature cards and fascias at any time:
Embed link:
How QFY got to where it is today
This is not your average tech start-up. Prior to QFY listing on the ASX today, the company established a strong operational infrastructure to deliver on their goals, it already has a team of 30 staff – including a strong presence in the Asia Pacific region – and a fully developed and market-ready product.
The company first formed in response to filling gaps in the tech sector that weren't being serviced. It was founded by Perth entrepreneur Mark Lapins in 2012. Since then it has developed hardware and software devices that assist with monitoring and management of connected or Internet enabled devices in buildings.
Importantly for investors, Mr Lapins is no stranger to takeovers by multi-national electronics companies –
His past experience includes running Vieo Systems, which was acquired by global company Schneider Electric in 2008.
That would be the same Schneider Electric who develop connective technologies in the fields of energy efficiency and sustainability; another frontrunner in research and development who are looking to innovate towards a greener future.
This is why we have a sneaking suspicion that the Q Device is going to be just as impressive as it sounds, and hopefully one day be the subject of attention from cashed up multi-nationals looking to build out their intelligent buildings portfolio of products.
Getting to the business end: RTO of WHL Energy now finalised
QFY entered the ASX via a backdoor listing – engineering a reverse takeover of WHL Energy (ASX: WHN).
In the process leading up to the RTO, the company conducted an oversubscribed capital raise to the tune of $5M... a ringing endorsement for the transaction and the newly formed venture, from institutional, professional, sophisticated and retail investors. Shares were offered at 6 cents at a total of 83,333,333 shares.
It may sound like a strange combination, but it's not at all unusual if you look back over the last several years. Often in these RTO scenarios, the company wishing to list will save money and time through using a 'shell' company to acquire it and then list. It's a shift onto the stock exchange with minimum fuss.

From several angles, QFY's plan is truly disruptive within the IoT realm, and the capital raise towards the RTO proves that investors realise the potential of this young but bold company redefining the industry, with plenty of blue sky ahead.
Making the strategy quantifiable: sales
It's important to note that QFY has already entered a commercial contract for the sale of its Q Device product – and aim to be cash flow positive next year.
Delivery of product and sales are anticipated for the end of the calendar year, with the sales team targeting high volume and iconic opportunities to kick-start the commercialisation stage... and in this case, volume will come through contracts with developers for buildings that are still in construction.
In the meantime, the company has research and development funding and proceeds from the capital raise to keep them going. And when the large-volume sales start hitting the books, that's when they can look to take manufacture offshore and really scale.
Following that, QFY can look towards its multiple "Blue Sky" market segments – retirement living (remote management, monitoring and risk assessment of the home environment of retirees by a third party), Big Data Analytics (to sell as market research or to governments), voice activation services, cloud-connected capabilities like ordering from restaurants, and more...
But in terms of the product right now – once the devices have been installed in someone's home, the revenue does not stop there.
QFY will receive ongoing subscription revenue from consumers for use of their advanced features and applications (already in planning).
The company will also make money through training and certification programs for electricians looking to install the devices.
Existing customers will also provide revenue through updating the look, or fascia, of the device, as well as replacing the feature card when desired, to add greater capability and upgrade functionality and features as users' requirements change.
QFY's game is not to create something that will be popular in the short term and then become redundant. The idea is to make it a smart platform for the long term – adaptable, versatile and able to change with the times. By inserting a new card into the device it can instantly be updated or amended as needed.
Set to sizzle
QFY is an Australian-based, ASX listed small cap company with a vision that's both futuristic and realistic. It could offer investors a unique sales proposition – IoT 'fabric extension' that can replace standard power outlet and light switches in virtually any building, turning it 'intelligent'.
If the company can capture this 'wall real estate', it will be a gateway for distributing a whole range of intelligent building technologies...
Of course at the same time, this is an early stage play and success is no guarantee. Investors should seek professional financial advice if considering this stock for their portfolio.
Energy management is a huge market to monopolise, yet it's not even the whole picture, but merely the first step. Beyond that there's a world of possibilities in utilities, healthcare, retirement living, hospitality, defence, mining and many other industries ripe for disruption...
Here are the four phases QFY has envisaged so far: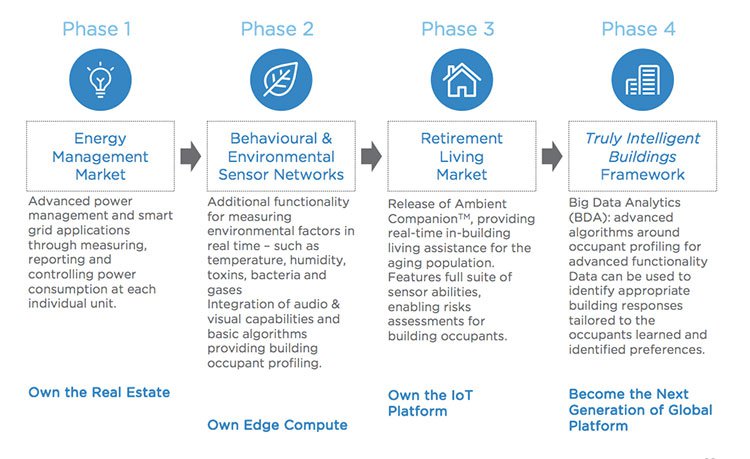 And a rough idea of QFY's projection through to end of 2017: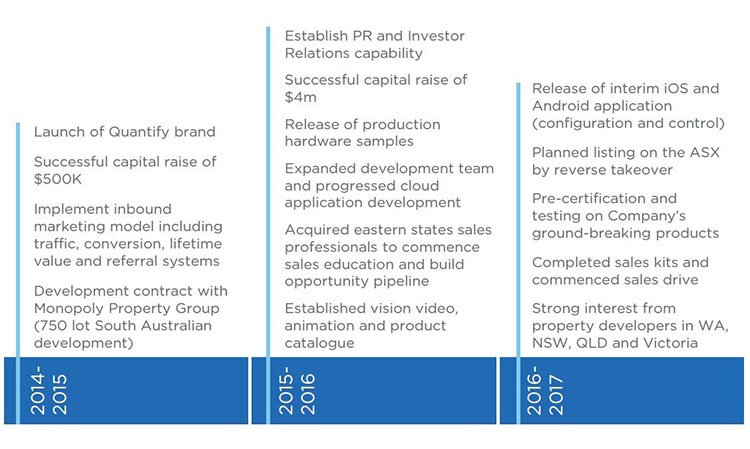 Left your iron on? Your building will tell you.
Forget to feed the dog? Lucky for you, your walls haven't.
It sounds a little crazy. Except for the fact that today's company is offering the first step towards this reality, and at a far lower cost than its predecessors.
There are potential avenues for both scalability and adaptability, and if QFY are as smart as the homes they're promising, they could set to profit by being early movers in a range of products.
And that includes the ones that haven't even been invented yet.
---