IOT Group's Selfie Drone Reaches Viral Status As It Looks to Capitalise on Global Interest
PUBLISHED: 23-10-2017 09:21 a.m.
The world is becoming more and more interconnected, where gadgets communicate and exchange information in real-time. This dynamic offers a blistering array of commercial possibilities — from direct sales, to supplementary marketing and advertising that leverages third party partners.
IOT Group (ASX:IOT) has recognised the opportunities at hand.
On one hand IOT is targeting the lucrative market for drones which have the potential to completely augment entire industries, such as news reporting, events coverage, mapping, reconnaissance, farming, policing and emergency services.
On the other hand it is pursuing a seamlessly interconnected future...whilst taking breath-taking selfies – a move that could pay off for investors.
Sales of drones grew by 60% last year to 2.2 million, and revenues were up 36% to $4.5 billion, according to research firm Gartner .
Alternative data from the Consumer Technology Association in the US, estimates that 2.4 million units were sold just in the hobbyist/consumer sector alone in 2016 — more than double the 1.1 million sold in 2015.
Trying to quantify the 'selfie market' is an exhaustive exercise. What we do know is that selfies are pervasive in modern culture. The selfie market is, by default, in the hands of camera and phone manufacturers, but there's a new and unprecedented shift coming courtesy of IOT.
IOT has two key products in this space, the AirSelfie and its ROVA Selfie camera.
The AirSelfie is the first flying camera integrated into a smartphone cover that enables consumers to take selfies from the sky and can reach as high as 20 metres in the air letting users capture wide, original photos and videos.
The AirSelfie has already reached viral status after just six months with interest from selfie-lovers across 81 countries.
Then there is ROVA, which like AirSelfie has launched in the USA as well as Australia as IOT look to become the market leader in the flying selfie camera sector.
Purchase orders for both products are in process with companies such as Best Buy, Telstra and the biggest of all... Amazon.
It should be noted here that IOT is in the early stages of its development, so investors should seek professional financial advice if considering this stock for their portfolio.
Meanwhile, IOT continues to secure clients in new markets including Latin and South America where further purchase orders are in this month's pipeline.
In its most recent news, IOT announced that it had negotiated a major distribution agreement for its AirSelfie and ROVA products to be immediately distributed in the United Kingdom, Ireland, Belgium and the Netherlands.
Given this high level interest, IOT has just completed a capital raise of $582,000 to fund the purchase of inventory for retail orders placed.
IOT has enjoyed a raft of highlights lately including: initial purchase order from Bloomingdales, engagement of Maximum Import LLC for Latin America/South American distribution, management of Airselfie and ROVA sales with Amazon US, continuing negotiations with a number of large US distributors and its immediate foray into Europe and the UK.
The Amazon deal is significant with IOT now in exclusive control of the Amazon US store for both products, making it the exclusive supplier of AirSelfie Amazon. ROVA will be available in all four colours on Amazon coming into the Christmas period, which could be provide a sales boon for the company and potentially an early Christmas present for investors.
IOT distributes its products across North America, South America, Latin America, Europe, Australia and New Zealand and is now in prime market position as the rampant growth of digital connectivity, glitzy gadgets and social media alters the consumer landscape, and delivers compelling returns for companies able to successfully tap it.
Reintroducing,

IOT Group's (ASX:IOT) ROVA and AirSelfie products are causing a stir amongst young adults and tech enthusiasts.
Drones are still relatively new to the market and continue to capture people's imaginations. They are a bit like the Sony Walkman when CDs were all the rage back in the 1990s. What's incredible is that many of today's millennials have never even seen a Sony Walkman, which goes to show just how rapidly consumer-focused gadgets develop.
Drone-market leading Chinese company, DJI was one of the first to delve exclusively into manufacturing drones a few years back. By focusing on simplicity and affordability (and bracketed by cutting-edge technology), DJI has carved out a significant niche globally.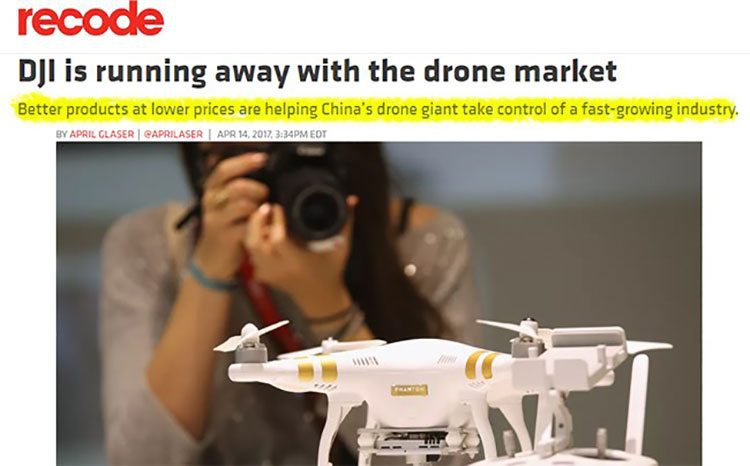 IOT wants to repeat the feat with its own range of drones, providing a classic product that's affordable yet functional. The goal is to foster loyalty for the IOT brand and gain an early footing commercially.
With an attractive price point of $150-$300, IOT's flagship products are lining up to be a couple of stocking-fillers come Christmas, and likely to attract mass consumer market attention in 2018.
Over the course of the past six months, IOT has been working hard to make this happen. Just this month, the company signed an Equity Swap agreement with AirSelfie Holdings Ltd, allowing IOT Group to become a shareholder.
IOT will also own part of the global company and the AirSelfie intellectual property, allowing IOT to work closely with AirSelfie Holdings executives.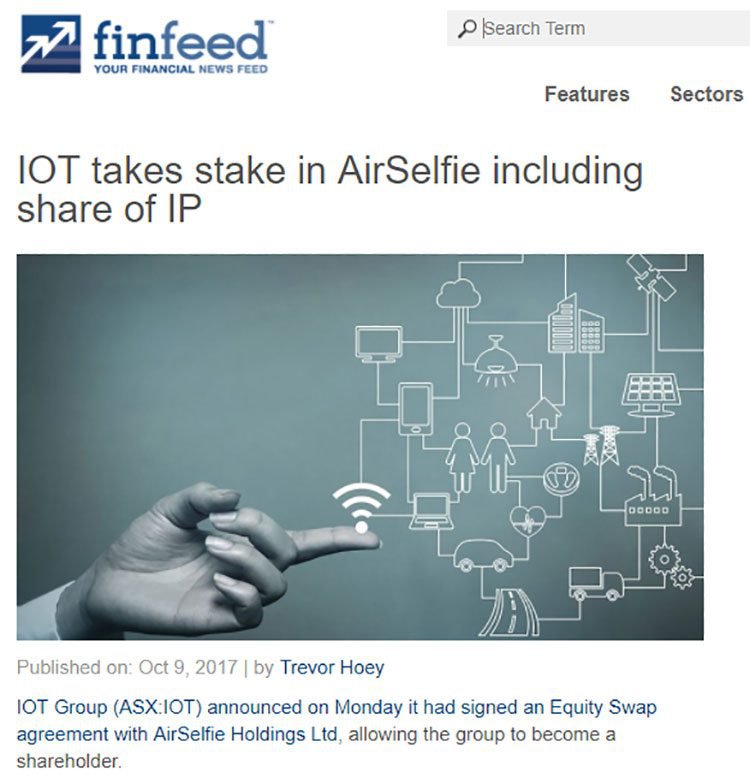 The AirSelfie is a unique product that takes the 'selfie market' into uncharted territory. Most importantly for shareholders, the AirSelfie stands to haul in IOT's first revenues as it sets off on its quest to grow its market cap of A$7 million.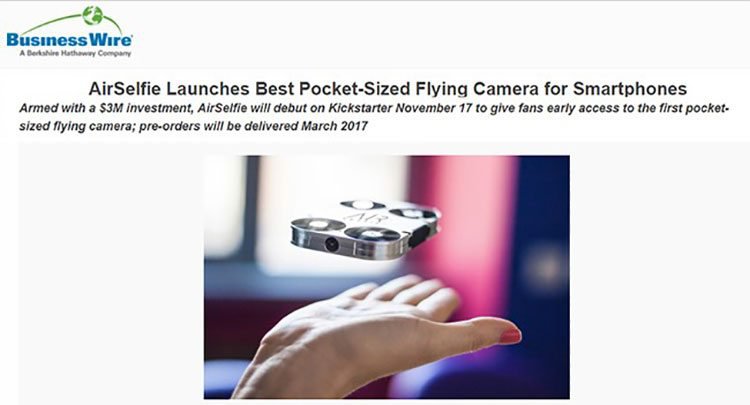 Airselfie is the second of IOT's two flying selfie cameras, the other being ROVA, a light and compact selfie drone that is small enough to take off from and land in your hand.
The ROVA flies, it hovers, it takes photos and videos, it's easy to use and worry free; it simply connects to your mobile phone and has one-touch sharing to your social media.
Here's a look at how it works:
Affordability is IOT's biggest selling point, despite the advanced functionality of its products.
Now, let's take a more in depth look at IOT's products.
First the AirSelfie: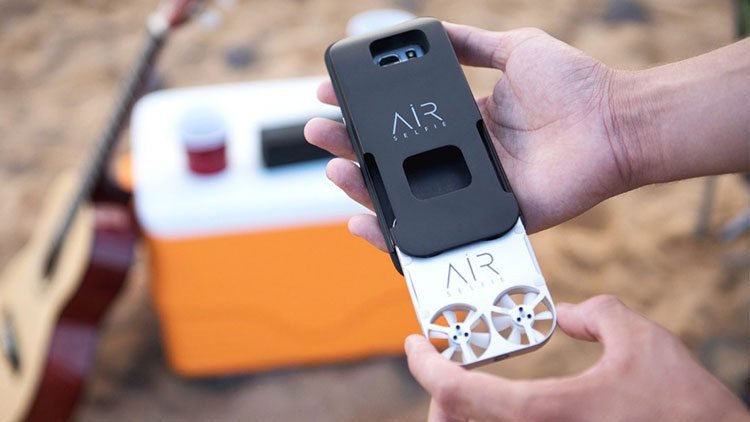 The AirSelfie is a pocket-carrying selfie-machine that can be used as a personalised action camera, providing quality footage from ideal vantage points.
IOT's miniaturised drone opens the door for users to capture video never thought possible:
All the video footage recorded is completely synchronised with the user's phone, social media accounts and cloud-storage services.
Here's an early AirSelfie adopter utilising it during a local soccer game: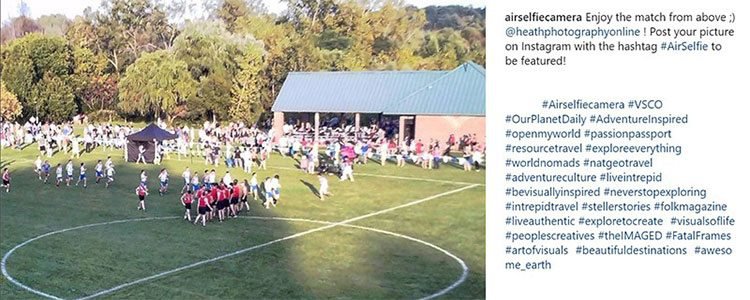 Meanwhile, the ROVA is more of an enthusiasts' choice and is capable of recording footage, rather than just taking a snap: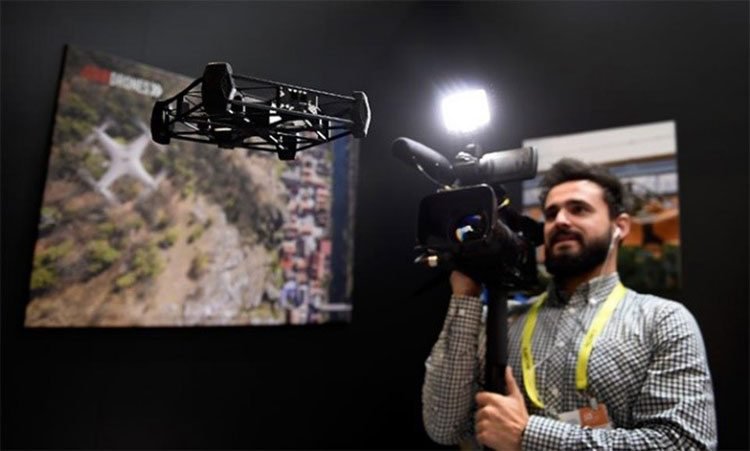 To give you a better idea of ROVA's effectiveness, here's a more in-depth video showing off its capabilities:
IOT's distribution network is growing, with multiple deals recently signed
IOT is now in the advanced stages of rolling out its AirSelfie and ROVA products in the US, Canada, Australia, New Zealand, Latin America and South America. According to pre-sales figures, IOT says it is "well-positioned for strong sales in the fourth quarter of 2017" and retailers look to be lining up: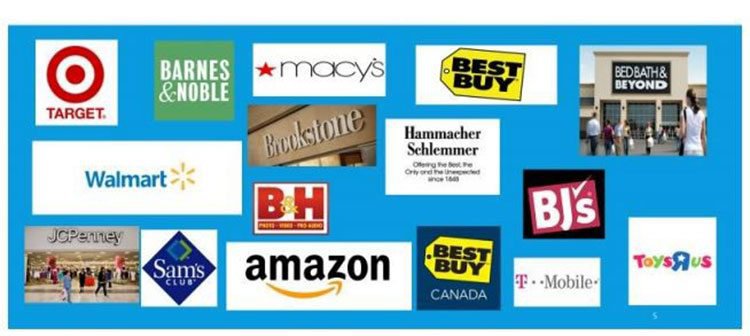 As it stands, IOT is expecting to deliver 30,000 units in its first batch. A rough calculation suggests the company will haul in around A$6 million in sales revenues over the coming quarter.
This is a speculative figure at this stage and investors should review all publicly available information and take a cautious approach to any investment decision with regard to this stock.
For a company currently worth just A$3 million, the prospect of imminent sales of this magnitude could help IOT's shares to a significant re-rating.
Furthermore, IOT expects to see its consumer-focused strategy creep into other countries beginning in early 2018. The appointment of Spring/Cities as a distributor in the US and Canada is a good first step, and is likely to be supplemented by further affiliate deals as sales begin to stack up in IOT's favour.
Just last week, IOT told the market it has signed a distribution agreement with White Castle Partners (WCP) , which has existing business relationships with several of IOT's partners in North America, South America and Latin America.
WCP will represent IOT throughout Western Europe, Central Europe, Eastern Europe and the Middle East to start immediate distribution of the AirSelfie and ROVA products in these regions.
Whilst North America is IOT's primary focus, the deal fits snugly into the company's plans to build a strong global distribution footprint.
As it stands, IOT has secured exclusive deals with the likes of Amazon and BestBuy (two of the world's leading online retailers) which means IOT's products will have the best possible shop window.

As the Christmas season approaches, IOT stands a good chance seeing its products fill Christmas stockings, especially in North America where it has been most active in its pre-launch marketing activities.
Aside from online sales, IOT will also be selling its drones in stores, courtesy of an exclusive deal with Bloomingdales — one of America's most prominent retailers.
Bloomingdales will stock IOT's ROVA drone later this month, serving as a litmus test to the popularity of IOT's products.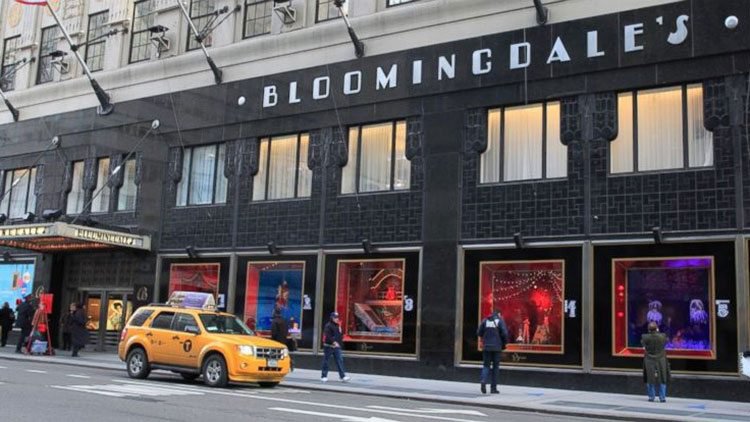 High-profile, high-impact high-value marketing
To get its drones off the ground and generate sales momentum, IOT is also turning to celebrities and viral marketing.
Fresh from promoting his Arnold Schwarzenegger tour, high-profile publicity agent Max Markson has now joined IOT's mission plan. Also on board, is actor and model Ruby Rose, who you can see below espousing the benefits of IOT's ROVA.
When all is said and done, IOT is plumping for a high-profile take-off in a market that is growing exponentially.
Drone Market
Significant investment, as well as effort, continues to be poured into the fast-growing global drone industry as new and innovative applications emerge.
A growing ecosystem of drone software and hardware vendors is already catering to a long list of clients in agriculture, land management, energy, and construction. Many of the vendors are small private companies and start-ups. Although large defence-focused companies and industrial conglomerates are also investing in drone technology.
Take a look at the current (and projected) growth of drones: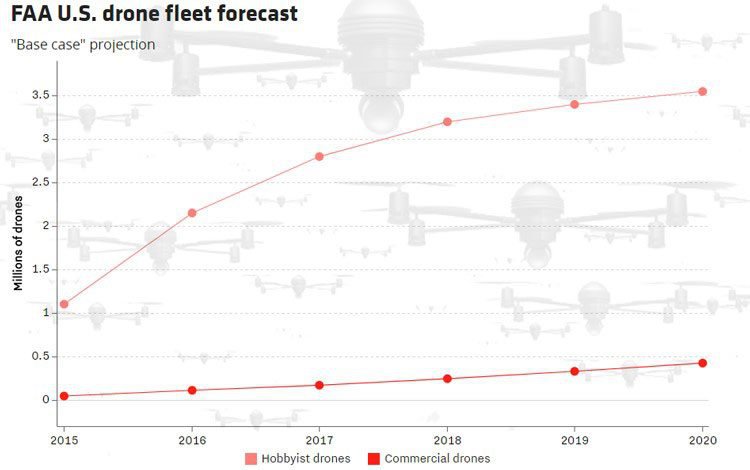 Here's The Economist magazine's take on the commercial and consumer drone markets: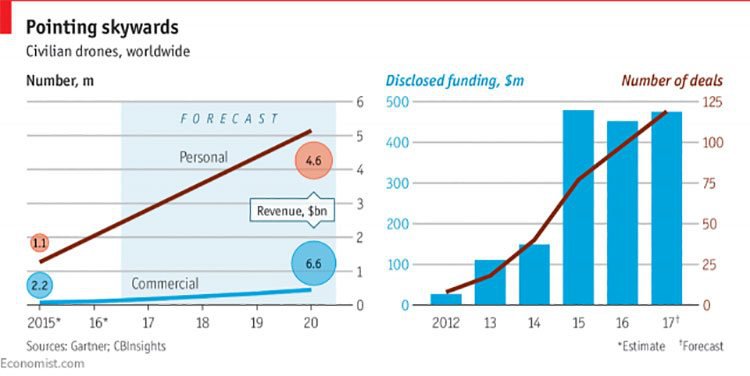 Such blistering statistics tend to mean one thing: lots of aspirational companies trying to be the first-mover. In IOT, we may have the real thing especially when you look at the interest in AirSelfie.
AirSelfie's Kickstarter fund-raising campaign was highly popular: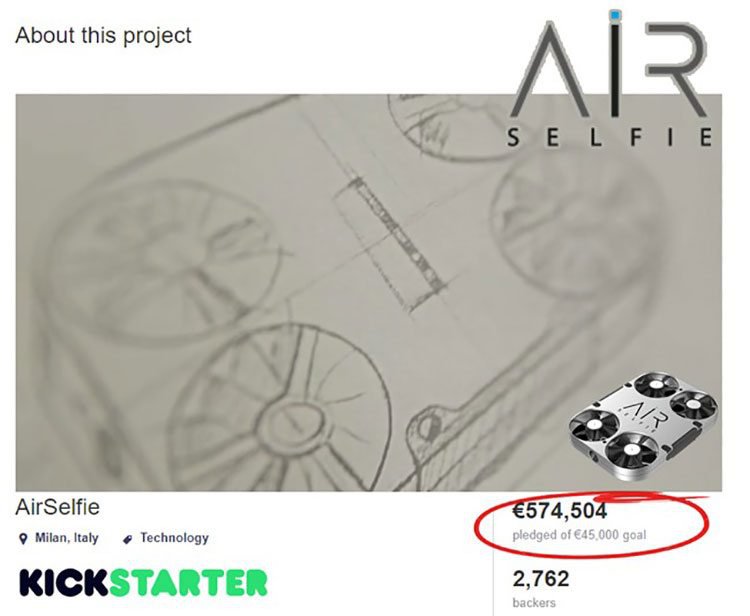 Going cap in hand to the peer-to-peer funding community, AirSelfie raised €570,000 from over 2,700 backers. The incredible thing is that the campaign was only seeking to raise €45,000. As seasoned investors know, oversubscribed capital raisings are a very positive sign... and could mean IOT is onto a winner.
Take a look at what the weird-and-wonderful world of drones is looking like in 2017: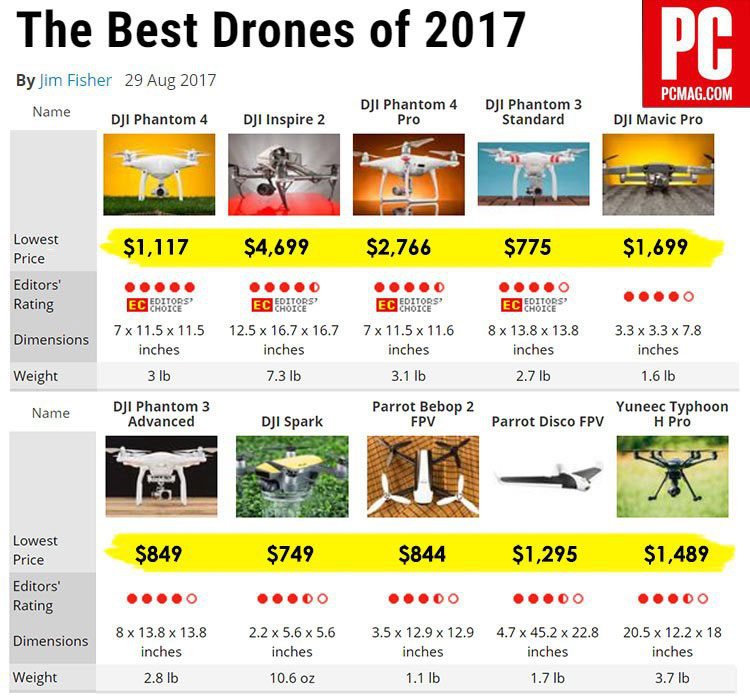 The key takeaways are the fact that IOT's products are hitting store shelves at much more attractive price points ($150 for the ROVA and $300 for the AirSelfie), yet carrying most of the features people want to use.
Meeting the challenges
IOT has signed several exclusive distribution deals in the Americas and Asia, (with Europe now in two as well)), with the likes of Bloomingdales, Amazon, Best Buy, Telstra and T-Mobile, in time of the Christmas shopping stampede.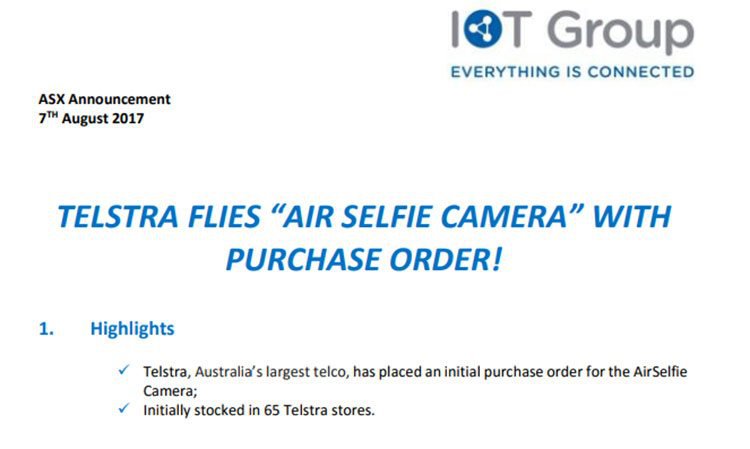 IOT is competing with the likes of Apple and Samsung which spells both challenges and opportunities. The challenge lies in being able to snatch a share of the market from existing powerhouses, while the opportunity is that the market has plenty of growth ahead. The Internet of Things still in its infancy, yet growing at an unprecedented pace.
IOT's drones in particular have the potential to become a viral hit with Christmas shoppers and by extension could become the must-have birthday gift. Drones that can fly at altitude while recording HD video, and simultaneously connecting to the internet and with your phone means ROVA/AirSelfie bring functionality that's currently reserved for the most expensive drone products.
With a retail price of just $149.99, there's no other competitor offering this type of functionality.
When it comes to technology, what seems like science fiction today, quickly becomes science fact tomorrow.
And herein lies IOT's inherent competitive advantage. Its product-range is pitched at the entry-level consumer where people don't necessarily want to spend $1,000+ on a glitzy new gadget, but are still eager to get their hands on the technology.
What IOT proposes to do is to deliver affordability in tandem with functionality that's on par with the Apples and Samsungs of this world.
Of course how much of the market it is able to attract is yet to be seen, so investors should seek professional financial advice for further information when considering this stock for their portfolio.
If successful, IOT could take up a market position that's currently vacant, capturing a large segment of the rapidly growing consumer electronics sector in both the developed and the developing world.
The Internet of Things: an industry greater than the sum of its parts
The Internet of Things is likely to become a mammoth industry with dozens of niches and applications.
A small cap like IOT could prove to be an excellent vehicle to leverage into this rapid growth. Existing blue-chips like Apple, Google or Samsung are already on investors' radars and aren't every investor's cup of tea.
The IOT Group represents an early-stage IoT contender with arguably higher potential returns than established tech plays. Moreover, IOT has product ideas and feature-sets that have not yet been commercialised by powerhouses like Apple and Samsung.
Armed with the ROVA and AirSelfie, IOT is now selling what could emerge as must-have consumer products to a mass audience clamouring for the latest gizmo.
If you are looking for an affordable way to hitch your wagon to the growing IoT trend, IOT could be the way to go.
---