IOT Group Goes OTT as Selfie Drone is Just Days Away from Release
PUBLISHED: 01-07-2016 12:00 p.m.
The Internet of Things (IoT) is capturing everyone's imagination and re-emphasising the endless possibilities offered by limitless connectivity.
One company we've been tracking, is not only talking the talk about the IoT revolution — it's walking the walk and already commercialising its IoT-based products.
While IOT Group (ASX:IOT)'s range of smart watches is already available online at www.outdoorkonnect.com , two other divisions of its business operations are set to change the games in their respective fields.
Firstly, the highly anticipated release of the ROAM-e selfie camera is in its final testing and tuning stages with Chinese manufacturing partner AEE now gearing up for production in Q3 in anticipation of global orders.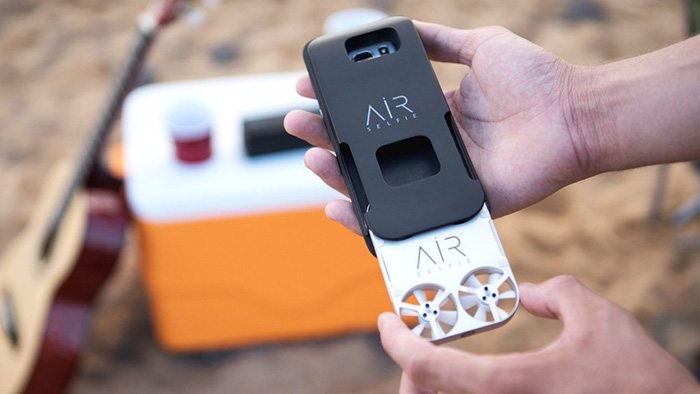 The first full sales presentation for ROAM-e to US based Big Box retailers is occurring in the coming weeks in New York, as US retailers also ready themselves for potential sales.
In fact, the IOT Group already has indicative orders of over 440,000 units globally expected to be delivered before Christmas this year.
Of course the number is indicative at this stage, so take a cautious approach to any investment decision and seek professional financial advice if considering this stock for your portfolio.
The ROAM-e flying selfie camera is expected to cause a stir amongst millennials and tech enthusiasts. The following just released video may give you an indication of exactly why:
No matter which activities they do, millennials are more than likely to be on the lookout for a selfie opportunity, opening up a substantial market opportunity for this company.
In other news from the company, IOT Group subsidiary OTT Premium has signed an exclusive Asia Pacific licensing agreement with Xstream, a tier 1 OTT solutions supplier with a leading position in the market and potentially huge growth prospects.
The deal puts the OTT industry in a market in which revenue is expected to triple across the Asia Pacific reaching US$ 18.4 billion in 2021; up from US$700 million in 2010 and US$ 5.8 billion in 2015.
Xstream, a pioneer in OTT and TV Everywhere, gives OTT Premium a look at partnering with the biggest players in streaming, content provision, cloud storage, analytics, billing gateways and application development to provide a complete end-to-end content delivery solution.
So while there has been a great deal of focus on IOT Group's entrance into the Internet of Things, especially with the pending release of the selfie drone, there is much more to this business than meets the eye.
Keeping track of: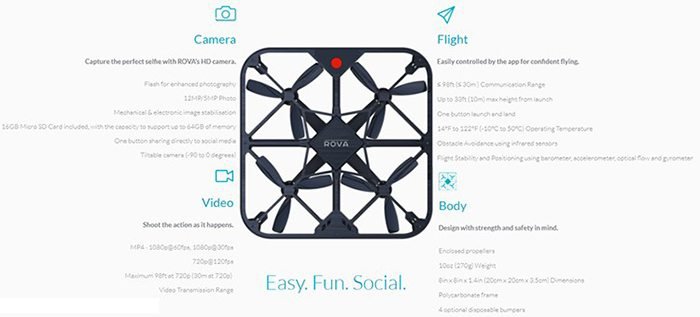 The IOT Group (ASX:IOT) is primarily all about doing what it says on the tin i.e. distribute a range of consumer products specifically designed for the Internet of Things (IoT).
We have been following this company's progress on the ASX since our first article in December 2015 , as it was undergoing a reverse takeover into an ASX shell. Since The IOT Group officially listed on the ASX, we released the article New ASX Listing: Flying Selfies Launch Imminent for IoT Group Ltd (ASX:IOT) , and the stock has been flying just like it's selfie drone – up as high as 540% since: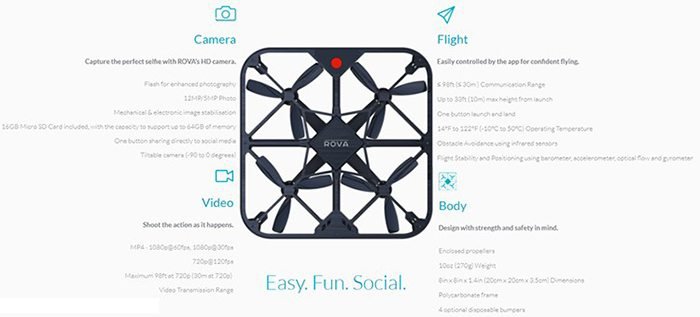 The past performance of this product is not and should not be taken as an indication of future performance. Caution should be exercised in assessing past performance. This product, like all other financial products, is subject to market forces and unpredictable events that may adversely affect future performance.
The IoT phenomenon offers an opportunity for companies to come up with a new generation of products that will better serve human needs and desires. In the case of IOT Group, its drones fulfil the 'capture every moment need' and its smartwatches offer all the functionality found in a mobile phone — but seamlessly integrated into a wristwatch. And that's in addition to the staple list of measuring tools also included including gyro meter, accelerometer, microphone, HD camera, heart monitor, timer and GPS.
As you can see, technological innovation is slowly but surely assimilating consumer electronics and what is being dubbed as 'wearable' technology.
The good news is that IOT Group intends to become a significant distributor of selfie drones and wearable devices where IoT connectivity comes built-in as standard which means interconnectivity with smartwatches, existing smartphones and other electronics made by other manufacturers.
Let's recap what IOT has in store for consumers, and what chance it has of snagging something from the shift into the Internet of Things.
Working smarter, not just harder
To make its bread in consumer electronics, IOT Group has launched two distinct products into the modern tech landscape — ROAM-e, the flying selfie camera and the Outdoor Konnect range of smartwatches.
Here is a first look at the ROAM-e flying selfie camera that's winning plaudits from all corners of the globe as it gets set to start production in Q3 and roll out its sales presentations starting in New York through Big Box retailers.
This video was filmed in a secret warehouse in Sydney last week and shows ROAM-e highlighting its unique facial recognition technology, live streaming capabilities and perfectly uninterrupted 360° panoramic shot abilities.
Here's the video again:
The interest in the ROAM-e has been substantial.
ROAM-e was featured in the Daily Mail in the UK, GQ , the Australian Business Review , PC Welt and The Huffington Post in the Middle-East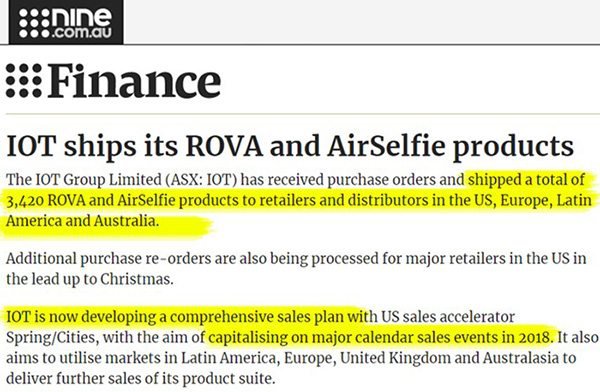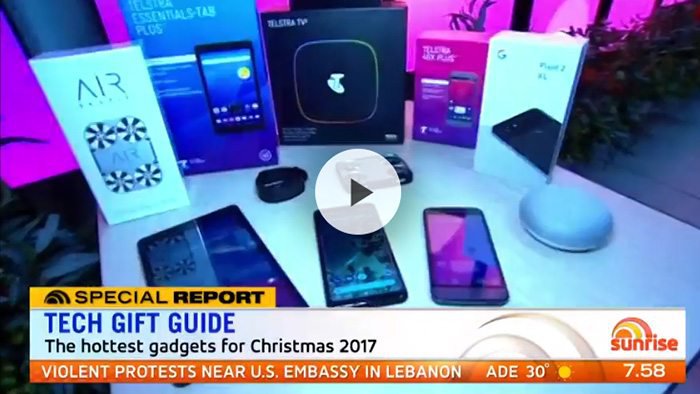 With accolades flooding in, The IOT Group's ROAM-e has every chance of becoming one of the most sought after products for young adults.
Let's take a look at IOT's primetime product in more detail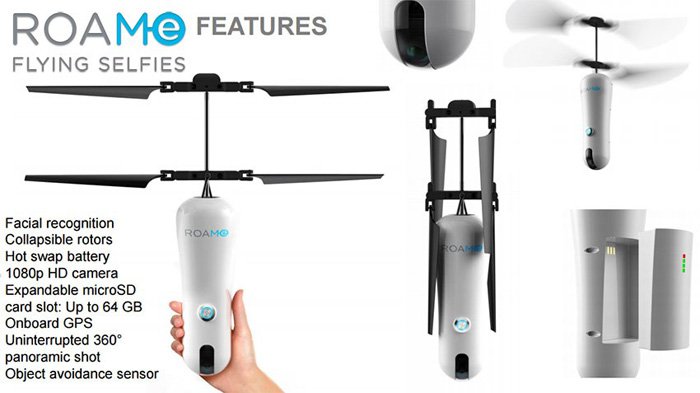 ROAM-e has been well received worldwide indicating that there is a demand for its unique set of features at such a competitive price point of US$399 in America and AU$499 on local shores.
Selfies are now part and parcel of modern life for both adolescents and adults. Their popularity has been boosted by improvements to cameras in mobile phones, but the fundamental reason they came into existence is because of consumers' desire to show off their profiles, themselves and their individuality in whichever shape of form.
So when it comes to giving consumers what they want — they can either take a cramped selfie (making sure to select the person with the longest arms) or to set their camera to a timer.
To give you a better idea of ROAM-e's effectiveness, here is how selfies currently look if taken from a standard mobile phone or handheld camera: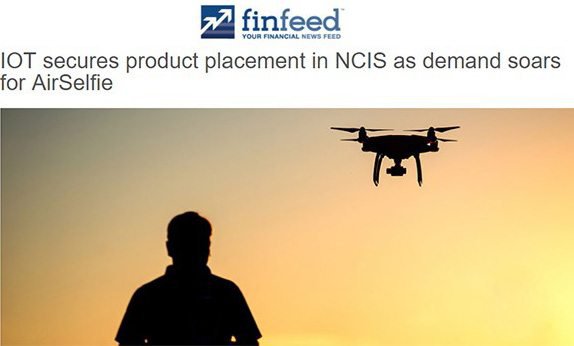 This 'selfie' image taken by Bradley Cooper at the Oscar awards ceremony was dubbed "the most famous selfie in the world" back in 2014 after reaching over 3 million retweets on Twitter.
And here's how IOT Group's ROAM-e takes the evolved selfie: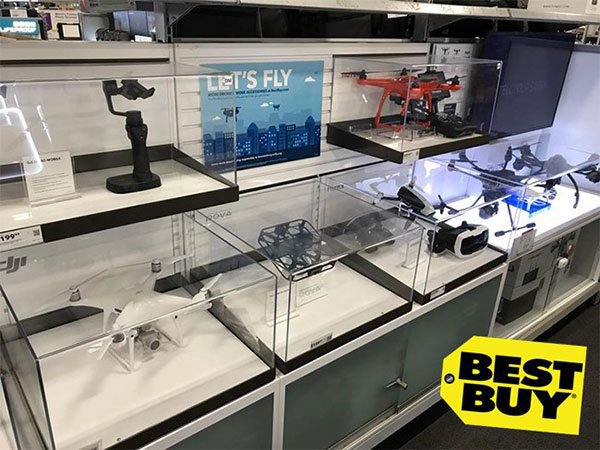 As you can see the difference is night and day.
Being a drone that can fly while recording HD video, and simultaneously, having connectivity with your phone and an internet link, means ROAM-e is able to provide functionality that's currently reserved for the most expensive drone products.
And if we consider its retail price of AUD$499 — at this price there is no other competitor that offers the same functionality.
Backorders are stacking up to the extent that IOT is close to expanding its production quantity from 10,000 units expected to be ready by early August to 50,000 units per week to meet demand in Australia, Japan and the US.
This production increase hasn't yet been officially confirmed, but all indications are that IOT and its manufacturing partner AEE, will raise production later this year.
And now for the Smart Watch
Here is IOT's smartwatch range: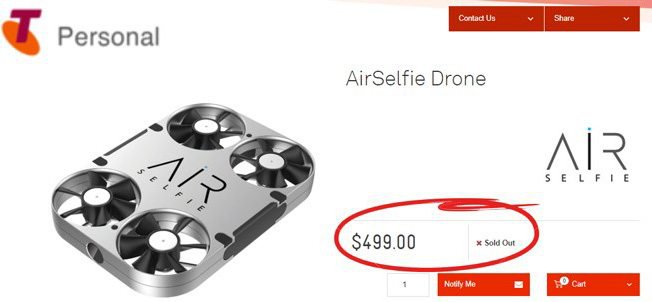 If you notice, the pricing on IOT's smart watches is US$150-$250 — that's an extremely competitive price point which undercuts existing smartwatch solutions by over 50%.
For the young early-adopters of smart technology, IOT Group's products deliver aesthetics which youngsters are also concerned about. For millennials, looking good isn't enough, they also need to feel good too.
IOT Group's OK range has got off to a great start with over 8000 units already sold.
It has also penned timely distribution agreements in recent months with 'The Product Group' in Australia and Top Tech in the US.
It is still early days in IOT Group's commercialisation efforts, so caution is advised if considering this stock for your portfolio.
These overarching deals allow IOT's third party partners to market and distribute IOT's smartwatches and selfie drones across the most lucrative consumer markets in the world — US and Asia — but more on that later.
Third and final piece of the IOT puzzle
In addition to its consumer products line-up, IOT is also barking up the Internet Protocol Television (IPTV) tree.
IOT's aims to deliver TV channels to any device including mobile phones, laptops, tablets, and smartwatches. This includes foreign channels that are impossible to watch unless you have a satellite dish and the intricate knowledge required to tune it.
IOT has signed an exclusive Licensing Agreement with Xstream for Asia/Pacific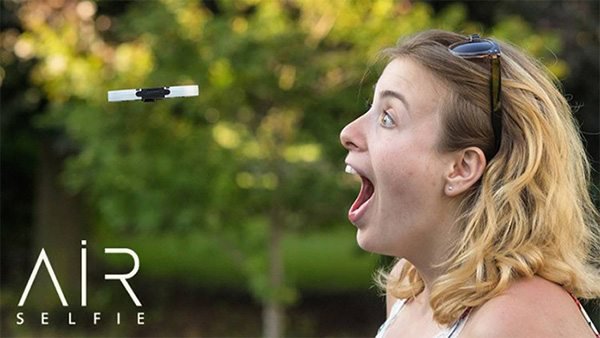 OTT Premium powered by Xstream, will provide leading telcos, broadcasters, TV & film production companies with multi-tiered content, spread across all devices and languages.
IOT plans leverage Xstream's strong network of tech partners and distributors, to ultimately attain a competitive edge over other OTT TV market entrants as well as the existing household names such as Netflix and Stan.
Interestingly, IOT Group Limited plans to demerge OTT Premium and apply for a separate listing on the ASX within six months. IOT will make an in-specie distribution of shares to existing shareholders of IOT Group Limited of new shares in OTT premium.
Xstream's partner list includes Akamai and Amazon — two of the Internet's juggernauts when it comes to online content and traffic.

OTT Internet TV – A sprawling new industry, and the IOT Group is at the forefront
The overall Internet TV industry is expected to triple across the Asia Pacific region reaching US$ 18.4BN in 2021. As with many other industries and sectors, China is expected to overtake Japan in 2016 to become market leader.
Subscription Video-on-Demand (SVOD) revenues are expected to rise from US$1.8MN last year to US$6.5MN in 2021.
China is expected to add US$1.8BN in revenues between 2015 and 2021 – multiplying its total by over 6 times.
Here are some revenue figures for OTT TV, split by region: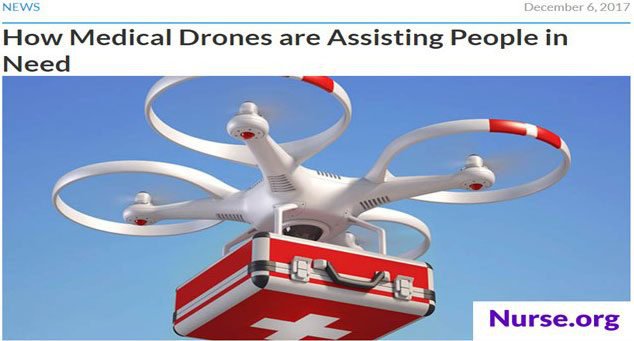 As you can see, it's namely China and Japan that are the most avid online video content consumers...
...that works pretty well for IOT considering that's where it intends to expand, with exclusive distribution and manufacturing deals already penned for both territories.
Millennials – the online eager beavers
Despite 72% of content still being consumed via TV, the trend towards Internet TV is increasing dramatically. Driving this shift are the millennials, they want content on-demand, whenever, wherever and in real-time.
In future, all TV channels worldwide will be available online in real-time for viewing on your phone. IOT is cutting to the chase and positioning for this soon-to-be norm, and could therefore generate a significant return on its IPTV business.
Consumers are moving online in droves for their movies, music, shopping and even daytime TV. Viewing habits, and by association, how people obtain information is undergoing a huge shift from offline to online — and breeding the so-called 'cord-cutters' — the typically younger tech-savvy generation which prefers to obtain its content from online sources and shunning traditional cord-assisted TV.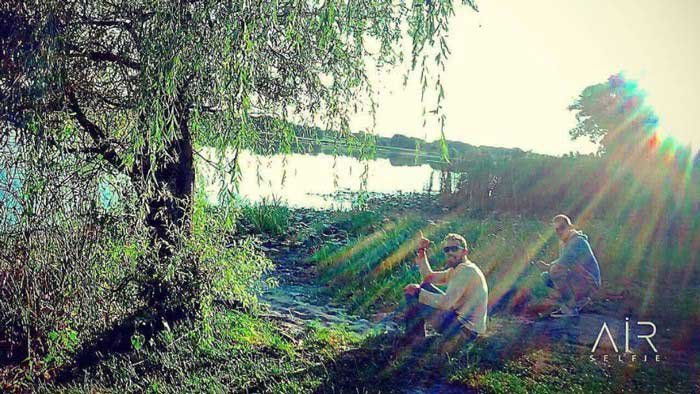 IOT is jumping on the back of this evolving trend too, which could be a positive catalyst later this year.
Connected world
One aspect that we really like about the Internet of Things theme generally — and the Tech sector specifically — is that everything IOT launches or adds to its suite of products is organically compatible with what it's offering already.
As IOT grows and expands its range of products and services, it can only add to the overarching ecosystem it is building.
As IOT steps up its commercial intentions, research indicates its target markets and addressable audiences are growing rapidly
Let's start with wearables...
The projected retail revenue from smart wearable devices is expected to grow sharply from around US$14BN in 2016 to US$34BN in 2020. In terms of units sold, CCS Insight forecasts more than 411 million wearable devices will be sold on an annual basis in 2020 — up from 123 million this year.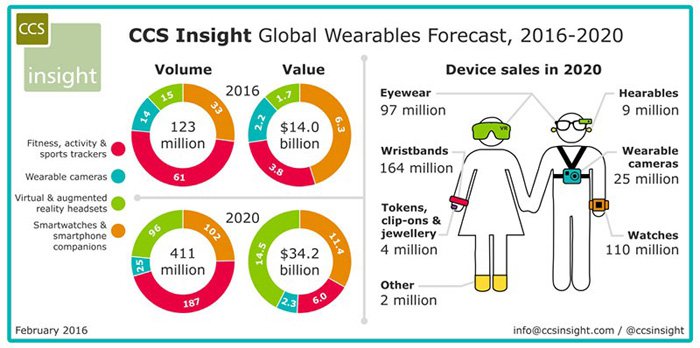 CCS Insight's forecast is of course just an estimate and not a guaranteed statement about the future. Therefore, we would urge all investors to do their own research and some background digging on IoT and wearables.
However, with all that being said, IOT is confident it can clear its current inventories and upscale production later this year.
One final look at the selfie drones...
Some of you may be wondering... 'Selfie' drones? Really?
Here at The Next Tech Stock , that is exactly what we thought. Initially, the concept of a company generating strong revenues on the back of the selfie craze seemed a bit ambitious...
...until we saw this: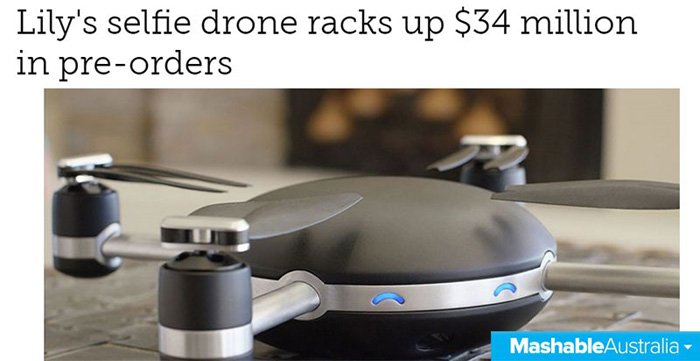 Earlier this year, pre-orders for Lily's smart camera drone reached 60,000 units and US$34MN (A$46MN) in sales revenue.
For A$66MN-capped IOT, this is the kind of performance it's aiming to achieve because IOT and Lily are similarly sized and with similar commercial aspirations.
The huge difference between the two is that not only does ROAM-e offer the same (or better) functionality, it also happens to be around US$700 cheaper.
As we were saying at the start of the article, ROAM-e delivers a sense of empowerment to it users — and here's how — take a look at ROAM-e's modes and features, including 1080p full HD video, GPS tracking and full multi-device synchronisation including third party devices.

Far from being a mere 'flying selfie camera', ROAM-e can be used to explore while hiking or camping as it has a flight time of up to 20 minutes. When in scout mode, it can be used to navigate up to 25m from its owner.
Here at The Next Tech Stock , we have a bit of an inkling that ROAM-e has the potential to become a viral hit with Christmas shoppers and by extension could become the must-have birthday gift.
It's worth pondering just what fantastical times we now live in — that for the price of USD$399 someone can effectively become a fully-fledged drone pilot who's able to explore anything, anywhere, at any time.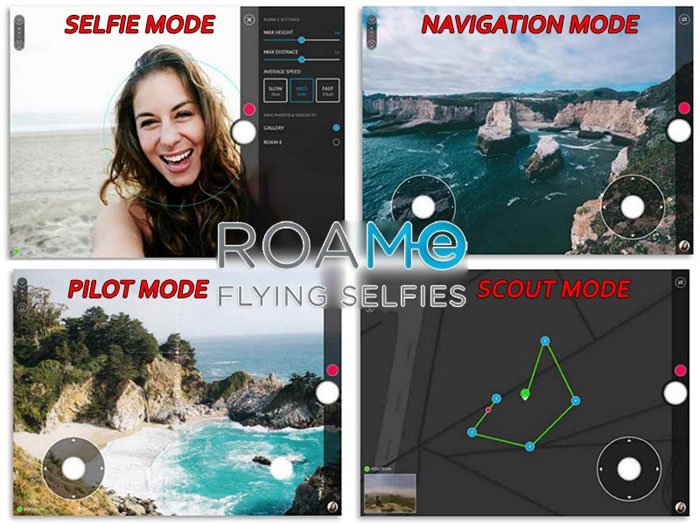 This type of technology has the potential to completely augment entire industries, such as news reporting, events coverage, mapping, reconnaissance, emergency services and so much more that hasn't even been thought of yet.
Could it be feasible to fly a ROAM-e to a sports event and watch the entire thing unfold on your big screen TV, with you at the controls of your own camera that's able to move into whichever position you desire?
If that sounds a bit farfetched — it is probably what Uber sounded like to people when mobile phones were first invented. That's the trouble opportunity with Technology — what seems like science fiction today, quickly becomes science fact tomorrow, leaving everyone flabbergasted about its haste.
And herein lies IOT's inherent competitive advantage — both ROAM-e and its OK Smartwatch range are being pitched at the entry-level consumer where people don't necessarily want to spend $1000 on a glitzy new gadget, but still want to enjoy the technology.
A huge swathe of lower-income consumers, young adults and emerging markets are currently being priced out of being able to afford the most cutting-edge technology such as drones, wearable devices and mobile phones.
What IOT proposes to do is to deliver affordability in tandem with functionality that's on par with the Apples and Samsungs of this world.
If successful, IOT could take up a market position that's currently vacant and therefore capture a large segment of the rapidly growing consumer electronics sector — in both the developed world (US, Europe, Japan) and the developing world in future (China, India, Asia).
IOT's distribution network is growing, with multiple deals recently signed
In order to achieve traction with the consumer, IOT has cut deals with specialised distributors in the US and Australia.
In the US, IOT signed an exclusive distribution agreement with Top Tech that will see the US distributor marketing IOT's products in the USA for ROAM-e.

The prime reason for working with Top Tech is because of its existing connections to mass market retailers in the US. Namely, Walmart, Costco, Kohls, JC Penney, Macy's, QVC, Target, Best Buy and Staples. They are all huge retailers with hundreds of stores across North America, where IOT will take up a presence later this year.
Courtesy of Top Tech, IOT's ROAM-e drone and OK Smartwatches will be inserted into their retail operations with sales expected to be high given the pre-market interest, pre-orders and general hype around drones.
In similar vein to its US operations, IOT has also penned an exclusive distribution deal in Australasia that will see The Product Group distributing IOT's gadgets at major department and electronics retailers.
As a risk-mitigation measure, IOT has also ensured it is engaging with distributors via share-only compensation rather than cash. This effectively alleviates the pressure on capital expenditure and initial marketing spend when expanding in to a new territory.
The Internet of Things — an industry greater than the sum of its parts
The IoT is set to become an absolutely mammoth industry with dozens of niches and applications.
In IOT, we think we've found an excellent vehicle to leverage this rapid growth because investing in existing blue-chips like Apple, Google or Samsung may simply not be everyone's cup of tea.
The IOT Group represents an early-stage IoT contender with arguably higher potential returns relative to the big boys currently out there.
That is no guarantee of course, this is a speculative tech stock, so apply caution to your investment decision and seek professional financial advice for further guidance.
IOT has even gone one better than the incumbents and has come up with product ideas and feature sets that have not yet been implemented by the aforementioned powerhouses like Apple.
Smaller companies can often be more nimble and therefore, become better disruptors of existing industries given their faster response time and being able to change operations more efficiently than larger peers.
IOT is also making an early entry into the drone market too — a market that's generating headlines and excitement for consumers.
Armed with products that still seem like science fiction, IOT is bang on course to selling affordable science facts to a mass audience clamouring for the latest gizmo.
If you are looking for an affordable way to tie-in your portfolio into the growing IoT trend, IOT could be the way to go.
Sync up.
---