IOT Eyes Global Markets & Invests in On-Demand Deliver Anything Service
PUBLISHED: 12-02-2018 10:00 a.m.
IOT Group (ASX:IOT), the company best known for its AirSelfie — the first, inimitable flying panoramic aerial selfie camera brought to market in 2016 — has expanded its Internet of Things (IoT) product line with an investment in on-demand delivery service, RUNA.
RUNA is a new platform, available on your smartphone, offering pickup, purchase and delivery of multiple items — anything from a bottle of wine and a 'Maccas' burger, to a gas bottle, hammer, or medications...whatever it is that you need but don't want to leave the couch for.
The platform has already been rolled out in Sydney's Eastern Suburbs and Northern Beaches and will be available in all Australian capital cities later this year.
As IOT's Air Selfie takes off, its investment in RUNA harks back to the company's roots as a full service Internet of Things provider that encompasses an arsenal of devices that talk to devices.
As for the AirSelfie which was released mid-2016 , the company has not scaled back its focus. In recent months IOT has expanded its global distribution network with its first foray into the lucrative Latin/South American (LATAM) market with a distribution deal with Agro & Tech — a distributor of exclusive, innovative consumer technology brands.
The deal builds on the company's already impressive distribution network that includes major distributors, the likes of Amazon and BestBuy. IOT now has exclusive distribution rights for the US, Australasia, and Latin America and expect its products to be made available in 'most retail outlets' this year.
Sales of the gadget will also receive a boost from its recent debut at CES 2018 in Las Vegas, the most important tech fair in the world.
However, it should be noted that IOT is still an early stage play and investors should seek professional financial advice if considering this stock for their portfolio.
While it's been less than two months since we last updated you on IOT , in that time the company has not only invested in RUNA and inked the LATAM distribution deal, it has also released its latest version of the AirSelfie...
The recently released AirSelfie2 builds on the success of the original product, delivering better performance and top-level user experience with greater usability, efficiency and power. It has a new 12-megapixel camera and a Field of View (FOV) that reaches 85°, ensuring excellent photos and videos in Full HD that can be exported in JPEG and MP4 formats. It keeps the fine, innovative and light aluminium casing and is now available in four colours: silver, black, gold and rose gold.
There's a lot going on with this Aussie tech stock and it's still priced right for small cap investors — capped at just over A$3 million. As for existing shareholders, an entitlement offer is currently open until February 23.
All the latest from...

Expanding its business in the Internet of Things (IoT) space, the IOT Group (ASX:IOT) made the strategic decision to invest in RUNA Pty Ltd, the instant purchase and delivery app that picks up anything and everything.
The deal, announced on February 7, focuses IOT back to its beginnings of being a true IoT-based company as it diversifies from the camera drone market and expands into new markets in a cost effective manner, managing the growth in users, while maintaining a reliable service ethic to promote the brand.
RUNA is a unique personal courier service that makes life easier and more efficient, allowing for the purchase and delivery of anything at anytime from BBQ and food items, medications, flowers, courier services, nappies, alcohol, cigarettes, office supplies, gardening products and pool supplies to name just several.
The RUNA service is currently available in Sydney's Eastern Suburbs and Northern Beaches, but from the Easter weekend in early April, RUNA will expand throughout Australia launching in all capital cities over the next three to six months. It also has its eye on Hong Kong, Singapore, Japan and Malaysia.
The platform is available on the Apple Store, Google Play Store and at www.runa.life.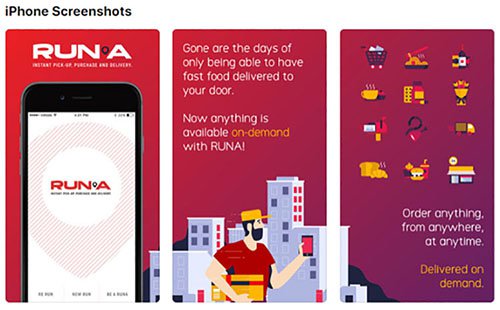 It's a marathon not a sprint...
Having said that, RUNA has developed a financial model that demonstrates the development of a profitable business in Australia over a three to four year period. That's pretty quick, but still long enough to make a substantial, long-lasting play. The model is based on a series of assumptions and is indicative of what can be achieved in the Australian market as it provides management with key areas of focus.
IOT is aware that the model is a guide only, however, IOT management has a solid track record having built numerous businesses — including Australia's fastest growing business in 2010-2011 to $480 million in revenues and 47 th fastest in US in 2015.
RUNA is a service capable of purchasing any item from anywhere and delivering on-demand for consumers. The app allows for the immediate connection of consumers with any store or service via independent RUNAs, or drivers, who collect, pay and deliver on-demand. It is globally applicable, price agnostic and globally scalable and assists in the immediate impulse buying of consumer items.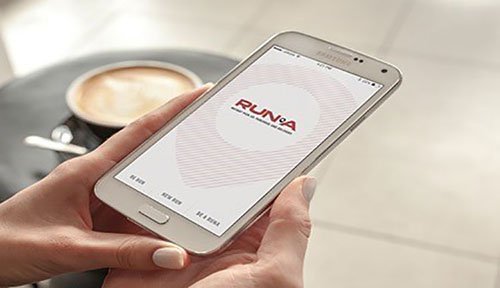 Since its start in early 2015, RUNA has successfully made over 3000 deliveries and has recently completed six months of controlled beta trialling and agile improvements.
IOT is taking a strategic 25 per cent interest in RUNA for a consideration of $600,000. This will be broken into a $250,000 cash payment, $50,000 of which will be a cash advance of $50,000 upon execution of the Term Sheet, plus the balance of $200,000 in cash by 15 March 2018.
IOT will pay RUNA the remaining $350,000 through the issue of IOT shares at a 30-day volume weighted average price immediately prior to the issue, for no less than 0.6 cents per share, or cash.
Taking this initial 25 percent investment in RUNA will allow IOT to gauge the business performance over the next six to 12 months. IOT will then decide whether it wants to increase its shareholding.
The news was reported by Finfeed.com ( a related entity of S3 Consortium Pty Ltd as defined in Section 9 of the Corporations Act 2001) after IOT's announcement on February 8: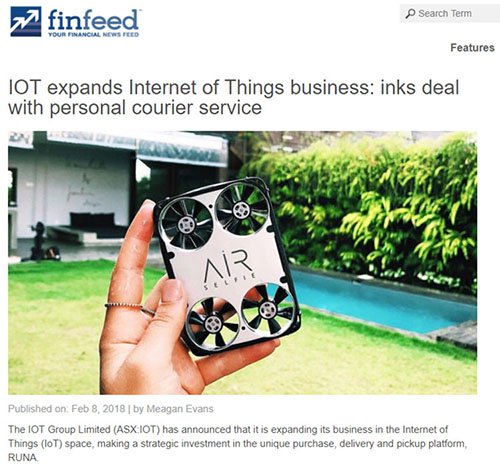 The on-demand economy
The on-demand economy has already experienced significant growth in recent years, yet it's a market that still has plenty of growth ahead as users continue to adapt to this new style of service and providers develop enhanced solutions.
A look at the home food delivery service alone, and it is clear that the market holds plenty of opportunities. The number of users of fast food home deliveries is forecast to double over the next four years to reach 4.2 million users annually.
Fast food deliveries in Australia are forecast to grow by US$1.5 billion (A$1.9B) over the next four years to almost US$2.8 billion (A$3.6B). Assuming $20 per delivery, this equates to a delivery market of 140 million fast food deliveries alone each year by 2021.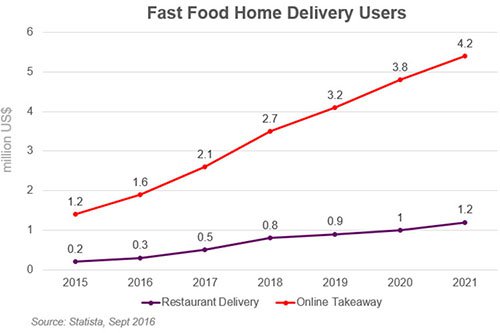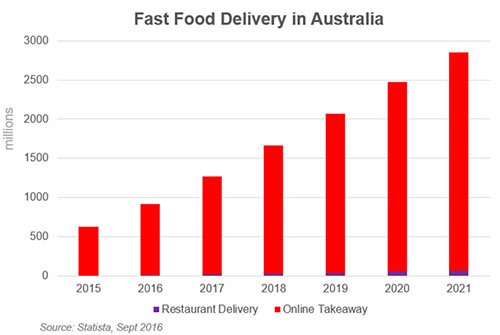 Of course, this is just a small proportion of the wider on-demand economy that is on offer for IOT and RUNA. And as the RUNA business model is multi-category, it allows RUNAs to pick-up multiple items from multiple locations in a single run – making these numbers grow even further.
Of course how much business from these multi-markets IOT could pick up remains to be seen, so investors should take all publicly available information into account before taking a cautious approach to their investment decision.
Currently, without any promotion or vendor alliances, 20% of RUNA's business is fast food runs. For now, the category is dominated by pizza delivery but new categories are entering such as McDonalds and other fast food players.
The RUNA financial model assumes a small percentage of the total user market for fast food deliveries alone. That's entirely ignoring the enormous number of other items that RUNA can purchase and deliver.
Entitlement offer currently open to existing shareholders
IOT is undertaking a non-renounceable entitlement offer seeking to raise $2,311,615. The company intend to use the proceeds for marketing and advertising, product development, as well as working capital purposes.
The Rights Issue is open to current shareholders and its close has been extended until February 23 . Shareholders that take up the offer will get a 1 for 4 shares at .09 and 1 for 1 Option at 1.1 cents.
Details of the rights offer are available in this company announcement from January 19.
A major benefit to shareholders is if they opt to take up the rights issue they will get a bigger part of the RUNA business.
IOT launches the AirSelfie2
On January 10, IOT announced that the AirSelfie2 would be launched at CES 2018 in Las Vegas — the most important tech fair in the world. The debut of version 2 has generated some encouraging reviews...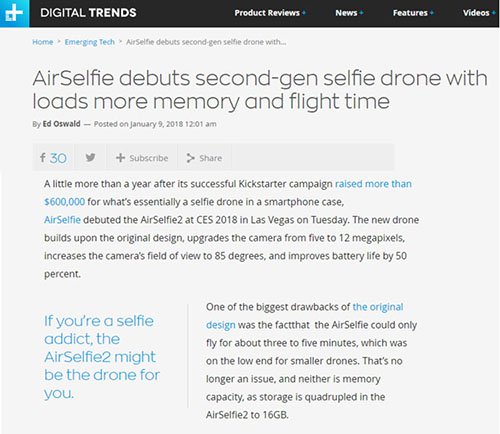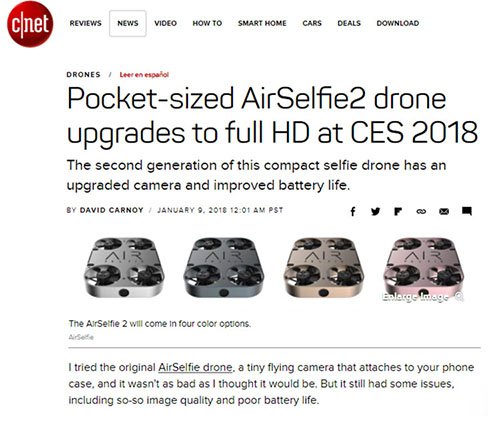 The AirSelfie technical team has worked on the development of a device featuring greater usability, efficiency and power. It has built on the original AirSelfie, which debuted in 2016 as the first, inimitable flying camera, which introduced the panoramic aerial selfie.
AirSelfie2 includes a flying camera, powerbank for recharging anytime, anywhere, a cable for connecting the device to the computer via USB and a protective bumper for use during the first test flights.
Improvements on the original include better performance all-round and top-level user experience. It has a new 12-megapixel camera and a Field of View (FOV) that now reaches 85° ensuring excellent photos and videos in Full HD that can be exported in JPEG and MP4 formats.
AirSelfie2 keeps the fine, innovative and light aluminium casing with a sophisticated design, and is now available in four colour options: silver, black, gold and rose gold.

The powerbank, which is an integral part of the device for fast recharge of the AirSelfie and guarantees up to ten complete charges, is all-new. Its design is more elegant and practical and has aluminium details that match the selected colour of the flying camera — perfectly completing the look and adding extra appeal to consumers.
AirSelfie's original unique design, with four propellers incorporated inside the device, is a distinguishing feature of the product. This design has recently been certificated and protected by the international office of the World Intellectual Property Organization (WIPO), guaranteeing the originality and unique nature of the design of the flying camera and powerbank.
As with the original AirSelfie, users control the drone through an app, which includes various modes, such as Selfie and Flight and can be changed depending on the type of pictures being taken. The drone can hover in one spot and be safely retrieved out of the air using just your hand.
Weighing just 67 grams and pocket sized at 94.5x 69 x 11.6mm, the AirSelfie2 is easily transportable. The 2.4 GHz Wi-Fi network enables AirSelfie2 to connect to its smartphone and control the flying camera through the redesigned proprietary App, which is free for iOS and Android.
The internal memory of 16 GB enables thousands of pictures and films to be saved while the new 310mAh li 7.4V and 1.77 Wh battery increases the flying time approximately 50% compared to the previous model, ensuring up to four minutes of flight and hovering through the four turbo fan propellers, powered by brushless motors and the sophisticated vibration absorption system.
Following its debut at CES, where it was previewed by global distributers and retailers, the AirSelfie2 will be available to consumers in the second quarter of 2018 for US$299.95 (RRP).
Argentinian expansion will bolster cash flows
Since we last updated, IOT has also expanded its global distribution network to include its first of what will hopefully be many distribution deals in Latin and South America. In late December, the company signed a distribution agreement with Agro & Tech in Argentina.
Buenos Aires-based Agro & Tech is one of the top consumer electronics distribution partners that's being signed by IOT in Latin America. It will service the SouthCone markets, which consist of Uruguay, Paraguay, and most notably Argentina. This is a 44 million consumer market, that in recent years has seen an opening and opportunity for new brands, product and consumer technologies.
Despite this expansion, IOT remains a speculative stock and investors should seek professional financial advice before making an investment decision.
By adding the product lines from IOT, Agro & Tec reinforce its focus distributing exclusive, innovative consumer technology brands. The IOT products will be marketed and sold via consumer retail channels that target early adopters, particularly e-commerce channels and consumer electronics retailers.
The agreement states that IOT will receive all payments in cash up front, prior to delivery with the products to be shipped out of Miami, USA. This will continue to bolster IOT's cash flows.
IOT is in final negotiations with other Latin American/South American markets such as Mexico, Colombia and Brazil with distribution deals expected to be signed and announced shortly. These build on existing agreements with partners in the US and Australasia.
Plenty of growth ahead for IoT ...and IOT with it
With its recent investment in RUNA, in combination with the launch of AirSelfie2, new international distribution agreements, as well as new capital, we expect IOT to continue rolling out the news as it rides the rising demand for Internet of Things driven services and devices.
IoT is no doubt a growing tech sector and IOT now offers a more diversified investment exposure to the growing disruptive space.
---