International Deals Set NWZ on the Right Path to Media Domination
PUBLISHED: 13-11-2015 09:48 a.m.
The last time we checked in with Newzulu (ASX:NWZ), the company was beavering away trying to sort out all sorts of commercial deals.
In fact in the course of the past year, NWZ has undertaken acquisitions and partnerships that have transformed it into a global crowd-sourced media company selling content and technology to major media companies and brands.
NWZ has shored up its two major revenue streams: Newzulu Content, which sells images and video materials, and Newzulu Technology which sells technology enabling broadcasters to crowd source content.
In fact, Newzulu Content has expanded its contributor community in terms of content volume, reach and skillset and has seen major increases in app downloads and social media impact.
One of NWZ's recent transactions involved selling a 16-second iPhone video of a helicopter evacuating Michael Schumacher after his skiing accident, which sold in excess of $50,000 within hours and is continuing to sell.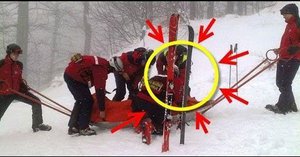 The Michael Schumacher accident horrified the world
NWZ connects visual journalists and content creators with over 7000 media outlets worldwide, and offers a reliable platform that can get their content to the general audience, pursuant to getting published and paid.
It is clear that the $35M market capped NWZ is not only piquing the curiosity of media companies for its tech solutions, but also as a emerging tech investment option.
Of course, this is still a small tech company and caution should be taken when making an investment decision, and its always recommended to seek professional advice before investing.
NWZ has signed deals with a number of clients, including international giants such as India's Mahatta Media and Europe's ANSA and East News organisations, which it hopes will boost its current revenues.
NWZ has also completed an acquisition of Octiplex , to boost its mobile application development business.
This move is in line with its current business plan which includes expanding its efforts in the European and North American media markets.
It seems like it is all systems go for NWZ as it looks to consolidate its position as a major media player in the crowd-sourced world...
Re-introducing: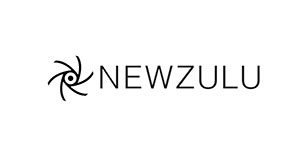 So what is Newzulu?
In short, Newzulu is a way for news publishers to connect with citizen journalists who are on the scene of unfolding news. While in the past, citizen journalists had to take the video, contact a newsroom, and then wait for them to make an offer on the footage, the Newzulu system takes a lot of the gruntwork out of the equation.
Citizen journalists simply log onto the Newzulu platform, upload the footage and then wait for the cash to roll in.
Okay, it's not that simple.
NWZ verifies the content to make sure it's legitimate, and then pays the citizen journalist a fee for that content. A Newzulu partner such as Agence France Presse or Getty Images then onsells the footage to news organisations which have paid for access to the Newzulu library.
US Analysts Ajay Tandon and Jordan Ring from SeeThruEquity recently released a price target of $0.25 on NWZ – that would be a gain of over 350% gain on current trading levels. You can read the full report here :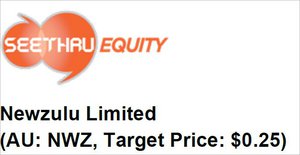 At the same time, analysts can get things wrong – and there is no guarantee that NWZ will reach this level.
Here's an interview with Executive Chairman Alex Hartmann about NWZ that may give you a clearer picture.
And here are NWZ's two key pillars explained.
News:
This is the original platform from Newzulu, where citizen journalists can upload their footage of an unfolding event into the Newzulu library.
Access to the Newzulu library is through news wire services such as Agence France Presse or Getty Images. These newswires are often leveraged by news organisations to provide content for their readers, as a mass of original content is too expensive to produce.
For each piece of footage sold to a news organisation, the news wire gets a 30% cut, the creator of the content gets a 35% cut and Newzulu itself gets a 35% cut.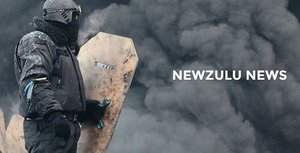 Not only does this connect real-time uploads with news organisations, but this content also reverts back to the Newzulu library after 24 hours. This means that if a news organisation wanted to run the footage more than once they'd have to dip into the library.
For example, if a riot took place last year and a news station wanted to do a story one year on, a news organisation would be able to get into the news library to pull footage taken by citizen journalists at the time for their packages.
Access to the library is charged at a subscription rate, giving NWZ a stable base of revenue which isn't dependent on the news cycle.
Platform:
Newzulu also sells news companies a version of its platform for an ongoing subscription rate, which allows news organisations to sort out and create its own crowd-sourced content.
It's known as a software as a service platform, and allows news organisations to organise user-generated content which has been uploaded directly to them.
It sorts the mass of content into easy chunks which can then be published on various channels such as TV, websites, and on social media.
Live content is an increasing focus for NWZ and for the market in general.
If you've heard a lot about live video streaming in recent times, you're not imagining anything. Earlier this year start-up streamer Periscope was sold to social media giant Twitter for close to $100 million, and similar app Meerkat generated tons of headlines.
Live is an out-of-the-box streaming solution owned by NWZ which allows reporters to go out on location, and stream video footage from their phones back to the newsroom or directly onto social platforms. It also allows news organisations to plug into a verified feed of live streams direct from Newzulu's network of citizen journalists.
The following picture is how NWZ frames actual events in real time. This is an image from recent Hong Kong protests, and it gives you an idea of how the world captures and digests world events these days.... Just look at all those phones...

Source: Newzulu
A deal is a deal
Since The Next Tech Stock first covered Newzulu in the article Is this ASX Company the Future of Global News? , it's been beavering away on deals which could see a step-change in revenue and in market.
Its latest deal is a content distribution agreement with Agenzia Nationale Stampa Associata (ANSA), Italy's leading newswire service and one of the world's leading news agencies. A deal has also been struck with Eastern European photo agency East News.
NWZ will work closely with its new partners, both of whom have enormous reach. ANSA alone provides over 3000 daily news items and more than 700 photos a day to Italian media organisations via a range of transmission platforms including web and phone. It is a co-operative of 34 members comrpising publishers and major national newspapers and has been in existence for over 60 years.
Meanwhile East News, founded in 1992, is a leading photo agency with reach into 20 countries across Europe. East News represents media giants including AFP, Reuters, Polaris and even the New York Times .
NWZ expects the agreement with ANSA to siginificantly increase its revenues via daily syndication channels. Meanwhile the agreement with East delivers market access, sales and distribution capabilities in Italy and Poland, whch analysts expect to expand by 5.8% in 2018 .
Then there is the Octiplex acquisition...
The Octiplex Deal
Octiplex is a global leader in mobile application and solution development, with operations in France, Brazil and China.
The deal hopes to establish Newzulu Mobile as a global leader in mobile applications development and deliver a new revenue stream.
The acquisition boosts NWZ's in-house technological capabilities focused on mobile applications development expanding its offering to clients seeking to source and deliver content on a mobile environment.
In parallel to this acquistion, NWZ has signed its first mobile application development contrract, which is set to earn revenues of approximately $225,000 over a four-month period .
NWZ hopes to have influence in the networked and mobile devices market which is estimated to reach $24.4BN by 2019.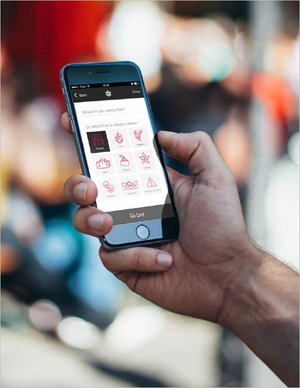 Past deals
Earlier in the year, NWZ signed a trio of deals in Australia with media players focusing on its Live and Platform solutions.
Back in July it signed a deal with a " leading Australian media company" to use its Newzulu Live and Platform solutions. Live reporter kits were to make their way into the hands of 300 staff reporters (literally) while it will also leverage the Platform solution to gather more user-generated content. Should the client decide to go ahead with a more permanent deal the tie-up will deliver $500,000 to $1.6 million per year.
NWZ has also signed two major TV broadcasters in Australia onto similar deals which will deliver a combined $1.2 million to $3.3 million should they go through the trial period.
That means in Australia alone NWZ has signed deals potentially worth $1.7 million to $4.9 million per year.
The trials are set to be finalised this month and subject to the completion of the acceptance testing, revenues from these clients is expected to commence in Q2 2016.
And if those deals weren't enough...
As well as its current deals with ANSA and East News, at the end of July NWZ announced that it had signed major Russian news agency ITAR TASS as a distibutor for its News content, allowing news organisations in Russia to tap into the global user-generated content marketplace.
Russia is shaping up as a major hotspot for media, with PwC recently estimating the overall market to be worth $US35.7 billion per year with growth rates some of the fastest in the world.
Advertising revenue topped $6.1 billion in 2012, and with media companies looking for content to sell advertising against, the Russian market is looming as a great one to be in.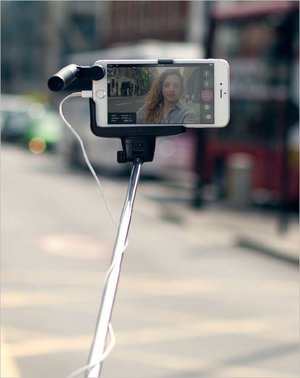 NWZ has also signed a similar deal with Gtres Online which services Portugal and Spain, and a Platform and Live deal with Vietnamese media company Lasta Multimedia .
That deal could be worth another $100,000 to $350,000 per year.
And in August, NWZ finalised a deal with Indian company Mahatta Multimedia .
Any company investing in what's been called 'the sleeping tiger" of Asia piques our curiosity.
The deal with Mahatta will see it access a market where news outlets are hungry for high-quality, validated, crowd-sourced images, videos, and live streams.
Mahatta provides creative media licenses for content through various online platforms. Crucially, it's also the representative of image licensing behemoth Shutterstock in India.
While the Mahatta Media deal is thought to be a relatively small one in terms of revenue projection for NWZ, it could open a world of possibilities in the Indian media market.
A report put out by consultancy KPMG earlier this year spelled out the opportunity exactly.
The report estimates that the media market in India will grow at a compound annual growth rate of 13.9% out to 2019, a rate which is almost double that of the global media market.
A pretty good time to get into the market, then.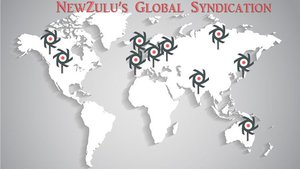 Whilst these growth rates in the Indian market are impressive, it remains to be seen how much NWZ can take a slice of this market.
NWZ is a speculative tech stock and professional advice should be sought if considering in your portfolio.
Like a fine Belgian chocolate
Meanwhile, a content deal with Belga will see NWZ tap into the main news media provider in Belgium.
Belga produces 90 online articles, 19 audio bulletins, and 30 video articles daily which are picked up by news organisations in the country.
Crucially, the Mahatta and Belga deals will include outreach work.
NWZ will work with both Mahatta and Belga to get people to upload their images, videos, and live video feeds onto the Newzulu platform, meaning there will be active work underway to get more localised content.
Cutting some fine figures
With all the deals being conducted, it seems NWZ's balance sheet is also benefitting from the Company's proactivity – the company's recent quarterly makes for compelling reading.
NWZ has enjoyed a sustained increase in cash receipts from customers up by 20% in Q1FY16 compared with Q4FY15 and significant increase of 602% compared with Q1FY15.
These increases have been registered across NWZ's Content and Technology divisions.
And they are not the only increases. The run rate revenue of $3.3M is up 12% from June to September 2015 and the contributor community, or social network engagement is up 36% on Q4FY15.
The financial rises are occurring in tandem with restructuring and cost cuts that will deliver estimated savings of $1.1M in FY16 and will ease the burden of the $800,000 in total invested into the platforms during the current and past financial year.
Meanwhile revenues remain consistent, while revenues in September 2015 of $280,000 improved by 42% on the month of August on the back of NWZ's acquisition of Octiplex.
NWZ currently has $4.52M in cash and looks to be investing it wisely into new tech plays.
Media growth
To facilitate its growth in the US, NWZ commissioned a research report released by SeeThruEquity in late September, which we mentioned above.
The report found that Newzulu is part of a growing industry that has seen steady online and digital news consumption rising sharply since the trend began in the early 2000s.
The report says TV, newspapers and radio have seen a steady decline as more people turn to digital formats. SeeTHru Equity believes NWZ has posiotned itself well to capture this digital market, particularly with the acquisition of Octiplex which boosts their mobile division.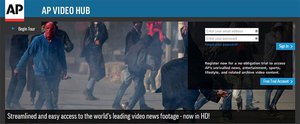 According to SeeThruEquity online media consumption has risen rapidly in the last two years.
In Pew Research Center's 2012 News Media Consumption survey it found:
39% of respondents got their news online or from a mobile device in 2012, up from 34% in 2010.
50% get their news from multiple digital sources.
Print newspapers only made up 29% while radio made up 33%.
People from all ages are moving away from traditional delivery systems altogether and transitioning to the digital area at rapid speeds.
The balance of readership has shifterd to mobile devices.
In 2015, it was reported in the Wall Street Journal that 44% of their traffic came from mobile devices, up 20% from 2012 and is expected to reach 50% in the upcoming years.
Based on these figures, it seems NWZ has entered in the right places at exactly the right time.
The final word
We continue to watch NWZ with some interest, as not just a longer-term play but a stock with has plenty of nearer-term catalysts to chew on.
NWZ could bag more than $10 million in the next couple of months in forward revenue
Of course, this company is still in its infancy and could end up bagging much less than this in terms of revenue, so investment caution should be applied.
NWZ has taken the bold step of entering one of the fastest-growing global media markets over the next three years and it has caught the eye of its customers – to the point where it's appointed KPMG to act as a corporate advisor. The Company has also been impressive in being able to put deals together.
So far it's doing a lot right, and we can't wait to see what happens next in the NWZ story.
Are you an NWZ investor and want to spread the word?
Get the message out there – make sure everyone knows about NWZ and share this article by clicking the buttons below:
[sd_share_article title="International Deals Set NWZ on the Right Path to Media Domination"]
---