Hold the Phone! AWD Weeks Away from Acquisition of Audacious App
PUBLISHED: 06-11-2015 09:38 a.m.
A futurist once gave a presentation at a conference, and afterward someone came up to them and said: "Boy, I can't wait until I can just install my smartphone in my hand!"
The futurist asked: "Let me ask you a question, what's the first thing you do when you wake up?"
"I check my phone."
"How often do you check your phone a day?"
"I would say....about 10 times a day maybe more."
"Then why do you need it surgically inserted in your hand? It's already constantly with you and being checked all day!"
These days that conversation can be applied to almost everyone. You've probably checked your phone about three times while reading the introduction to this article.
That's because our lives have become connected through the phone.
And one company is taking advantage of this.
Aleator Energy (ASX:AWD) is a shell company now in the process of finalising a reverse-takeover of Vonex, an emerging telco with a swag of blue chip clients for its existing business, and potential breakthrough app set to launch very soon.
At the same time, this is still an early stage tech investment and due caution must be undertaken when considering in your portfolio.
AWD has recently confirmed a $4.5 million capital raising in support of the acquisition and re-compliance to the ASX as Vonex. Bids exceeded $8 million – demonstrating the significant interest in this company. A consolidation of shares on a 3 to 1 basis is expected shortly.
For Vone, the deal represents a way to put its growth on speed boost as it makes a play to be the one-stop-shop for communication needs and fulfil its blue sky plan to bring Facebook, WhatsApp, Skype and others together in one app to potentially rule them all.
Reintroducing...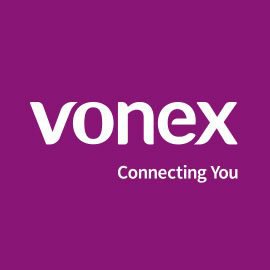 We first brought you AWD in the article Facebook. WhatsApp. Skype. One ASX Shell is Set to Bring them All Together back in September – since then, the reverse take over (RTO) has been coming together nicely.
As AWD finalises its acquisition, there has been a lot of movement in the Vonex camp which AWD investors would no doubt be pleased with:
Vonex has released four new products to market
Vonex has outlined a 22% increase in full year revenue for 2015
Vonex has signed more than 1200 new customers
Vonex is set to add conservatively $1M in revenue over the next 12 months on top of its current $5m revenue
Vonex has signed distribution and partnership agreements with over 350 channel partners including none other than Telstra.
Vonex CEO Brydie McKee, who was announced as a WA state nominee for the 2015 Telstra Businesswoman of the Year said about the acquisition, "Part of the reason we've entered into the Aleator reverse takeover is to accelerate our growth by raising sufficient funds for both product development and to invest in new global marketing initiatives.
"The Aleator deal will give us far greater resources to invest in our re-seller partners by incentivising their performance.
"We are looking at strengthening the number of our partners, as this approach will broaden our reach and contribute to increasing revenue streams going forward."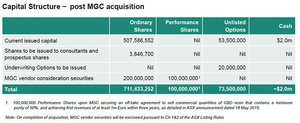 AWD has received funding commitments of $4.5M to satisfy conditions required to complete the acquisition of Vonex. The Company received firm bids exceeding $8M from Australian and International Institutional, Sophisticated and Professional investors, significantly in excess of the $3.5M being sought.
AWD entered an agreement to purchase 100% of Vonex on 7 July 2015, with the acquisition expected to be finalised in a few weeks – not long to go now.
Here is a recap of the terms of the deal. The structure will see performance shares convert to ordinary shares upon achievement of the following milestones:
Vonex exceeding revenues of $6 million per annum AND maintaining a market cap of more than $40 million for 10 consecutive ASX business days within two years of Settlement based on shares on issue post Settlement.
Vonex exceeding revenues of $9 million per annum AND maintaining a market cap of more than $75 million for 10 consecutive ASX business days within three years of Settlement based on shares on issue post Settlement.
Vonex exceeding revenues of $12 million per annum AND maintaining a market cap of more than $150 million for 10 consecutive ASX business days within three years of Settlement based on shares on issue post Settlement.
Assuming the Company kicks all its goals, AWD shareholders are expected to be long-term winners in this deal and are looking for a significant growth from its current implied $30 million market cap...
Success, however, is no guarantee, and AWD is a speculative stock, so caution should be applied.
Let's find out a bit more about exactly what AWD is acquiring.
Blue sky potential?
While Vonex has attracted plenty of attention for its base PBX business (more about that later), it's the blue sky thinking which has the punters talking.
Essentially, it wants to build the one killer app to rule them all.
It's called oper8tor, and it's being pitched as an app which can combine Facebook, voice, SMS, Skype, WeChat, Viber and others into the one app: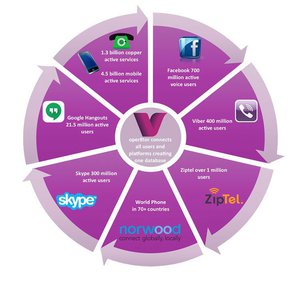 There are two really big trends Vonex will be playing into with the release of the app.
The first, is that people are getting sick and tired of switching between apps endlessly to communicate with their friends.
In fact, a Nielsen report from last year demonstrates the point.
According to its second quarter cross platform report , people are downloading more apps than they actually know what to do with.
"Trick-or-treaters tend to stock up on more candy than they actually need, and English-speaking U.S. mobile app consumers seem to be no different," the report said.
"While the average smartphone downloader has around 42 apps on their device, the majority (87%) claim they use less than 10 apps on a daily basis while 55% say they use between one and four apps and 32% report using between five and nine, according to Nielsen's Mobile Apps Playbook.
"Meanwhile, the average tablet downloader has around 35 apps on their device, with 89% claiming they use less than 10 apps on a daily basis."
In short, people are increasingly showing that they don't want to go to a 'bajillion' different apps. They would appreciate being able to just go to one app to do all their communicating.
Enter Vonex and its oper8tor app.
With network speed now reaching 4G and higher, the potential for people to make phone calls over data rather than the more traditional satellite route means oper8tor has the potential to be the one-stop-shop for people wanting to communicate on their phone.
Being the one app to rule them all also means that oper8tor will have a whole lot of data it could potentially monetise...
Imagine a company with all the data usage stats of Viber, Ziptel, Norwood, Skype, Google, and Facebook combined.
This becomes especially important when you consider that oper8tor will roll out using an ad-funded model to start with...
Vonex is Generating Revenue Right Now
Vonex is a company with blue sky potential and a very real baseline business.
That's uncommon for a tech play.
Whilst we've alerted you to the blue sky potential, Vonex's revenue generating base business is providing voice over internet protocol (VoIP) services to businesses, often tying this in with NBN, mobile, and landline services to those companies.
If you think about all the phone calls a large company needs to make per day, the numbers can be quite staggering – as is the phone bill for the businesses.
By using a VoIP protocol, Vonex is essentially eating the lunch of established telecommunications companies, and its success so far is impressive.
Vonex's VoIP business is in 63 countries, carrying millions of calls per month and has signed up an impressive client list.
This includes Groupon, Menulog, AFP, Red Balloon, Auto Masters, Country Road, Ray White, Knight Frank, Wittner shoes, Buxton real estate, Oscar Oscar hair salons and the RSPCA.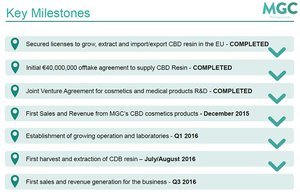 Just imagine all the calls a agency like AFP needs to make...
Vonex has well and truly caught the wave of VoIP, and the size of the opportunity is truly staggering.
It is estimated that by 2017, the VoIP market is expected to be valued at $82.7 billion. It has also been reported that the compound annual growth rate (CAGR) of this industry is 6%.
Currently, Vonex's slice of that pie is just $5 million in revenue in the 2015 financial year, which was up about 22% on the previous year.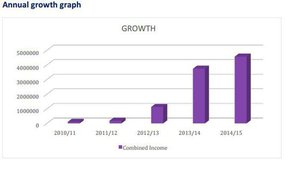 As you can see, it's gone from pretty much nothing to its current position in just five years, and the VoIP market is still growing.
There's a pretty good reason for this.
As you would know when you've set up a landline phone account in your home, the costs can get high.
Vonex is able to essentially bypass this cost by offering voice calls over fibre. Fibre, as opposed to the old copper, is now at a point where calls can be connected through it with very little or no loss in quality or capacity.
In fact, it's been estimated fibre cable has pulling specifications that are 10 times greater than copper cable depending on the cable and it is lightweight, thin and far more durable.
This means a business can effectively pay for phone and internet in the one bill, using the one line instead of having multiple lines and multiple bills.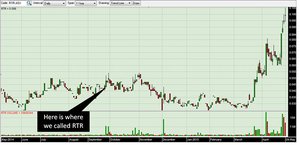 Vonex claims that it can switch over customers within 15 minutes, meaning a minimum of disruption for businesses for a long-term overhead gain.
It essentially provides a "private branch exchange" (PBX) services for business – again something which businesses can use to cut down on overheads.
Where Vonex comes in is in providing the PBX solution, which allows people within organisations to essentially call each other without needing the call to go to an external phone switchboard, as it does currently whenever you make a phone call.
Each of these phone calls incurs a fee which goes to the operator of the switchboard and the owner of the telephone line used to connect the call.
To a company which may make hundreds or thousands of internal calls per day, that's got to be pretty galling.
With a PBX however, the call goes to a central switchboard in the cloud and is connected with the user on the other end.
For upfront costs and ongoing subscription, Vonex provides this capability, meaning companies are able to keep their overheads down.
The PBX, instead of being some kind of physical box within the company is a cloud-based service.
And as the cloud continues to disrupt traditional technologies in ways once unheard of, Vonex's operations and services put them at the forefront of this evolution.
Which brings us to data and the 'magic' of advertising – another of Vonex's major strengths...
A nice slice
These days, advertisers are all clamouring for data.
They want to know who is consuming their ads, when they're consuming their ads, and what they're doing after consuming their ads.
Just imagine a scenario where a pizza shop places an ad using geolocation data targeting oper8tor users in a particular area. This is effective because the people being served the ad have the potential to be served a slice (or eight) of pizza in the local store.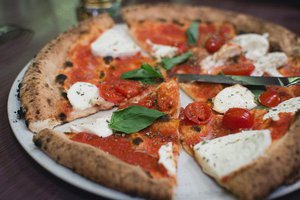 Usually, that's as far as it goes and many people just don't register the ad in their minds and the pizza joint loses out on customers.
Imagine then if that user goes onto Skype through oper8tor.
The pizza joint could then place an ad with Microsoft targeting that particular user.
The first ad on oper8tor could just be a banner ad about the pizza place and where it could be found.
The user may just think 'okay, that's good' and go about their business.
However, by re-targeting that same user with a coupon for pizza from that business, the pizza shop could just win itself a customer.
Now imagine this capability for hundreds of thousands, if not millions of users
Vonex would have quite the money spinner on its hands as its ability to serve advertising to their users unlocks a whole advertising chain, and offers data to third party (with the customer's permission, of course).
Just having data on how people are using their various communication apps via metadata would work wonders for an advertiser.
Just imagine the insight if you knew a potential customer favoured one form over another...
Now, of course there's no guarantee this sort of blue sky will come off as this is an early stage tech play.
In recent times, instead of only thinking blue sky Vonex has been tightening up its core business to make sure it has a solid base to launch from.
What's AWD and Vonex been up to lately?
Since we covered them last, AWD/Vonex has been quietly launching new products to diversify its core business and has also almost quadrupled its distribution base.
At the back-end of September it launched four new products, adding more than 1200 new customers into the mix and adding about $1 million in yearly revenue.
We can think of a few emerging tech plays which would kill to add a cool million in revenue on top of it $5m in revenue before its blue sky idea even launched.
It (in no particular order) launched:
Call Management Console
This is basically a web-based dashboard which can generate call reports, record calls, and enable call-centre functionality.
This is a boon for huge organisations with lots of inbound calls, and helps organisations better organise themselves.
It's due to roll out in the coming weeks and adds 1200 customers into the mix.
NBN and private connections
This essentially allows companies a direct line to their PBX on the Vonex cloud.
Instead of having to connect to the cloud via a third party internet connection, the client can go straight to Vonex. This bypasses any bottlenecking the third party connection may be suffering at the time.
For example, if a company wants to connect to the PBX minutes after the latest episode of Game of Thrones is finished, it may run into bottlenecks as people rush to download the shows from not-so-reputable sites.
However, by establishing a direct line to the Vonex cloud and the company's PBX, the company doesn't need to worry about calls dropping out.
Vonex also announced that the service would be available to those in pre-NBN areas, meaning that companies would be able to get all the results of VoIP calling without needing to be in an ultra-high fast broadband area.
Finance packaging
It switched its financing strategy to allow customers to have the PBX product available to them without needing to pay an upfront cost.
This may not seem like a huge change, but it could turn out to be a game-changer.
It allows Vonex to go after customers who in the past have baulked about paying an upfront fee, despite the massive efficiencies the hosted PBX solution can provide.
In short, it just opened a whole new market.
Co-location facilities
If the changes in finance packaging were aimed at the smaller end of town, the pitch for co-location facilities is a play for the big fish.
At the moment, customers have to connect to Vonex's PBX solution in the cloud, which is a great solution. However, Vonex is now offering high value clients the opportunity to put their own equipment in the Vonex infrastructure.
The reason the big fish want to do so is because increasingly, regulators and boardrooms are nervous about services hosted in the cloud. They think connecting to a private server gives the owner of the server too many sensitive details.
This is pretty unlikely, but in the current regulatory environment big companies are starting to have rules placed on them about connecting to cloud services and needing to own the infrastructure to do that.
Instead of trying to fight the fear, Vonex has simply allowed the higher net-worth clients the opportunity to put their equipment in Vonex's data centre (literally a server cage somewhere in Sydney), enabling the clients to retain some control of the data exchange.
Crucially, this would also allow cross-connections to all major providers such as Telstra, Vocus, MyNetFone, and M2.
The distribution deal
Just days ago, Vonex secured a PBX reselling agreement with RhinoCo Technology , effectively boosting Vonex's PBX distribution network by a whopping 340%.
RhinoCo has been an integral part of the electronic security industry for nearly 40 years now and has 1200 active channel partners.
Along with the electronic security offering, it had a PBX system of its own.
However, RhinoCo took a quick look at Vonex's system and decided that instead of pushing its own solution, it would be better off pushing Vonex's and taking a slight cut on the transaction.
Now that's an endorsement.
So now RhinoCo will re-sell the Vonex PBX and actively recommend it to its clients, potentially more than trebling Vonex's current network.
It also represents a low-cost way of increasing distribution without having to fork out the massive costs of setting up a forward base of sales operations in new areas.
The final word
From blue sky plays to having its feet firmly planted on the ground, it seems AWD through its acquisition of Vonex will have telecommunications bases covered and a solid business base from which to operate from.
A business base that is already making money.
It is no wonder then, that AWD was so attracted to the proposition of acquiring this telco disruptor.

The future of Vonex is twofold: high growth of the existing business through its wholesale and retail arms and secondly the development of and launch of voice app oper8tor.
Oper8tor is the blue sky app destined to bring all communications channels together and it puts AWD in a strong position to capitalise on this new age of interconnectedness.
With the acquisition now imminent, even the futurist mentioned above has positive predictions.
---