What do Google & Nickelodeon Have to do with this ASX Listed Company?
PUBLISHED: 24-11-2015 11:28 a.m.
Long gone are the days when television was a parent's education tool for their children on a lazy Saturday morning.
Today, kids are born with iPads in their hands and their brains are gifted with an automatic know-how for anything electronic.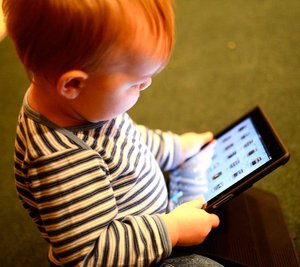 The growth and ubiquity of technology is unstoppable.
So why not use it for good, and not some sort of Grand Theft Auto evil.
And that's exactly what today's Next Tech Stock is doing.
This ASX-listed mobile game publisher and developer is in the 'edutainment' space and its business revolves around selling engaging, educational games.
Before we go too much further, we should point out that this is a tiny, $3.5M capped stock, and not without risk – it's a speculative investment – so do your own research and seek professional advice before making an investment.
The Company is playing in an industry that despite its infancy, already boasts 150,000 edutainment apps.
This is a $1.5BN industry that is set to grow to $2.3BN by 2017 . In fact the growth rate for the worldwide game-based learning market is 8.3%.
It's a space you may know best due to the work of Disney, DreamWorks and Nickelodeon: think Dora the Explorer as the most famous edutainment star of all.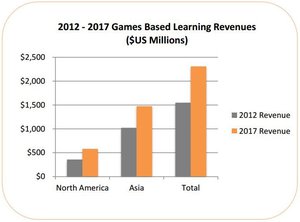 What stands out about today's company is that it actually has ties with these entertainment giants – via its app developers who have either worked for these companies or been poached by them.
The developer who came up with the futuristic concept for this Company's platform, was head hunted by none other than Google for a role as Chief Game Designer.
So along with Google, contributors to this Company's technology have spent time at Lucas Films, DreamWorks and Nickelodeon...
Some big names have contributed to this tiny company's development, and it now stands on the threshold of first revenues.
This game publisher is now working hard behind the scenes to shore up deals that will establish its future.
It is working closely with the US PTA (Parent Teacher Association) and already has good traction there.
By collaborating with the PTA and others, this company has access to 63,000 elementary and middle schools with 23 million students.
It has also signed distribution agreements in China and Australia – two other key markets for the company.
The edutainment market could soon take off like Dora in a rocket ship to the purple planet, so let's jump on board...

KNeoMedia (ASX:KNM) is an online games publishing company that delivers world-class edutainment (education and entertainment) games to global educational and consumer markets.
The Company sells on a micro-subscription and Apps basis through the KNeoworld.com games portal, App stores and via distribution agreements and education departments.
Primary-aged students (aged between 5 and 13) can play their way through games that are subtly infused with high level educational content in the areas of numeracy, literacy, science and arts.
KNM has worked hard up to now in its key market, the USA, by getting the Parents and Teachers Association (PTA) to effectively be the Company's 'sales team'.
Now, PTAs in the US are a very powerful body within the school system, and raise a lot of funds to deliver essential learning tools that the government overlooks.
Being organisations with money to raise, PTAs have been able to sell KNM's educational games, in exchange for a percentage of the revenue in a win-win situation:
KNM receive increased sales driven by a local community body, the PTA
The PTA can raise all important funds for school infrastructure
Children can learn through KNM's entertaining mobile games...
Meanwhile, KNM are keen to enter another large market, China – and the Company recently signed an agreement that will see KNM gain access to a market of over 1.3 billion mobile devices, through a partnership arrangement with an online mobile billing platform, connected to China's three largest telcos China Mobile, China Unicom and China Telecom.
Now, let's find out what is actually in these games.
Welcome to KNeoWORLD
It's a brand new world we live in.
And it's a brand new world that teachers, parents and their kids can immerse themselves in via KNM's technology.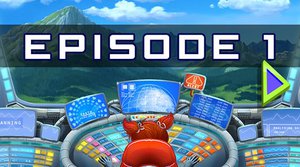 Welcome to KNeoWORLD , where better learning, improved motivation and engagement, problem solving and decision-making skills, resilience and recognition of achievement are all to the fore in this world that sets out to create smarter, more engaged children.
KNeoWORLD is a fun, education games portal where young students play their way through a futuristic and epic world and are introduced to the concept of career selection and progression.
They do this by playing compelling games that are subtly infused with validated educational content including numeracy, literacy, science and arts.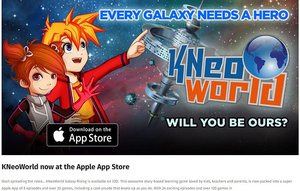 Enter KneoWORLD – a fun and educational online gaming platform.
So if kids are going to play games, which they are if you go by the worldwide growth rate for the game-based learning market – currently 8.3% with revenues likely to increase to $2.3BN by 2017, then it's a good market to be in and an even better time to be in it.
Enter KNM.
It's game time
The gaming world has changed dramatically in the last decade. Everywhere you turn today we are bombarded with visual content.
It is occurring in the home, at train stations and at schools, where kids now use iPads to do their arithmetic.
The days of playing Scrabble, or Operation, or Test Match in summer, may not be over, but they are certainly not as prevalent as they once were.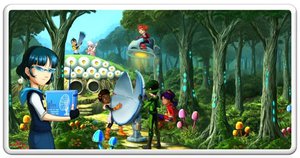 Kids prefer to play cricket on the iPad these days...
This change in global gaming modus operandi, has seen a major uplift in the online gaming market as kids seek visual stimulation.
Older kids, the ones who think they can shave at aged 14, have their heads buried in zombie apocalypses, World of Warcraft or whatever variation of FIFA we are now up to.
They stay up late, justify the next hour and go to school tired.
It's because games are more addictive than Scrabble.
For the junior kids however, gaming is more about education in combination with entertainment.
Put the two together successfully and you have a pretty powerful platform that still has an element of addiction, but is safe, secure, educational and a lot of fun.
The market is known as 'Edutainment' and it is growing significantly.
In fact as we mentioned earlier, estimated revenues are expected to reach $US2.3BN by 2017. In North America alone those revenues will be $582M.
The below graph shows the growth in the market. You can see how significant the rise in revenue is since 2012.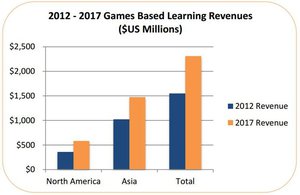 Now let's look at revenues by region. More specifically Asia and North America where KNM is making a concerted effort to bring its KNeoWorld gaming platforms to the millions of kids crying out for education-based learning games.

KNM has made a big play recently to corner this market.
Deals with the US school system as well as a China telco are designed to get its edutainment platforms out to as many children as possible.
KneoMedia has put on its game face and is effectively ready to take off.

PTA in the USA
The first big deal KNM has done is establish a sales and marketing initiative with the USA Parent Teacher Association as a fundraising initiative .
Schools are encouraged to subscribe to the KNeoWORLD Platform. It's certainly worth their investment.
It's a simple, no-cost fundraiser that makes learning an adventure
The fundraising program combines the wonders of game-based learning with significant financial benefits for schools.
Here's how the deal works at a typical North American school:
50% of every subscription is donated to the school by KNeoWorld.
Each subscription comes with three user-logins and a new episode weekly for just $4.99 a month or $50.00 a year.
The award-winning KNeoWorld is safe, secure and free of advertising or hidden costs.
The school can then use a digital customised promotional kit to spread the news to its local community.
The school has access to simple online tools for engagement tracking and fundraising management.
The school can receive personalised support from KNM's team.
When you look at the fact that there are 63,000 elementary schools with 23 million students combined, even a small proportion paying $5 a month is a significant revenue generator.
If you run some quick numbers – We think that if KNM, via its arrangement with the PTA, can get its products into say 200 schools, each with 200 students signing up at $5/month or $50/year, then KNM could well be cash flow positive.
This would allow it to grow its business funded by its operations, and a significant milestone for a small tech company.
Of course this is speculation on our part, and proper due diligence and caution should be applied to determine if this stock suits your portfolio.
And if you take into account a parent's desire to have their children playing fun, educational games rather than hacking the heads off zombies and other creepy crawlies, then $5.00 a month is money well spent and that is for 3 family logins.
Given KNM has already spent a lot on game development, they have largely built their assets and additional development costs are unlikely – for KNM is all about selling its product now.
KNM's whole system is designed to run automated and online. This means costs are minimal, the Company is run lean, the product range can be expanded, and in a short period of time there is the potential to be cash flow positive – which should put a smile on shareholders' faces.
KNM is set to have wide ranging impact within the US school system. The Company has not blindly jumped into releasing games for the sake of it. It has taken a very measured approach and conducted 24 months of validation for both the efficacy of its game-based learning platform and the engaging nature of the platform's structure and content.
Now that the US scholastic year is in full swing, KNM is reinforcing its marketing efforts.
Partners in action
Along with the PTA in the United States, KNM has worked hard to secure partnership deals with Mobile Embrace for its market entry into Australia, and SmartTrans Holdings for entry into China.
Here are the partnership deals KNM has struck so far:

Smart Trans Holdings (SMA) – KNM's Chinese market entry
We've already talked about the PTA, so let's have a look at SmartTrans (SMA).
KNM has been working with SMA's Beijing-based team on certain product refinement initiatives for the Mandarin version of the KNeoJUNIOR product.
This product is now complete and a multi-province rollout through a subscription billing agreement SMA has with China Mobile will occur in the near term.
SMA has significantly strengthened its online and mobile billing payment platform and has access to over 1.3BN mobile devices via the three largest telecommunications companies in China – China Mobile, China Unicom and China Telecom.
The agreement between KNM and SMA will see the KNeoJunior content promoted to consumers on smart phones and tablets, to be sold via SMA's embedded payment platform.
This is still a subscriber model, with subscribers' phone accounts charged and all parties including KNM, the telco and SMA sharing the transactional value.
SmartTrans is committed to ensuring that the product is aligned with consumer demands and trends.
Successful trials delivered by SMA achieved 14,000 downloads for KNM products in less than three days...
In June, KNM raised $1.25M in a capital raising initiative and will use a portion of that money to accelerate the KNeoJunior product in the Guangdong Province in China.
KNeoJunior is about to be published throughout China and it is anticipated it will be followed in quick succession by further products to be distributed by SMA.
With such a large market, the potential for significant growth is there for KNM.
Mobile Embrace (MBE) – Australian market entry
While KNM have yet to market directly in Australia, this is soon to change after a distribution deal struck with Mobile Embrace (MBE).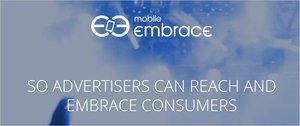 MBE have asked KNM to deliver a white label version of the KNeoWORLD product to be called HeroWorld.
This platform is now being distributed Australia-wide via major Australian telcos.
Once HeroWorld gains traction it is expected that KNM and MBE will then distribute to other international territories where they have existing telco arrangements.
Underpinning its Australian rollout is the geo-fencing that KNM will apply to its platform to protect its local growth.
With different pricing models across regions, it is important to keep Australian operations relevant to Australian audiences.
Which brings us to the importance of platforms...
The mobile revolution
All revenue roads lead to mobile device platforms. Which is why KNM has invested so heavily in mobile platforms and in doing deals with mobile distribution companies.
In fact more kids are using iPhones to play their games than iPads and computers. This is a general overall trend .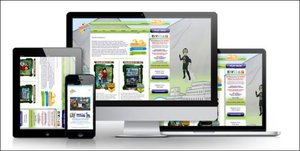 The two main markets KNM has entered into have the largest and third largest number of smartphones globally.
China has the largest number of smartphones with over recorded 1.2 billion handsets as at October 2014.
Meanwhile the US boasted over 320 million handset owners in 2014.
If you take a look at the table below, you can understand just how much impact portable devices are having.

Mobile use is a key part of KNM's strategy and its launch into the US and China is by no means an accident. Indeed it is a deliberate ploy to get its edutainment platforms into as many hands as it can and therefore grow this market even further.
The Disney Connection
Behind KNM's 'new world' are some pretty eye catching names.
The biggest being Noah Falstein, who is a stalwart in the industry.
Falstein was previously a contractor to KNM – and in 2013 was asked to head up Google's Game Design division.

Check out his resume . LucasFilms, Dreamworks Interactive, Google... and KNM.
Before taking his position at Google, he came up with the futuristic concept for KNeoWORLD and the series of episodes and games that now define the product.
Also on board are Ed Chowdhury (who set up business in Goa, India, and has some of the best designers in India working on the platform), James Morrison and Carlos Spicola (Viacom, Nintendo, Warner and Nickelodeon).
In fact, all three men worked at Nickelodeon and Nick Junior on edutainment products such as Dora.
If KNM can repeat even a tenth of the success of worldwide smash Dora, then they are onto a good thing.
At the same time, the success of this company is no guarantee – so caution should be used when considering as an investment.
Looking ahead
KNM have the neo world at their feet.
It has an exceptional team of developers, designers and writers work on its platform.
It has deals in place across the globe and via platforms that should see their games drop into the hands of millions of kids.
And it has a very deliberate plan for KneoWORLD domination.
The edutainment industry is currently a $1.5BN industry and is set to grow to $2.3BN in the next two years.
It will be dominated by knowledge-based, skills-based, brain trainers and language learning games – everything that KNM covers.
Furthermore, mobile edugames are already outselling non-mobile (PC/web/console) edugames, with revenue from mobile edugames estimated to reach $359.3M next year.
KNM is positioning itself to become a major player, and we will be keeping a close eye on it...
---