Global Waste Crisis Solved? ASX Company Invents Astonishing Technology
PUBLISHED: 20-03-2014 12:00 p.m.
This is really happening... right NOW.
This is NOT science fiction.
A tiny ASX listed company has invented and patented cutting edge technology that converts common household garbage into renewable energy AND valuable organic fertiliser .
You heard correctly – in goes trash and out comes ENERGY and FERTILISER.
This technology may just turn the $400 Billion global waste disposal industry on its head, and solve an issue that has been plaguing mankind since villages, towns and cities came into existence...
...not to mention make hundreds of millions of dollars in the process through patent licensing fees and annual royalties.
Globally.
Waste processing may not be sexy, but it is a red-hot sector at the moment given the rapid urbanisation of our planet, and the recent massive clamp down on pollution in megacities.
Recent M&A activity tells the story:
Beijing Capital just acquired New Zealand's Transpacific waste business for $800 million.
The richest person in Asia, Hong Kong billionaire Li Ka-shing, acquired a Dutch waste processor for $1.3 billion , and another NZ waste company for $399 million.
A few months ago Hyderabad-based waste management company Ramky Enviro acquired Australia's Enviropacific for an "undisclosed amount".
It is clear that industry whales are on the hunt for acquisitions in this space.
The tiny ASX company we have added to our portfolio is capped at a mere $23 million, and is only weeks away from pressing the start button on a revolutionary waste management pilot plant that is being closely watched by India and China.
It's no surprise that Melbourne based rock-star stockbroker Hugh Robertson has called this company as one of his "top 10 picks for 2014".
This guy's nickname in financial circles is "The billionaires' broker", because of the sheer volume of money his past picks have made for his clients – and he is backing our latest portfolio addition.
20% of this company is owned by Monadelphous Group Ltd (ASX:MND) – the $1.5 billion market darling has been one of the best performing ASX 200 stocks of the decade. And now they are also backing this company's technology.
Their pilot plant is already built, signed MoU's with several interested groups around the world and have plenty of cash in the bank.
$10.3 million (at December 31 st ) to be exact, so with a $23m market cap equates to an enterprise value of only $13 million – not to mention a significant upcoming research rebate that will boost the company coffers even more.
No capital raising here any time soon.
If the pilot plant works as expected, this company's revolutionary waste management technology could soon be sold around the world and should be in demand in every corner of the globe.
Why?
Humans currently have two not-so-clever ways to deal with the mountains of garbage generated by cities.
Burn it or bury it!
No innovation awards for these centuries old, expensive, environment destroying techniques.
A recent World Bank report states that developing countries like India and China spend the majority of their rates on waste disposal !
They could save hundreds of millions with this technology.
This company developed and owns multiple patents to this technology, and after proving their pilot plant in the very near future, will look to start selling technology rights to use their globally patented system.
This pilot plant and technology has been 15 YEARS and $120 million in the making.
All the risks of funding and building the pilot plant are now in the past – we believe we have identified this as the perfect sweet spot to take our position.
Now, they are mere weeks away from ramping up towards proof of the technology.
Further to making it to the "billionaires' broker" top ten picks for 2014, one analyst has also caught onto this hidden gem, predicting a 320% gain in their research report.
The Next Tech Stock is proud to reveal the latest addition to our investment portfolio...
And we have taken a relatively large position in this one:

Anaeco Ltd (ASX ANQ) is a $23 million market cap company based in Western Australia that's been developing a revolutionary waste disposal system for nearly fifteen years... and are weeks away from a ramp up phase that will ultimately prove their technology shortly after.
One of the top ANQ shareholders is Monadelphous Group – this company has made all the right moves over the past decade.
Now, after all this time, ANQ are in the first weeks of ramping up their pilot plant – soon they will have a working plant they can demonstrate to the world.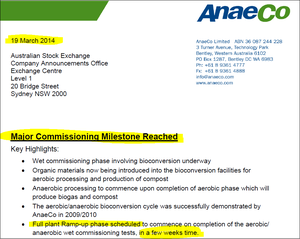 This should prove ANQ's patented technology works on a big, city size, scale – a showcase for potential customers the world over.
ANQ calls its technology The AnaeCo System – a trademarked modular system that turns solid municipal waste into organic fertiliser, natural gas and recyclable material.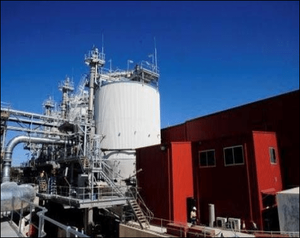 Our Track Record:
Did you catch The Next Oil Rush 'tip of the decade' – TSX:AOI back in February 2012? The Next Oil Rush called it at around CAD$1.8 and has been as high as CAD$11.25 since – that's over 600%!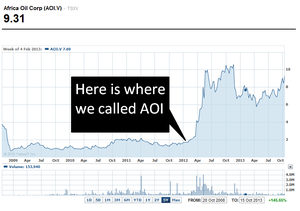 The past performance of this product is not and should not be taken as an indication of future performance. Caution should be exercised in assessing past performance. This product, like all other financial products, is subject to market forces and unpredictable events that may adversely affect future performance.
The "Billionaire's Broker" rates ANQ in his top 10 stock picks for 2014
The team at the Next Tech Stock is honoured to be in the exalted company of the renowned Australian stock-picker Hugh "The Billionaires' Broker" Robertson.
Well, in our investment in ANQ at least.
Here are his top picks for 2014 (we note that one of them is already up 450% and it's not even April yet):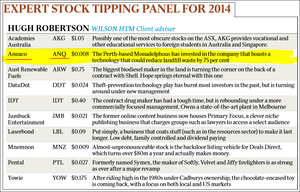 So who is this mysterious Rock Star stock picker who is backing ANQ in 2014?
Read about him here:




The guy is good! We think that The Billionaires' Broker is right on ANQ.
Analyst Dr Anton Uvarov from RM Research has also got his eye on ANQ and placed a speculative buy on the company – with a target price of 3.8 cents –that would be a 320% gain from today's levels: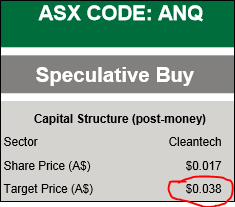 Mr Uvarov comments that global interest in ANQ's AnaeCo technology has been 'nothing short of spectacular' with 'national and international waste management companies, government authorities and infrastructure developers' all dead keen to see what ANQ can do.

Globally, ANQ has signed Memorandums Of Understanding with organisations in India, Canada and China to investigate how it AnaeCo technology can be exported.
China – Dynagreen Environmental Protection, BSAM: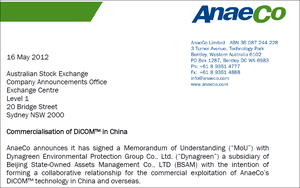 India – Brisanzia Technologies Pvt Ltd: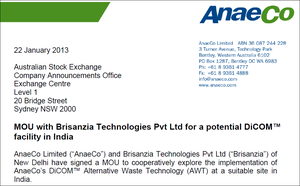 Canada – ADI International Inc: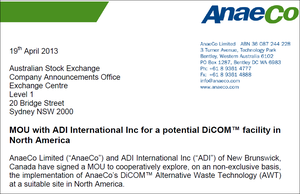 ANQ is just weeks away from ramping up their pilot waste treatment facility in Shenton Park, Perth, Western Australia – demonstrating to potential clients around the world that the technology works on a city size scale.
These companies that signed up at the MoU stage will now be watching closely as ANQ completes the final stages of plant commissioning.
Waste disposal is a global problem so the AnaeCo System has been designed to be sold as a direct technology transfer to clients around the world.
Once the technology has been proven on a large scale (with ramp up in progress over the next few weeks) cities all over the world can buy technology licenses from ANQ and make their own plants – a bit like a software product or a smartphone app – ANQ make it once and then sell it over and over again. The plants modular components can be built from scratch and set up as a new facility or retro-fitted to existing waste disposal infrastructure – whatever works.
ANQ will make the bulk of its money by selling licenses for the use of its patented technology. Short terms revenue streams will also be generated from consulting work and royalty fees for the use of its technology.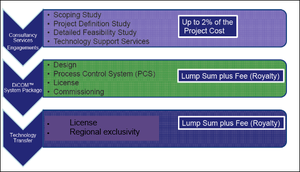 ANQ plans to be the provider of ongoing technology solutions to cities and multi-national waste conglomerates around the world.
Major world cities, bursting at the seams with millions of new arrivals and no room to grow, face constant and nagging waste disposal issues. We think they will be very interested in ANQ's technology.
In fact, the problem is so severe in NSW, that they truck garbage to Queensland and dump it there where it's cheaper:

At The Next Tech Stock we have been following ANQ's fortunes for a while (years in fact) and we think the moment of truth for the company is at hand.
$120 million and 15 years of research and development has been poured into this technology so far – it's takes a lot of cash and years of blood, sweat and tears to prove up new technology like this.
The magic spot to invest in companies like ANQ is that special moment when the company is on the cusp of proving their technology, and hence close to profitability.
Which is why we have recently taken such a large position.
When ANQ pushes the start button on its first large scale waste treatment facility in Shenton Park, we expect to see a flurry of global interest and big name prospects come the company's way.
China... India... New South Wales...!
But AFTER proving technology like this, the chance to make serious gains might already have gone (but as always, so will the risk).
All eyes are on ANQ in the lead up to proving their technology, and we note that ANQ has commenced raising awareness in preparation for this exciting news, exhibiting at key conferences around the world: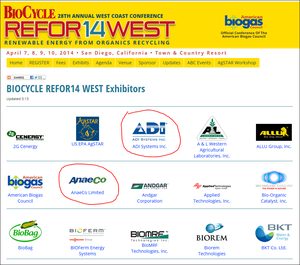 We also not that one of the MOU partners is attending too (ADI) – we wonder how much more potenital business may come out of this new push for awareness.
Big things are afoot for ANQ and we're backing the company to carve a big chunk of the $400 billion up for grabs at the bottom of the world's rubbish.
In this article we will:
– Explain how the world currently deals with its trash and why ANQ's solution is the future
– Show you how ANQ's technology works and its potential to make money
– Explore the massive potential for the world's waste industry and ANQ's products
– Give you a guided tour of the Shenton Park (Perth, WA) pilot facility and ANQ's business plans for making significant returns for investors
Most of us give scant thought to where our rubbish goes; but ANQ wants your garbage.
Why? Let's find out in the next section...
Our Track Record:
Did you see The Next Oil Rush report on Swala Energy (ASX:SWE)? SWE has traded as high as 150% since:

The past performance of this product is not and should not be taken as an indication of future performance. Caution should be exercised in assessing past performance. This product, like all other financial products, is subject to market forces and unpredictable events that may adversely affect future performance.
Global Rubbish – So What is The Problem?
In order to bring you up to speed on the largely ignored waste management sector, we have researched the sector extensively.
We have been heads down in a comprehensive World Bank report for weeks and are now fully educated on this serious global problem – and the investment potential within.
The Next Tech Stock will distil the key points below, however we strongly recommend you read the report to grasp the gravity of the market for this technology: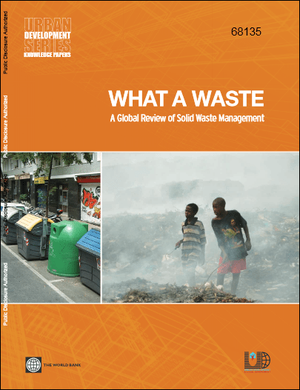 Our world produces an astonishing amount of rubbish every year, 1.3 billion tonnes and rising as the developed world becomes more advanced and developing nations catch up.
You could say ANQ has chosen a market with lots of growth potential!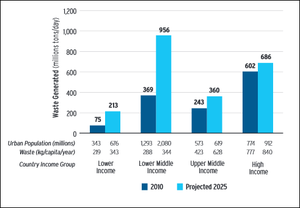 According to the World Bank over 4 billion people will be living in an urban environment by 2025 producing at least 2.2 billion tonnes of Municipal Solid Waste a year.
People typically face three choices for their rubbish – repurpose it, recycle it or dispose it.
Guess which choice gets the most play...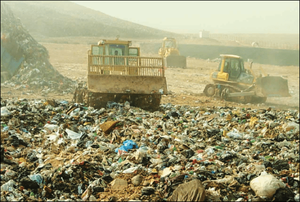 Cities spend huge amounts of money picking up trash and taking it away.
In developed nations there is an emphasis on recycling – but around the world the vast majority of municipal waste is disposed of one of two ways:
The number 1 solution for rubbish is a landfill – dump it into a big hole in the ground.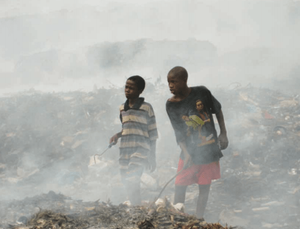 A landfill is the cheapest and easiest option but once the hole is full, that's the end of it.
Another must be created and in many cities land is extremely scarce or valuable, so sticking a dump where there could be houses or office buildings is a poor choice.
And very "last century" – surely there exists a better way... and ANQ owns it!
Piles of rubbish can also ooze toxic material into groundwater and can poison the air with methane gas brewed deep in the trash and released as clouds of noxious fumes.
Speaking of noxious fumes...
Number 2 on the list for municipal waste disposal is Incineration.
Simply put, you burn everything.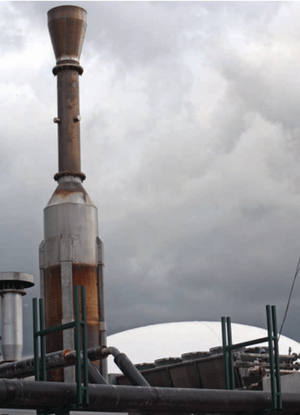 This can be a somewhat viable solution in developed countries who need alternative sources of power generation – rubbish can be used to fuel electrical stations .
But around the world most incineration is simply shoving rubbish in a burner, a process widely held to be bad for the environment .
The fumes can be filtered and captured with scrubbing technology but again the toxic remains of rubber, nylon, plastic, metal and chemicals must be disposed of.
So there you have it – centuries old inadequate solutions to an exponentially growing global problem.
As far as ANQ is concerned, using landfills and incinerators is like throwing away a sack of gold bars because you can't be bothered to make coins out of them.
As the world's trash problems grows more severe, cities and trash disposal companies around the world are looking for an alternative, one that gets rid of the trash in a better way than what they can now.
ANQ's AnaeCo System does three valuable things – it diverts up to 90% of trash headed to landfill, creates value for the user by making natural gas and fertiliser from rubbish AND it helps clean up the environment.
Three useful and valuable things from rubbish, something most of us consider to be nothing.
In the following section let's break down ANQ's trash disposal method and see why the upcoming pilot plant generating such excitement.
Our Track Record
Did you receive The Next Small Cap report on Core Exploration (ASX:CXO)? Since this report was released, CXO has been up as high as 80%.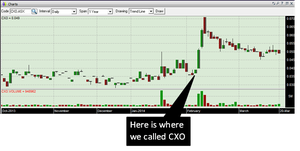 The past performance of this product is not and should not be taken as an indication of future performance. Caution should be exercised in assessing past performance. This product, like all other financial products, is subject to market forces and unpredictable events that may adversely affect future performance.
ANQ's alchemy – turning trash into cash
ANQ has spent more than 15 years developing its patented and trademarked method of municipal waste disposal called The AnaeCo TM System.
Remember – ANQ will be ramping up their long awaited pilot plant over the next few weeks – those MoU companies in China, India and Canada will be watching closely.
Rubbish goes in one end and natural gas, fertiliser and recyclables come out the other end.
ANQ's technology does this using an advanced filtering and sorting system and with the help of millions and billions of micro-organisms – bacteria that eat organic material and produce natural gas and fertiliser.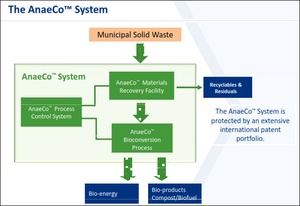 Let's imagine a load of rubbish is delivered to a facility fitted with ANQ's system.
The first step is to sort it with the AnaeCo Materials Recovery Facility (MRF) which is used to separate organic material from commercially valuable materials such as metals, plastics and glass that can then be recycled or repurposed.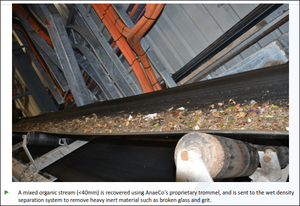 The organic material separated by the AnaeCo system is then taken through a biological process in a closed vessel called the AnaeCo Bioconversion Facility (BCF).
Inside the BCF, Aerobic composting (using oxygen) accelerates the natural breakdown of the organic material. The oxygen is then taken out and microorganisms are introduced to further break down the material – this is called Anaerobic digestion .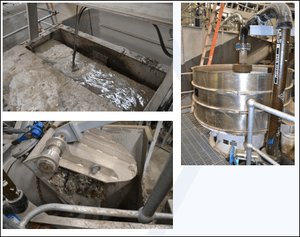 The BCF system produces two products – natural gas which can be used to power the entire AnaeCo facility or be taken out for export and use elsewhere – and the remaining organic material is a perfect natural fertiliser that can be sold to nourish gardens, parks and flower beds.
No wonder cities around the world are so interested in this solution.
The entire thing is run by specially developed and patented computer algorithms called The AnaeCo Process Control System – so you just hit the on button and watch it work!
Check out this cool video ANQ has produced to show off its high tech gear:
The main advantage of ANQ's waste disposal system is that it stops waste going to landfill – ANQ says the AnaeCo system can divert between 75% and 90% of waste going to landfill.
A remarkable percentage.
With that figure ANQ reckons its technology can prolong the life of a landfill drastically – a 20 year landfill life time may be extended to 40 years with the application of ANQ's technology.
That's good news for cities in developing countries like China and India – the World Bank says they spend the majority of their rates on waste disposal ! They could each save millions with ANQ's tech.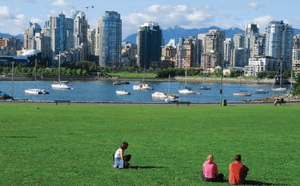 A clean city like this is what people the world over want
Rubbish is a universal problem and ANQ has its eyes on a global market.
ANQ's patented AnaeCo system and all of the technology that goes with it is designed to be sold as a direct technology transfer that can be retro-fitted to an existing waste disposal unit.
The best part of the deal for ANQ investors is that ANQ sells the technology under a license, meaning it gets an up-front payment for the technology and the ideas AND collects royalties further down the line.
That's ongoing business, not just a one off deal.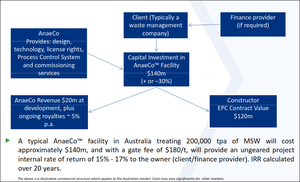 ANQ is not a one stop shop. It is a provider of ongoing solutions that will be kept on by its clients year after year, supporting their work and charging for the service.
At The Next Tech Stock we think this is brilliant. Big money up front and a steady flow of income down the line from every single client – and the pool of clients up for grabs is GLOBAL.
ANQ is tackling a global problem with an innovative solution that can be sent around the world and profited from every step of the way – let's see how much potential their plan has in the section below...
Our Track Record
Did you receive The Next Small Cap report on Segue Resources (ASX:SEG)? Since this report was released, SEG has been up as high as 130%.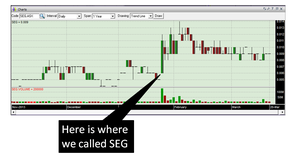 The past performance of this product is not and should not be taken as an indication of future performance. Caution should be exercised in assessing past performance. This product, like all other financial products, is subject to market forces and unpredictable events that may adversely affect future performance.
The United Nations of Rubbish Disposal
The United Nations has calculated the market for global Municipal Solid Waste (MSW) to be worth at least 300 billion euros – or over $400 billion USD – the same size as the global television industry (probably not as sexy though)!

That same market is predicted to double by 2020 as the world's population becomes more urbanised and developing countries raise their living standards.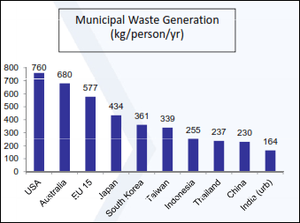 Many may be oblivious to where their garbage goes – but it's an enormous industry – with a lot of opportunities to make dumptruck loads of cash.
At the same time rubbish is growing, governments around the world like China's are pushing through laws to clean up the air and improve the way their countries deal with their waste.

Advanced waste disposal is not only in demand it's also fast becoming required by law.
ANQ's patented AnaeCo municipal waste disposal system is designed for export – it can be sold as a technology transfer to any location on the planet.
Sign the dotted line and ANQ will send the design plans and technology license wherever the client wants.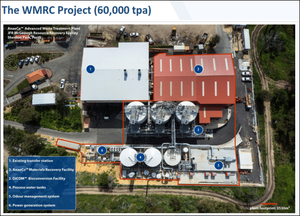 The customers ANQ can sell its system to are diverse; waste transfer station operators, landfill owners who want to save space, local governments, waste management companies, even federal and state governments keen to improve their green credentials.
ANQ's AnaeCo system is modular with a small footprint so it can be set up on a medium sized piece of land, so no problem fitting it in a busy city or a developing town – very useful for those high density mega cities of the world.
A 200,000 tpa (tonnes per annum) plant would cater for between 400,000 to 500,000 people, assuming each person produces half a tonne of waste a year – and the capacity can be expanded simply by adding more modules – just like a Lego kit!
Also, ANQ's technology can be integrated into existing infrastructure like a waste transfer station or even a landfill with a simple retro-fit.
For each system sold, ANQ aims to make a significant upfront license fee for the technology, plus a 5% yearly royalty fee – for the life of plant.
To gauge the potential market for ANQ let's consider this – there are roughly 20 candidate waste transfer stations and landfills across Australia – just imagine if ANQ set up AnaeCo systems on even half of them! Heck, even five of them would net some serious revenue.
ANQ is closing in on securing its first major customer , having just been selected to tender for a major waste disposal project in New South Wales.

This is generally the situation with such innovative technology – once there is a successful case study, clients pile in from the sidelines.
Let's take it global – we nearly fell off our chairs when we ran the numbers on ANQ.
Think about the populations of China and India – the billions of people who are getting richer, consuming more, and generating more and more waste. As these countries develop, the population will demand cleaner cities.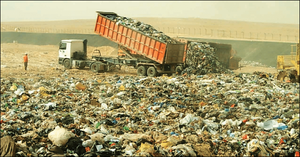 The global population can do better than this
ANQ will soon have their pilot plant chugging away – eating waste, diverting away from landfill and converting into recyclables, fertilizer and energy.
The global scale of the problem coupled with the global scalability of the ANQ solution is why we have taken such a big position in ANQ.
We aren't alone though, one of the largest shareholders, the Chairman of $1.5 billion Monadelphous agrees:

As the world's rubbish problem gets bigger and bigger cities around the world are looking for innovative and cost effective solutions – like the one offered by ANQ.
But they won't be the only ones looking.
Waste disposal is big business and big businesses are getting involved.
At The Next Tech Stock we think ANQ and its innovative waste disposal technology may just be getting ripe for a takeover by a major global conglomerate.
A big kahuna like General Electric (GE) is always looking to diversify its already massive pool of holdings and a slice of a $400 billion industry would sit very nicely on its bottom line.
Check out how valuable GE's recent acquisitions have become: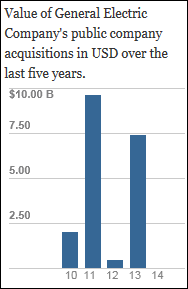 GE is already heavily involved in waste water treatment around the world so a move into solid waste would be a natural progression – an easy way to start would be by snapping up a high quality, soon to be proven, technology like ANQ's.
But there are other players already snapping up municipal waste disposal technology.
Take Beijing Capital for example – a state owned investment group whose major aims include battling the chronic pollution that's come as a by-product of China's rapid economic expansion.

Beijing Capital's stated aims closely align with the technology that ANQ is creating:

Beijing Capital are clearly dipping their toes in ANQ's industry and the region – very recently forking out $800 million for New Zealand's biggest waste management firm and acquiring its technology for environmentally friendly landfill methods, odour management and hazardous waste handling.
Things China needs badly.

In 2013, an investment firm owned by the richest person in Asia , Li Ka-shing paid $1.3 billion for a Dutch waste processor . In the same year he also bought Envirowaste , a New Zealand waste disposal firm – for a measly $405 million.
With a net worth of $28.8 billion we are sure Li Ka-shing must take investment decisions wisely – he has obviously done some research, seen some value, and is making some big investments in the waste management industry.



Over in India, Hyderabad-based waste management company Ramky Enviro Engineers Ltd snapped up Aussie Enviropacific for an "undisclosed sum":

Why the flurry of Asian investment in waste disposal technology?
Well, part of the reason is that after long years of hinting, China's government recently announced a raft of environmental protection measures designed to cut the pollution blighting its cities.
The main push is to improve air quality – so burning rubbish in an incinerator is out – and hold businesses responsible for the rubbish they create.
So throwing rubbish in a landfill in China doesn't look like the easy option any more.
ANQ's AnaeCo system is ideal for China's needs – indeed ANQ's technology is ideal for India's needs, Africa's needs and even Europe's needs as the world cleans up its act.
The time is ripe for ANQ's technology to be sent out into the world where it can revolutionise the way solid municipal waste is disposed of.
But first it has to prove the technology works.
Well, we only have a very short time to wait for that!
Countdown for ANQ's cash cow
ANQ patented its waste disposal technology has been 15 years in the making.
It listed on the ASX 10 years ago and has been working steadily to bring its vision to life. It's been a difficult road with many ups and downs .
Now the moment of truth is just around the corner.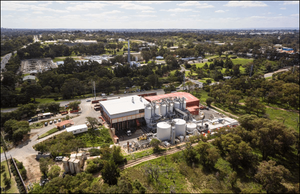 ANQ's shiny new plant – ready to go
ANQ has retrofitted its AnaeCo System to an existing waste treatment facility run by the Western Metropolitan Regional Council in Perth, Western Australia.
Work at the Shenton Park facility entered its final phase in 2013 and ANQ says the plant's ramp up is now just weeks away .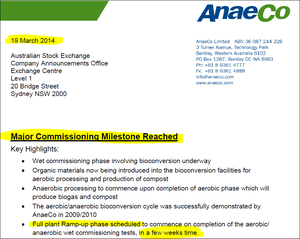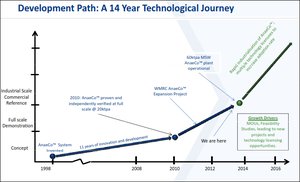 After $120 million of investment to date, now new investors have an opportunity to invest just before the plant is commissioned – after this we anticipate a surge of interest from potential customers – and that sweet spot of investing at the right time will be gone.
When it's fully up and running the Shenton Park plant will process 60,000 tonnes a year of solid municipal waste using ANQs patented AnaeCo System.
This video explains exactly how the process works and shows the facility in all its glory:
ANQ says the 'biological ramp up' at the plant will start in the next few weeks; water loaded with bacteria will be brought to the site and grown steadily until there are enough microorganisms to munch through all the organic material the plant will process.
Once the little critters are ready to go the plant should be ready to start eating garbage and spitting out natural gas, recyclables and fertiliser!
ANQ's Shenton Park project is the perfect example to show to the world how its AnaeCo System works and why it will benefit its customers.
The system in place has been retro-fitted to an existing facility – proving it can be adapted to work anywhere in the world.
The facility itself is smack bang in the middle of a quiet suburb a few kilometres from Perth's CBD , so international customers can see its low impact and small footprint.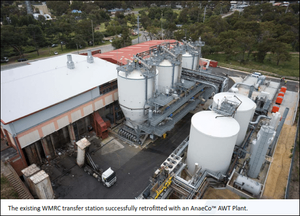 After nearly 15 years proving up the technology new investors are circling ANQ , ready to pile in once this pilot plant is commissioned and proven a success.
Not to mention giant global corporations looking for acquisitions in this space...
The potential market for ANQ's technology is huge – $400 bn around the world – and big investors around the globe are snapping up waste disposal technology so they can carve off a slice of a pie that just keeps growing.
This is an opportunity to get behind a company that could very soon have clients using its waste disposal technology across the world and a bottom line filling up faster than a landfill – or should we say 'closed organic containment vessel'!
Disney Land for Bugs
At The Next Tech Stock we're strapping ourselves in for a fast ride with ANQ in the coming months.
The biological ramp up at the Shenton Park facility will take place in the next few weeks and create a 'Disney Land for bugs' in the system's tanks.
From there the final commissioning of the plant will be set in motion and should take place shortly after – then we'll see what this baby can do – using special filters and microorganisms to turn rubbish into natural gas, fertiliser and recyclables.
From there, the sky is the limit for ANQ.
And we are talking a clear blue sky, not a smoggy grey sky clouded by noxious fumes.
ANQ could sign up a clutch of domestic and international clients or even be taken over by a multi-national industrial conglomerate – either way, early investors like us expect to be very happy.
With such a quick timetable and so many potential customers on the horizon we are glad to have captured a narrowing window of opportunity to get involved while ANQ is still capped at just $23M.
And with about $10 million in the bank, we can't believe that 15 years and $120 million of research and development is ascribed an enterprise value of $13 million! We are betting this will change once the market catches on.
At The Next Tech Stock we're backing ANQ as a LONG TERM investment with SHORT TERM upside and are proud to be invested with such an innovative company that's going to help save the world and collect a just reward.
Don't forget to like ANQ on Facebook – or follow them on Twitter .
---