Global Security Forces Scrambling to Defend Against Drones: This ASX Stock has a Solution
PUBLISHED: 27-06-2016 09:33 a.m.
Total spending in the drone market is set to reach $100BN in the next five years.
With the proliferation of drones comes another substantial and soon to be booming market, as yet unconquered, and basically wide open.
The 'counter' drone market, which has sprung up to combat the rise of drones used for nefarious means.
Whilst in many cases drones can be used for community good such as food drops, and rescue missions, or as hobbies; the increased accessibility of drones has activated a whole new use case – where the outcomes are frankly frightening.
For instance, what happens when a drone is put in the hands of someone with hostile intent?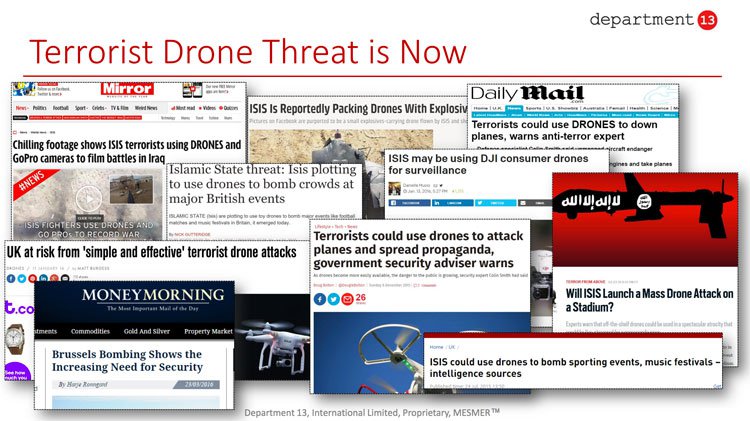 This is a very real threat that has governments and security forces scrambling for a solution – and they are willing to pay big bucks to the right security provider.
To give you an idea, NASA alone has a budget of $2.8 billion for the management of drone airspaces.
This is the market landscape that today's ASX listed company finds itself well positioned within. This $90M capped company is commercialising a counter drone technology incomparable in the current market.
Remember, however, that this is an early stage company and anything could happen. Success is no guarantee – apply caution to your investment decision with regard to this stock.
This company's drone defence solution uses radio frequency to literally take control of a threatening drone, and then safely ground it.
This company's technology can defend perimeters against one or many more drones, without blanketing the area with energy and hammering all communications – an uncontrollable free falling drone is just as threatening as an enemy drone.
It is a superior technology to simple monitoring systems, which can't do much more than detect a hostile drone.
Its commercialisation efforts are already quite advanced, and it's now gearing up for a major demonstration of its technology to US military big wigs.
It has already bagged a 12 month US government contract to design counter drone tech, and this upcoming demonstration may be the catalyst for multi-million dollar Department of Defence sales contracts.
In this company's corner is Booz Allen Hamilton – a $4BN NASDAQ listed defence consultant, which has been dubbed the world's most profitable spy organisation. This corporate giant actively makes recommendations on technology and strategy to the US military and private security organisations.
Booz Allen Hamilton has been impressed enough with the technology to strike up a strategic relationship with our company, which could see it rapidly distribute its counter drone tech across the globe.
With its leading technology a major focal point, and its IP in networking and wireless technologies relevant to big spending commercial and defence sectors, this company is now on the front foot drumming up awareness by taking its story to major enterprise and global security forces.
Recent announcements suggest that deals in the US could place this stock right at the foot of a re-rating mountain.
What also sets this company apart is the amount of patents it has under its belt.
In January it was granted a patent for advanced networking used in counter drone systems. A month later it was granted a further patent for a key component of its counter drone defence solution for dealing with swarms of drones – the value of all of this adds up.
These two patents are key to its technological ambitions, but they are just the tip of the iceberg. This company has many more patents pending that will further change the way private companies and governments look at drone defence.
In fact, its IP strategy is a key component of its business model and is designed to protect market share and perpetual licensing opportunities.
With strong news flow and revenue generation anticipated in the near term, right now could present a compelling opportunity to get in on the ground floor of a company that looks as if it may be able to take the elevator all the way up to the penthouse suite.
Introducing...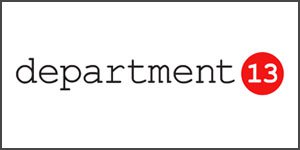 D for Drones
Department 13 (ASX:D13) was founded in Virginia in 2010 by a team of former military operators, scientists, and engineers, with an overarching goal to transform how people use technology.
While the company works across cellular communications, networking and sophisticated radio frequency (RF) technology applications, it is in drone defence where D13 is starting to excel through its MesmerTM prototype which we will go into further detail shortly.
One key aspect to the D13 story is the fast emerging drone market that it is intimately tied to. As the drone market grows quickly, so too does the need for ever greater protection against hostile drones. Here are some vital stats on the drone industry: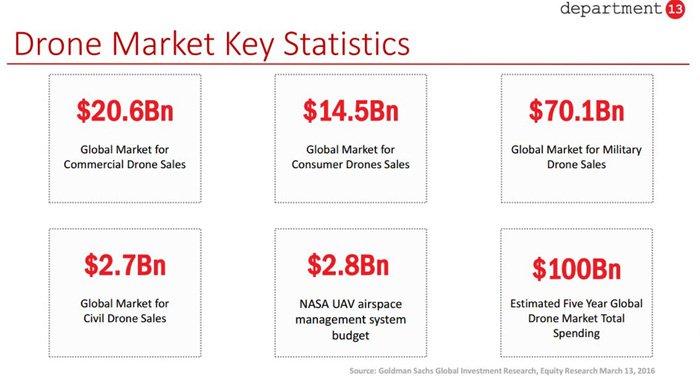 $100BN is expected to be spent on drones in the next five years – and D13 is front and centre to serve up the pre-eminent counter drone solution.
A recent article by renowned publication The Economist recognises the rise of this sector and places D13 as a company whose technology could overcome legal minefields and actually make a difference in the area.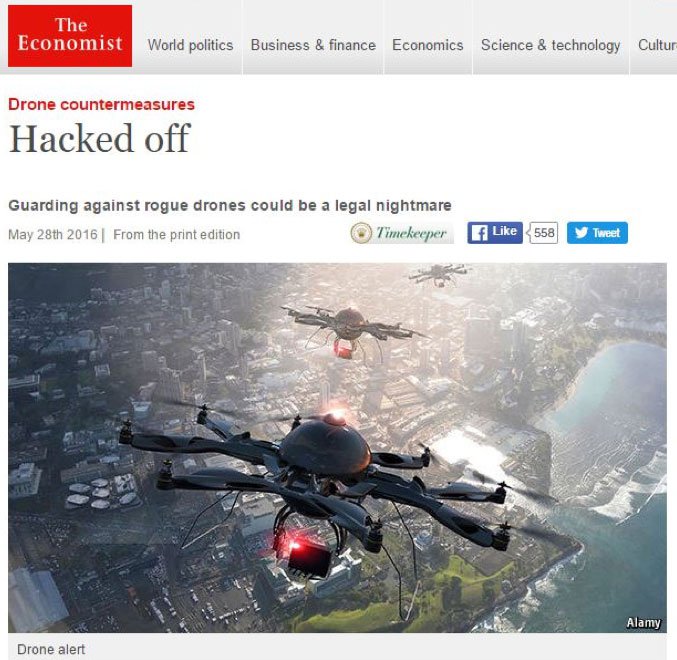 The article states:
Transmitters are strictly controlled in America under Federal Communication Commission (FCC) regulations, making such equipment difficult and expensive to acquire.
The contenders think they can get around that by detecting the radio communications between a drone and its operator. Although drones can fly independently, some form of radio is used by an operator to relay commands, such as to go up or down, left or right, and to provide a video link from the drone's camera.
Mesmer, a system developed by Department 13, a technology company based near Baltimore, can detect these signals and even use them to identify the type of drone. Mesmer then employs its own signals to take command of the drone itself, ordering it to divert, land or return to base.
The Wall St Journal has also chimed in on the rise of counter drone solutions...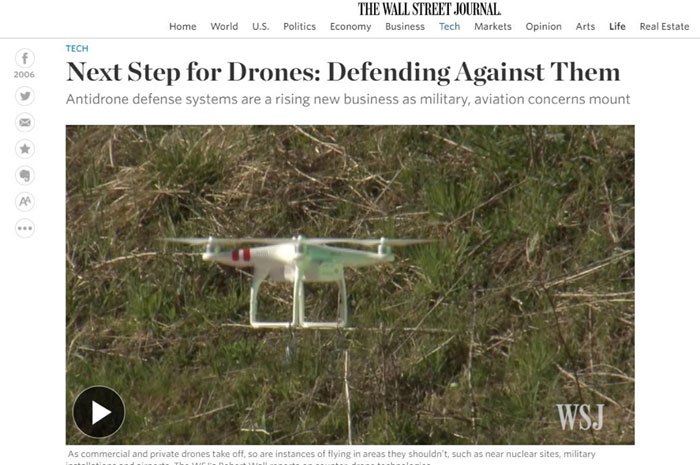 According to Markets and Markets , the global counter-drone market is expected to reach US$1.14BN by 2022, growing at a CAGR of 23.89% between 2017 and 2022.
The Markets and Markets report iterates that detection of drones has become an important factor for the maintenance of security. The main drivers of this growth are increased security breach incidences by the unidentified drones and use of drones for terrorist activities.
Suffice to say it is the perfect time to be establishing itself as a first mover in the market.
So now you have a sense of the market and what D13 is doing within it, let's have a look at D13's "Mesmer" prototype...
Time to be 'mesmer'ised
D13's Mesmer technology doesn't just identify suspect drones, it also grounds them by ­disabling communications ­between the object and the user. Note this can only be done once the drone has launched, otherwise D13 would face the wrath of the US justice system, which you can read more about in the Economist article above.
The following video gives you a brief look at how the Mesmer technology works...
Given the founder's background in radio frequency (RF) communications, it was inevitable that D13 would use radio frequency technology to enter into the drone market and as stated, into a niche segment where radio frequency actually mitigates drones, rather than flies them.
Here's D13 CEO Jonathan Hunter explaining how D13's RF tech works to do this:
Essentially Mesmer uses novel methods to enable the detection and mitigation of radio controlled devices (e.g. drones or unmanned vehicles including submersibles).
The quickly deployed Mesmer is a software platform that operates as a stand-alone system or alternately on top of existing hardware solutions. It detects drones by using cognitive techniques to determine the existence of threats and curtail them.
Here's visual that should give you a clear indication of how it works: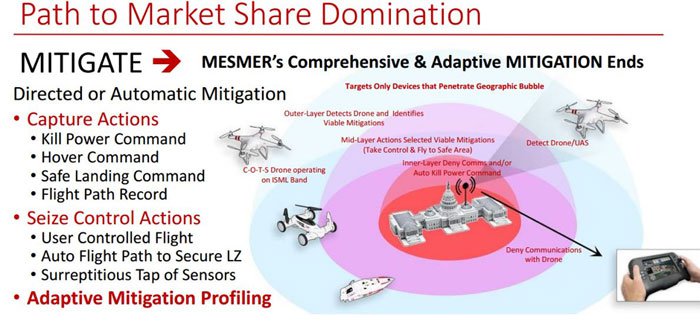 The good thing about the Mesmer prototype is that it is well protected by patents and its relationship with government contractor Booz Allen Hamilton enables it to utilise its technology as a key influencer in the market.
That's a boon for any private company or government body that wants to stop a potential drone threat.
And for investors looking for a way into the market.
The importance of Booz...Allen Hamilton
In March 2016, D13 entered into a strategic relationship with Booz Allen Hamilton , who became a preferred systems integrator for D13 Counter UAV technology for US defence opportunities.
This achievement by D13 should not be underestimated.
Booz Allen Hamilton is a $4.36BN NYSE listed global giant in the field of management and technology consulting and engineering solutions to Fortune 500 corporations, governments and not-for-profits.
Booz Allen Hamilton has significant relationships with parts of the defence community and should enable D13 to unlock some critical markets and opportunities that are otherwise out of reach of small ASX-listed companies.
In fact, Booz Allen Vice President Dorothy C Simeona stated that its clients in the US Navy and Marine Corps, among other high level clients could show great interest in D13's Mesmer technology.
So this could be a lucrative relationship for D13, as it will mean it moves to the front of the queue when presenting its tech to global security forces.
To give you an idea of the size and standing of Booz Allen; Bloomberg reports that in the fiscal year ended in March 2013, Booz Allen Hamilton reported US$5.76 billion in revenue, 99 percent of which came from government contracts, and $219 million in net income...
Almost a quarter of its revenue—$1.3 billion—was from major US intelligence agencies.
You can now start to join the dots for what all this means for D13...
Bloomberg refers to Booz Allen as the world's 'most profitable spy organisation'.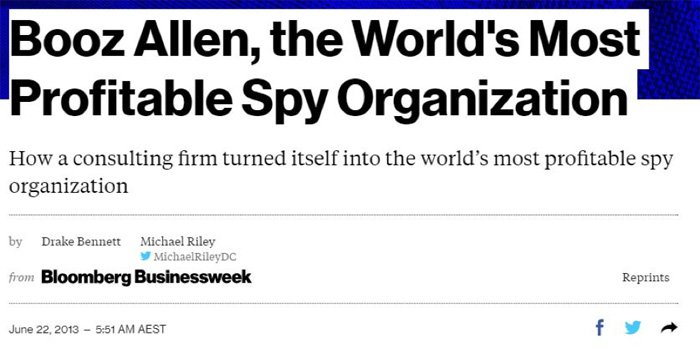 And now Booz Allen has a relationship with D13.
Imagine the effect a successful relationship with the world's "most profitable spy organisation" could have on D13's valuation, especially if all government defence bodies adopted D13's technology.
With potential US government deals in play as well, this could be just the beginning for D13.
At the same time, there is no guarantee these deals will eventuate – such is the nature of speculative tech stocks. It's always a good idea to seek professional financial advice before making your investment decision.
D13 and the DoD
Governments make up a significant portion of the drone market, and at the same time, they also recognise the threat they pose.
So D13 could take a significant stranglehold on the drone defence market if it can land some big government contracts, aided by its $4BN friend, Booz Allen.
Let's just have a look at this table again. The most significant number below is the $70.1BN that represents the global market for military drones – D13's major market: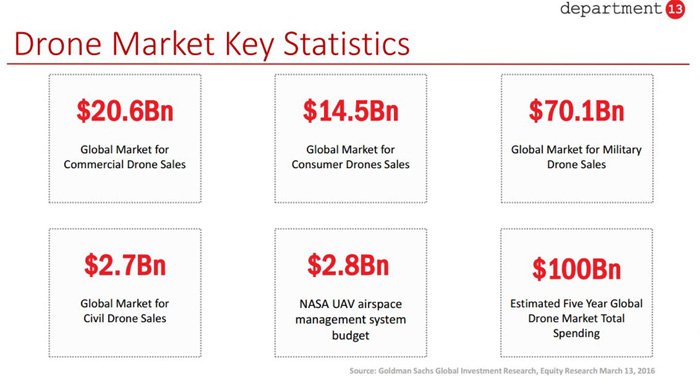 That's a large addressable market, especially for a company with a seemingly unbeatable counter drone solution.
D13 has been working hard to build its military relationships.
In December 2015, D13 conducted a live technology demonstration attended by several US government agencies representing Defence, Homeland Security, Law Enforcement and Intelligence.
D13 demonstrated the technology's capabilities, specifically how Mesmer can acquire and simultaneously take control of multiple drones and land them in a designated safe zone.
Following a second demonstration to senior personnel from US government agencies earlier in the year, D13 announced that it was on track to achieve its goal of having its first commercial counter drone security product in production this year.
D13 is in continuing talks with US government bodies to discuss how its technology can meet their needs and was recently awarded a US$432,000 contact .
This initial technology development contract will be to develop specialised technology and products for counter-drone solutions.
The contract will run for 12 months with potential increased grant funding for further developmental work. It is also expected to speed the development of D13's products to market and give them added features and capabilities.
And some of these features will be on show at the biggest military counter drone event of the year in September...
The Dart arts
A major US technology demonstration exercise is coming up later in the year, called 'Black Dart', and it may serve as a prime catalyst for D13 to win more sales contracts.
Classified up until 2014, Black Dart is a combination of technology demonstration, test evaluation and exercise and enables the US Department of Defence to gauge the capability of counter-drone systems in a wide range of scenarios.
This event is basically the biggest military showcase of the year, and D13 has been invited by the DoD to test its Mesmer counter drone system.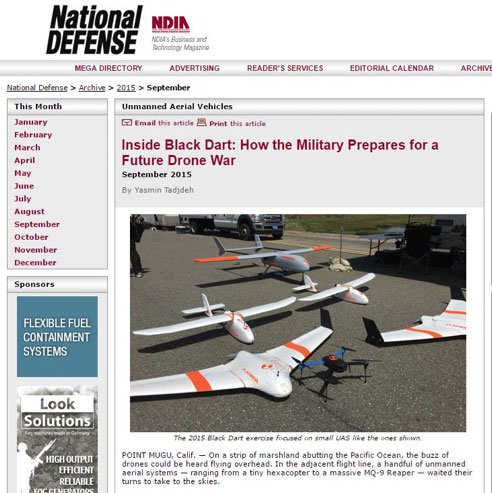 D13 will be able to benchmark Mesmer's capabilities to a wider range of interested parties and given the seriousness of the event and the DoD's current discussions with D13, anything could happen at this point, with the likelihood of further government contracts a strong possibility.
In addition to Black Dart, D13 has been selected to compete in the " MITRE Challenge " – to be held at the famous Quantico base in Virginia, USA.
Eight finalists have been selected to compete in a "Countering Unauthorized Unmanned Aircraft Systems (C-UAS) Challenge" live flight competition scheduled for August 12-19, 2016.
The live flight tests will determine the winners of a $100,000 prize package.
Not only is there a solid cash incentive, but the recognition gained from this competition can help government agencies better understand what solutions are possible in this space and inform policy and requirement decisions.
Australian demand
In addition to the crucial Black Dart demonstration coming up soon, D13 has also set up sales and distribution partnerships in Australia, the UK and Europe to meet demand when and if necessary.
One of those partners is EPE, a leading Australasian provider of Counter Threat EOD and Electronic Countermeasure equipment.
EPE is now the regional distribution partner for D13, giving them direct access to the Australian and New Zealand defence and security markets.
Like Booz Allen-Hamilton, D13's new distribution partners have extensive relationships with military and law enforcement and like their US counterparts have some influence with military entities.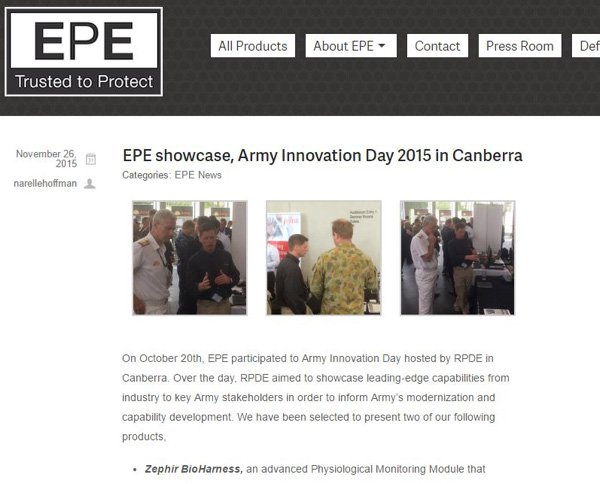 EPE has already identified potential customers for D13's products, with growing demand for counter drone products already evident.
The same can be said of markets in the UK and Europe, where D13 has partnered with IMSL, a leading provider of Threat Intelligence Analysis that also have strong industry contacts.
Summing up, here is snapshot of D13's current strategic partners...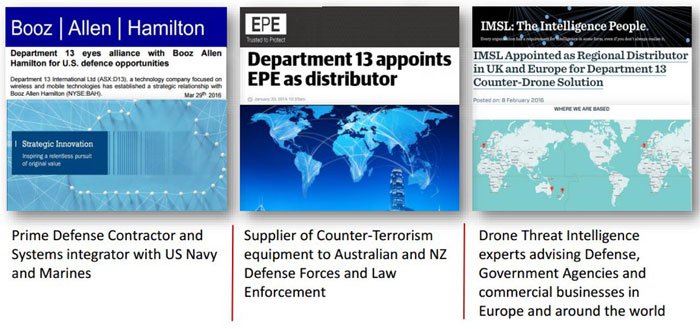 ...all helping to put D13 in front of relevant military and commercial organisations – and multi-million dollar contracts.
However, there is no guarantee these will come through, please do your own research and consider your own personal circumstances and risk profile if considering an investment.
Patently obvious
While D13 is building technology to protect us against the scourge of bad-use drones, it has also been quietly protecting itself and its IP.
D13 has 10 granted patents and 14 patent applications pending in the fields of communication, networking, wireless technologies, security, and more.
The most significant is the patent delivered under its licence agreement with GhengisComm Holdings.
The patent covers technology that addresses a key component of D13's Counter Drone Defence Solution for dealing with swarms of drones, as well as its strategic network solutions products.
The Patent has been licensed to D13 by GhengisComm Holdings, the IP Holding company of D13's Chief Science Officer Steve Shattil, who has invented dozens of US and foreign patents essential to wireless and radio protocols.
The second important patent that gives D13 a top shot with the US DoD is a patent on Cooperative Subspace Coding (CSC), a method of encoding a signal by multiple nodes.
This technology can enhance security and increase data rates by as much as 20-fold. It is an efficient way to communicate with drones which makes for better network control demands to control unwanted drones.
Considering D13's business model is based on the sale of software licenses on an annual fee basis with associated training income, you can see how important it is for the company to protect itself through its patents.
Flying high, but still with its feet on the ground
D13 is building a long-term, viable solution to the problem unfriendly drones pose to the community.
With its IP strategy protecting its market share and licensing opportunities, shareholders could benefit from not only ground breaking technology, but a very canny business strategy.
Its Mesmer mitigation technology is in front of the US government, who has already awarded the company a 12-month contract to the value of US$432,000 for the design of counter drone tech.
It has a strategic relationship with one of the world's biggest defence consultants – Booz Allen Hamilton.
It is showcasing its technology at one of the most important military events on the US DoD calendar – Black Dart.
With strong alliances in the US, could it only be a matter of time before D13's counter drone tech spreads across the globe?

---