FGO Rolls Out AI Virtual Assistants with Big Name Partners
PUBLISHED: 01-05-2018 10:00 a.m.
In a world where businesses are looking for an edge to better serve their customers, and customers want proactive tools that help them make better choices, the possibility of an Artificially Intelligent (AI) future has moved beyond the fanciful sci-fi realm to become reality.
There is now a sense of urgency among businesses to deliver better, faster, more accurate information as technologies such as artificial intelligence, IoT, and APIs continue to evolve at a rapid speed.
Speaking of ChatBots in particular, Grand View Research predicts this particular market to reach US$1.25 billion by 2025, growing at a CAGR of 24.3%.
That is inarguably significant growth.
The companies that can capture this market as well as the attention of AI-curious institutions should be able to position themselves as a frontrunner in AI provision.
Flamingo AI (ASX:FGO) is already one step ahead of the game. It's one of the first to market virtual assistant companies, and is targeting the finance and insurance industries in particular — multi-trillion dollar industries.
Like the friendly and endlessly helpful droids imagined into existence for Star Wars, what FGO's virtual assistants lack in a real soul, they make up for in depth of knowledge and reliability.
While the virtual assistants don't exist physically, they are made of software and algorithms, they can provide the customer with real life, real time, real outcomes, particularly when it comes to complex financial products.
The last time we covered FGO in the article, Can ASX AI Solution Transform Multi-Trillion Dollar Financial Services Industry?, we learned that Flamingo's Cognitive Virtual Sales Assistant utilises machine learning to observe and build on its knowledge.
These 'Assistants' help to make financial products more accessible to online customers, with the aim of increased sales conversion rates and reduced costs (businesses are no longer reliant on humans).
Over the past six months, FGO has seen excellent adoption of its AI in trials.
The company has revealed positive developments on live evaluations with multiple clients across the US, Australia and Asia... an enviable list which includes amongst others, Nationwide Insurance (US), AMP (Australia), DirectMoney (Australia), and MetLife Asia (Singapore).
It also provided an update on the implementation phases of a paid trial with CHUBB Asia Pacific, and a look 'behind the veil' at a rapidly expanding sales pipeline, fortified by FGO's solid relationship with Clarion Group in the US.
In December, FGO signed a commercial term sheet with CUA Health, a subsidiary of Credit Union Australia, for a paid trial to run for three months in live evaluation mode where CUA's customers will interact with Flamingo AI's Virtual Assistant.
And in February, in a very important announcement we learned that Liberty Mutual, one of the world's largest insurers, went live with a trial of FGO's Virtual Assistant for their Automotive Insurance quotation-to-payment process. An extraordinary achievement for this young ASX hi-tech.
FGO is exploring utilisation opportunities for Flamingo's AI Virtual Assistant products in additional markets. These include the telecommunications sector where it has established a relationship with a telecommunications provider to explore the potential to deliver call-centre and helpdesk systems.
To progress through its paid trials and promotional activities, a tech small-cap like FGO requires adequate funding. Since September, the company has been able to raise an impressive A$15.5 million...
FGO was able to raise the capital with ease as the market becomes cognisant of the significant disruptive potential of its cutting edge AI. AI is also the fastest growing tech sector globally. It's a crucial time for FGO as it completes its transition from 'proof of concept' stages into the live, scalable and commercial operations stage and adds new products, new team members and new clients.
On that note, let's dive in with this update on:

Flamingo AI Limited
ASX:FGO
Major clients in the US go live with FGO
In November, FGO announced that Fortune 100 company, Nationwide Insurance, has adopted FGO's platform for its Guaranteed Retirement Income direct-to-customer product and signed a Monthly Recurring Revenue contract.
This achievement proved to be a significant catalyst for the company's share price as it jumped 20% on the news.
Nationwide has been a client of FGO's since 2015, so the development marks yet another step in the strong relationship being forged. In August last year, Nationwide signed a Production Statement of Work related to the implementation of the Virtual Sales Assistant (ROSIE). This included a Monthly Recurring Revenue (MRR) component, and also involved FGO undertaking highly rigorous security and data privacy audits.
In the second quarter of 2018 another US Fortune 50 Insurer entered go-live where their customers interacted with Flamingo's Cognitive Virtual Assistant. The initial trial showed positive results and completed at in the third quarter of 2018 and now further contract discussions are now underway.
A major piece of news on the sales pipeline front came in early March when FGO announced that Fortune 100 company Liberty Mutual had gone live with its Cognitive Virtual Assistant.
On 1 March 2018, Liberty kicked off a go-live paid trial using FGO's Cognitive Virtual Assistant platform to guide customers through their Auto Insurance quotation to bind (binding policy and payment) process.
The Insurer is the fourth largest property and casualty insurer in the US (based on 2016 data from the National Association of Insurance Commissioners). As of December 2016, Liberty had $38.3 billion in annual consolidated revenue and more than 50,000 employees worldwide... in other words, what FGO has here is one pretty big fish.
Speaking of catching big fish — FGO boasts another big-name at the moment; AMP Limited (ASX:AMP). In October, the $15 billion insurer began a live trial, that continues currently, of the Virtual Sales Assistant.
Joining forces with CUA Health & Chubb Asia Pacific
Late last year, FGO announced it had signed a contract with CUA Health, a subsidiary of Credit Union Australia, for a paid trial of FGO's Virtual Assistant.
During a three-month live evaluation trial, CUA's customers and CUA Health members will interact with ROSIE in a similar arrangement to FGO's pre-existing live evaluation trials with Australian companies such as AMP.
This will be another way for the company to show off what its virtual assistants can do for clients in the realm of health insurance products... and hopefully seal the deal with a major contract at the trial's end.
FGO continued to assess market opportunities for the Flamingo software in the Asian region having landed a Software and Services Agreement contract for a paid trial with Chubb Asia Pacific, in the second half of last year.
Progress on MetLife Asia collaboration
In May last year, FGO announced it was one of eight finalists in MetLife Asia's start-up accelerator program 'Collab'. Not only that, but FGO was awarded the Judge's Selection Award and a contract with Metlife Asia to deliver a trial of the Flamingo solution to one of MetLife Asia's businesses.
FGO then announced to the market in December that it had signed a services agreement with the MetLife Innovation Centre, providing a framework for exploring use cases and online development opportunities for MetLife via the implementation of FGO's AI...
This was covered in the following Finfeed.com article (Finfeed is a related entity of S3 Consortium Pty Ltd as defined in Section 9 of the Corporations Act 2001):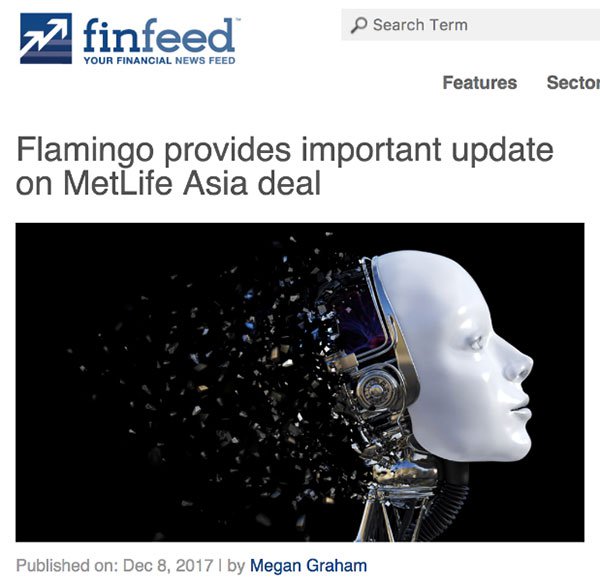 The MetLife Innovation Centre Pte Ltd (Singapore) agreement has progressed with a Virtual Assistant capability being provided by FGO, as a paid contract, to the client who is now determining the most suitable market for deployment in the Asia Pacific region. This is very exciting given the Asian market's huge interest in both chat based technologies and AI (China and India are the world's largest AI markets).
As well as nabbing another major client, the MetLife connection is also likely to be a good support for FGO as it looks to penetrate the Asian market...
So how does FGO's Virtual Assistant, ROSIE, get so smart?
Unlike traditional AI vendors, ROSIE is based on Unsupervised Learning algorithms (developed by FGO, with 3 patents submitted). ROSIE can be pre-seeded with information (like a human employee being trained in a new job), via a process that occurs through four pathways, one of which Flamingo partners with machine learning training company Appen (ASX:APX).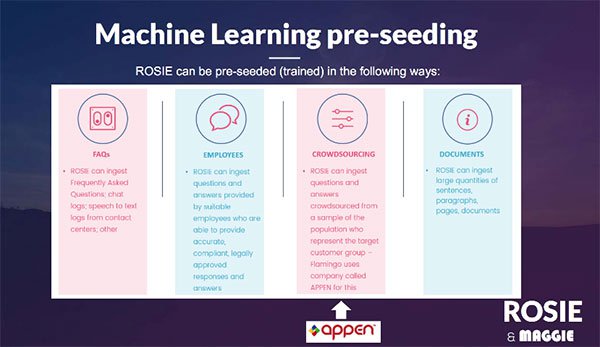 From there, ROSIE has the capacity to learn more, ad infinitum, through machine learning technology.
What's really interesting is the more ROSIE works with insurance clients, the more knowledge the Assistant can gather to pre-seed future editions of ROSIE, and offer an even more advanced product to the next insurance client. This is just one reason why FGO's management are so confident of the immense opportunities for scalability.
The company has received very positive feedback from clients, which is encouraging for ROSIE's future prospects, and for FGO's ability to convert trials to Monthly Recurring Revenue arrangements, which is a key focus of the company now.
Two cap raises show off solid support for FGO's products
The company attracted attention for all the right reasons in September/October, when it raised $5 million in just 12 minutes, prompting positive coverage by the Sydney Morning Herald: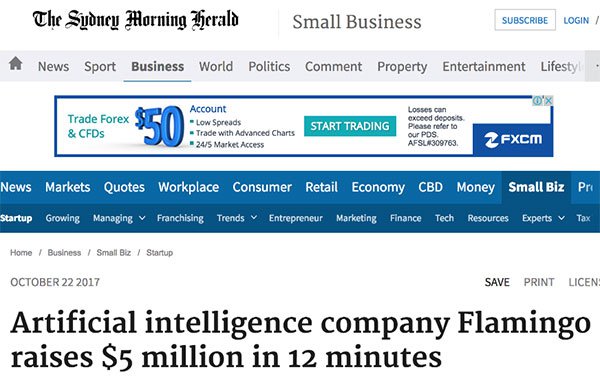 In fact, it turned out to be one of the fastest capital raises undertaken – 12 minutes!
A few months later they were able to double those efforts, announcing they'd be raking in a further $10 million in an oversubscribed placement supported by domestic and international institutional investors.
The company has thus raised over $15 million and is well funded well into 2019.
An enviable position to be in, as a small cap tech play.
We've been talking a lot about FGO's sales pipeline and need to convert customers currently trialling its products — that's exactly what it intends to use these funds for. The hiring of both highly experienced VP of Global Sales, Dana Stetson, in Flamingo's New York office and ex-Dolby, Dr Nick Mariette as Product Manager, show the Company's commitment to their commercialisation strategy; as does the addition of two new Board members.
Here is a rough idea of the pipeline process for FGO, including how many clients it had in each stage as of April this year: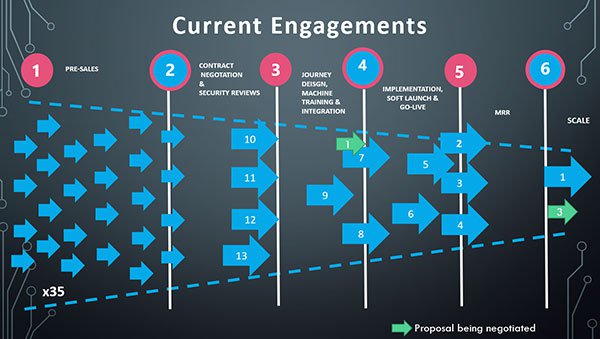 With such formidable financing, FGO kicks off 2018 incredibly well-resourced to deliver more sales and bring in more revenue — as well as further develop its machine learning tech.
At this critical stage, it's important that FGO accelerate sales and distribution across the US, Australia and Asia. A good bank of cash provides a small cap tech play the opportunity to do so and explore new opportunities in other vertical markets which we understand they are progressing well in.
The customers FGO currently engaged with are: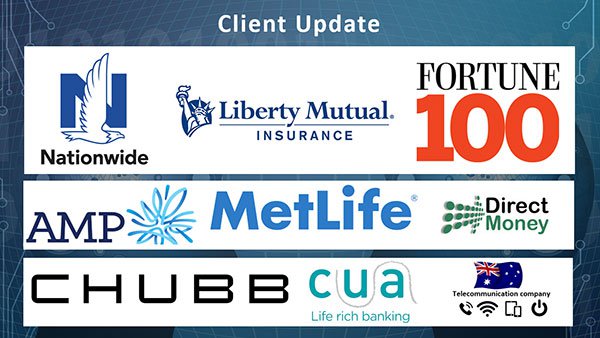 That is some heavy-hitting names and FGO continues to add to them.
Two new additions boost management
Earlier this month, the small-cap announced the appointment of two new Directors to its Board to help drive its commercialisation strategy.
Mark Kehoe and Peter Lloyd both started their roles on FGO's Board on 10 April, joining existing Directors, Cathie Reid (Chair), Bryn Hardcastle (Non-Executive Director) and Dr Catriona Wallace (Managing Director).
It was no accident that both additions were chosen at exactly this point in the company's story — Lloyd and Kehoe bring a combination of experience and skills in the suitable combination of commercialisation and tech strategy... all in the interests of revenue generation.
Kehoe was one of the founders of Australian e-commerce pioneer, GraysOnline, which listed in 2014 and employed over 400 staff in Australia and New Zealand — in FY2015 it generated sales in excess of $500 million. On FGO's Board he will be an Executive Director, as well as Chief Commercial Officer.
This is another step on the company's path towards creating an unstoppable leadership team in the field of AI. Let's remind you that company founder and CEO, Catriona Wallace, had already founded three other businesses (customer experience design firm, Fifth Quadrant, market research firm, ACA Research and women's co-working space, The Ventura) as well as completed a PhD, before FGO existed... More to Dr Wallace's story as covered recently by the ABC news here.
Lloyd, a name well known to the tech sector and market, has joined the board as a Non-Executive Director, bringing expertise of previous board roles, and a solid track record of achieving commercial success within the tech space. Lloyd is currently a Non-Executive Director (since 2010) with Integrated Research Limited (ASX:IRI), one of Australia's most high profile technology companies with a market cap of $668m.
Achieving multiple security certifications
This month FGO provided the market with even more reason to put trust in the brand when it announced it had obtained two important, globally recognised security certification credentials — PCI (Payment Card Industry Data Security Standard) Compliance and SOC2 (Service Organization Control 2) Type 1 Certification.
Both types of certification are difficult to achieve — which means that, as well as strengthening FGO's own security profile, they also act as a handy barrier to entry for its competitors...
PCI compliance also has implications for FGO winning over new customers, particularly Fortune 100 or ASX 100 companies, whose top priority is high-level security when it comes to new tech — which is why the certification is mandatory for any company handling highly sensitive customer data, particularly within financial services.
At the same time, FGO obtained SOC2 Type 1 Certification. The criteria for SOC2 are based on five "trust service principles"— security, availability, processing integrity, confidentiality and privacy. The process is completed via a report compiled by a third party which is then SOC2 approved.
Next, FGO plans to obtain SOC2 Type 2 Certification — which requires that the practices and procedures outlined in the report are proved to have been in effect for a period of nine months.
There are benefits for FGO beyond the reputational lift these certifications bring: sped up sales timelines (with more streamlined security processes) as well as a foot in the door access new markets such as the credit card sector.
Outlook for the near-term as FGO looks to scale
For a small-cap AI play, FGO has its ducks in a neat little row, and it's clear the market, and shareholders, are taking a lot of notice.
The opportunities for this ASX stock to scale on its unique AI angle has never looked better. It has a busy sales pipeline, considerable cash in the bank, plenty of paid trials, a niche market with insurance and financial products, new products in various stages of development and a world class team.
The company has been actively pursuing interests in verticals outside of insurance and financial services too, and we look forward to finding out exactly what management is imagining.
There's plenty of money to be made in AI, and this revolutionary ASX junior looks to be perfectly positioning itself to profit.
---