Fastest Growing Southeast Asian ASX-Listed Mobile Gaming Company Enters Crypto Market with Nitro
PUBLISHED: 24-10-2017 09:46 a.m.
As mobile phones are by nature a tool of interactivity, the entertainment we enjoy has become more and more participatory.
The global games market for 2017 totals US$108.9 billion, with 32% of that represented by smartphone game users — a segment on track for a significant 22% year on year growth:

Today's small cap company became the first Southeast Asian listed smartphone game company when it listed on the ASX in 2016 and has already experienced record revenue growth, boasting 836% year on year growth in 2016 alone.
The company runs multiple subsidiary games studios in the Southeast Asia region, including two award winning studios and thus far has recorded 20.2 million mobile game installs.
The April 2017 strategic acquisition of Inzen Studio now sees this company owning three established studios across Southeast Asia, through which it develops, publishes and commercialises games.
The acquisition has reinforced this company's position as a leader in Southeast Asia's mobile gaming market.
With offices in Melbourne, Singapore, Malaysia and Indonesia — and a strong gamer following in North America and Europe — it is well on its way to completing its mission to consolidate and grow the best studios in Southeast Asia.
Furthermore, the recent formation of a partnership with a new global platform called 'Nitro' is destined to further the company's growth ambitions.
Nitro empowers people to partake in the video games economy via its cryptocurrency 'Nox' and its online marketplace.
It should be noted here that this company's relationship with Nitro is as a publisher of the games only and it does not have a role in the management of the cryptocurrency or Nitro marketplace. Interested investors should seek professional financial advice for further information.
Interestingly, Nitro involves the initial development and deployment of Nox, and the complete rollout of an online portal dedicated to game-based transactions, in particular game development where developers are paid via cryptocurrency.
This leading-edge ASX company will be paid 3 million NOX tokens annually, which are compatible with the ethereum blockchain, in exchange for publishing services. Games published will be those that have been successfully funded through the Nitro marketplace by the approval of token holders — aka gamers.
We'll discuss this in further detail a little later on.
Putting all of this into perspective, today's company is fixated on three key steps in its business strategy:
Establish a sizable user base in mature markets and generate sustainable income from those markets.
Pick the best studios in Southeast Asia to acquire and groom them under the group collaboration structure.
Mine user-base for intelligence to understand content and monetization preferences. This will allow the company to grow its pipeline of developed games as well as publish suitable games from third parties.
Today's company is one of the fastest growing mobile games companies in Southeast Asia, with unprecedented revenue growth in 2016, but it is a company that refuses to rest on its laurels. As such, this company could see its $49.8 million market cap significantly raised in line with its continued market proliferation.
So, without further delay let's introduce: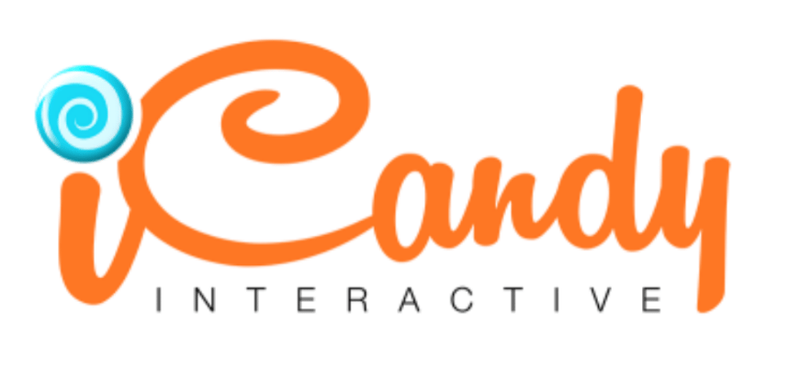 iCandy Interactive
ASX:ICI
In 2017, 1.14 billion gamers across the Asia Pacific are set to generate $51.2 billion for the mobile gaming industry .
The ASX is a pretty good place to be if you're a small cap looking to tap into this market, especially if you are the first SEA listed smartphone game company with a short but very grand history of growth: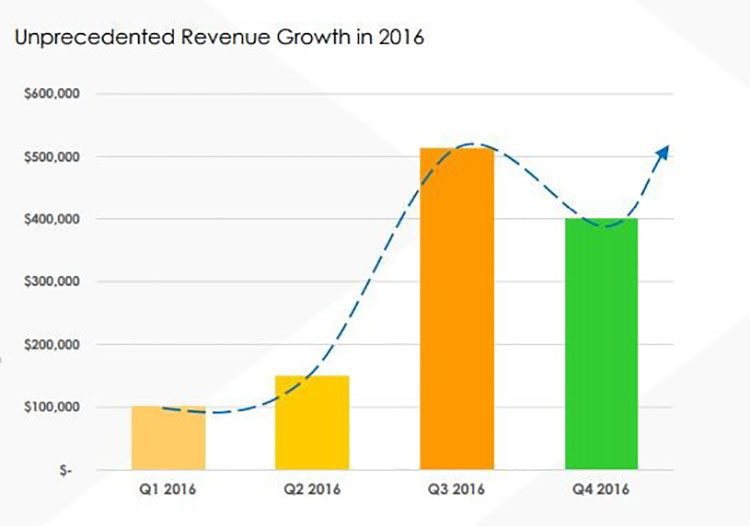 iCandy Interactive Limited (ASX:ICI), a company that acquires the most capable game studios in the SEA region, is looking to follow in the footsteps of international counterparts in the mobile gaming space.
Take G5 Entertainment for instance.
Publicly listed G5 Entertainment (STO:G5EN)— a Sweden-based developer and publisher of games for smartphones and tablets — has a current market cap of 2.47kr billion (A$438 million) and in the last five years its share price has risen 690% ...
It was 3kr (A$0.47) when it listed in November 2008. It has since multiplied nearly 100 fold to now 280kr (A$438 million) a share: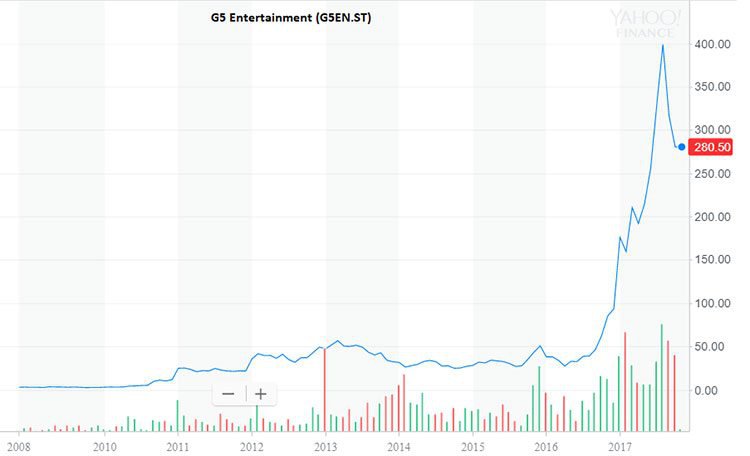 The past performance of this product is not and should not be taken as an indication of future performance. Caution should be exercised in assessing past performance. This product, like all other financial products, is subject to market forces and unpredictable events that may adversely affect future performance.
G5EN owns a number of popular game franchises including Virtual City, Supermarket Mania, Stand O' Food, and Mahjongg Artifacts and a big part of its model is investing in the creation of new games, as well as bringing established franchises to new gaming platforms.
While ICI has nowhere near these numbers, it is looking to emulate G5EN, but take that success to a new level via an intentional approach to the industry.
Its success in doing this is yet to be determined, so investors should seek professional financial advice for further information if considering this stock for their portfolio.
ICI already has three business units that are driving it forward in its aim: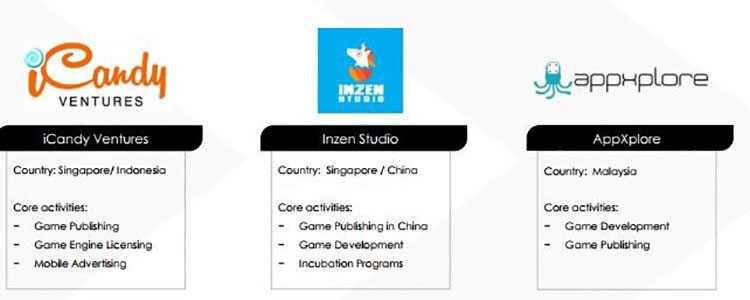 Through these units ICI has built a strong end-to-end value chain that includes consulting fees, rights to co-develop, rights to publish, advertising, in-app purchases, licensing, revenue share and more. It looks something like this: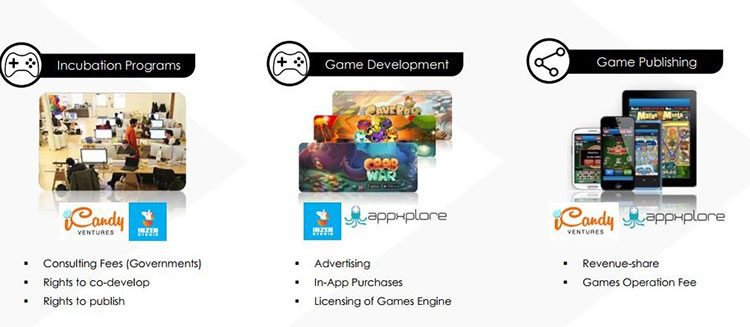 As you can see, ICI has a well-established business plan and importantly unparalleled access to resources via strategic shareholders including Baidu, a NASDAQ-listed company with a market cap of US$92.2BN that operates one of China's top app stores. ICI's strategic partnership with Baidu sees it co-develop and co-publish games for Asia Pacific, whilst Baidu will work with ICI to source games from outside China for publishing in China.
Other partners include IncubateFund, Japan's top tech/game incubation fund and Fatfish, an ASX-listed venture-builder and Hatcher, a Singapore and Middle East based accelerator.
With that in mind, it is no surprise that ICI is looking more broadly at generating sustainable income from both established and new markets.
This brings us to its most recent partnership with Nitro.
Mobile phone market meets cryptocurrency
Of all the promising points we could focus on, it' is ICI's partnership with the Nitro Project that indicates it could be on the fast-track to further success.
ICI has been made the exclusive publisher for the games titles funded and developed through the Nitro Marketplace — still yet to be completed and launched.
Nitro will work via NOX tokens as a portal allowing registered NOX holders to vote on featured games, with the winners receiving the necessary funding in the form of Ether (ETH), Etherium's popular token-based cryptocurrency.
The following video offers a simple explanation as to how this works:
Originally, ICI was to play a larger role in the development of the NOX cryptocurrency and the marketplace itself — but the agreement is now targeted towards exclusive publishing rights as per ASX requirements around cryptocurrencies.
Once the Nitro Marketplace goes live, token holders vote and fund games proposals via NOX tokens, Nitro then contracts the publishing of each new game to ICI.
While we imagine some of ICI's team would publish games for the love of it, for ICI investors there could be a far bigger upside in the form of payment via 3 million NOX tokens per annum.
When we talk about NOX tokens, we are talking about tokens with the potential to become the next in a long line of Ether-based tokens that have soared in recent months ...
... in other words, 3 million in NOX tokens annually, paid over a five year contract, could add up to a massive pile of money.
There's no telling what might happen to the value of NOX tokens once the Nitro Marketplace takes off and ICI's involvement as a partner in the Nitro Project could provide it with a forum to grow its game publication offering, and an excellent opportunity to further raise its international profile...
The project's main intention is to democratize the video-game economy by providing a user-friendly platform that allows for consumer engagement with key industry stakeholders. It's sort of like voluntary Big Data collection, with customers paying via tokens to contribute to the discussion.
By all accounts it's this kind of democratization — the same word that has been widely used to describe the anonymous playing field created by blockchain and cryptocurrencies — that consumers are increasingly favouring.
The rise of cryptocurrencies
It is worth having a very quick look at cryptocurrencies. The following charts indicate why they are being favourably viewed.
Let's start with the most obvious, Bitcoin: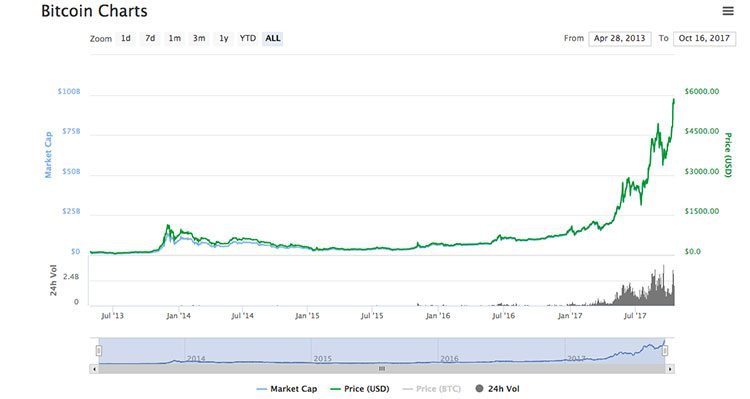 The past performance of this product is not and should not be taken as an indication of future performance. Caution should be exercised in assessing past performance. This product, like all other financial products, is subject to market forces and unpredictable events that may adversely affect future performance.
The contender for Cryptocurrency King Pin is Ethereum: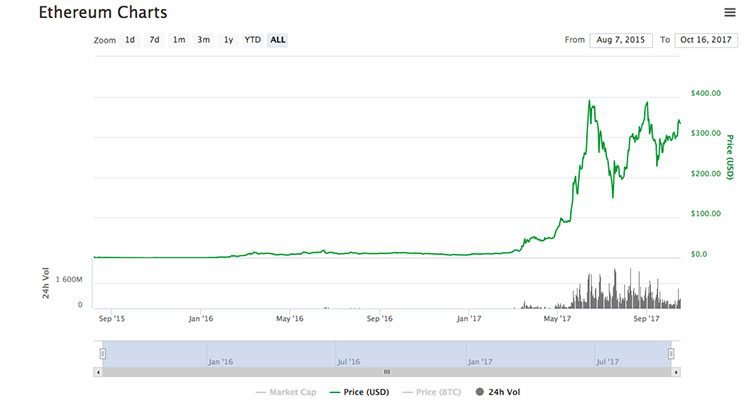 The past performance of this product is not and should not be taken as an indication of future performance. Caution should be exercised in assessing past performance. This product, like all other financial products, is subject to market forces and unpredictable events that may adversely affect future performance.
Just so you can see how widespread this cryptocurrency trend is, there's also Dogecoin — a cryptocurrency based entirely on a dog meme — which hasn't done too badly either: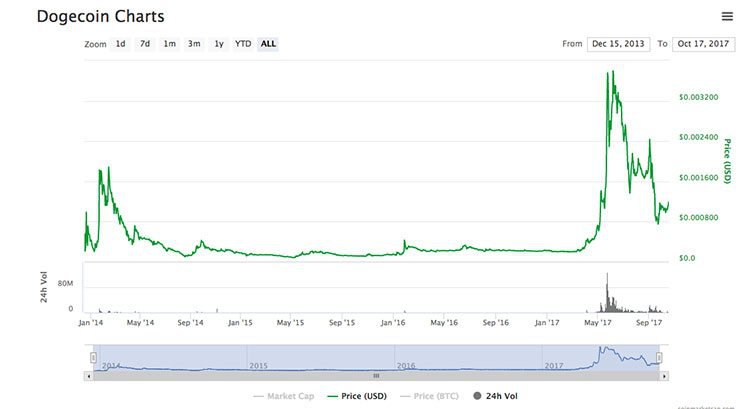 The past performance of this product is not and should not be taken as an indication of future performance. Caution should be exercised in assessing past performance. This product, like all other financial products, is subject to market forces and unpredictable events that may adversely affect future performance.
Before moving on from the 'joke' coin (a joke with a $13 million market cap, mind you), we should mention here that at least half a dozen cryptocurrencies with a minimum market cap of $1,000,000 are explicitly based on memes or jokes . That's the level of cash and interest we are talking about here.
There's no doubt cryptocurrencies have taken off at unprecedented speed. And mobile gaming is not far behind.
12 games published so far
ICI has published 12 games in total .
By far the company's most successful game has been Crab Wars.
" Giant reptiles invaded their lands and drove the crabs underground. Centuries later, infused with the power of crystals, they are ready to exact their revenge! Raise the swarm and resurface with a vengeance. Grow your army of crabs, evolve them and drive the scaly beasts out of your homeland!"
If you're still a bit unsure of what that all means, check out this trailer for Crab Wars:
To give you an idea of the extent of this game's popularity, it has had 3 million downloads to date and its Facebook page alone has over 80,000 followers .
Another of the games ICI has published is Dark Dot — a "unique vertical scrolling action shooter (SHMUP) that allows you to draw and manipulate your very own army of Darklets using formations".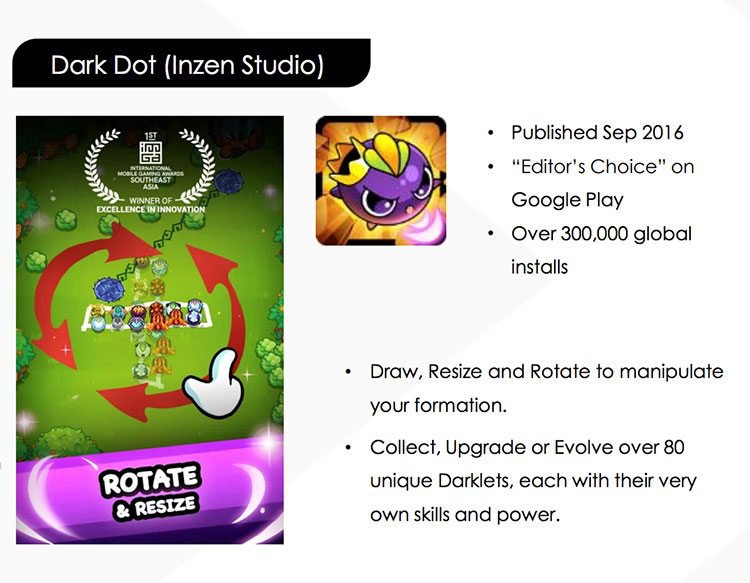 And here are two other recently released games which were created via ICI's appXplore studio:

Dark Dot has had over 300,000 installs, having come on board the iCandy train as part of the company's acquisition of Inzen Studios.
Inzen acquisition the first of several?
In April, ICI announced it had completed the acquisition of Inzen Studios — a game developing and publishing studio operating in China and Singapore which hosts various incubation programs.
This is unlikely to be a rare occurrence for this budding tech play, with firm plans to acquire more studios in the online gaming space. Not only will this help to drive the company's growth and already 20-million strong gaming community, it will enable the team to have ready access to a pool of top talent.
As mentioned earlier, with Inzen in the mix, ICI currently has three studios: iCandy Ventures, appXplore and Inzen. Each has a slightly different focus, with its Malaysia-based appXplore being a key focus for the company moving forward.
The appXplore studio was founded in June 2011, before ICI had published its first game 'Lightopus'. The below graphic gives an indication of milestones from then until the Inzen acquisition in April:

It is an early stage, speculative stock however, so investors should seek professional financial advice if considering this company for their portfolio.
A final word...
The global video gaming industry generated an estimated $91 billion in revenue in 2016.
... with annual industry revenue expected to grow 30% to $130 billion by 2020, this will put gaming ahead of Hollywood, in terms of revenue, by a factor of close to nine.
ICI is making moves in this industry at just the right time.
ICI has an excellent relationship with Google — and was awarded the 'Top Developer' badge on the Google Play store only a few months ago — and has several other big fish in its pond, so to speak. Notable primary shareholders include Chinese company Baidu (with a circa $95 billion market cap), international body GMGC, as well as Incubate Fund (who have managed funds totalling 17 billion yen in the last five years).
These names come with plenty of expertise to assist ICI on its road to growth, and ultimately a lucrative penetration into the mobile gaming world.
Not only has ICI connected with big names, it is ensuring it has exposure to a range of stakeholders, developer talent, and a growing community of gamers across the world... no one has to stay ahead of the pack more than a small cap tech company.
ICI is a company with its finger on the pulse and an 'i' for opportunity. Currently capped at just $49.8 million, we will be sure to keep our eye on it in the coming months.
---