DTX Now Lovestruck via Match Made in Heaven: Strong Growth Continues
PUBLISHED: 27-07-2016 12:43 p.m.
With an eye to conquer the Asian dating market, DateTix (ASX:DTX) is now venturing into acquisitions of other proven and complementary online dating platforms to rapidly accelerate its commercial growth and geographic footprint.
It is an approach similar to the one taken by the $5.1B Match Group, which has bought up sites such as Tinder in its strategy to acquire rapid-fire dating apps.
Where the DTX acquisition strategy differs is in its focus on creating long-term relationships.
Its latest acquisition is testament to that approach.
One could say DTX is literally Lovestruck, with the company now set to acquire a prime-positioned matchmaker catering for serious relationship seekers in both Europe and Asia... aptly named Lovestruck.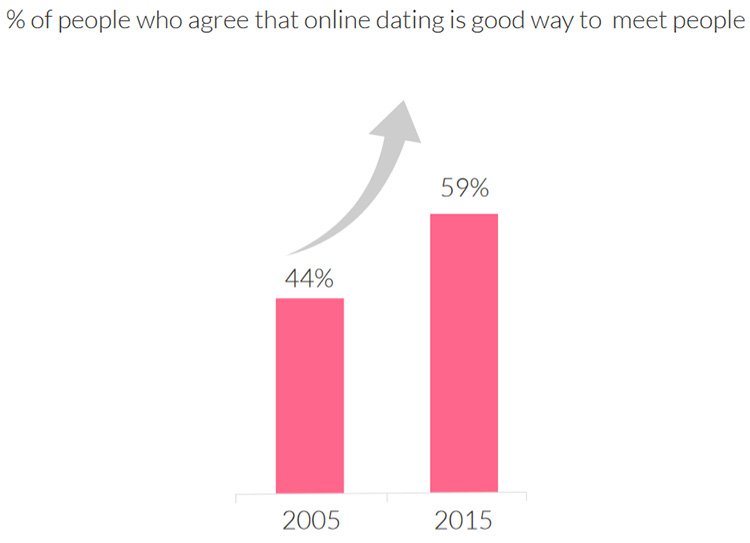 Lovestruck is an award-winning boutique matchmaker that caters for clients on the basis of quality over quantity — by servicing serious dating intentions, and providing a personalised service that charges a premium to standard 'dating' sites.
DTX expects to expand the UK-based award-winning Lovestruck platform into the huge China online dating market that's flooded with mass market dating apps, but is hungry for a premium dating platform like Lovestruck.
The acquisition of Lovestruck is essentially an all-share deal with both parties having already agreed terms and obtained shareholder approval from their respective boards.
The acquisition is part of DTX's overarching business plan: a value-accretive acquisition model with an initial focus on Asia-Pacific, where DTX acquires complementary assets, such as Lovestruck, to realise strategic revenue and cost synergies, while continuing strong organic growth.
Lovestruck seems the perfect acquisition target to get this new business model rolling.
Lovestruck generates around $2.3MN in annual revenue and possesses over 35,000 monthly active members with lifetime revenue coming in at approximately $300 per paying subscriber.
A rough calculation suggests DTX may have just picked up one of the dates of the year — a date with 35,000 active users that could net DTX over $10MN in revenue over the coming years.
This number is speculative at the moment and thus should not be the basis of your investment decision. Consider all facts and seek professional financial advice.
The tie-up between these two boutique-dating services will mean DTX can grow its user database by 259% right off the bat, with the subsequent potential of generating millions of dollars in revenue per year from the accreted value.
DTX is also keen to diversify and synergise its existing list of members by ensuring they are not exclusively from one background or another. Having started its matchmaking mission focusing on hipster young intellectuals in Hong Kong and China, DTX's Lovestruck move opens the door to serious, match-seekers in the UK and Europe, while still expanding its footprint across Hong Kong and Singapore.
The numbers are looking pretty good for DTX, with the number of Monthly Active Members surpassing 16,400 in June 2016, a quarterly increase of +169% versus March 2016.
This could well boost the bottom line, as could the launch of DTX's social commerce marketplace, which targets the multi-trillion local commerce markets across leisure, recreation and food service sectors. This marketplace is where members can use the DTX platform to pre-pay for date activities, typically priced between $AU50-AU$150, with a profit margin per dating activity expected to range from 20% to 50%.
DTX's offering is a modern alternative to the outdated form of dating currently failing to satisfy all interested parties, especially women, and could be profitable in the long-term...
Catching up on all the developments surrounding: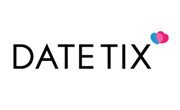 DateTix

The wonderful world of Dating has probably been the biggest beneficiary of the online revolution.
Prior to the advent of the Internet, online dating looked a bit like this: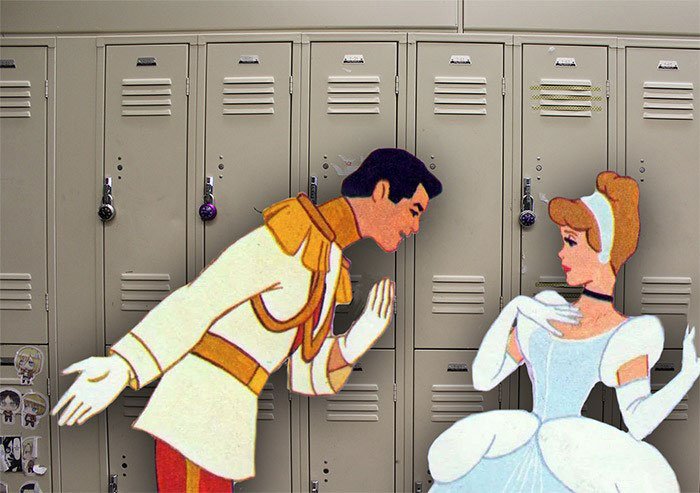 All date enquiries were done manually, with the Gentleman typically making as chivalrous an approach as he can muster.
With the introduction of the Internet, this procedure became increasingly simpler, faster and more efficient on the back of detailed preferences, personalised search and the obvious access to millions of other users all logged into the same platform.
Over time, this instant-access to millions of people created the problem of candidate overload, as users found they have too many possible dates to choose from.
Having almost infinite choice, but with very little structure attached, resulted in the online dating world looking a bit like this: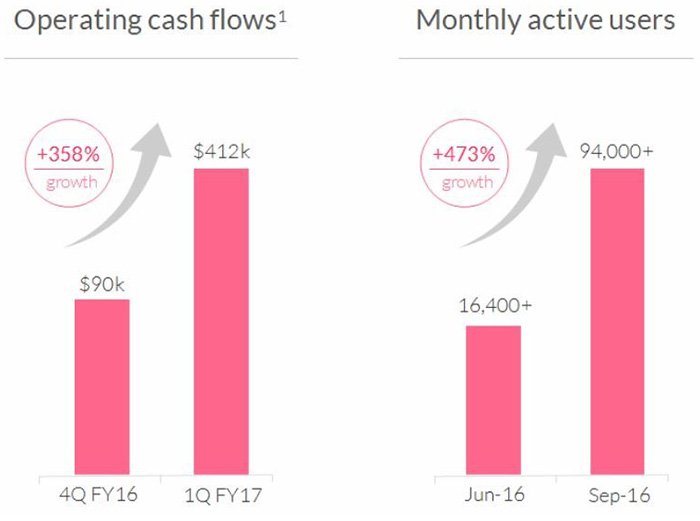 Given the dynamics of popular culture and gender preferences, the above model has worked up until now, with people paying small fees to gain access to millions of other users.
This has left most dating sites focusing on chatting and casual meet-ups, rather than serious dating with a potential marriage at the end of the road.
Here is where DTX and its boutique-style of personalised matchmaking comes in.
In effect, DTX is offering the following solution to the over-saturation in online dating:

Dating preferences have changed....
Research shows that the online-dating success rate is less than 1%. In other words, it is estimated that out of around 20 million people that use online dating tools each day, only around 120,000 make it to the marriage stage.
The cause for such an impotent success rate is largely due to the over-saturation of connectivity and too much choice to know what to do with.
Take Tinder for instance.
When it comes to Tinder, the world's most famous dating app, wholly owned by the $5.1BN AUD capped Match.com, it's entire premise is to allow users to 'swipe' through thousands of profiles in the eventual hope that two people like each other enough to chat further.
Tinder has been labelled a 'meat market' variant of what online dating should really be — an efficient method of finding the right match.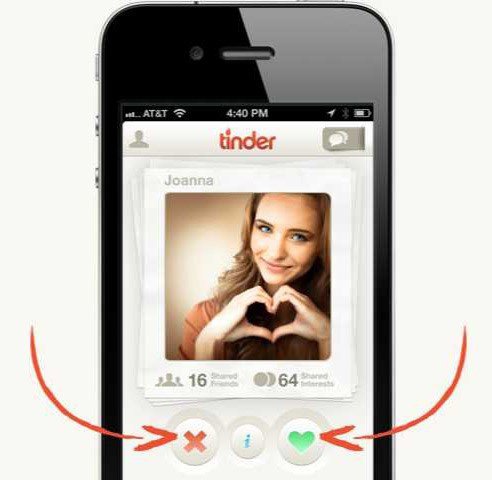 It's the equivalent of judging a book by its cover, but only faster.
What DTX proposes, is to turn this model on its head by providing what daters actually want
Given the large and growing problem with online dating satisfaction, DTX is pitching a service that can reconcile the need for people to find love, with the digital efficiency required to make it happen smoothly.
Let's go through DTX's mission plan, to see exactly how this online love-creator is going about its business.
Current performance
In its most recent update to the market , DTX had 16,400 monthly active users in June, with over 14,000 monthly dates listed.
DTX intends to increase its membership base two ways: organically and through a match.com like acquisition strategy and it hopes to improve on already impressive figures.
DTX's June figures show that its member growth rate is around 21% month-on-month and its listings growth rate is around 34% month-on-month.
For a broader, overarching understanding of its game plan, here is an illustration.

DTX is an open-ended online platform that supports a broad spectrum of date intentions, including casual dating, serious relationships, marriage, friendship, business networking and activity partners.
The core revenue streams underpinning DTX's expansion are:
Premium Subscriptions — recurring premium subscriptions to allowing added features and benefits
Matchmaking — high value-add personalised matchmaking including professional consultations
Virtual items — a form of e-currency allowing users to use the online store and purchase additional date-related features such as inviting others to dates, extending chat lines etc.
e-Commerce — a voucher-based system where users can purchase coupons that can be redeemed at local merchants
Advertising — third parties can pay to advertise within the DTX ecosystem, either to attract DTX customers on their date, or simply to drive direct sales through advertising.
And this is the rough step-by-step process DTX users can expect from the social commerce marketplace:

This broader, 'match-making' differentiation is effectively what inspired DTX's move for Lovestruck — itself, a premium, boutique service aimed at creating meaningful matches, rather than just casual dates.
Lovestruck DTX eloping to Europe?
The deal to acquire Lovestruck in a share and cash acquisition (2 million ordinary shares in DTX escrowed for 24 months after settlement and a contingent earn-out consideration of up to AU$270,000 payable in two equal instalments upon reaching certain milestones) could potentially be a master-stroke move because of the diversified market opportunity, and existing synergies that already exist between DTX and Lovestruck.
One of the real benefits of the Lovestruck acquisition, is that DTX can take this successful European model and apply it right across China's huge online dating market.
This is a market rife with mass market dating apps, but crying out for a premium dating service: the kind offered by Lovestruck, which is highly compatible with the dating scene in China.
This is a big market containing serious people looking for long-term relationships and love.
It is a cultural revolution that is contrary to the cultural values of those using Tinder.
The Telegraph says, "In order to find love, social status and parental approval, Chinese singles are taking matters into their own hands by devising new – and sometimes unorthodox – methods to connect with the opposite sex.
Lovestruck isn't necessarily unorthodox, but it does meet the above criteria, and the combination of DTX and Lovestruck in the Chinese market could well be a recipe for success.
Here is a summary list of how the tie-up with Lovestruck will hopefully strike up some strong revenues for DTX in China and other major dating markets around the world.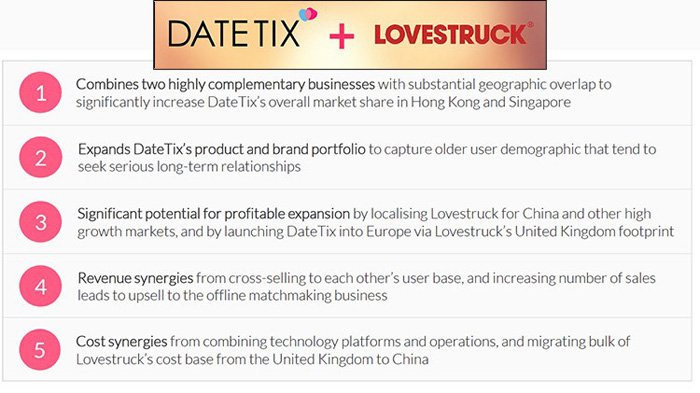 Lovestruck currently generates around AU$2.3MN per year in revenue, has over 35,000 monthly active users and over 4,500 active paying subscribers.
Those numbers may not sound like much, but bear in mind that Lovestruck specifically caters for High-Net Worth and Professional individuals that want a serious match, not a quick date, which means higher disposable income from a more mature demographic.
Furthermore, subscribers are estimated to bring in around $300 per user. A quick calculation suggests DTX's Lovestruck move has opened up the door to over $10MN in potential revenue — and that's only from the existing crop of customers.
This is a speculative number and should not be considered as guaranteed revenue, so apply caution to your investment decision and seek professional financial advice for further information.

Older and wealthier people are willing to pay larger fees, and enter into 1, 3, 6 or 12-month agreements with their dating service provider.
Lovestruck's digital footprint closely matches that of DTX in terms of having a fully integrated website, app and mobile functionality. These are expected to overlap directly with DTX's own infrastructure, and means DTX is embarking on a value-accretive acquisition model that supplements its own organic growth.
And this is how and where Lovestruck generates its revenue: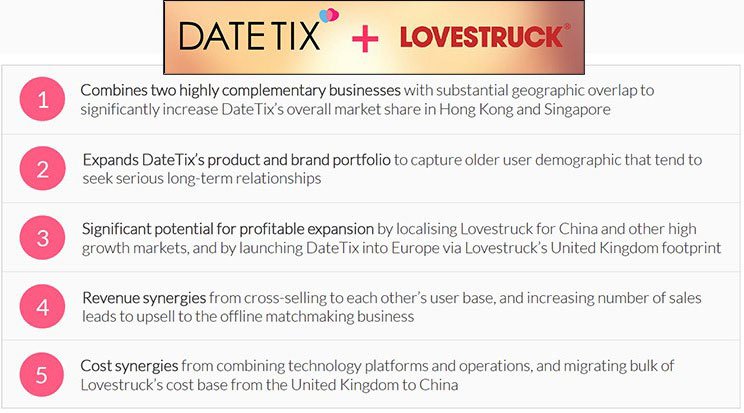 The vast majority of its income comes from membership subscriptions in the UK and Hong Kong, which are not your usual $9.99 per month. Instead, subscribers pay an average of $64.80 over the lifetime of their subscriptions in order to be accurately matched, but without doing any legwork themselves.
For DTX/Lovestruck, this type of service model tends to generate much higher revenues per monthly active user: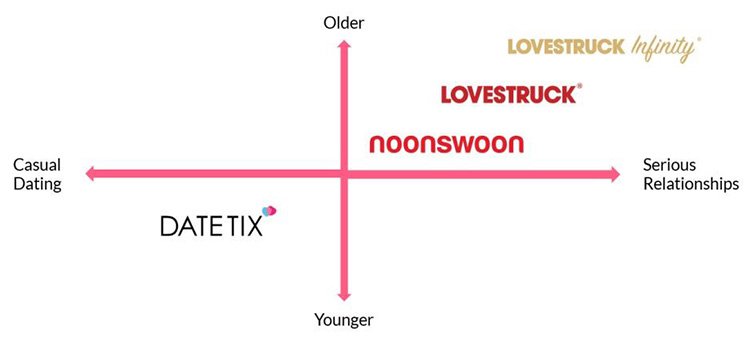 Despite currently being a lot smaller than the market-leading peers such as Match Group and MeetMe, Lovestruck dwarfs its competition in terms of maximising monthly revenue-generation from its users.
As you can see from the table above, in 2015 Lovestruck generated $2.3M in revenues across its UK, Hong Kong and Singapore platforms. In the UK it boasted 19,900 monthly active users in May 2016, 8,700 monthly active users in the same month in Hong Kong and 6,800 monthly active users in Singapore over the same period.
And these numbers are likely to grow after Lovestruck becomes part of DTX.
The deal could eventually put DTX in a league that matches the big players in terms of revenue ... and that is a big step forward for the company.
Personalised value-add model taking over from quick dating
The place where the emerging premium model is thriving most is China.
According to the Wall St Journal , China has over 200 million singles, or 15% of its entire population — which equates to China having more singles than the entire population of Brazil.
As a country, China has undergone rapid industrialisation over the past 30 years that has seen over 300 million people move from rural communities into urban metropolises like Shanghai and Beijing. The reason for such a torrent of migration was to pursue economic prosperity unavailable to low-wage agricultural workers.
The rapid economic and demographic changes in China over the past 30 years have had a huge impact on how Chinese seek out romantic relationships and marriage.
Specialist 'love-hunters' are already operating in China and charging clients in excess of $100,000 to find a suitable bride/husband. There are even "marriage parks" where parents barter with each other with a view of arranging a suitable match for their sons and daughters.
Here's a quick look at a Shanghai marriage market.
Nowadays, there are millions of wealthy Chinese who are single and looking for love but do not have the time to find a match.
Therefore, matchmaking services have sprung up to cater for this lucrative new market.
This evolved method of finding a match, is gaining strong traction in China, as its singles population continues swelling:

It would seem that dating preferences are shifting, and it's those early-adapters that are winning the plaudits.
Take a look at the awards Lovestruck has picked up in recent years, as awarded by GlobalDatingInsights.com .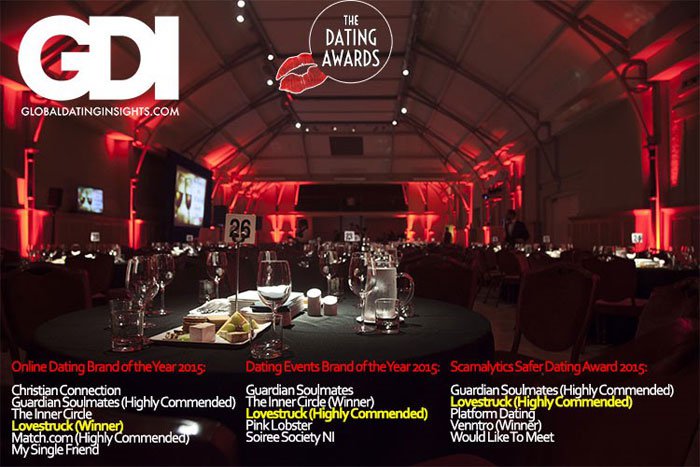 Lovestruck was named Brand of the Year in 2014 & 2015 and the Scamalytics Safer Dating Award 2015.
DTX is therefore set to bag not only a revenue-generating business, but also, a globally recognised brand that should substantiate and supplement its own DTX brand, on a separate growth track in Asia.
After the completion of the deal both Lovestruck and DTX will retain their respective brands (and staff), with Lovestruck becoming a wholly-owned subsidiary of DTX, yet continuing to operate on its own course.
First step of DTX's love boat tour
As we explained in our DTX launch article, " New ASX Listing: Online Dating Platform to Follow Tinder's $3.6BN Path? " back in November 2015, DTX is on a path to carving out a niche in the multi-billion dollar dating market that's thriving for a wide range of reasons including demographics, convenience and choice.
DTX's plan is to expand its business and operational footprint by doing the proverbial online 'door-to-door' in the biggest cities across Asia.
Recently, DTX launched its Shenzhen matchmaking business, and intends to continue its expansive love-boat Asian tour later this year in Shanghai.
DTX then intends to concurrently expand both the DateTix and Lovestruck online platforms to Beijing, Guangzhou and Sydney over the next 12 months.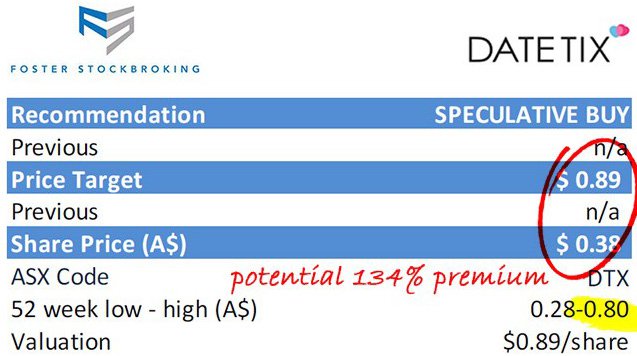 All in all, DTX expects to have its services up and running in Shanghai by Q3 2016, Beijing by Q4 2016, Guangzhou by Q1 2017 and Sydney by Q2 2017.
These initial markets alone have a combined population of approximately 75 million people – millions upon millions of singles will be within DTX's grasp.
Although how many people DTX attracts to its platform remains to be seen, so take a cautious approach when considering your overall investment strategy in this stock.
Aside from establishing its brand on an international basis, DTX's expansion schedule could also serve up some price catalysts over the coming 6-12 months, as DTX's client base grows.
The future of dating has met its match
DTX's simple matchmaking method, combined with its no-nonsense approach to dating, has the potential to achieve strong commercial results across Asia.
Asian singles are increasingly turning to boutique dating services as part of a sea-change in what online dating means for users.
For years, online dating was seen as a specialist pastime only done by 'lonely-dan' desperados that cannot find love in the real world. But after the introduction of the Internet, online dating went mainstream and hasn't looked back.
The problem now, is that there isn't enough road to see forward with over 100 dating sites all offering more-or-less the same thing — cheap and rapid access to millions of people.
That's what single people wanted when the Internet first arrived, but now, singles are looking for a 'match', rather than a 'date'. They may even be looking for a 'matched' gym partner or a 'matched' cinema-goer, or even a 'matched' babysitter — rather than just a random date, and that is what DTX provides.
Here at The Next Tech Stock , the added dynamism and underlying change in consumer preferences instils us with confidence that DTX will make good on its commercial matchmaking proposals over the coming months.
---