DTX Attracts Thousands of Users Just Weeks after Launching
PUBLISHED: 01-03-2016 12:39 p.m.
While some dating companies are focusing on users that want to swipe and chat online, DateTix (ASX:DTX) is taking a rather different approach.
By making the facilitation of real life dates and matchmaking the key epicentre of its business, DTX is capturing a much larger addressable audience and commercial market compared to its online dating peers.
The growth of DTX's market share has been evident in the last few months and whilst it's premature to be talking about revenue figures in this early stage tech company, already it's clear that its iOS app and website has started generating real economic value for both merchants and daters.
Since the DateTix iOS app launch on 5 February there have been 2500 downloads of the dating app in the Hong Kong iOS store and 1200 dates hosted.
If we assume that someone in a workaholic city like Hong Kong would be willing to spend A$200 per introduction, and that on a date they would spend an average of A$100, you can already see that DTX is creating hundreds of thousands of dollars in economic value from its technology in just the first few weeks following its iOS app launch.
And that's just taking the Hong Kong market into consideration.
However the above financial numbers are speculative and do not translate to company revenue – investors should seek professional advice before choosing to invest in this stock.
In 2016, DTX expects to expand throughout Asia into Singapore, China and several cities within these regions.
Further to this, DTX's Android app is due to hit app stores in the coming weeks, opening the app up to an even broader audience.
With its ASX-relisting squarely in the rear-view mirror, $3.6 million in the bank at the end of December, and a Hong Kong pilot launch off to a 'dreamy' start, DTX is marching towards becoming the trendiest matchmaking solution for the millions of singles dotted around Asia.
Better yet, it could potentially emulate the 'Tinder of China' – China's 3 rd largest dating app called Momo which went from startup-stage to over 75 million active users in less than 5 years.
That's the kind of growth rate China is famous for, considering its blistering rate of urbanisation and rampant wealth creation.
Now that DTX is out of the starting block, the stage is set for this matchmaking alternative to make a big name for itself within the largest dating markets in the world: metropolitan cities across Asia.
It's time for a follow up date with: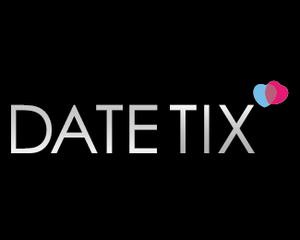 DateTix (ASX:DTX)'s admitted vision is to become the Uber of dating.
We have been covering this new-age matchmaking solution since the end of last year, following the company from start-up to launch .
The basic premise of DateTix is to connect people in a variety of interactive and commercially viable ways.
If two people can find each other for a romantic date – why can't they find each other for a tennis match? Or a gym-session partner? Going further, they could use DTX's matchmaking engine to find matches for DIY jobs, business contacts or a babysitter.
Standard online dating companies provide users with the platform and tools to find a date. DTX differs in that it provides users with a platform to find a match.
The result is a premium, higher-end matchmaking business that filters out all the usual riff-raff typically found loitering with intent on cheap dating sites...
...thereby facilitating a serious matchmaking service that users can trust and depend on.
DTX is determined to make online dating look a lot less like this: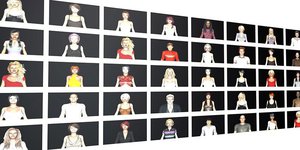 And a lot more like this: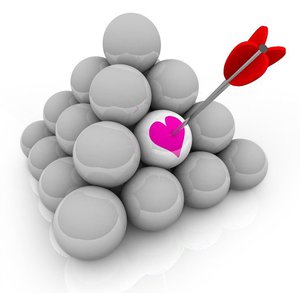 Personalised, serious matchmaking focuses on a different cultural paradigm to what the West is used to.
In the West, online dating is considered very casual. In Asia, online dating is the only avenue for finding a life partner because of the hustle and bustle of modern urban life .
For DTX, its proprietary technology is also working in a premium value-add way by integrating marketing and advertising opportunities directly into the matchmaking process. This means third party merchants such as restaurants, movie theatres and retailers, can jump on board DTX's platform and raise its commerciality.
Given the sprawl of the digital revolution, people can order a taxi using their GPS-enabled phone at a time and place convenient for them.
Millions of people use Uber for ordering taxis and Airbnb to find a place to stay. DTX wants to be the go-to solution for matchmaking, including romantic dates as well as other activities that could benefit from GPS and mobile phone connectivity.
The first port of call is Hong-Kong and China where the amount of singles looking for love is growing rapidly.

According to the Wall St Journal , China has over 200 million singles, or 15% of its entire population.
That means there are more singles in China than the entire population of Brazil.
The synchronised growth of online connectivity, mobile phone take up and wealth generation in China has led to a sharp increase in the demand for online dating services: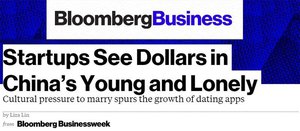 The timing couldn't be better because online dating is currently in a sweet spot of growing demand, better functionality and more single people milling around.
IResearch predicts online dating in China will generate about 10 billion Yuan (US$1.6BN) in annual sales by the end of 2016, up 17% from 2014.
Which could explain some of the reason why DTX was so intent on listing on the ASX last year – for a serious move to capture the immense growth in online dating and matchmaking.
Once upon a time in Hong Kong
With its ASX listing now complete, iOS app developed and released early this year, the $11.6MN-capped DTX is now moving full steam ahead with expanding its footprint and has started generating those all-important revenues.
Between 5 February and 22 February 2016, DTX's platform was downloaded over 2500 times with 1200 dates hosted, putting DTX's app into the Top 15 apps on the Hong Kong iOS Lifestyle download rankings, closely behind Tinder, the world's most popular dating app.
Not bad for its first 17 days of operation...
If we assume that singles are willing to pay $200 to be introduced with an average of $100 spent on the date itself, rough calculations would suggest that DTX is already creating significant economic value in just the first few weeks of its iOS app launch – and the key for DTX now is to convert that to company revenue.
What's also interesting to note from recent DTX announcements is the new personalised match making service, which has been able to generate revenue at an average of A$3000 per customer – we can definitely see an appetite for this service amongst wealthy, yet time poor people in Hong Kong, who may have trouble meeting like-minded people in traditional ways.
It's still early days for DTX, and of course, its performance in month one is only one indicator so apply caution when considering this stock for your portfolio.
However if DTX can repeat that feat each and every month, it could generate serious revenues in its first year.
That's an incredibly positive start with plenty of blue sky.
An Android version of the app will hit the Google Play store next month which should escalate its subscriber acquisition numbers even further once launched.
And if we take a look at where DTX is casting its line, it becomes clear that ambitious growth figures could just become a reality if all goes well:

Huge metropolitan areas such as Shanghai, Beijing, Shenzhen, Guangzhou and Singapore have over 22 million potential DTX customers.
And that's exactly where DTX is headed next, given its successful Hong-Kong launch.

DTX's first steps in the world of online matchmaking have been positive and its initial commercial results are very optimistic.
And if we take a look at what analysts are making of DTX, there's even more upside potential here.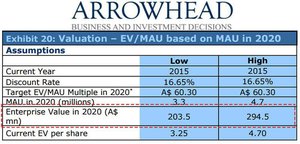 According to Arrowhead's bulky 30-page research report , DTX is on course for a low-end valuation of $203.5MN and a high-end valuation of $294.5MN by 2020.
Arrowhead analysts Abhishek Bansal and Himanshu Broota estimate DTX's fair value share price between $2.50-$3.84/share – assuming DTX can generate between 3.3-4.7 million monthly active users. In the best case scenario laid out by the analysts, that's an appreciation of up to 860% a share for DTX. So there is plenty of room for growth in this emerging tech stock.
At the same time, there is no guarantee that DTX will go up in value on this report and its predicitons alone – always consider a range of factors before making an investment, including your own personal circumstances.
Here's the rate at which Arrowhead sees DTX could acquire all those subscribers:

If the predictions of this report are accurate (which is no guarantee of course), by 2025, DTX could potentially have over 8 million active users, which could add up to around $50MN in annual revenue.
Can DTX hit the heights its ambitions are setting?
Acquiring around 170,000 active users by mid-2017 would generate approximately $700,000-$1.1MN in revenue for DTX, but is that realistic?
If we look at some of China's other online dating contenders and their relative levels of growth, DTX actually seems conservative in its estimates.

If the predictions of this report are accurate (which is no guarantee of course), by 2025, DTX could potentially have over 8 million active users, which could add up to around $50MN in annual revenue.
Can DTX hit the heights its ambitions are setting?
Acquiring around 170,000 active users by mid-2017 would generate approximately $700,000-$1.1MN in revenue for DTX, but is that realistic?
If we look at some of China's other online dating contenders and their relative levels of growth, DTX actually seems conservative in its estimates.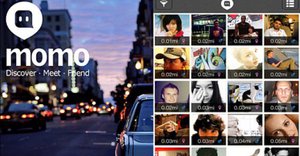 Here's what TechInAsia said about Momo in an article following their previous financial results:

Monetising romance
As DTX user base grows, there are numerous ways that it can monetise its innovative matchmaking platform:
Virtual items
Selling date tickets that are used as virtual currency by users to host and apply to dates on the DateTix platform. Date tickets can be purchased in bundles ranging from $7 to $140, and are very affordably priced given the value that they deliver to users.
Premium subscriptions
While the DateTix app is free to download, users have the option to upgrade to a premium subscription priced between $12 to $34 per month. DateTix Premium subscribers enjoy special benefits and privileges, including chat lines that never expire, highlighted listings and free date upgrades.
Targeted advertising
The data acquired by tracking the number of dates hosted at each local merchant could be sold to local merchant advertisers for highly measurable performance-based advertising. In addition, the data can also be bundled and sold as featured listings, which highlights and ranks paying local merchants at or near the top of search results. This would lead to increased awareness and exposure for the local merchants.
eCommerce
Additionally, the local merchants may also sell vouchers and coupons on the DateTix platform that the members can purchase and redeem when they meet for their dates. DTX can charge a sizable commission on such eCommerce transactions.
Personalised matchmaking
The Company uses the data gained from DateTix's platform to feed sales leads to DateTix's dating consultants' team, who up-sell one-on-one matchmaking packages to its clients. The clients receive carefully handpicked matches based on their preferences and personalized feedback. The prices of matchmaking packages range from $2000 to $35,000.
Events
DTX organises events that provide individuals with the opportunity to meet a large group of potential partners. DTX collects entry fees ranging from $20 – $80. Besides revenue generation, this also helps in simultaneously creating brand recognition for DTX.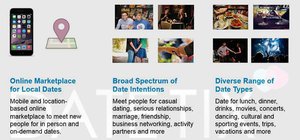 A match made in heaven
Online dating, as a tech industry niche, is proving to be a very lucrative one.
Looking at the amount of corporate M&A and IPO activity in the space in recent years suggests that increasing amounts of people are turning to the digital realm for dates.
And companies like Match.com and Tinder are welcoming them with open arms.
Match Group completed its big-money US$400MN IPO last year while actively concluding 25 acquisitions worth US$1.3B since January 2009.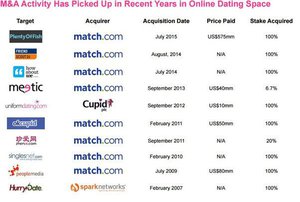 For DTX, this is a vast commercial landscape and it's running full steam ahead directly into it at just the right time.
Considering that the larger market players such as Match.com, Cupid and Momo are busy snapping up smaller entities on an annual basis, could DTX be next on someone's takeover target list?
For now it's still early days and professional advice should still be sought when considering this stock for your portfolio.
However, If DTX can achieve a strong customer base and prove its matchmaking concept in cold hard numbers this small fish in the big pond could be up for a re-rate that turns it into a big fish.
From dating to matchmaking
DTX enables its members to easily meet interesting new people in minutes by hosting or applying for dates. Its entire premise is to move away from the cheap-and-cheerful chatting apps that are all about chatting, flirting and small fees.
Instead, DTX wants to help people find love and serious connections for a plethora of activities. And it will take a share of the spoils when its matches go to eat, watch a movie or even get married.
Clearly its model is working with 2500 downloads and 1200 dates already hosted in just 17 days.
So DTX is a far cry operationally speaking from online dating apps such as Tinder and Momo... with the potential to eclipse their stellar performances.
DTX is an open-ended online platform that supports a broad spectrum of date intentions, including casual dating, serious relationships, marriage, friendship, business networking and activity partners.
In other words, DTX provides a 21 st Century way of meeting new people with close similarities to how Uber reinvented hailing taxis and Airbnb reinvented finding a place to stay.
---