CXZ Flexing its Muscles: Revenue Generating Deals Locked in
PUBLISHED: 29-05-2015 10:32 a.m.
Connexion Media (ASX:CXZ) recently released volume projections for its Flex vehicle monitoring system...
70,000 cars are expected to feature CXZ's Flex by 2018.
CXZ charges anywhere from $20 to $30/month for this service, with discounts for wholesalers.
If we assume those 70,000 cars are paying $30/month to CXZ, this would equate to revenue of $2.1 million a month – or over $25 million a year...
That's just for arrangements with current partners and affiliates – we would expect CXZ to ramp up sales considerably between now and 2018, adding to those rough revenue projections.
It's estimated that 20% of all new cars produced in 2015 are connected to the internet – that's forecast to grow to 100% by 2025. It's an emerging industry that CXZ is at the forefront of, and as car connectivity continues its upward climb, CXZ will be well placed to profit from it.
A key basis for the above projection is the fact that a major American auto group with multinational scope has just signed on with Flex.
This auto group has over 4,000 dealer locations where Flex will be offered to customers.
CXZ is a technology company now commercialising two market offerings for internet connected cars:
Flex – a cloud based fleet car monitoring service, and;
miRoamer – an in-car infotainment service and data collector.
CXZ's miRoamer is also going great guns.
A major South American auto supplier is going to install millions of miRoamer apps into its new cars, which could generate hundreds of thousands of dollars from set up and support fees.
And European carmakers PSA Peugeot Citroen and SEAT are now big customers for miRoamer as well, adding their best selling new cars to the list of vehicles that now have CXZ's infotainment system on board.
All of this adds up to imminent, regular revenue from CXZ's connected car technologies, demonstrating that this company is executing its ideas on a global scale and pushing to the forefront of this growing industry.

Linking cars to the internet is an industry predicted to be worth nearly $35BN AUD by 2018 .
Connexion Media (ASX:CXZ) is an Australian tech innovator with a current market cap of around $19M that's seen the market opportunity of this sector very clearly.
We first invested in CXZ back in October 2014, and covered the company in the article – Tiny ASX Company to Supply Tech to GM and Volkswagen: Potential $50BN Market by 2018?
It's a great place to start your research into CXZ. Since this article was released, CXZ has been up as high as 90%: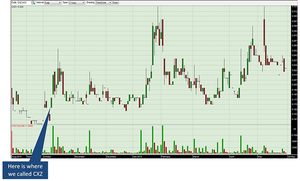 The past performance of this product is not and should not be taken as an indication of future performance. Caution should be exercised in assessing past performance. This product, like all other financial products, is subject to market forces and unpredictable events that may adversely affect future performance.
You can follow the quick pace of CXZ's miRoamer and Flex in the follow up articles:
But right now we're seeing CXZ take steps to accelerate the uptake of both of its products – so let's tune in and have a quick look...
Connected cars are the way of the future and an entire ecosystem of products and services are springing up to service the growing need around the world. Here is the forecasted growth curve of cars that will be connected to the internet: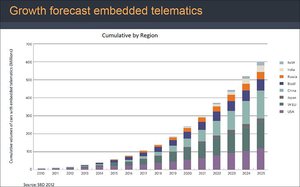 It's estimated that 20% of new vehicles are connected now in 2015, and 100% saturation is forecast by 2025. It's a tough market to crack into, given the long lead times in new car models, so CXZ is in a strong position given its partnerships and affiliations with major industry heavyweights like GM, Peugeot, and Volkswagen.
CXZ got the jump on this trend and developed miRoamer , a connected car infotainment system that links vehicles to over 35,000 internet radio stations, as well as collecting real time information on the vehicles it's linked to.

miRoamer generates revenue through per-unit license fees and advertising, all of it linked to its entertainment features.
CXZ can also package up the real time information the system gathers and sell it to third parties like local governments and advertisers who crave real time data.
CXZ have announced a string of partnerships and deals with leading automakers recently for miRoamer (read on for details). In short, out of the 88.9 million new vehicles that are produced in 2015, CXZ has a 17% market reach for miRoamer, and with pending partners edging closer, that's another 43% of the market expected to have access to CXZ's product: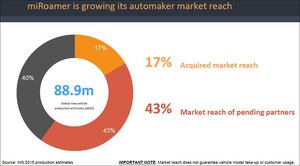 CXZ's other revenue stream from connected cars is via their Flex product – that's the cloud based management system for fleet cars that tracks key performance indicators like fuel consumption and driver behaviour and sends it live to a monitoring point.
CXZ captures and stores this in-vehicle data live, it can then be accessed from a central control point and an entire fleet can be displayed on a big screen TV: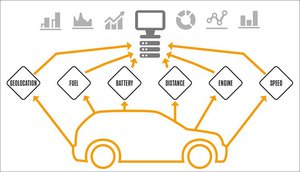 Flex is priced at $19.99 to $29.99 per vehicle per month over a 12, 24 or 36-month contract, opening up a second stream of revenue from connected cars.
Looking wider, the potential market for this product is large – the market for fleet management systems is predicted to grow in value in Australia alone to over $35BN by 2019 – and Flex can be used worldwide by any fleet car provider.
CXZ won't be stopping at just Flex and miRoamer – on a base of its core services of data collection, analytics, telematics and advertising, it will grow its business and offer new products and services as it develops.
That's the fundamentals of the CXZ story, next, let's look in some more detail at Flex – which has just had some major news drop.
Major US automaker signs on for CXZ's Flex
CXZ launched Flex earlier this year and the service has seen steady growth from sales in Australia and the United Kingdom, and opportunities from China for sales and distribution.
There are also a number of established automotive manufacturers trialling Flex in the USA, Europe and Asia, and CXZ is also cross-selling the system to existing customers for its miRoamer infotainment service.
And now this just happened:

A big US car maker has signed on for CXZ's Flex with the system set to start working for this new – as yet unnamed – client later this year that is said to have a market share of between 10 and 20%.
The US based automaker with multinational scope will offer the Flex service through its dealer network of over 4,000 locations and install the system in new cars usually included in small business fleets.
CXZ will customise the Flex service to this big automakers requirements, and any revenues generated will be shared between the automaker and CXZ.
A car company with over 4,000 dealers sells a lot of cars – and that's lots of potential customers for Flex's monitoring services: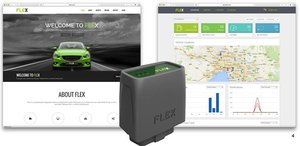 The US auto industry had its best sales year in a decade in 2014, selling 16.5 million new cars. That's the commercial space CXZ is now in with Flex – and it's a significant potential revenue stream which has already begun to flow.
Flex's forecast uptake
To give you an idea of the sheer scalability of Flex and the power of this new deal, CXZ reckons that just based on the contracts it already has, Flex stands to be installed in 70,000 cars in the three years to 2018: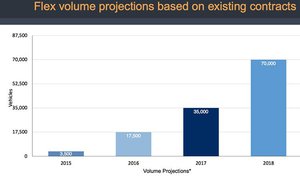 Again, these numbers are just based on the anticipated take up of the Flex service with partners and affiliates – additional sales will mean even more growth.
So essentially that's 70,000 monthly subscribers estimated by 2018 – each paying up to $29.99 per car – our rough calculation means a potential revenue of $2.1M a month...
This is the potential of Flex from just a handful of customers – what would a global presence with multiple major auto groups bring CXZ's vehicle monitoring system?
Right now, Flex is being trialled by five major auto groups in Europe including in Germany and the UK, with trials also underway in Australia, Thailand and China and additional interest flagged in the USA.
Some represent very large segments of the auto markets they are based in – like 20-30%... this is a significant market share, and if CXZ can sign these major auto groups up, it could drastically multiply projected revenues.
So we could see some more big deals for Flex soon – and it's not the only CXZ connected car product picking up speed...
Our Track Record
Regular readers of the Next Tech Stock will be familiar with our long-standing interest in high potential stocks.
To note just a few:
The past performance of these products are not and should not be taken as an indication of future performance. Caution should be exercised in assessing past performance. These products, like all other financial products, are subject to market forces and unpredictable events that may adversely affect future performance.
miRoamer deals set up big revenues
CXZ's miRoamer infotainment system is gaining serious market traction with support from auto groups like Volkswagen and GM – and crucially from MirrorLink:

MirrorLink is fast becoming the industry standard Infotainment system installed in modern cars – and CXZ's miRoamer has won full endorsement and compatibility with this system.
This has secured CXZ's position at the forefront of connected car infotainment, and its latest deal shows the commercial potential it has:

CXZ's miRoamer app will be now be available in all new PSA Peugeot Citroën cars that will have MirrorLink head units installed as standard.
The French carmaker's sales hit over 2.9 million units in 2014 – and from 2015 onward CXZ's miRoamer will be available for its customers, creating a big pool of potential revenue for CXZ.
And in yet another deal for miRoamer, CXZ is now expanding into South America:

CXZ has signed a supply deal with an as yet unnamed South American vehicle supplier that will see millions of miRoamer apps installed into new vehicle infotainments units.
CXZ will tailor an HTML5 version of miRoamer for his customer, and the units will be activated from 2016.
Exact revenue details are tight, but CXZ has revealed that it will benefit from upfront set up fees, per-unit license fees and ongoing support services over a three-year deal timeframe...
As if this wasn't enough, CXZ has also signed up another auto group for miRoamer:

CXZ's miRoamer infotainment system will be available in the MirrorLink Infotainment System of the new model of SEAT's Leon, a best-selling car that's been manufactured over 1.5 million times over three model generations.
The very latest Leon is being made right now and looks like this:

SEAT operates in 75 countries and sold over 390,000 vehicles in 2014 – so that's a lot of new people potentially coming into CXZ's miRoamer orbit.
These rapid-fire deals have the potential to bring significant revenue onto CXZ's books and create an immense global ecosystem of drivers using miRoamer.
There could be more automakers coming on board soon – we wouldn't be surprised if CXZ delivers with some more news shortly!
Tech incubator to accelerate CXZ's Asia ambitions
CXZ's ambition is to be the standard issue provider of connected car technology across the world – and to take it all to the next level, CXZ is seeking partnerships with other innovators...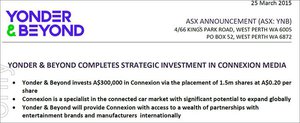 CXZ recently welcomed a new strategic investor – Yonder and Beyond (ASX:YNB) – a leading technology incubator that's going to open up lots of new doors for the company in the Asia Pacific region.
Yonder and Beyond invests in technology businesses and uses its wide array of digital marketing expertise and distribution channels to help them succeed. Think of it as a signal booster for CXZ's connected car products.
To that end, Yonder and Beyond has invested $300,000 in CXZ, taking 1.5 million shares at $0.20 each from existing shareholders including Mi Media Holdings, and avoiding any dilution of CXZ's share pot.
To sweeten that investment, Yonder and Beyond will work with CXZ to help roll out its connected car products across the Asia Pacific region where it has strong commercial links.
Up ahead for CXZ
CXZ is going from strength to strength.
It's just signed deals with PSA Peugeot Citroën, SEAT and a South American auto supplier for its miRoamer infotainment system, and hooked up with one of America's largest auto groups who will soon be paying to use its Flex fleet car monitoring system on a grand scale.
These deals and partnerships have the potential to bring millions of dollars of regular income onto CXZ's books. As a starting point, its predicted that 70,000 paying monthly cars will be operating with Flex by 2018.
Its connected car products are globally scalable and catching on fast.
100% of all cars will be connected over the coming years...
Right now, Flex is being trialled by auto groups around the world and there could be more deals announced soon, and with miRoamer CXZ is winning client after client.
At The Next Tech Stock, we'll be looking out for any more details of the new deals that CXZ has inks, and more details around anticipated revenues...
---